Best Sandwiches in Boston
Edited by Leah Mennies
---
There's a question that's come up over and over again at Boston magazine's offices: Why doesn't our city have a signature sandwich? In New Orleans, they live and die by their muffalettas and po' boys. To be a Philadelphian is to have an opinion on where to get the best cheesesteak. Why not us? But, you ask indignantly, what about a roast beef with a three-way of cheese, barbecue sauce, and mayo? That's strictly a North Shore phenomenon, good sir. And don't even try to take credit for the lobster roll: Any true New Englander knows that one belongs to Maine.
The thing is, Boston is still a great place to get a meal on a bun. In the absence of a singular folk tradition, our sandwich scene is better diversified and more creative. In fact, there's never been a better time to be a pastrami-worshiping, Parmesan-loving, prosciutto-craving diner in this town—as long as you know where to look.
Which, of course, is where we come in. After several months of gluttonously sleuthing everything from Italian grinders to Mexican tortas, we've delivered a 25-point plan for deciding which 'wiches you need to eat now. A few things you won't find here, although we find them tasty: wraps, burgers, and hot dogs. (Oh, and by the way? Nothing other than our final entry costs more than $15. You're welcome.)
---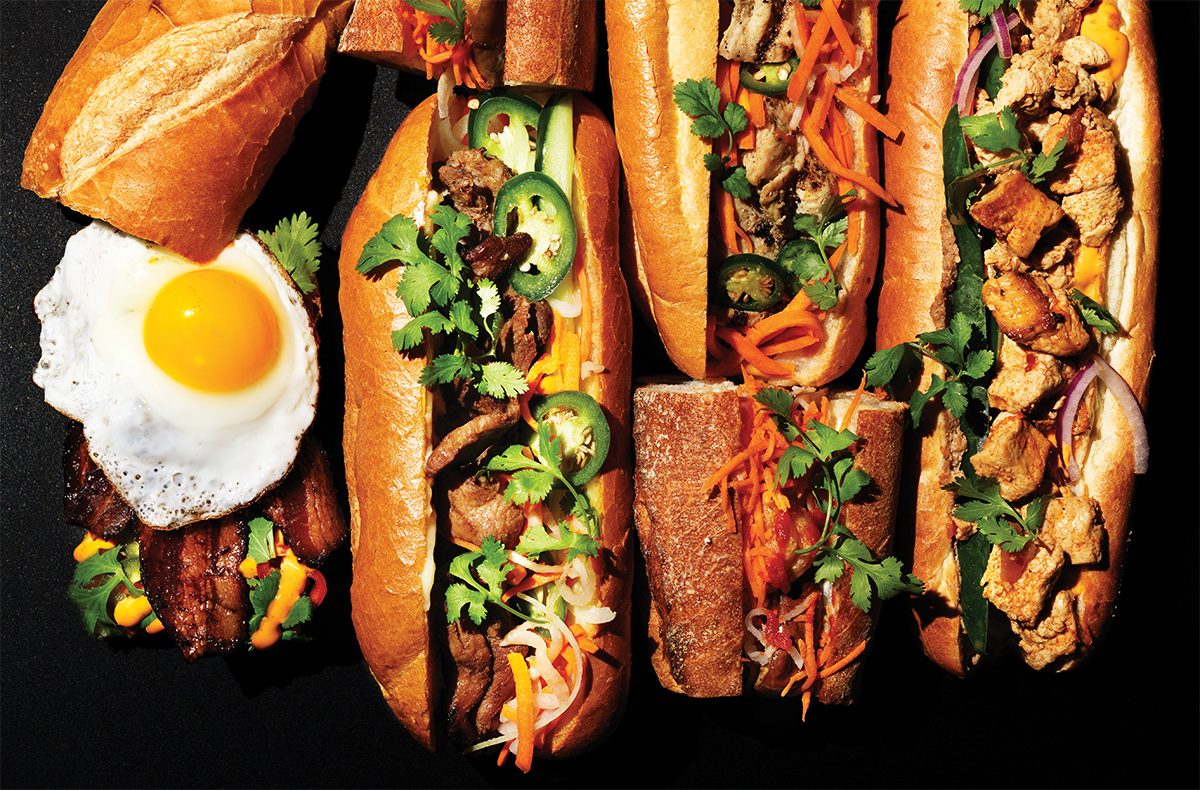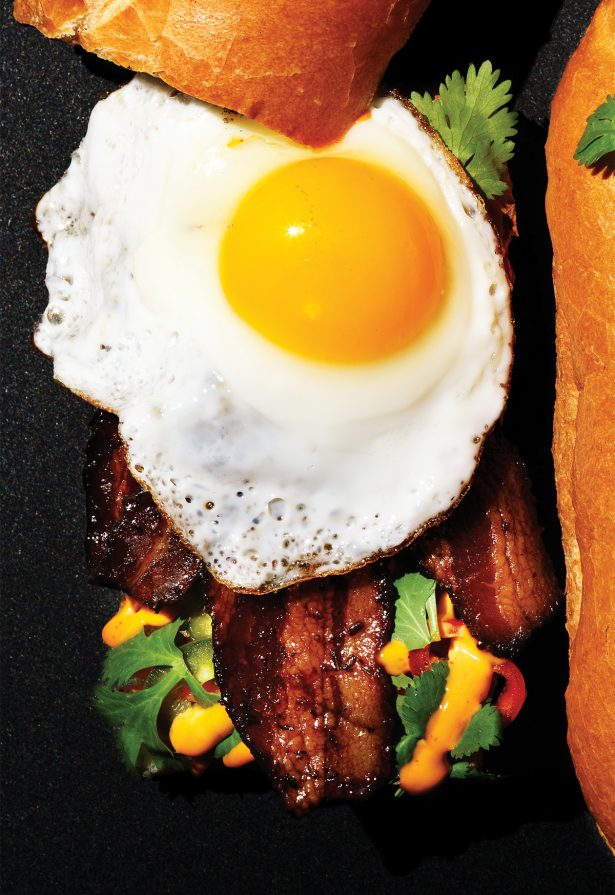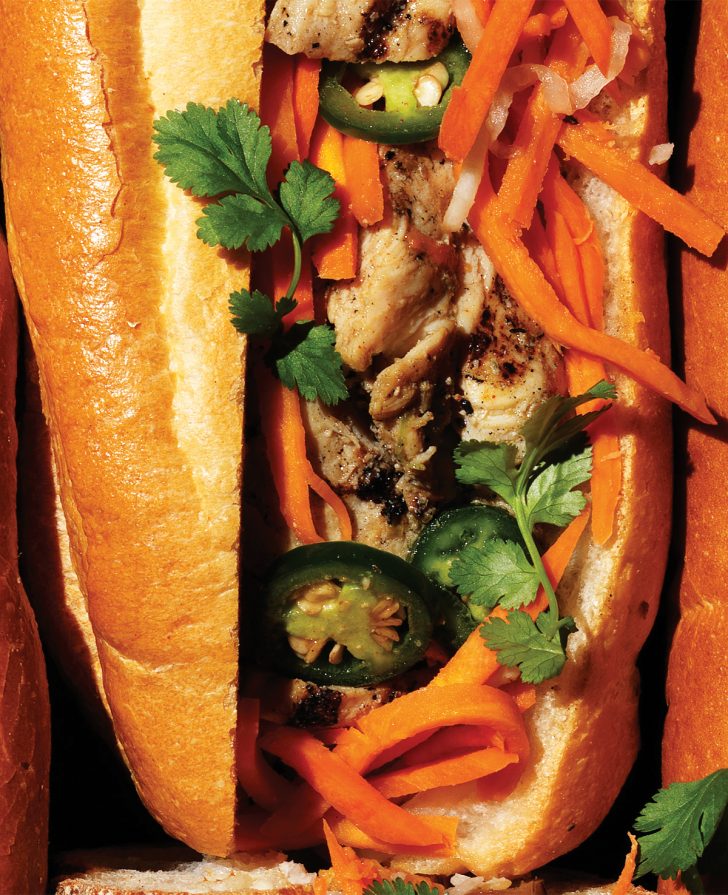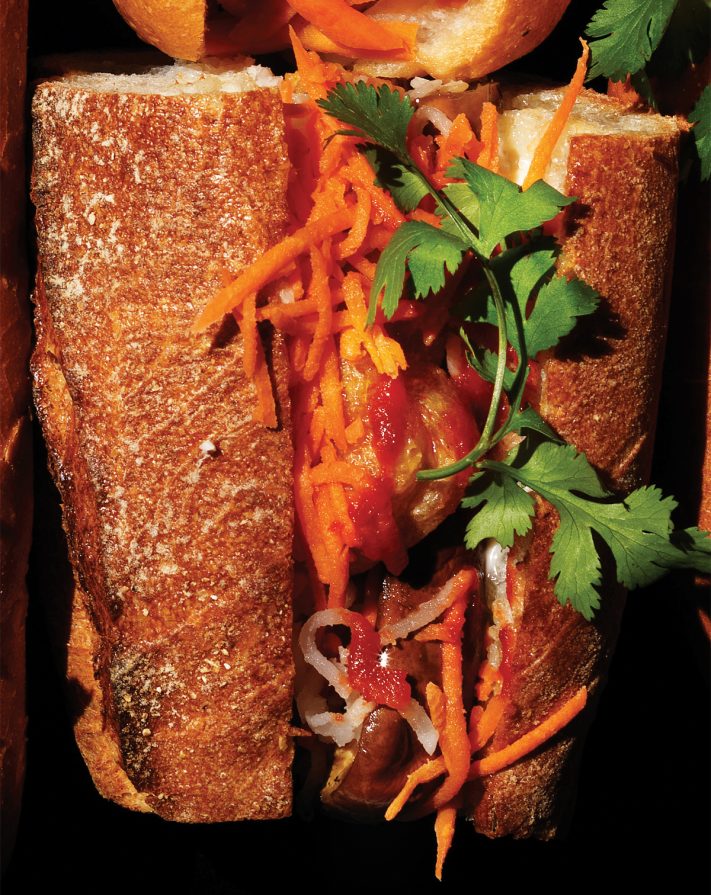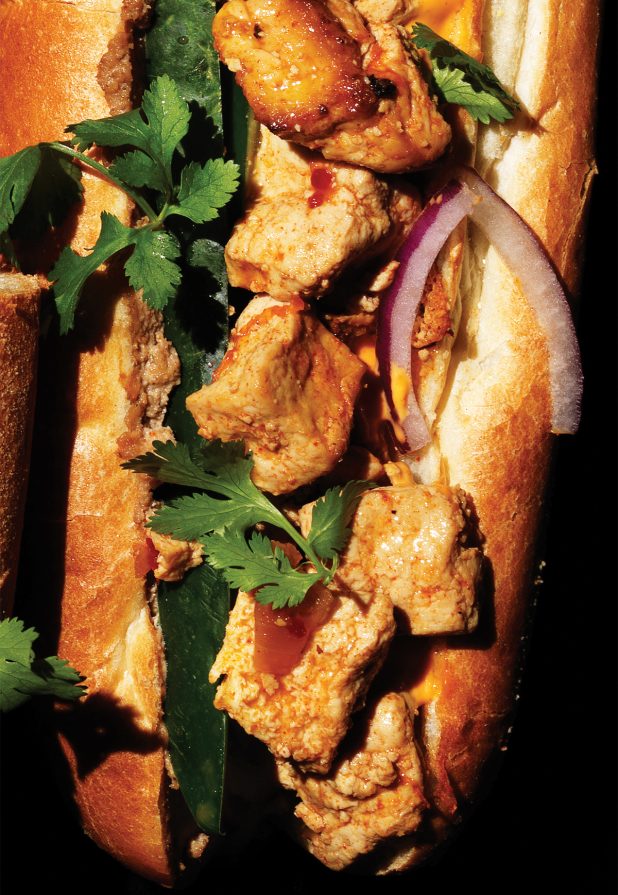 How to determine if your torta is done right? Alden & Harlow chef Michael Scelfo has a test. "Hear that sound right there?" he asks as he raps the back of his knife against the top of griddle-pressed telera bread, producing a hollow thump. "That's legit."
We've hit up Tenóch Mexican, in Medford, on an hourslong quest for Greater Boston's finest torta, the great layered and pressed sandwich of Mexico. Currently, Tenóch is dominating the field, and Scelfo praises its thin chicken cutlets and bold, layered flavors of avocado, Oaxacan cheese, beans, and chipotle mayo.
There's more than just Boston magazine bragging rights at stake. Soon, Scelfo will open Naco Taqueria in Central Square, where he'll offer half a dozen tortas. His will pay homage to Mexican flavors, but with less-typical ingredients (like the "Cochino," above, starring pork belly, chicharrones, and fermented kale). And then there's the bread: After more than a dozen test runs, Scelfo settled on a telera-shaped style bolstered with cornmeal and pickled corn. "It has a nice chew and stands up really well to the searing," Scelfo says. And yes, we checked—it aced the knife-tap test.
Nowhere near Medford? Keep your eyes peeled (and trained on @TenochMexican) for Tenóch Móvil, the shop's food truck, or head to its smaller North End location on Lewis Street.
➜ tenochmexican.com
In 2011, Emerson grad James DiSabatino launched the Roxy's Gourmet Grilled Cheese Truck, selling inventions like the "Green Muenster" (with guacamole and bacon, still the number one seller) from a bright yellow truck in Cleveland Circle. More than half a million sandwiches later, DiSabatino has a burgeoning mini empire on his hands: An Allston brick-and-mortar location opened last May, and suburban outposts are in the works. What's his secret? "The science of actually getting them to brown and melt at the same time is pretty vast," DiSabatino says. "You ever see Jiro Dreams of Sushi? How he wouldn't let anyone touch the rice for 10 years? We don't let anyone touch the grill for six months."
➜ roxysgrilledcheese.com
"My favorite is a turkey sandwich from Market in the Square in Harvard Square—lettuce, sprouts, and mayo. Classic, you know? They use Boar's Head meat and Iggy's bread, which is a local brand. I'm big into local brands." –Bill Phillips, Cambridge police detective, 29 years on the force
illustration by sam kerr
---
---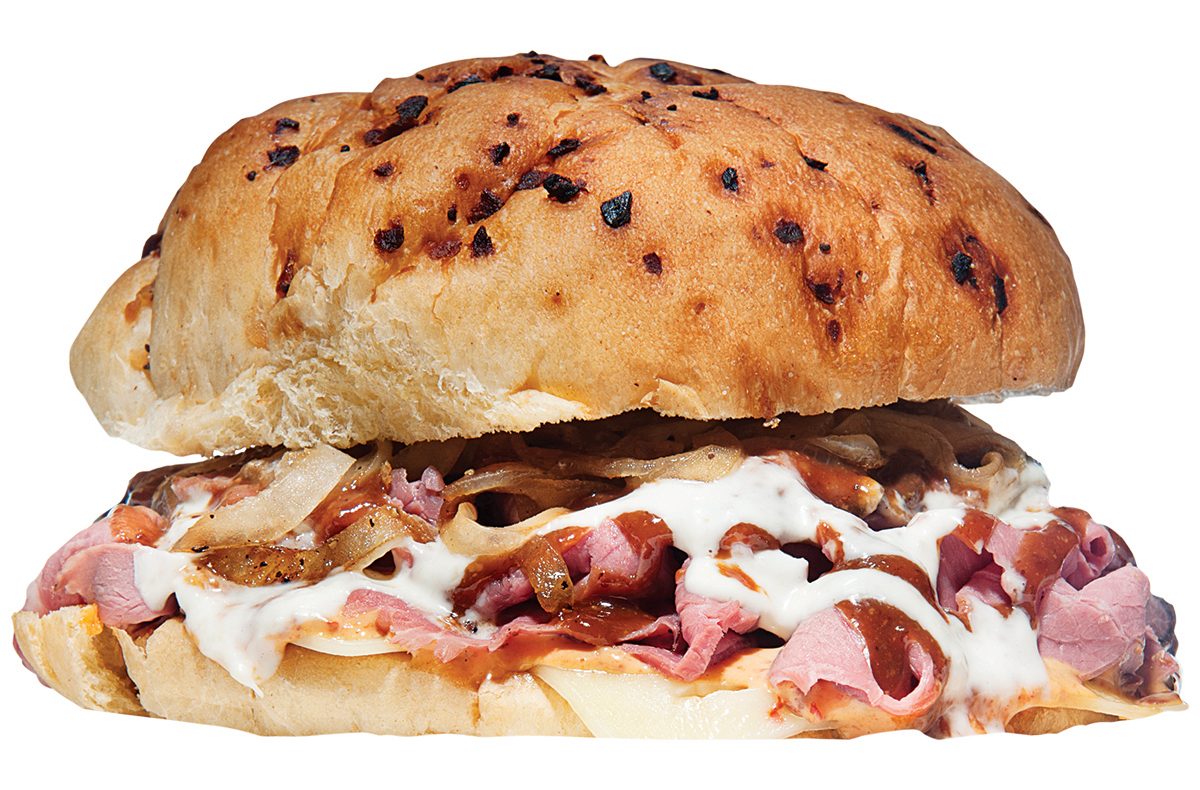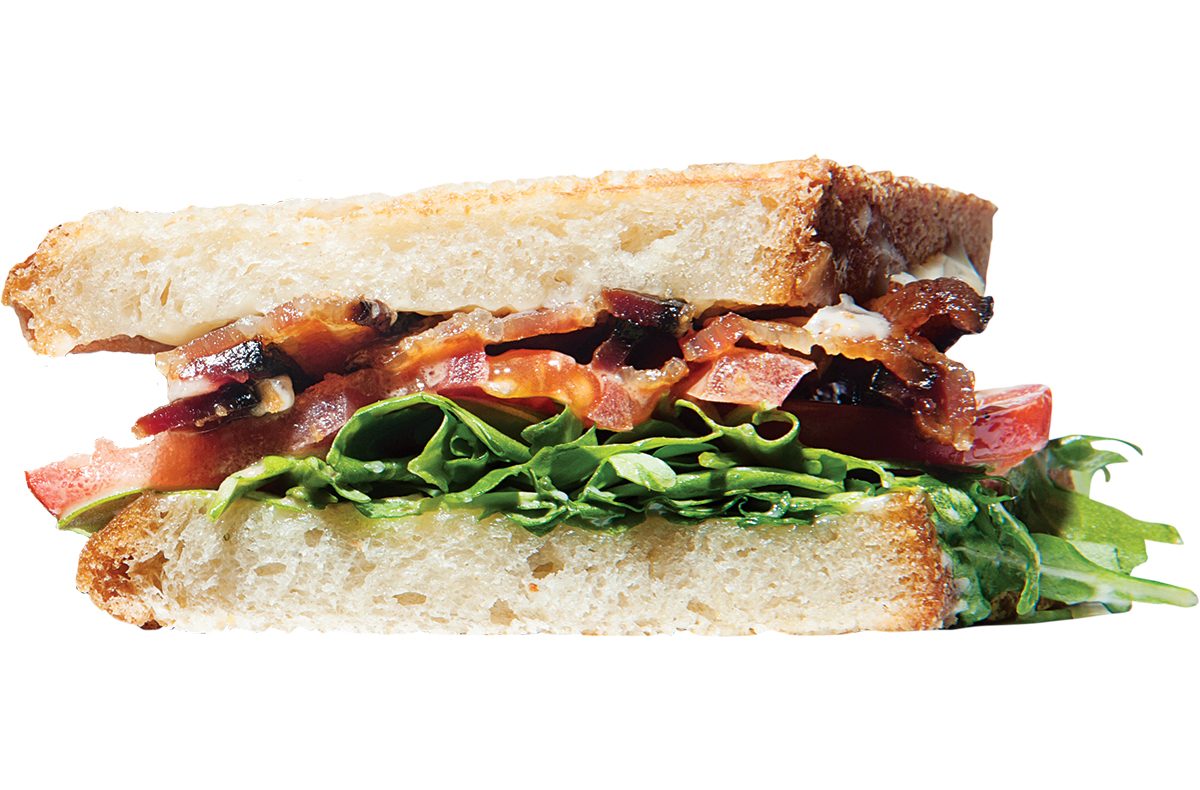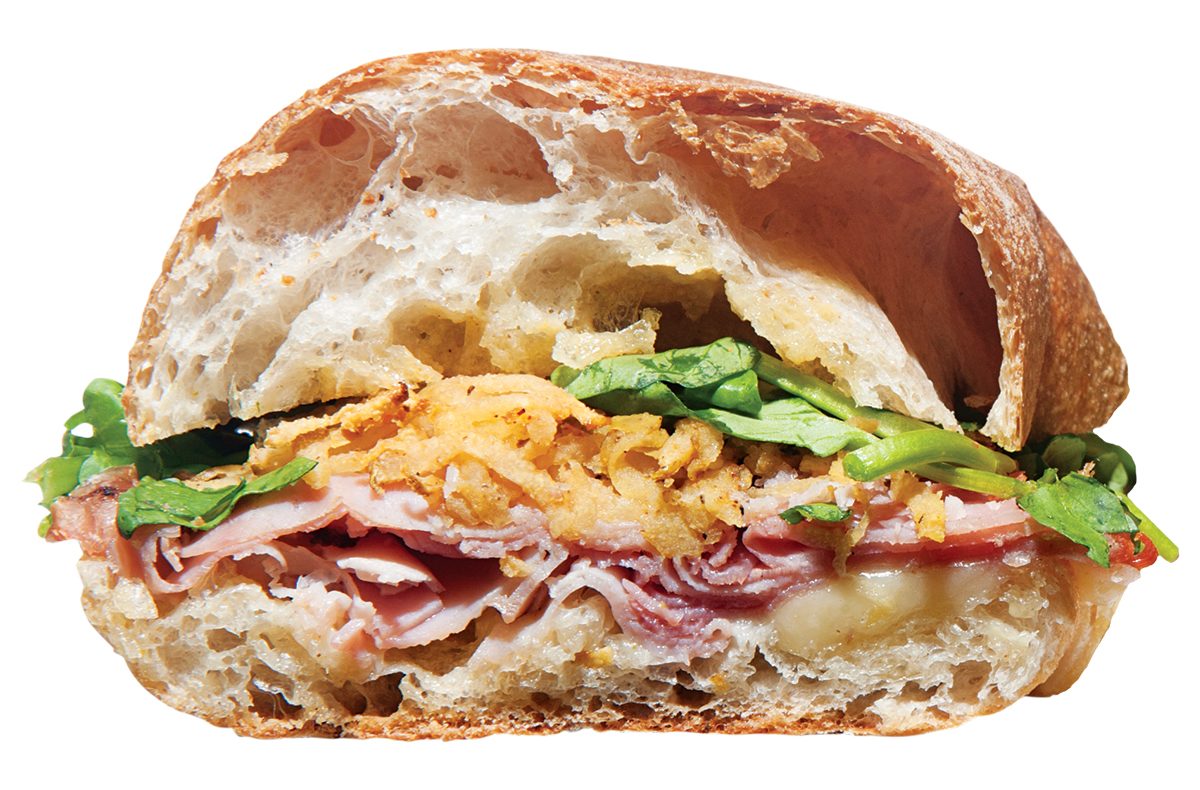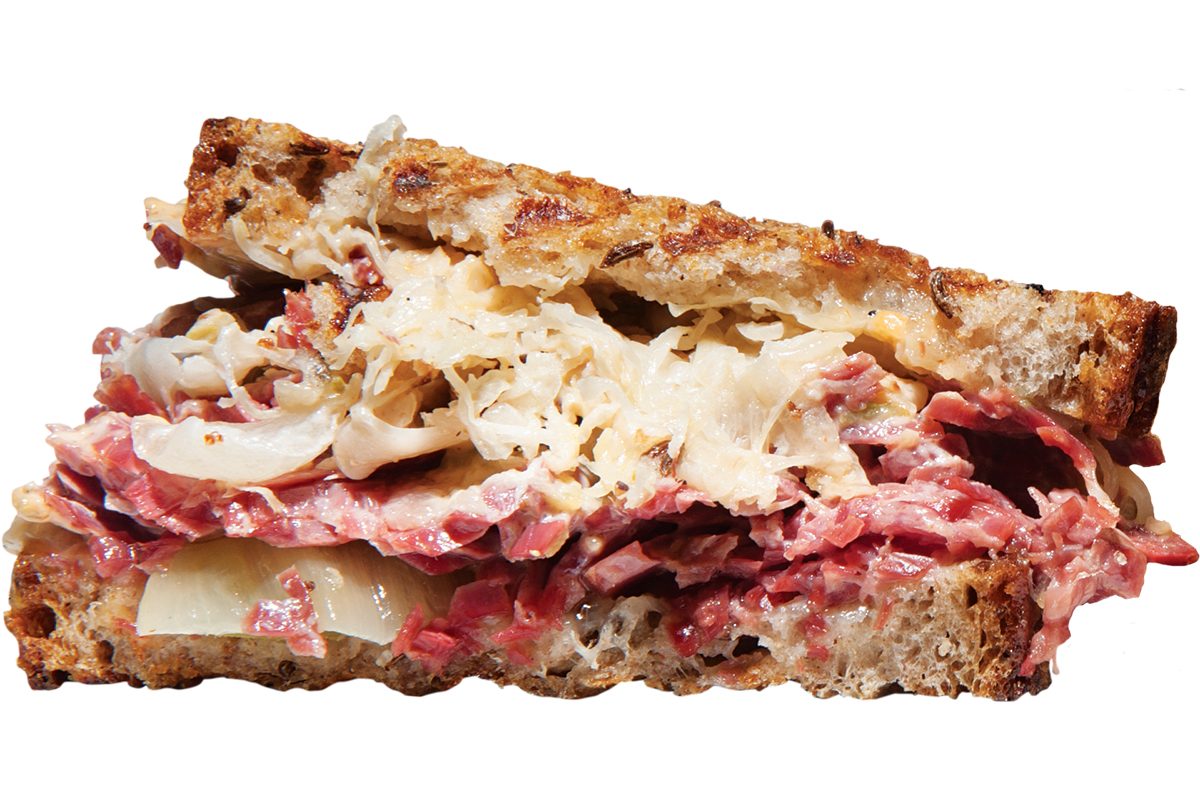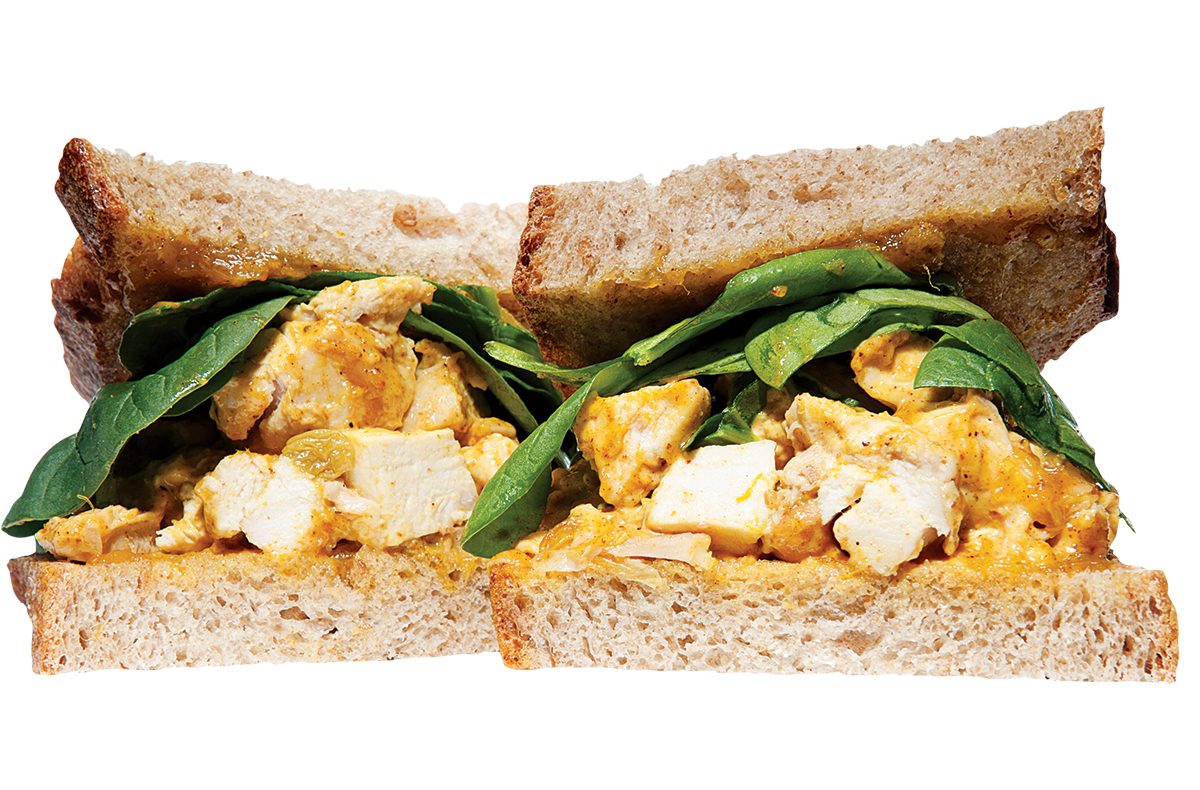 Even the most humble of lunchtime staples, the peanut-butter-and-jelly sandwich, has been rebooted as a too-serious-for-its-own-good, artisanal-nut- butter concoction in restaurants citywide. But we wondered: Could these Gen-Y PB & Js pass the ultimate litmus test of authenticity—the discerning palate of a five-year-old? We asked J.P. resident Finuala Nevins (daughter of Boston design director Eric Mongeon)—who, at home, prefers Teddie smooth peanut butter, Bonne Maman raspberry preserves, and lightly toasted whole wheat bread—to take a few for a spin.
☆ The Winner
Tatte Bakery & Café: CB & J (house cashew butter, strawberry jam on brioche)
"The jam and [cashew] butter is really good, and I like how the bread is really thick. I really like it."
☆ Runner-Up
Saus: CBJ (crunchy Biscoff spread, bananas, and "berry berry" sauce on wheat bread)
"I like that it's kind of sweet. I like the bananas, too."
3 Little Figs: Lil Figgy (almond butter, banana, honey, and cinnamon on seven-grain bread)
"I only love the banana part. That's what I love."
Fornax Bread Company: Fruity Breakfast Sandwich (banana, almonds, apple slices, and Nutella on boule)
"It tastes weird, because, like, the chocolate and the [fruit] together tastes weird and I really don't like it.… I like the bread."
Rifrullo: House nut butter, Granny Smith apples, and a sprinkle of salt on cinnamon-nut bread
"It just tastes weird…. The nut bread was yucky." (Editor's note: Finuala's parents do, however, heartily endorse the melted Taleggio sandwich with wilted greens and onions—a sandwich suited perfectly for grownups.)
illustration by sam kerr
Long before nose to tail was de rigueur, Mike's City Diner chef-owner Jay Hajj was getting resourceful with the birds he roasted for his signature turkey dinner. The "Mike's Famous Pilgrim" sandwich became a catch-all for the poultry leftovers, with pan drippings and turkey stock bolstering both garlicky French-bread stuffing and thick brown gravy. Diners can choose from lean white turkey breast or rich pulled thigh meat, which is then layered with the stuffing, gravy, and a house cranberry spread on a braided sesame roll.
➜ mikescitydiner.com
---
The jibarito is a quirky creation—it has a Puerto Rican flavor profile, relying on fried plantains in lieu of bread, but it was actually invented in Chicago. That crossover appeal makes it an ideal fit for the new Ames Street Deli, in Kendall Square, an also-quirky coffee shop/sandwich shop/cocktail bar hybrid from the team behind Journeyman and the also-new Study. Sous-chef Nick Anichini, who hails from the Windy City, pays homage to the original sandwich with a decidedly dressed-up version: Plantains bookend slow-cooked beef tongue, pickled red onions, creamy avocado purée, and scallop mayonnaise, all plated in a pointillist style that could hold its own in a haute-cuisine restaurant. Explains Anichini: "I have a fine-dining background—put a squeeze bottle in my hand, and I'll make a dot out of it."
➜ amesstreetdeli.com
As it turns out, Boston's vegetable renaissance isn't limited to fine-dining menus—produce is taking center stage in our finer sandwiches, too. After sampling a multitude of foliage-on-bread combinations, we arrived at four favorites. 1) Tatte Bakery & Cafe's beet sandwich, which matches sweet slices of beet with tart green apples and slabs of griddled halloumi cheese. 2) The seasonal butternut squash, sautéed spinach, and Brie panini (pictured) from Milton café the Plate, boosted with fig-and-shallot jam and a drizzle of balsamic reduction. 3) Ula Café's fig-and-mozzarella sandwich, which gets crunch from a handful of raw kale leaves and punch from a garlicky lemon aioli. 4) TR Street Foods' grilled cheese, a mash-up of smoked cheddar, apple slices, and kale. Are kale, beets, and squash the new marinated portobellos and roasted red peppers? If that's the case, we'll happily order the "veggie" option.
The "Snappy's Famous" pork chop sandwich at Kendall Square's State Park is no mere stunt food—it's an oversize hunk of culinary history. Chef Barry Maiden was inspired to pay homage to the original after meeting Charles Dowell, of North Carolina's legendary Snappy Lunch counter, before Dowell passed away in 2012. And so the famed sandwich lives on north of the Mason-Dixon line—covered in beef chili, coleslaw, tomatoes, and mustard, and stabbed through its pickle-topped center with a steak knife. Its defining characteristic is the cutlet, battered and shallow-fried, pancake-style, in clarified butter on a flat-top griddle. But the most crucial ingredient of all is that mustard, which happens to be standard-issue French's: "We tried it with Dijon and fancier mustards, but it didn't have that sharp, twangy, ballpark-y feel to it," says chef de cuisine Tyler Sundet.
➜ statepark.is
When you can find a fried cutlet on a bun in both German and Australian form, everybody wins.
German: Call in advance to make sure this frequent special (pictured) at Karl's Sausage Kitchen, in Peabody, is available: a house-baked pretzel roll filled with a breaded pork cutlet smothered with buttery Brie-and-cream-cheese obatzda spread and onions caramelized in pilsner.
➜ karlssausage.com
Aussie: Schnitzel is a pub staple Down Under—which is why KO Catering and Pies owner (and Australia native) Sam Jackson wanted it on his Southie shop's menu. Here, the ultra-thin chicken cutlet comes on a soft bun with iceberg lettuce, mayo, and, by request, Swiss and sweet chili sauce.
➜ kocateringandpies.com
Three of the city's foremost sandwich technicians weigh in on everything from name-choosing strategies to the science of proper saucing.
Nikki Christo-Leo
Blunch, South End
Making Sandwiches Since: 2007
So, about that name: "There is actually a little place in France called Flunch," Christo-Leo says of her inspiration. "I really didn't like it at first, but it just kind of stuck with me."
On working in close quarters: The dining and prep areas are squeezed into 400 square feet, meaning "every inch of this place is utilized to capacity," Christo-Leo says. "We just do a very small amount of things, and we try to do them as well as we can in the space that we have."
On sticking absolutely everything on a panini press: "The concept was taking a home-cooked meal and putting it between two pieces of bread," Christo-Leo says. "Everything warm and toasty."
You're coming for the: Pressed onion bagel with maple-scented sausage, lime- cilantro aioli, roasted sweet and hot peppers, and gooey mozzarella.
➜ eatblunch.com
The LaGrassa Family
Sam LaGrassa's, Downtown Crossing
Making Sandwiches Since: 1968
Family ties: Sam LaGrassa (foreground), 66, and his sons, Rob (center), Ronnie, and Richie, work in the restaurant each day it's open. "You'll always find my dad behind the counter, and the customers love him," Rob says. "He still has the same love and passion for sandwiches that he did 47 years ago."
A sandwich is only as good as its: Bread. "The light rye is so important to us," says Rob, who sources his loaves from a Rhode Island baker. "It had to have a soft texture to it, and it had to have a little bit of crust. It's been years of putting things together and testing and finding people who were willing to do things for us."
You're coming for the: Warm, fall-apart corned beef—brined in salt, juniper berries, peppercorns, and bay leaves and simmered for up to four hours—and the supremely flavorful pastrami, custom smoked and cured exclusively for the deli by a New York company.
➜ samlagrassas.com
Charles Kelsey
Cutty's, Brookline Village
Making Sandwiches Since: 2010
On sandwich architecture: "How you layer your sandwich changes the perception of how it hits your palate," Kelsey says. "We use the same sauce in three different places."
On bucking tradition: "People get angry that we use the word 'spuckie,'" Kelsey says of his version, which layers fennel salami, hot capicola, mortadella, mozzarella, and olive-carrot salad on ciabatta. "We don't try to present ours as, 'This is Boston, this is a traditional spuckie.' We just like the name and want to hear it being used again."
You'll have to wait till august to eat: Their late-summer-only masterpiece. "We make an awesome buttery grilled cheese, stack it with three slices of thick tomato, and drizzle it with extra virgin olive oil, sea salt, chives, and a little spicy mayo. That's my ultimate proudest achievement," Kelsey says.
You're coming for the: Over-the-top fried chicken sandwich, served one Sunday every month—just be prepared to wait in a line that stretches down the block.
➜ cuttyfoods.com
Every neighborhood has a sub shop or deli to call its own. Here, restaurant insiders share their homegrown favorites.
---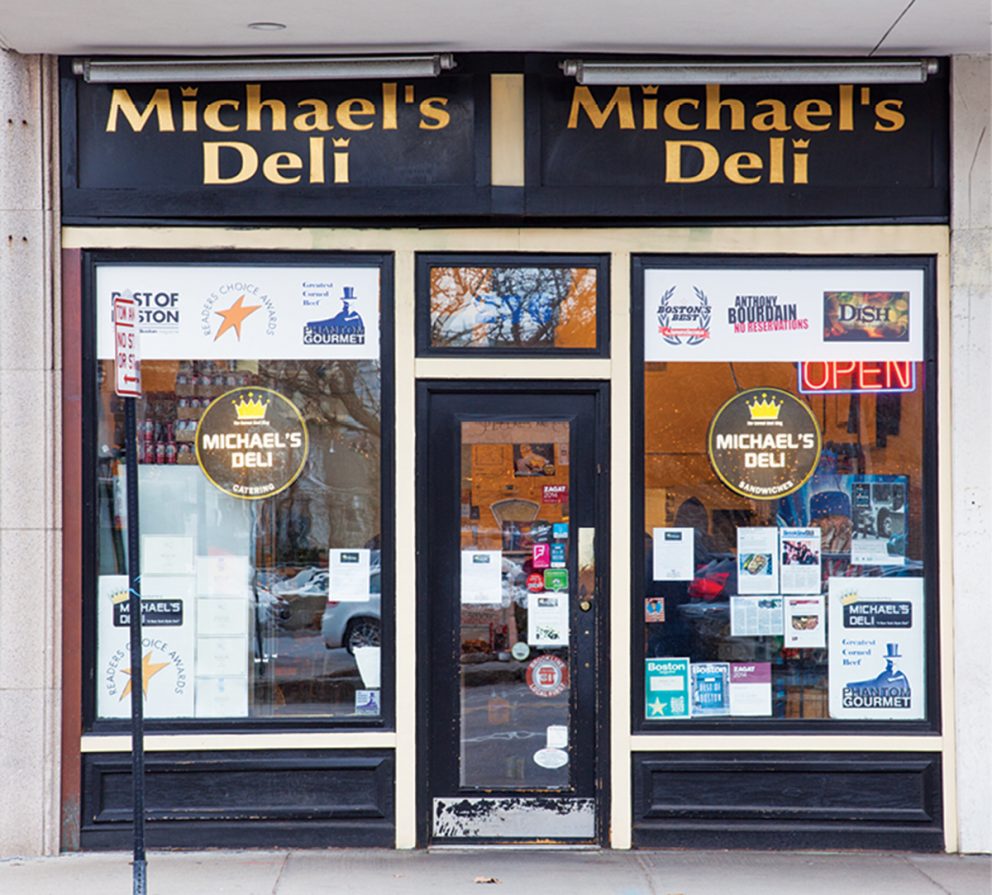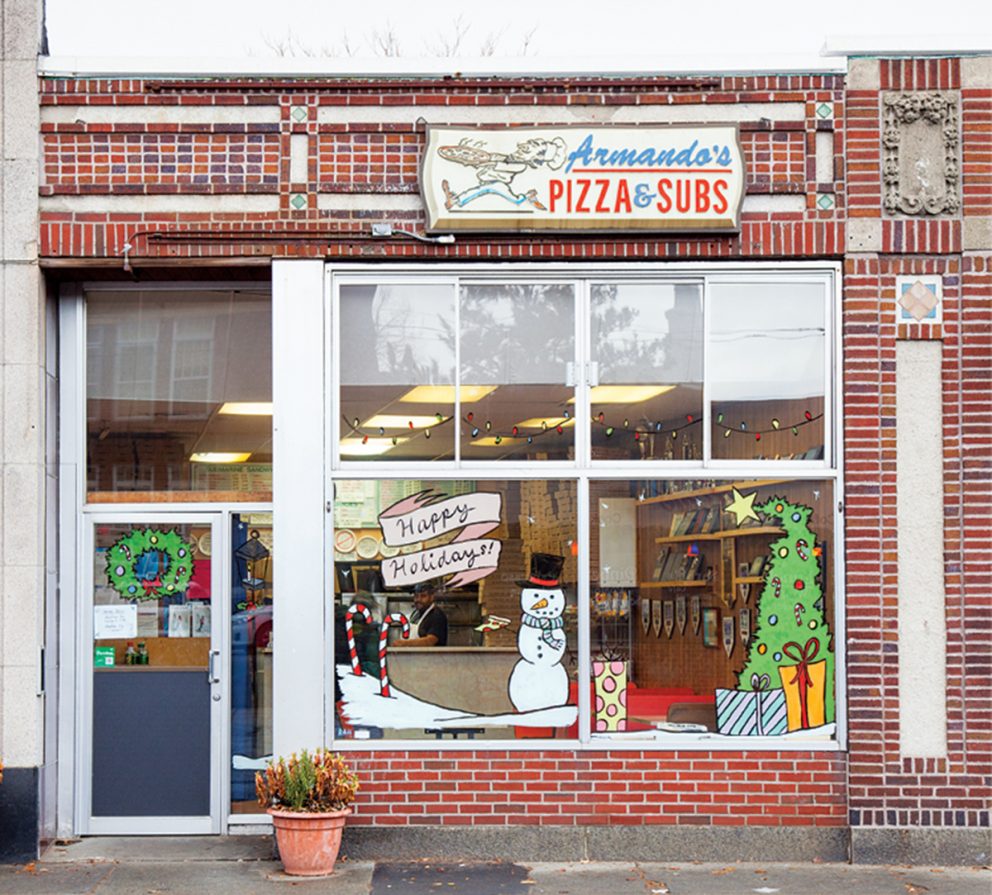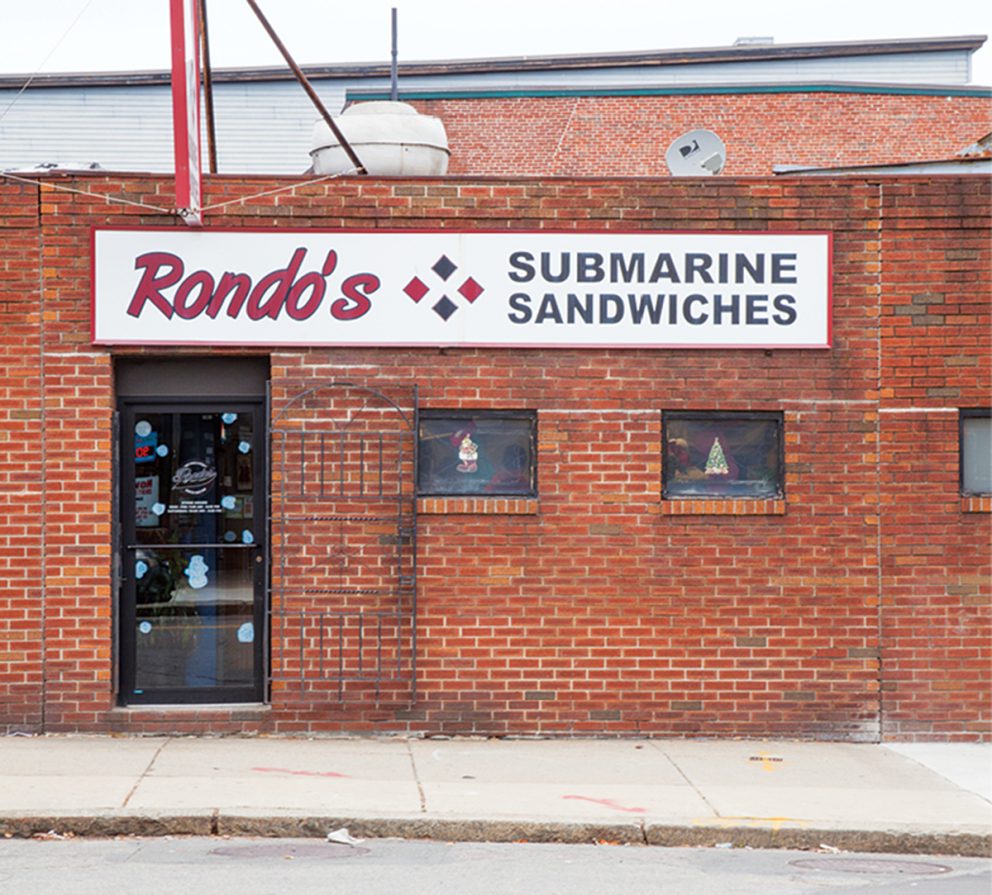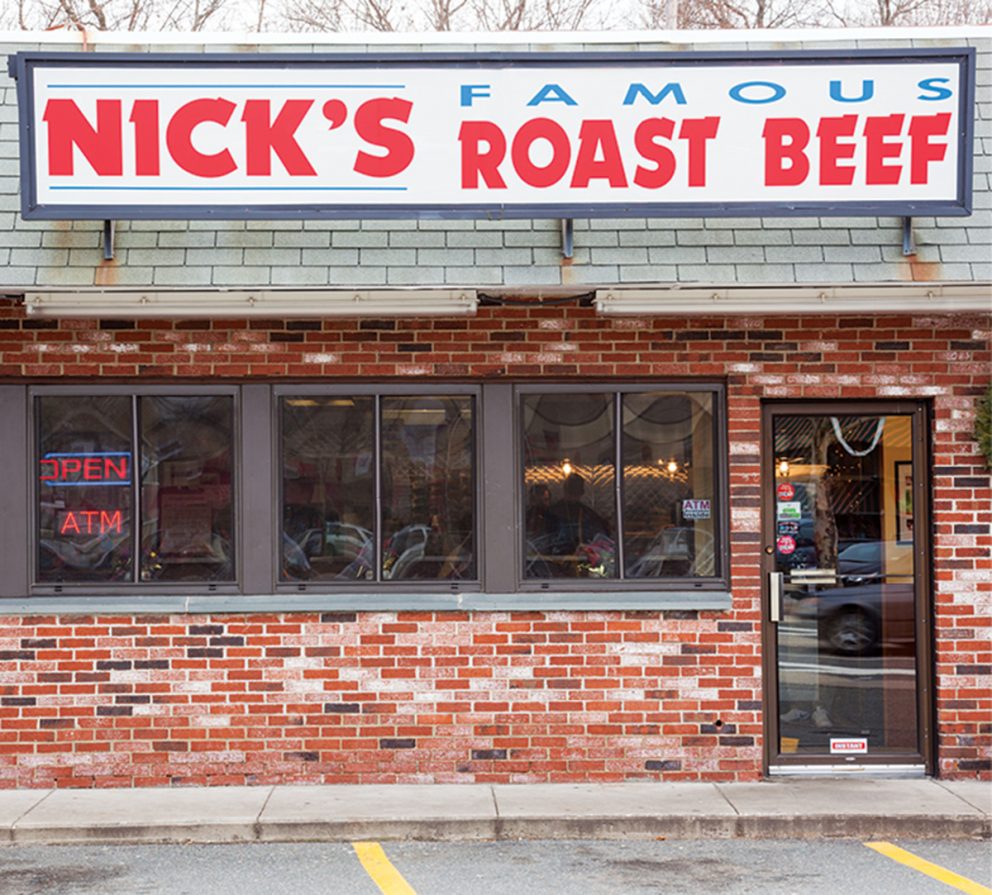 "Chacarero's sandwiches all have the same base: The fresh, soft bread, plus avocado spread, a spicy sauce, Muenster cheese, and green beans. Green beans on a sandwich was, probably, the best idea ever." –Anne Reynolds, associate attorney at Prince Lobel, who prefers the small "vegetarian"
illustration by sam kerr
---
The sandwiches we're most obsessed with right now all have one thing in common: They take inspiration from Italian-American classics. Here, the red-sauciest, garlickiest, porkiest versions to hunt down immediately.
Meatball Parm
Centre Street Café, Jamaica Plain
When this J.P. mainstay reopened in November with Rialto vet Brian Rae as chef de cuisine, its focus shifted to thoughtful Italian fare. Rae's lunchtime meatball Parm, for example, features all the requisite elements, stepped up: smoked-paprika-spiked pork, veal, and beef meatballs, melted provolone, house marinara, and a mix of roasted sweet and pickled hot peppers on house-baked ciabatta.
➜ centrestreetcafejp.com
Porchetta
Pennypacker's, Somerville
Whether served at its Somerville restaurant or from its roving food truck, Pennypackers' porchetta is a study in contrasts: soft, fatty pork, peppered throughout with crunchy pieces of skin. It's the result of a laborious process: curing the belly-wrapped pork shoulder for three days, slow-roasting it for 10 hours, and then finishing it off in a blistering-hot oven. Relief from all that richness comes courtesy of a tart mostarda (or whatever other gourmet condiment the chef's playing around with that day).
➜ pennypackersfinefoods.com
Chicken Parm
Panelli's Pizza + Parm, Brookline
The joint's only been open since November, and already owner David Iknaian's chicken Parm has emerged as a must-eat. It starts with chicken coated in Parmesan, fresh herbs, and bread crumbs made from both pain de mie and rustic Italian loaves from Clear Flour Bread. The mozz? Fresh-sliced from Somerville's Fiore di Nonno. The sauce? Blended with roasted garlic and honey. Must've taken tons of trial and error to perfect, right? Nope: Iknaian claims he nailed the combination on the first try.
➜ facebook.com/panellispizza
Italian Sub
Monica's Mercato, North End
Much adoration has been rightfully lobbed at the cheffy Italian grinder from Coppa, but we can't resist the fully loaded old-school version from this North End shop. It begins with the bread, which is baked twice daily. From there it's about the layers—mortadella, Genoa salami, prosciutto di Parma, provolone, romaine, Roma tomatoes, house-pickled hot cherry peppers, red onion, extra virgin olive oil, and balsamic vinegar glaze—all sliced to order and assembled before your eyes, weighing in at nearly a pound and a half.
➜ monicasboston.com
Sausage Parm
Commonwealth, Cambridge
Faced with a surplus of heritage-breed pork, chef-owner Nookie Postal decided to go the Parm route, with a lunchtime-only sub showcasing sausage spiced with chili flakes and griddled in patty form for easier layering. It meets its match with melted provolone, deep-fried cauliflower, and a layer of marinara—all served on a garlic-butter-crisped baguette roll.
➜ commonwealthcambridge.com
Roast Pork
The Salty Pig, Back Bay
Sous-chef Josh Turka, who hails from the Philadelphia area, was inspired by the region's classic pork–broccoli rabe sandwich. Salty Pig's take stars brined and slow-roasted pork butt—rubbed with garlic, rosemary, and lots of fennel pollen—that's warmed to order in its cooking liquid. The meaty masterpiece gets garnished with aged provolone, broccoli rabe tossed with cherry pepper relish, and a hearty slathering of roasted garlic aioli.
➜ thesaltypig.com
The only thing better than one of Bagelsaurus owner Mary Ting Hyatt's chewy bagels? One that's stuffed with flaky, hot-smoked salmon from Sudbury-based purveyor Matt's the Amazing Smokehouse. Its intensity is offset by sliced apples, parsley-caper salad spiked with grain mustard, and plain schmear.
➜ bagelsaurus.com

After a brief closure, Bay Village treasure Mike & Patty's is back in action under new ownership—and offering both time-honored signatures (the bacon-and-egg "Fancy") and new concoctions (the "Colonist," with turkey, bacon, cheddar, caramelized onions, and tomato jam) for breakfast and lunch. Turkey for breakfast? Eggs for lunch? All bets are off.
➜ mikeandpattys.com

When it takes over the Hi-Fi Pizza space in Central Square (slated to happen this month), Clover Food Lab will be the area's first 24-hour vegetarian café. That means smoky tempeh breakfast sandwiches whenever the mood strikes. Literally, whenever.
➜ cloverfoodlab.com
The main flaw of the ice cream sandwich? Hard cookies, under pressure, squish out all the ice cream. Enter the brioche version (pictured) from Toscanini's, which owner Gus Rancatore says was inspired by a Sicilian street snack. He suggests ordering yours with a scoop of nocciola (hazelnut) or gianduja (chocolate-hazelnut). We suggest taking it over the top with a ladleful of hot fudge or spicy butterscotch.
➜ tosci.com
Does anywhere else offer a top-notch bánh mì, Polish kielbasa sub, and proper Irish breakfast on a roll? We think not. Here, we map out Dorchester's rich sandwich-scape. —Richard Chudy
"My favorite is the 'Rachel' from Veggie Galaxy, in Central Square: grilled corned-beef seitan, cabbage kraut, Swiss cheese, and Thousand Island dressing. They are super-generous with portions—ideal for a big appetite and a small budget." —Matt Mullen, Boston magazine intern and Emerson College junior
illustration by sam kerr
To create the gonzo hybrid that is the "Texas Rachel in a Skirt," Rosebud American Kitchen & Bar chef John Delpha combined a multitude of meat-on-bread tropes: the Rachel, a coleslaw-topped variation on the classic Reuben; the Texas-style brisket sandwich; and the North Shore–style roast beef, with its signature toppings of horseradish and barbecue sauce. He took inspiration from a burger joint in Sacramento that uses melted cheese to form a crispy, crunchy outer layer known as a cheese skirt. "Some people I know take the cheese skirt and fold it around the sandwich, and some just nibble the skirt right off of it," Delpha says. We, however, recommend requesting a side order of Delpha's Alabama-style white barbecue sauce, ripping the skirt off, and dunking the pieces into the sauce like chips—chips that are made entirely of cheese.
➜ rosebudkitchen.com
1. The Cheese: An aggressive amount of cheddar and Monterey Jack cheese, sprinkled over the bottom layer of bread and melted directly onto the flat-top grill.
2. The Slaw: Classic apple-cider-vinegar-spiked coleslaw, piled on top.
3. The Bread: Slow-rise rye from West Concord–based Nashoba Brook Bakery.
4. The Meat: Brisket coated in a salt-and-pepper rub, smoked overnight, and griddled to order.
5. The Onions: Cooked down in house-made barbecue sauce to complement the smoky brisket.
6. The Sauce: Mayo, sour cream, horseradish, and a "secret seasoning."
An outrageous sandwich is only a few deft ordering stratagems away. None of these are actually on the menu—and we made up the names during our lunch break—but we think you should give these do-it-yourself mash-ups a shot anyway (some assembly required).
---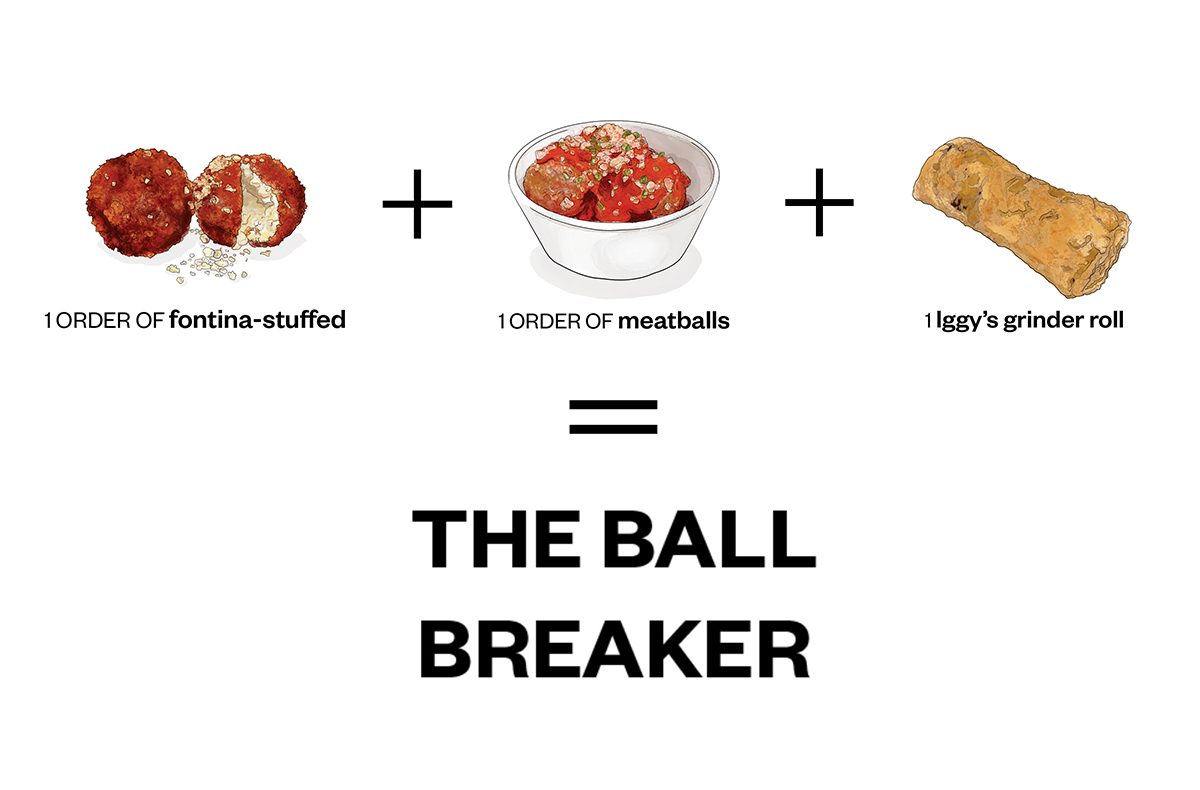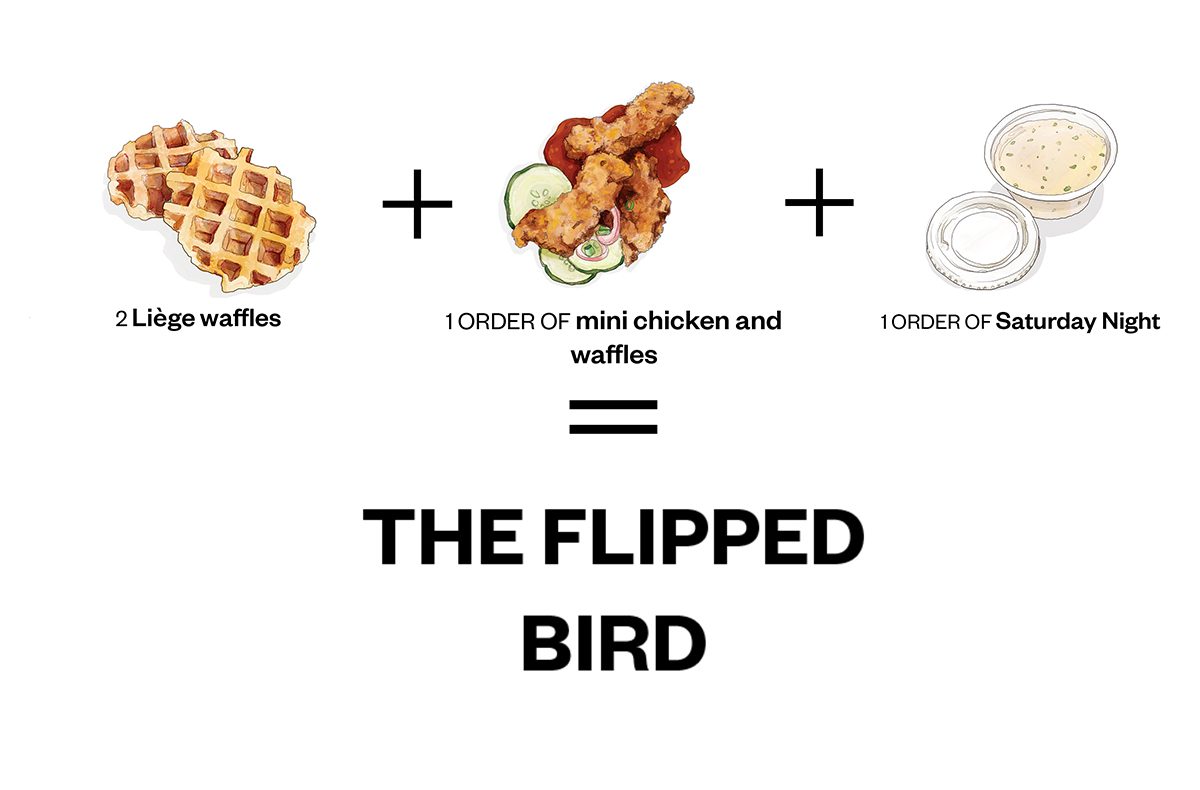 ---
Source URL: https://www.bostonmagazine.com/restaurants/2015/01/29/best-sandwiches-in-boston/
---