Here's Your First Look at the Smoke Shop
The Ole Hickory smokers are fired up at Andy Husbands's barbecue joint, ahead of its opening this weekend.
---
Contractors, cooks, and front-of-house staffers are buzzing around One Kendall Square to put the final touches the Smoke Shop ahead of its debut this weekend. The latest restaurant from chef Andy Husbands (Tremont 647, Sister Sorel), the barbecue joint draws from his 20-plus years as both a restaurateur and a championship pitmaster with the IQUE Barbecue team.
"I call it city barbecue," Husbands says, as sous chef Falco Rodriguez and chef de cuisine Pong Kansab roll in a crate of oak and cherry wood to stack beneath two Ole Hickory smokers in the small, open kitchen.
"Barbecue is a cuisine with history, and a cuisine of necessity. There was a day when there was no barbecue, and somehow [humans] found out how to do it by using what's around you in your local environment," he says.
Take collards, for example. A hardy crop, the greens could grow underneath stalks of corn, which was a moneymaker for plantation owners and later, sharecroppers, Husbands explains. Pork shoulder, a traditionally gristly cut of meat, was transformed when smoked slow and low.
"Here, we're following that same path, meaning that we're doing, in the big city, what we can," he says. That means no outdoor smoking shed, and it also means regional produce used throughout the menu.
"I want the barbecue people to know that we got you, but we are also going to have seasonality of locality. Barbecue restaurants don't have that," he says.
Expect grilled hake and other New American-style entrées served with asparagus when the Smoke Shop opens this week, and "fancified" chicken and dumplings, with seasonal garnish like sweet corn and zucchini, and root vegetables and Brussels sprouts later this year. The menu also has the global flavors Husbands infuses in his Tremont 647 fare. His collard greens, for example, are "über meaty," braised with three different cuts of pork and served with a side of fermented pepper sauce.
Many years before it was Tommy Doyle's Pub, the building on the corner of Portland and Hampshire streets was a rubber hose factory, and the Smoke Shop contractors retained exposed brick, wood beams, and floorboards in parts of the restaurant. One wall in the dining room is accented with panels of steel knife cutouts, which Husbands procured from R. Murphy Knives in Ayer. Other art, including primal cuts of beef and an American flag, will be painted on the tiles and reclaimed wood walls ahead of the opening.
In a small, separate area for takeout, accessible with its own entrance off One Kendall Square, there will also be a framed portrait of the IQUE team winning the Jack Daniel's World Championship Invitational Barbecue in 2009.
The Smoke Shop is hosting friends and family this week, and will open to the public for dinner on Saturday and Sunday. Takeout and lunch service kicks off Monday.
The Smoke Shop, One Kendall Square, Cambridge, thesmokeshopbbq.com.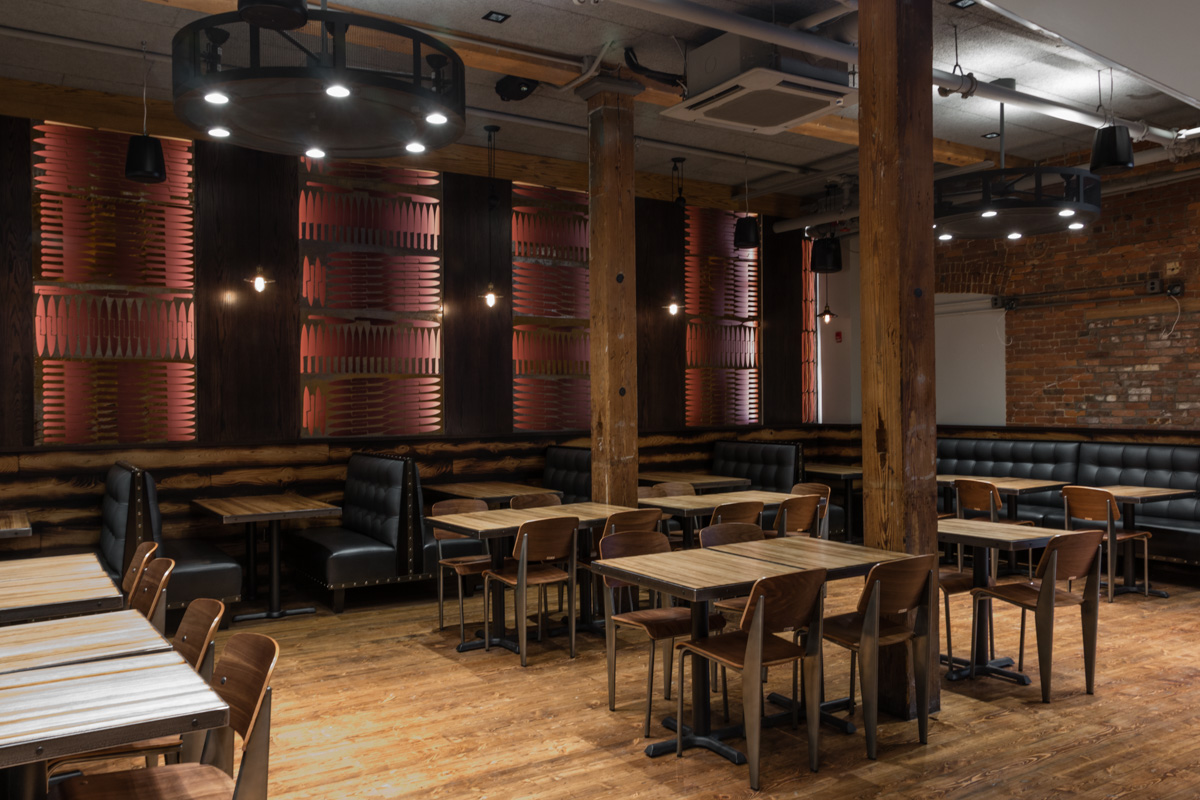 ---
---