Ben Houge of Berklee Pairs Meals with Music in Food Operas
Forget the wine. Is pairing food with music the next big thing?
---
The moment the mushroom bisque hits the table, a fluid cello note flows from a custom speaker sitting above each place setting. Does the instrument's smooth, rich tone complement the creamy dish—and vice versa? As diners contemplate that question, Ben Houge stands relatively unnoticed in a corner of a room in Symphony Hall, conducting a new type of symphony with a touch of his iPad.
Over the past half-dozen or so years, the Berklee College of Music professor has become an internationally recognized expert in the emerging field of food and music pairing, something he calls "food opera." Houge's interest in the topic spun out of his career composing music for video games, work that likewise requires real-time coordination of action and sound. "I got to thinking that it was interesting that we didn't synchronize music with food," he says. "Because composers have long collaborated with those working in other disciplines, such as dancing, filmmaking, and theater."
Now, collaborations between chefs and musicians are just starting to catch on. At his Los Angeles sensation Vespertine, chef Jordan Kahn serves otherworldly-looking dishes to a custom soundtrack of ambient music. Closer to home, Juliet in Somerville recently delighted guests with These Wild Apples, a mixed-media event produced with Promenade Opera Project. And local chefs Jason Bond of Bondir and Tracy Chang of Pagu have each teamed up with Houge on multisensory dining experiences.
Part of what sets Houge's work apart is his use of specific sounds to enhance not just the dining experience, but the actual taste of a dish—music as seasoning, if you will.
To create pairings, Houge draws on both his innate artistic sense and scientific research on the way sound influences how the brain interprets flavor. High-frequency sounds, for instance, are thought to heighten sour flavors. So when scoring a sour-beer tasting, Houge opted for deeper tones to balance things out. He always starts the process by breaking down the elements of a dish, including taste, texture, and temperature, and then decides which attributes he wants to highlight or downplay. "And that becomes a little bit more of a subjective decision," he says.
In the past year alone, Houge has made significant strides in his food-opera evangelism. Last summer, he taught Berklee's first-ever class on the subject and presented his work at the Oxford Symposium on Food & Cookery. He's currently collaborating with the research and development team at Spain's lauded Mugaritz restaurant on a new project set to debut later in 2018. Also in the works? Forks and chalices outfitted with sensors that can detect your every bite or sip and play a corresponding sound. "This could allow for a level of synchronization between music and a meal that we've never seen before," Houge says. Sounds pretty sweet to us.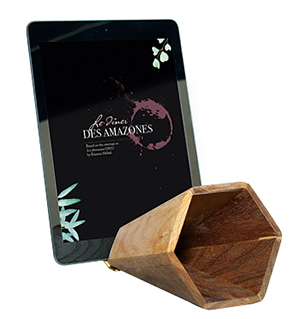 An iPad-resonator contraption Houge uses for his food operas.
---