Spyce, One of the World's First Robotic Restaurants, Is Opening in Boston
Is Boston ready for robot chefs? Daniel Boulud and these MIT grads think so.
---
It's clad in copper and equipped with sleek screens and steel cylinders that wouldn't look out of place on a rocket ship—and Spyce's robotic kitchen is ready to make your lunch. Head to the fast-casual startup's first location, set to open May 3 in Downtown Crossing, and order, say, a beet bowl with kale and freekeh: The machine will grab ingredients out of its refrigerated chambers, cook them in just two minutes, self-clean, and repeat.
"I had the idea the first semester of grad school," says Michael Farid, who founded Spyce with fellow MIT alums Kale Rogers, Luke Schlueter, and Brady Knight. "I first described it to these guys as a stir-fry robot." Farid and his undergrad cofounders built their first prototype in a fraternity basement in 2015; now they have patent-pending technology and backing from acclaimed chef Daniel Boulud.
One of the world's first automated eateries, Spyce has the potential to be a game-changer—but are we ready to radically reduce the role of the chef in an industry that's long relied on a human touch? The team makes a decent case, arguing that its kitchen could make high-quality, healthful food more accessible. In part because of reduced labor costs, the restaurant's bowls sell for $7.50 without add-ons, less than a comparable meal at many quick-service competitors.
Of course, Homo sapiens aren't completely out of the equation. Human hands prep ingredients in a commissary kitchen and, as a final step, garnish bowls with yogurt, herbs, and other fixings. And Spyce's menu was developed by classically trained executive chef Sam Benson, who cooked at Café Boulud before working in research and development at Chipotle. "As a chef, you have to be willing to keep pushing boundaries," Benson says, adding that it was Boulud who convinced him to join the team.
Once he did, he worked closely with the entrepreneurial engineers, fine-tuning the recipes as they tweaked the system—devising a gentler way to handle raw kale, for instance. For now, their kitchen is limited to bowl-based dishes (your robot-seared steak will have to wait), but that still leaves opportunity to play with flavor and texture. "It's wholesome, it's nutritious, it's food that I really enjoy eating, so I hope everyone else does, too," Benson says. Farid agrees: "Our customers will come in the first time because they think it's cool. But they'll come the second time, we hope, because they really enjoy the food."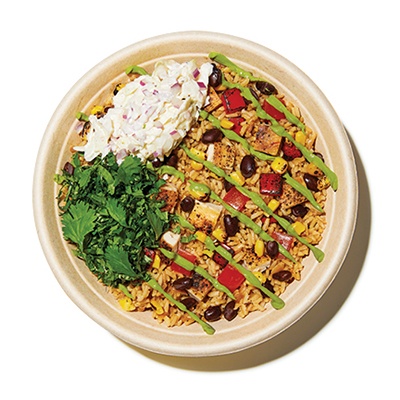 Spyce will open with an all-bowl menu. / Photograph by Ken Richardson
---