Boston's Best Outdoor Dining – 52 Top Patios, Decks & More
Ashmont Grill
Just off the Ashmont MBTA stop is an al fresco oasis with modern comfort food—braised short ribs, pan-seared salmon with sun-dried tomato tapenade, a Pearl hot dog on a grilled bun—plus weekly dollar oysters and whole-animal roasts from chef-owner Chris Douglass. You can also settle on the front patio.
555 Talbot Ave., Dorchester, 617-825-4300, ashmontgrill.com.
Atwood's Tavern
The lushly landscaped deck behind Atwood's Tavern proves a low-key refuge for classic comforts like burgers, stuffed mushrooms, and macaroni and cheese—not to mention heavy hitters on draft from Night Shift Brewing, Oxbow Beer, and Bantam Cider.
877 Cambridge St., East Cambridge, 617-864-2792, atwoodstavern.com.
Audubon
Traditional dining high-tops and family-style seating make this back patio a prime spot for pre- or post-Fenway noshing. The Boston venture from Trina's Starlite Lounge offers ever-changing small plates, like grilled buffalo wings and loaded potatoes, entrées like cavatelli with a spicy tomato sauce, sandwiches, salads, and more—and of course, great cocktails, including a famous margarita.
838 Beacon St., Fenway, Boston, 617-421-1910, audubonboston.com.
The Automatic
This dog-friendly, Hampshire Street expanse is shaded with retro blue-teal umbrellas, and during peak hours, it has a small, outdoor bar dishing out cold cans and cocktails. It also occasionally hosts events, like the Auto Flea, or the annual Paella on the Porch with guest chef Jamie Bissonnette. But on any given day in season, this patio is a prime location for Kendall Square-area lunches, post-work snacks and drinks, or full dinner—just make sure to save room for whatever's on the tableside tray of frozen candy and Klondike Bars that stands in for the dessert menu.
50 Hampshire St., Cambridge, theautomaticbar.com.
B&G Oysters
Descend a few steps to the patio behind the Barbara Lynch Gruppo's oyster bar and you'll find summertime bliss. Under a string of globe lights and a little shade from South End flora (in due time), B&G Oysters is a prime spot to have a selection of fresh bivalves on the half shell, a simple lobster roll, and a glass of wine director Cat Silirie's favorite Chablis.
550 Tremont St., South End, Boston, 617-423-0550, bandgoysters.com.
Banyan Bar + Refuge
The team behind the Gallows is paying due respect to the outdoor space at the former Hamersley's Bistro. Banyan's brick patio is ensconced in strings of warm bulbs and lanterns and lush greenery, and features colorful, comfortable lounge seating in addition to dining tables and a banquette. No matter where you sit, drinks like a five-spice-infused Mai Tai with coconut foam taste great al fresco. The patio opens annually around May 1, and also brings back weekday lunch and weekend brunch for the season, too.
553 Tremont St., South End, Boston, 617-556-4211, banyanboston.com.
The Bar By the Elevator
The One Kendall Square plaza has myriad outdoor dining options. But this weather-dependent, seasonal tiki bar (reopening seasonally from May into fall) from co-owner and drinksmith Evan Harrison and the rest of his team at State Park and Mamaleh's is just too much fun. Low-key and low-frills with just a few cocktails, beer and wine selections, and snacks like hot dogs, it's a perfect first (or last) stop of the night.
One Kendall Square, Cambridge, Instagram, thebarbytheelevator.com.
Barcelona Wine Bar (Brookline)
Premium people-watching in Washington Square is part of the allure of this 70-seat outdoor dining area. The space offers partial shade, and the fine folks in charge have blankets available for chilly nights. Chef Emilio Garcia's menu features shareable tapas like seared foie gras and jamón croquetas. Just here for the wine? There's also a cocktail patio.
1700 Beacon St., Washington Square, Brookline, 617-264-8900, barcelonawinebar.com. 
Bistro du Midi
Overlooking the Public Garden, this 20-seat patio pairs prime views of the park with proper Provençal lunch or dinner. Chef Robert Sisca's French fare is inspired by coastal New England, Hampshire pork cheeks with mustard greens, seared prawns with ratatouille, and more.
272 Boylston St., Back Bay, Boston, 617-426-7878, bistrodumidi.com.
Branch Line
The 45-seat dining area is covered and heated, so year-round, it's a fine place to carve into a rotisserie Green Circle chicken, and sip tulips of Stillwater Artisanal, Finback, and other rare beers and ciders on Magellan Casto's funky draft list. But in the warmer months, there's bocce, too.
321 Arsenal St., Watertown, 617-420-1900, branchlinearsenal.com.
Brewer's Fork
This beer garden offers a sense of place: You can see the Bunker Hill Monument peeking above the landscaped flora and string lights. Chef John Paine's wood-fired pizzas and small plates (like smoked and braised pork belly with ginger-lime slaw) pair perfectly with co-owner Michael Cooney's selection of top-tier local and Belgian brews.
7 Moulton St., Charlestown, 617-337-5703, brewersfork.com.
Bronwyn
Rustic, family-style tables clothed in blue-and-white gingham give this biergarten a decidedly Bavarian feel. It's the perfect location to take in chef Tim Wiechmann's bretzel with horseradish mustard, wursts, schnitzel, and liters of lagers, hefeweizens, and radlers.
255 Washington St., Union Square, Somerville, 617-776-9900, bronwynrestaurant.com.
Buttermilk & Bourbon
Comfortable lounge seating, a six-seat bar, ample heat towers and shade umbrellas—plus dining tables, of course—make this Comm. Ave. patio an ideal spot for after-work drinks and dinner. Did we mention there are rotating flavors of house-made soft serve?
160 Commonwealth Ave., Boston, 617-266-1122, buttermilkbourbon.com.
Cambridge Brewing Company
Tucked into One Kendall Square is a patio perfect for a mini beer festival any time chef David Drew breaks out the outdoor grill, which he does a few times a season. Beer garden parties aside, it's a fine place for spent grain dough pizzas, dollar oysters, and a few rounds of house-made brews like Working Class Hero, a hoppy saison from brewmaster Will Meyers. There's also a standing room, beers-only "swig pen."
One Kendall Square, Bldg. 100, Cambridge, 617-494-1994, cambridgebrewingcompany.com.
Charlie's Kitchen
A classic double patty, waffle fries, and a brew straight from the 18-draft outdoor bar are storied Harvard Square traditions. The rock-lined, subterranean beer garden is complete with tableside fireplaces, too.
10 Eliot St., Harvard Square, Cambridge, 617-492-9646, charlieskitchen.com.
Cinquecento
This outdoor lounge—complete with its own bar—is a perfect place to stop after checking out SoWa Open Market. Do some people-watching while exploring Cinquecento's impressive amaro menu and chef de cuisine Justin Winters's wide range of trattoria fare.
500 Harrison Ave., South End, Boston, 617-338-9500, cinquecentoboston.com.
City Tap House
Craft beers and fire pits are found in spades here. Come for weekend brunch, and stay for a couple rounds of cornhole. Cheers!
10 Boston Wharf Rd., Boston, 617-904-2748, boston.citytap.com.
Committee
Maybe it's the sea breeze, but this hotspot's outdoor cocktail lounge feels a little more laid back than its lively dining room and huge indoor bar. It's the only place you can sip certain patio-exclusive drinks, and it's also a fine place to explore consulting wine director Lauren Friel's extensive list of lesser-known Mediterranean varietals, as well as unique Greek spirits. Want to share some meze with your crew? The seating capacity is 85.
50 Northern Ave., Seaport, Boston, 617-737-5051, committeeboston.com.
Commonwealth
Chef Nookie Postal and his team nearly got ahold of a 1960 D100 Dodge pickup truck, which has become, in season, a fully operational bar. With Broad Canal views, it's a perfect place to enjoy menu items like grilled chicken wings with strawberry sambal, house-made coffee cookies and cream ice cream, and Ducky's Fried Chicken on Sunday afternoons.
11 Broad Canal Way, Kendall Square, Cambridge, 617-945-7030, commonwealthcambridge.com.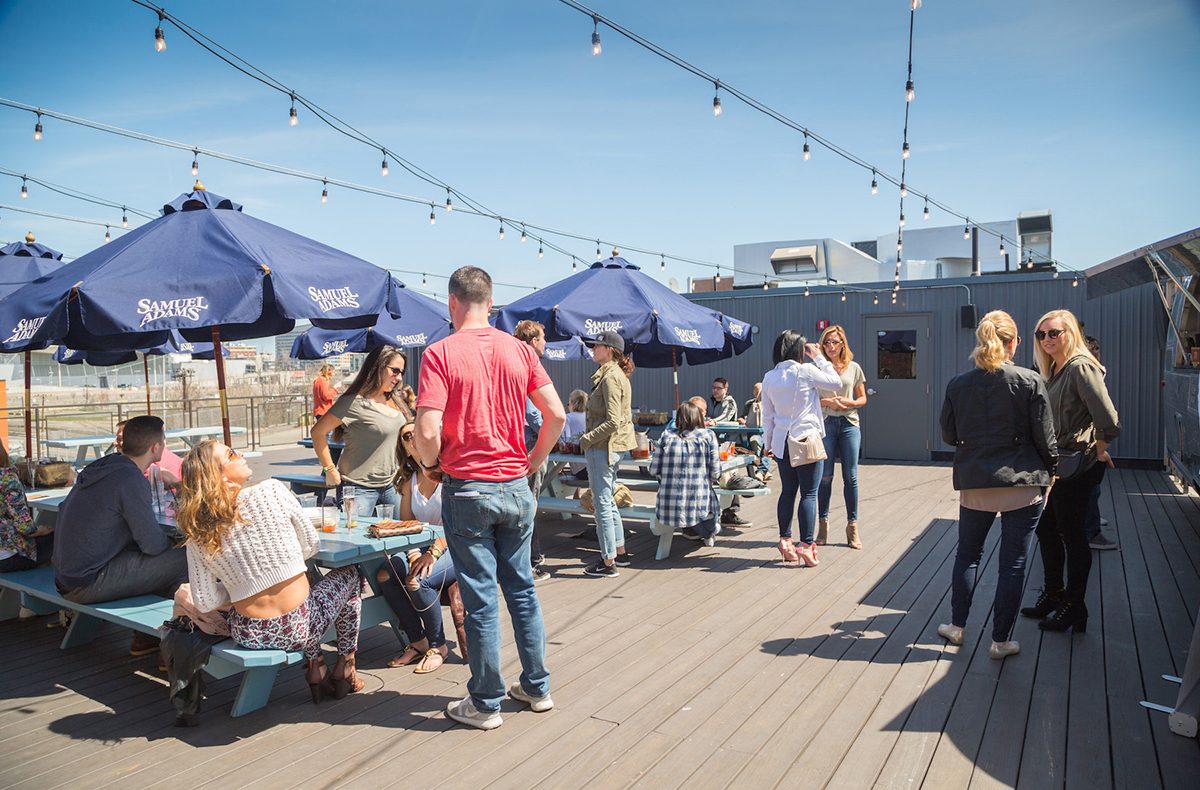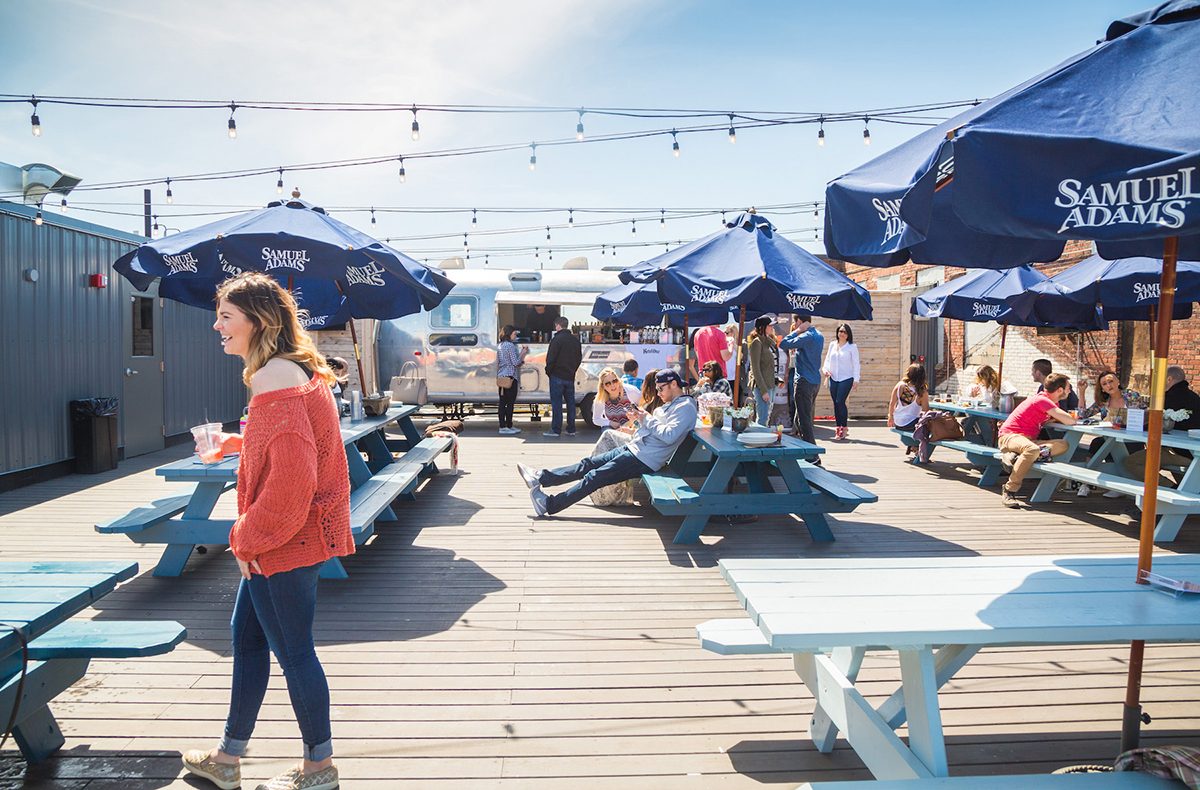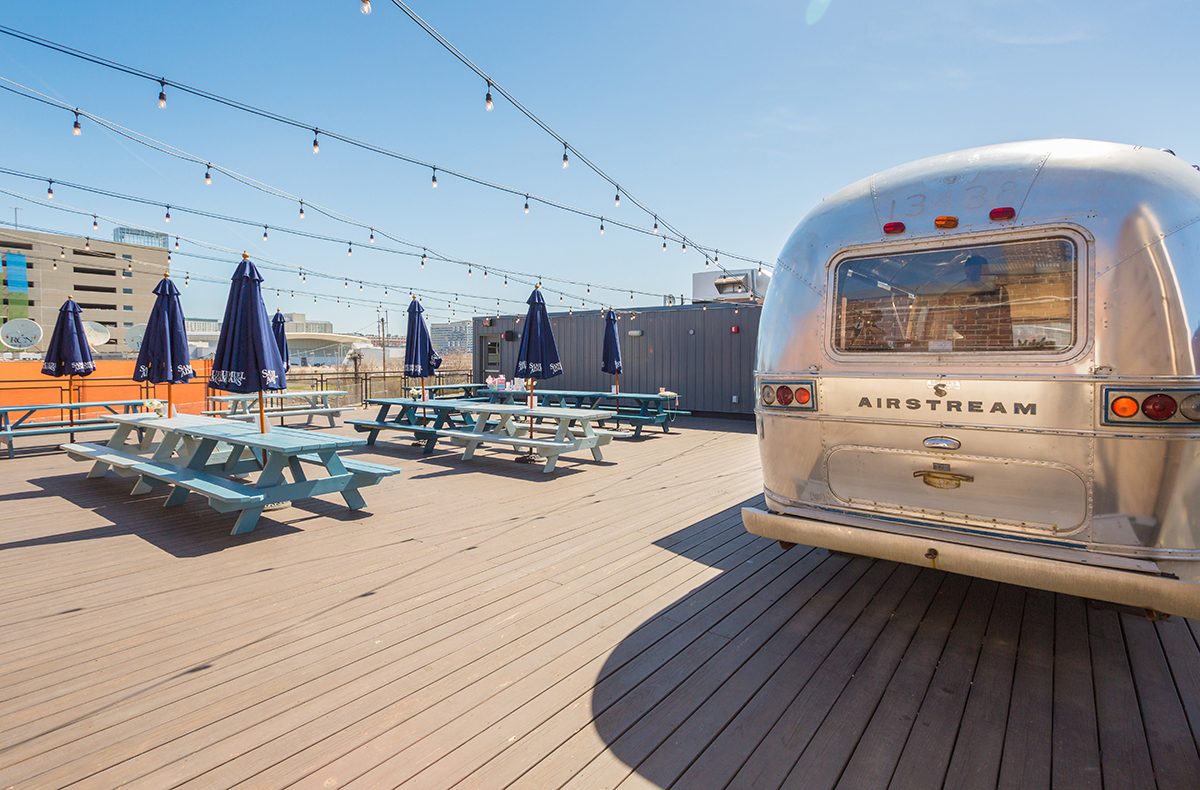 Coppersmith
This Southie spot boasts not only the 75-seat "Porch" out front, but also a vintage Airstream-turned-rooftop bar, the Airdeck. The top-level space has large-format cocktails and craft beer, plus chef Jason Heard's party-friendly barbecue plates, buffalo shrimp, sweet potato tots, and more.
40 W. 3rd St., South Boston, 617-658-3452, coppersmithboston.com.
Cultivar
Overlooking the old State House, this gorgeous seating area is also a lovely place to be seen. Relax by the fire pits with a Lady Geneva—a gin drink with apricot brandy, hibiscus, lemon, and bubbly—and know that the greens, herbs, and edible flowers on your plate were grown right inside the shipping container garden near your seat.
Ames Hotel, One Court St., Boston, 617-979-8203, cultivarboston.com.
Dante
If you like to pair Italian wines with sweeping Charles River and Boston skyline views, head to this spot within the Royal Sonesta Hotel. The quiet, idyllic setting is perfect with chef Dante de Magistris's selection of antipasti and a cold glass of Falanghina.
40 Edwin H. Land Blvd., Cambridge, 617-497-4200, restaurantdante.com.
Deep Ellum
Max Toste and Aaron Sanders overcame the lack of outdoor space typically afforded to Allston restaurants with a petite oasis behind their first venture. Dark-stained wooden walls and trees provide just enough shade over brunch burritos, sausage plates, poutine, and refined comfort food specials. A similarly inspired setup can also be found outside Lone Star Taco Bar in Cambridge, which is great, because Deep Ellum taught us that European imports, local brews, and craft cocktails are best enjoyed al fresco.
477 Cambridge St., Allston, 617-787-2337, deepellum-boston.com.
Deuxave
Deuxave's sleek and ample patio, located at the crossroads of Commonwealth and Massachusetts Avenue, exudes the same unpretentious luxury as executive chef Chris Coombs's contemporary French cuisine.
371 Commonwealth Ave., Back Bay, Boston, 617-517-5915, deuxave.com.
Devlin's
This Brighton neighborhood favorite has a large, outdoor dining area ideal for meeting friends to share snacks like Greek-style tater tots, street corn guacamole, and New England Charcuterie pizza. The outdoor bar has a robust draft list, and TVs to appease al fresco sports fans.
322 Washington St., Brighton, 617-779-8822, edevlins.com.
Earls Kitchen + Bar
This twinkling roof deck seats more than 200 people across various dining and lounge-style settings. It has a gigantic tree and an ivy-lined wall, and the retractable roof allows for three-season enjoyment.
The Shops at the Prudential Center, 800 Boylston St., Boston, 857-957-0949, earlsrestaurants.com.
Eastern Standard
In the heart of Kenmore Square, Eastern Standard remains the crown jewel of al fresco dining in Boston. You can't go wrong with a plate of oysters and a Whiskey Smash, but don't overlook Eastern Standard's reserve beer list.
500 Commonwealth Ave., Kenmore Square, Boston, 617-532-9100, easternstandardboston.com.
The Hawthorne
This award-winning and elegant bar also has one of the coziest outdoor lounges around, with lush sofas, low coffee tables, and of course, beverage director Jackson Cannon's array of expertly shaken and stirred cocktails. Try the Les Sablons (not to be confused with the team's Harvard Square restaurant), with Absolut Elyx, Fino sherry, lemon, and Benedictine.
500A Commonwealth Ave., Kenmore Square, Boston, 617-532-9150, thehawthornebar.com.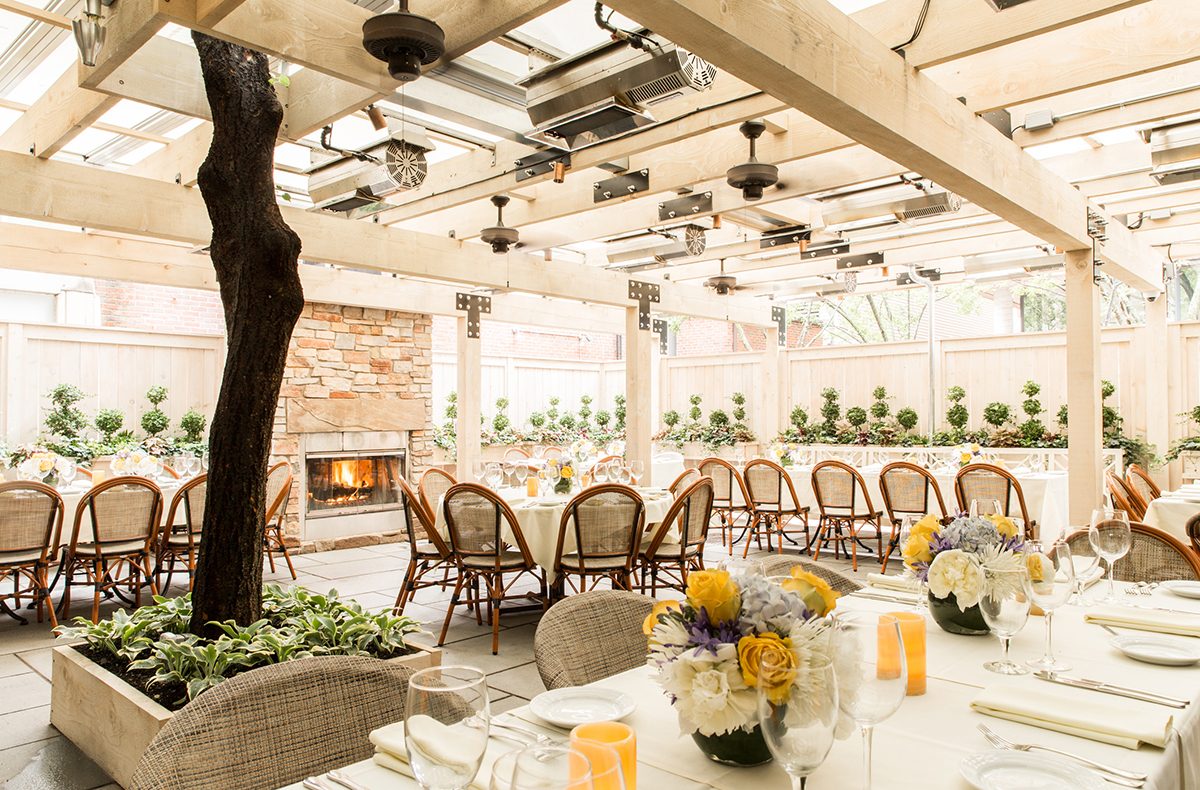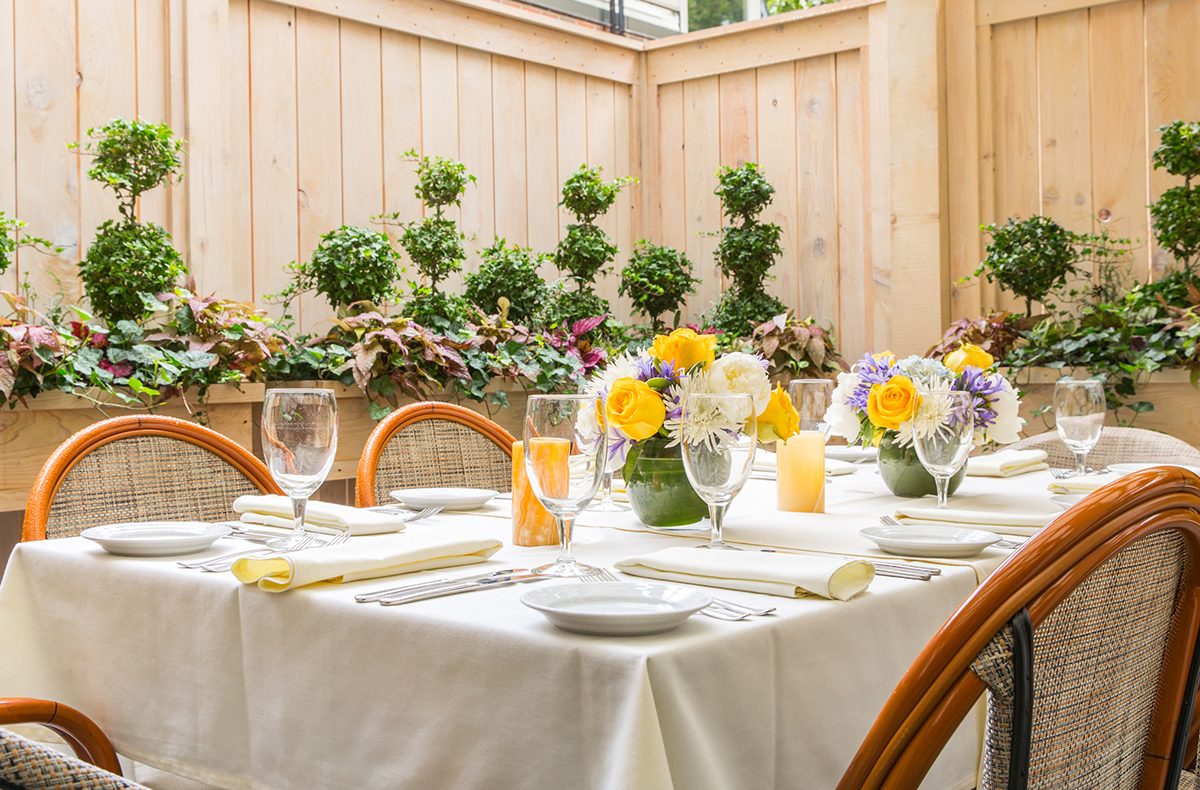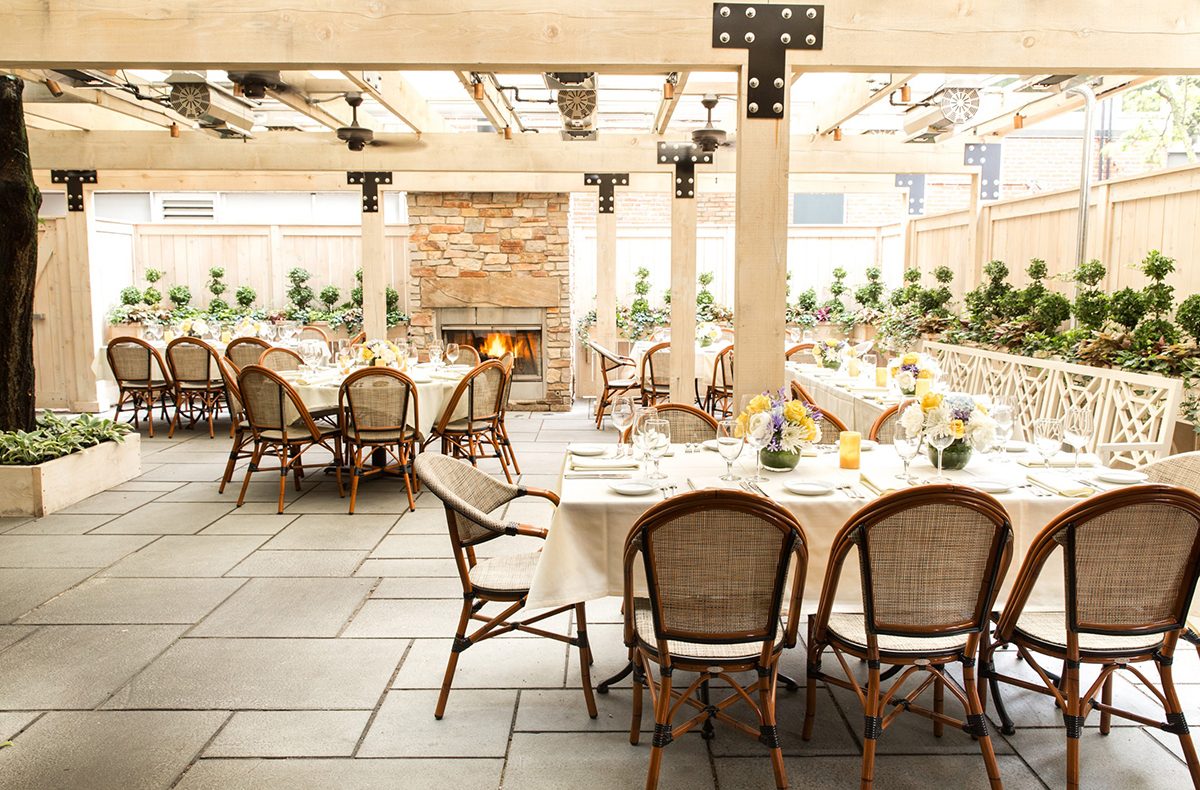 Harvest
Located off a cobblestone path in the heart of Harvard Square, Harvest's enclosed outdoor dining area is one Cambridge's best date spots, particularly on chilly nights when they light up the stone fireplace.
44 Brattle St., Harvard Square, Cambridge, 617-868-2255, harvestcambridge.com.
Hojoko
One major benefit of setting up shop in Fenway's former Howard Johnson Inn is the proximity to the hotel pool. Tim and Nancy Cushman's rollicking Japanese pub extends to 50 seats around the Verb Hotel's retro-chic pool, at high-top tables and lounge chairs underneath retractable awnings. Out front, there are 50 additional seats on the front porch.
1271 Boylston St., Fenway, Boston, 617-670-0507, hojokoboston.com.
KO Pies at the Shipyard
This is a truly unique spot overlooking the industrial (and artsy) Boston Harbor Shipyard. Order Sam Jackson's Australian meat pies, wedges, and a Coopers (or local craft beer or cider) inside, and take your buzzer to the year-round deck, made possible by roll-down windows on the expansive awning. There is cornhole to play, and soon, they'll throw open the beer service window so you don't have to go back to the bar to keep the party going.
256 Marginal St., East Boston, 617-418-5234, kocateringandpies.com.
Legal Harborside
This three-story behemoth is a stunner in all seasons, but summertime is when it really excels. Grab a pint at nearby Harpoon before hitting up Legal's picturesque patio for some steamers, New England fried clams, and freshly shucked shellfish.
270 Northern Ave., Seaport, Boston, 617-477-2900, legalseafoods.com.
Lookout Rooftop and Bar
Impress out-of-town guests this summer at this trendy spot. The seven-story lounge serves up breathtaking views of the Harbor and the Skyline, and craft cocktails.
70 Sleeper St., Seaport, Boston, 617-530-1559, theenvoyhotel.com.
Loyal Nine
The patio outside Loyal Nine's café is a quiet spot to sip espresso in the morning. At night, dine on chef Marc Sheehan's oft-changing, rustic New England fare, with its emphasis on native seafood, vegetables, and herbs, like anise hyssop grown right on the deck. Don't miss the refreshing, house-made shrubs and creative cocktails, like Hungry Like the Wolf, with Four Roses bourbon and peppery house-made ginger beer.
660 Cambridge St., East Cambridge, 617-945-2576, loyalninecambridge.com.
Mare Oyster & Crudo Bar
Prolific North End restauranteur Frank DePasquale moved his seafood concept, Mare, to a Mechanic Street location that allows for a 70-seat outdoor lounge. With fire pits, a retractable awning, and plush seating, it's an ideal place for the Mediterranean-inflected likes of grigliata di pesce (grilled seafood), daily crudo, and hot and cold lobster rolls, and a glass or two of wine.
3 Mechanic St., North End, Boston, 617-723-6273, mareoysterbar.com.
Myers + Chang
This miniature, 12-seat patio overlooking Peters Park is a serene refuge during Karen Akunowicz's dim sum brunch on summer Sundays. Or, take a date away from the crunch inside at night and huddle over a boozy scorpion bowl. Don't miss the mural by artist Alexis Weinrich.
1145 Washington St., South End, Boston, 617-542-5200, myersandchang.com.
Naco Taco
This bright and lively patio has a permanently parked food truck dishing out spit-roasted al pastor and smoked chicken thigh tacos, plantains con queso, and more. The Mass. Ave.-adjacent spot is prime for people-watching while enjoying rounds of margaritas, sangria, and micheladas in the sunshine.
297 Massachusetts Ave., Central Square, Cambridge, 617-945-1548, nacocentral.com.
The Neighborhood
Come springtime, this happening diner moves all service outside onto a gargoyle-guarded patio. Come high summer, it's shaded with fragrant grapes owner Sheila Borges and family harvest to make the jelly for your house-baked, complimentary toast.
25 Bow St., Union Square, Somerville, 617-623-9710, theneighborhoodrestaurant.com.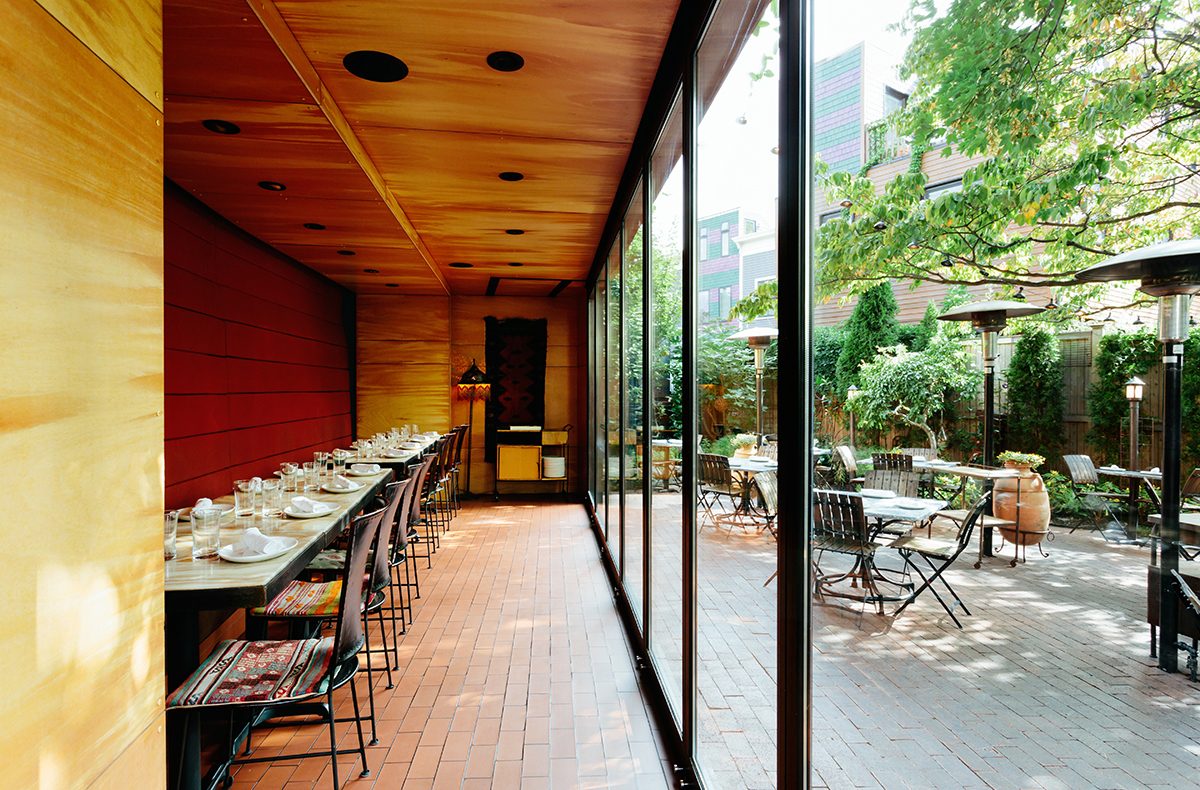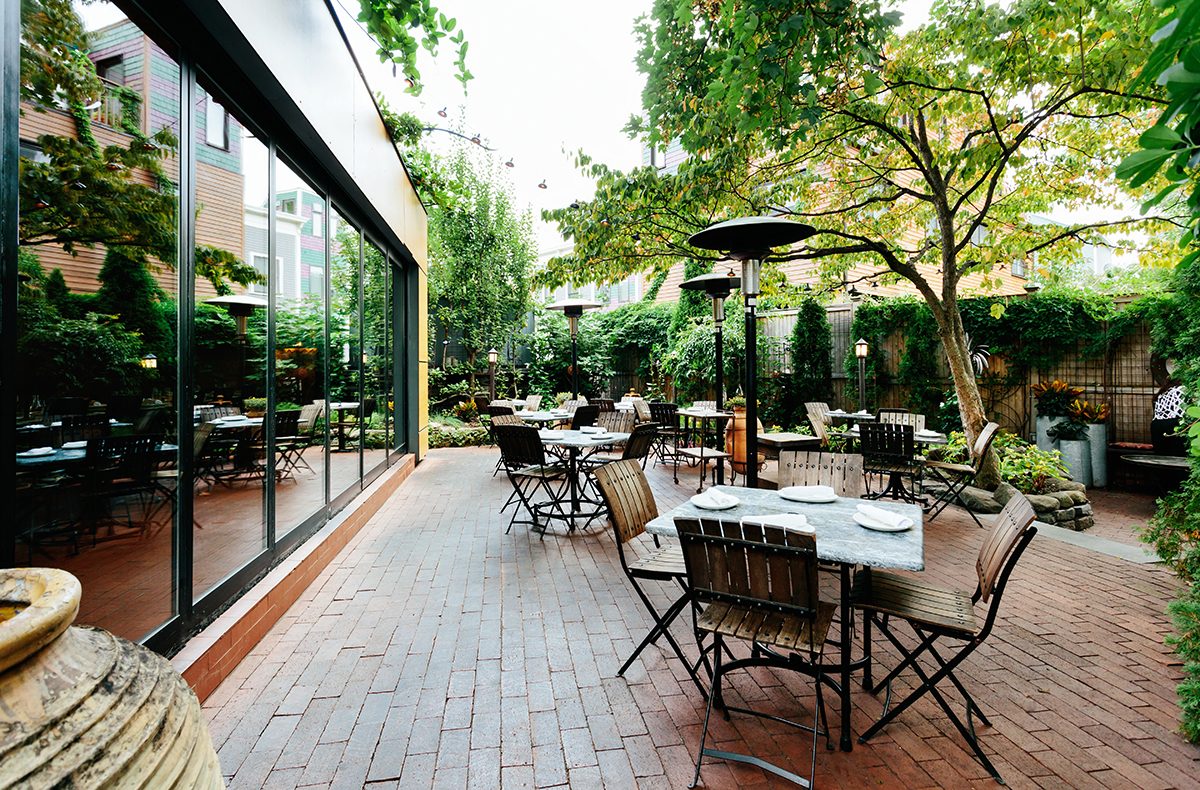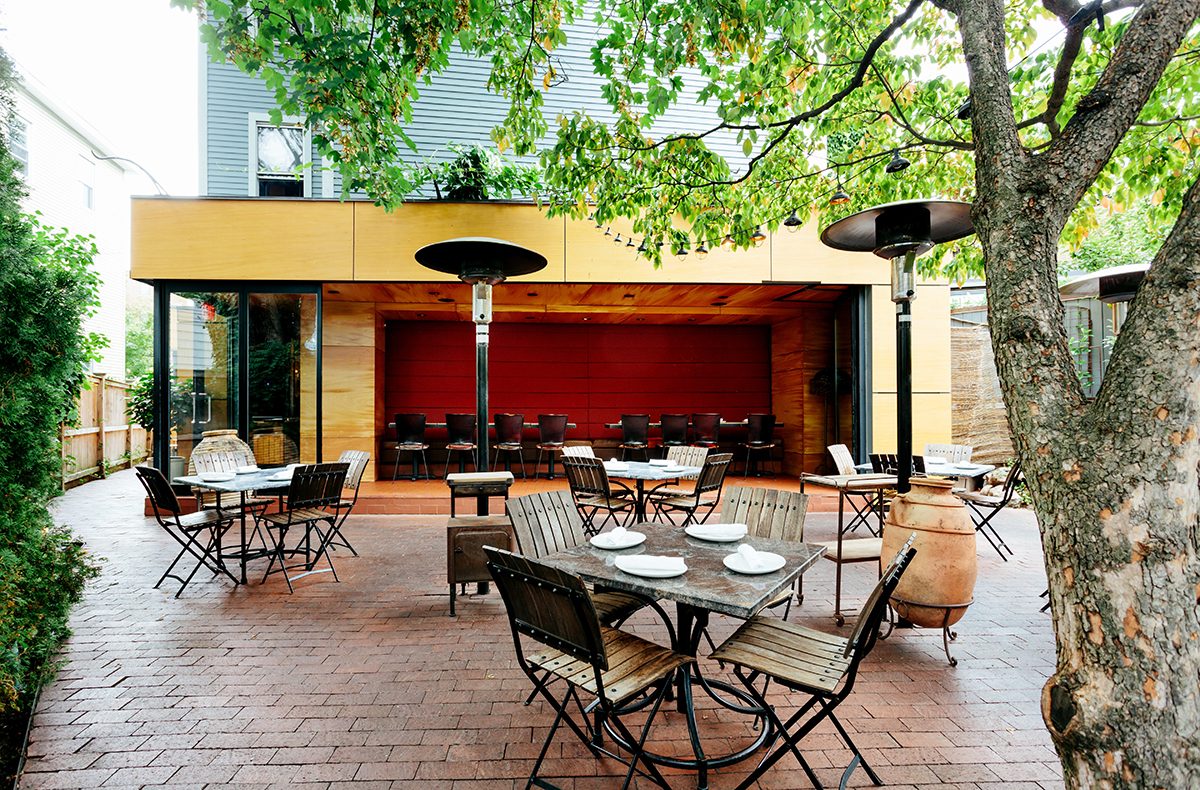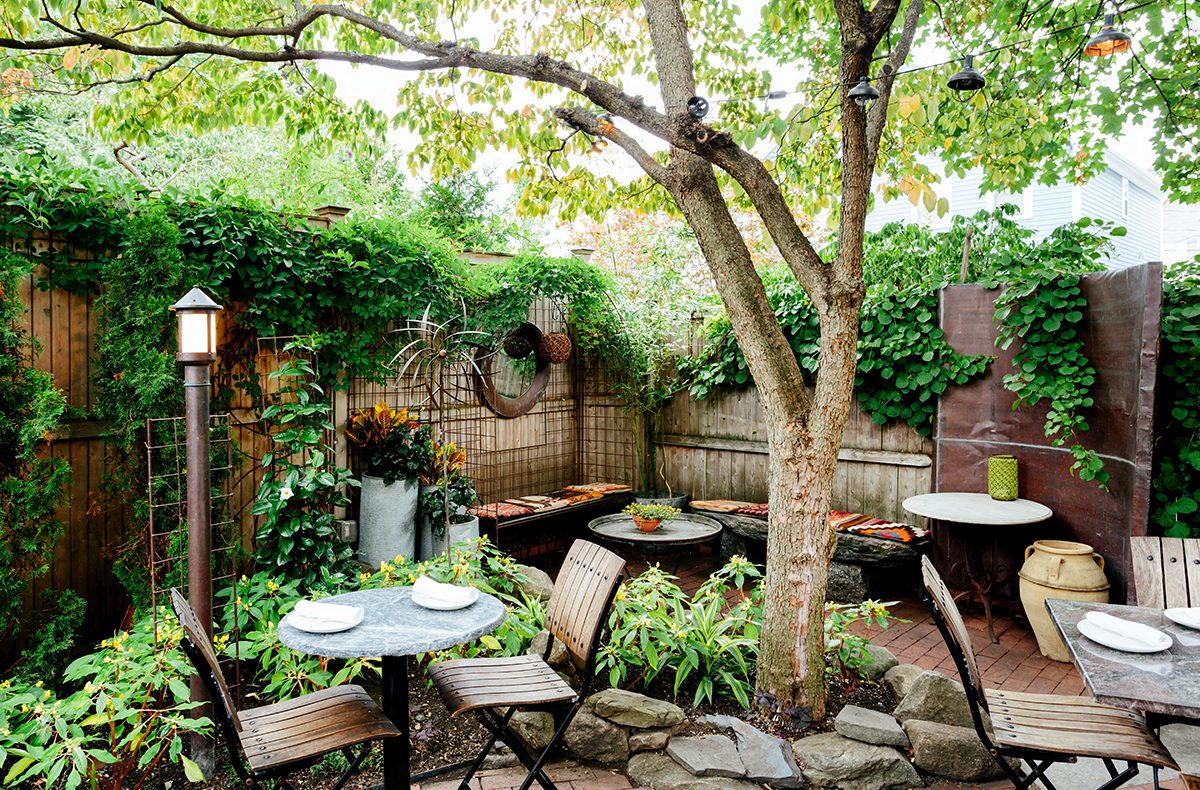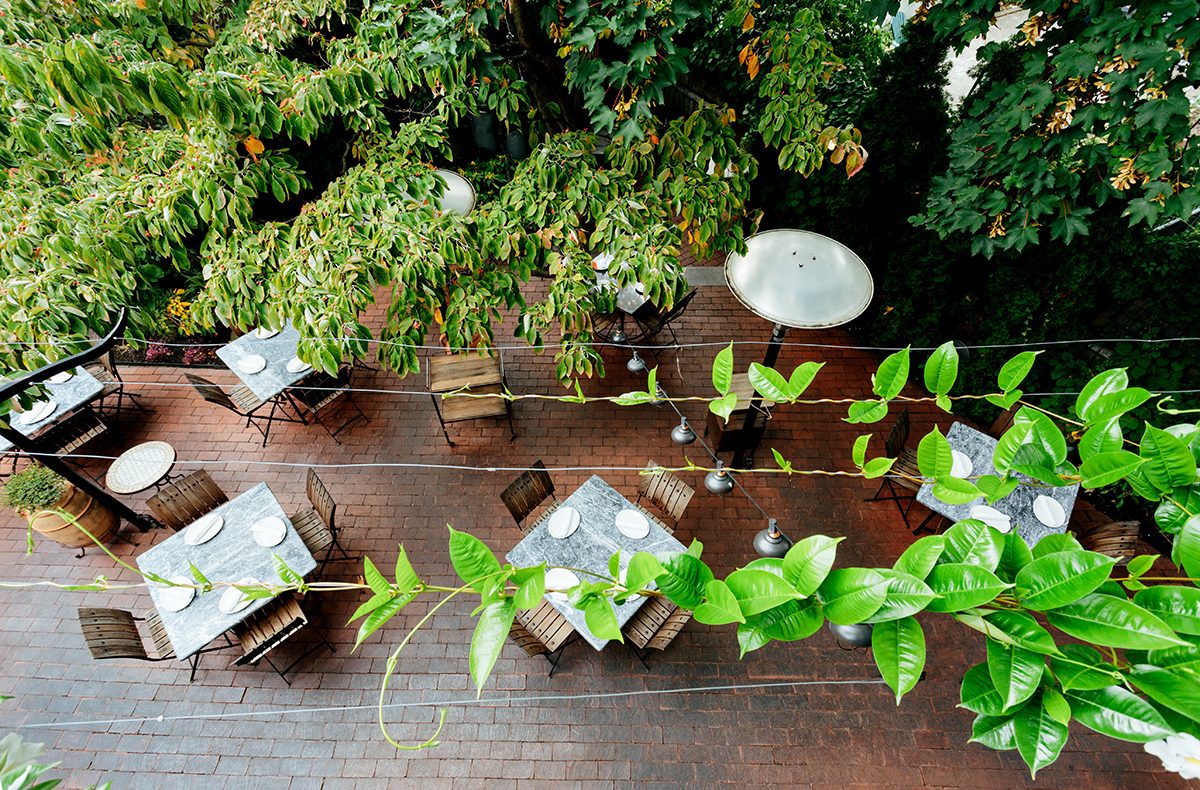 Oleana
One of the most coveted seats in town, Oleana's patio, adorned with a gurgling fountain, is the perfect way to enjoy Ana Sortun's inventive, Eastern Mediterranean fare. The restaurant doesn't take outdoor reservations, but there is an area—under the foliage of a fig tree—where you can wait, ensconced in the perfume of Sortun's nearby herb garden.
134 Hampshire St., Cambridge, 617-661-0505, oleanarestaurant.com.
Pier 6
Dine in full view of the historic Charlestown Navy Yard and the USS Constitution on the roof deck, or on the huge, first-floor patio. Downstairs, there's an outdoor bar, with rosé magnums and cocktails like the Captain's Mistress, a refreshing sparkler with tequila, Aperol, grapefruit juice, rhubarb bitters, and cava. Plus: There's a complimentary (weather-dependent) water taxi directly to the equally scenic East Boston sister spot, ReelHouse.
1 8th St., Charlestown, 617-337-0054, pier6boston.com.
Porto
The patio at Jody Adams' Mediterranean venture offers lounge seating, views of the Copley block, and an outdoor bar to boot. Take in the scenery over plates of raw fluke, squid ink bucatini, and barrel-aged Greek feta and olives.
Ring Rd., Back Bay, 617-536-1234, porto-boston.com.

River Bar
Comfy orange couches, fire pits, landscaped trees, and an outdoor bar complement the sweeping views of the Mystic River from the year-round deck. In warmer months, the retractable roof is gone, for ultimate al fresco enjoyment of street food-inspired plates like Shanghai-braised pork shank with polenta, a crispy garbanzo burger, and togarashi-dusted street corn.
661 Assembly Row, Somerville, 617-616-5561, river-bar.com.
Rosebud
Get cozy on this small veranda, tucked into a former alleyway alongside the converted diner car. Chef John Delpha's smoked chicken wings, garlic shrimp 'n' grits, and Asian barbecue hog's head are pretty much meant to be enjoyed family-style, at picnic tables, underneath the pergola.
381 Summer St., Davis Square, Somerville, 617-629-9500, rosebudkitchen.com.
The Salty Pig
Step off the Orange Line at Back Bay station and settle in on this 60-seat patio to create your own charcuterie board with house-cured pig parts, and have few slices of chef Michael Bergin's stone-grilled pizza. The fare partners perfectly with the restaurant's wide selection of Old World wines, craft beers, and cocktails.
130 Dartmouth St., South End, Boston, 617-536-6200, thesaltypig.com.
The Sinclair
This 40-seat roof deck, with umbrella-shaded high-top tables and iron patio furniture, is a haven above bustling Harvard Square. Your pre-concert, al fresco feast is complete with snacks like Nashville hot wings, barbecue Brussels sprouts topped with Fritos for crunch, and bacon-habanero deviled eggs.
52 Church St., Harvard Square, Cambridge, 617-547-5200, sinclaircambridge.com.
Sophia's Grotto
This herbaceous patio in Roslindale is one for the books. The rustic outdoor space offers plenty of shade and greenery, perfect for an al fresco meal of spicy mussels and fontina-stuffed veal.
22 Birch St., Roslindale, 617-323-4595, sophiasgrotto.com.
SRV
Grab one of 12 seats on the front patio along Columbus Avenue to see and be seen, but the 46-seat, hidden deck behind the restaurant is where to have a secluded feast. The outstanding restaurant's full menu is available on both patios.
569 Columbus Ave., South End, Boston, 617-536-9500, srvboston.com.
Sweet Cheeks
What's better than a heaping tray loaded with brisket burnt ends, fried chicken, and Tiffani Faison's softball-sized biscuits? Devouring said tray at Sweet Cheeks' outside bar with a cold can of BBC Steel Rail, or a mason jar filled with whiskey-spiked sweet tea.
1381 Boylston St., Fenway, Boston, 617-266-1300, sweetcheeksq.com.
Tapestry
The covered patio at this Fenway area restaurant accommodates 30, and is just a short jaunt from the ballpark. Enjoy offerings from the Expo Kitchen, including small plates of roasted meatballs, slices of Neapolitan and Detroit-style pizza, and brunch options on the weekend. Stay tuned on social media for more information about patio parties during Red Sox day games.
69 Kilmarnock St., Fenway/Kenmore, 617-421-4470, tapestry.restaurant.
Trade
Located in the heart of the Financial District, this sidewalk seating area overlooks the vibrant Greenway, making for excellent people-watching to go along with chef Jody Adams' butter-poached lobster, fun cocktails like the bright blue Fish Tank, and an extensive rosé menu.
540 Atlantic Ave., Waterfront, Boston, 617-451-1234, trade-boston.com.
Tres Gatos
Gambas (prawns) a la plancha, warm Medjool dates, lamb bocadillo, and other tapas and pinchos from Stephen Marcaurelle are as tempting as the vinyl soundtrack and the small but verdant patio. As is the sherry collection.
470 Centre St., Jamaica Plain, Boston, 617-477-9209, tresgatosjp.com.
Worden Hall
This streetside patio is directly across from the Broadway MBTA station, so there's a lot of people-watching potential to tap into—as well as an extensive list of 40 draft beers. Bar staples like bourbon-hoisin steam buns, and the only Chicago-style deep dish pies in town make it the perfect spot to post up for the day.
22 W Broadway, South Boston, 617-752-4206, wordenhall.com.
---
This list was first published in 2016, and is updated annually.

Source URL: https://www.bostonmagazine.com/restaurants/2018/04/27/best-outdoor-dining-boston/
---