A Tiki Bar Is Popping Up in Cambridge This Summer
Sandbar brings tropical vibes—and all-star guest bartenders—to Bambara at the Kimpton Marlowe Hotel.
---
With tons of bars getting in on the fun with rum and dedicated tropical oases finally opening up in the city, Boston is not the deserted island of tiki bars that it once was. But there is always room for more garnish, and Bambara restaurant at the Kimpton Marlowe Hotel is here to luau.
Beginning Thursday, July 19, the hotel bar is getting a tiki-style makeover as Sandbar. The summer menu will overflow with classic drinks like a banana daiquiri, Zombie Jell-O shots, and the Suffering Bastard. Plus, chef David Bazirgan has a lineup of Polynesian-inspired bar bites, such as pork belly steamed buns, salmon poké, hearts of palm salad, and pineapple ice cream.
Every Tuesday and Wednesday, Sandbar will also host a different guest bartender. Tiki pros, like bartending historian Brother Cleve, and Ryan Lotz, who is opening Shore Leave later this year with the Bar Mezzana crew, will be shaking up their own recipes alongside the regular Sandbar menu. Check out the full guest lineup below.
The pop-up party at the bar is open every night, with items priced a la carte. But on Wednesday, August 1, the island vibes extend into the hotel's outdoor courtyard for a full-on luau, with a pig roast, a DJ and dancing, and guest bartender Tainah Soares—who is typically responsible the over-the-top concoctions at A4cade—dishing out a couple frozen tiki drinks, too.
As if you needed a reason to order a drink with a tiny umbrella in it. Sandbar is open 5-11 p.m. nightly, from July 19 through August 17.
Sandbar: A Tiki Pop-Up Bar, Bambara at the Kimpton Hotel Marlowe, 25 Edwin H. Land Blvd., Cambridge, bambara-cambridge.com.
This post was updated Friday, July 20, with an extended end date for Sandbar.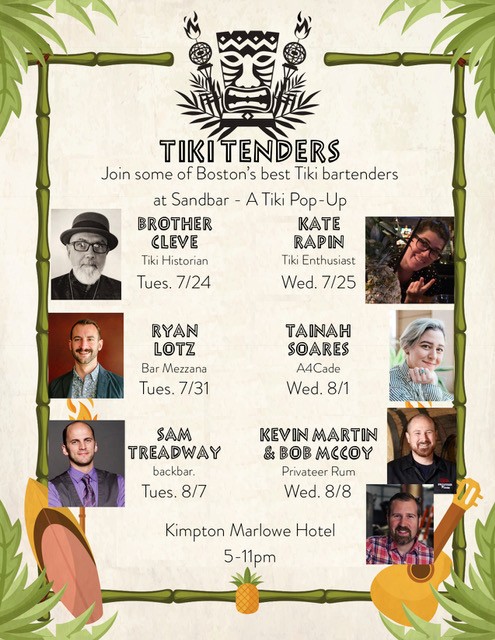 July 24 – Brother Cleve, Tiki Historian
July 25 – Kate Rapin, Tiki Enthusiast
July 31 – Ryan Lotz, Bar Mezzana
August 1 – Tainah Soares, A4Cade
August 7 – Sam Treadway, Backbar
August 8 – Kevin Martin & Bob McCoy, Privateer Rum
---
---