News
Here's Your Chance to Invest in a Brighton Brewpub
Brato Brewhouse + Kitchen shares a timeline for opening, a menu sneak peek, and a unique revenue-sharing opportunity.
---
The team behind Brato Brewhouse + Kitchen, presently a catering and pop-up operation making near-constant cameos at area taprooms, has invested a lot of time in fermenting support for its own upcoming Brighton brewpub. Now, as the year winds down, founders Alex Corona and Jonathan Gilman are ready to reveal new details—including a timeline and peek at a concept menu—while inviting beer lovers to invest in them. Literally.
Brato has taken a unique approach to crowdfunding for its brick-and-mortar location at 190 North Beacon Street, which is currently gunning for an April opening. Corona and Gilman are working with the just-launched, Salem-based startup MainVest to offer revenue-sharing opportunities to the general public. Craft beer fans can invest as little as $100 in Brato for a potential 50 percent ROI. (That's $150 back, for the math-challenged.) MainVest, which formally launched in October, is a platform focused on providing investment opportunities with small local businesses, and that concept fit perfectly with what Gilman calls a "grassroots approach" to building buzz for the Brato brand.
"At every step, we want to get the community involved," says Gilman. The Brato duo first met at Cambridge Brewing Co., where Gilman was sous-chef and Corona was head brewer, and eventually launched plans for their own place. When they decided on methods to close the funding gap, they felt MainVest offered supporters more value than the somewhat silly perks of a traditional Kickstarter campaign. (Does anyone really need another branded stein?)
Brato is among the first wave of Massachusetts companies taking advantage of new Regulation Crowdfunding legislation, which allows eligible companies—especially smaller, entrepreneurial ventures—to sell stakes to even lean-budget investors without having to register with the SEC. Nightshade, chef Rachel Miller's North Shore noodle bar, is also making use of the platform.
"It allows people who don't make $100,000 a year to actually be investors," Gilman says of the approach. So far Brato has raised over $50,000 towards its $75,000 target on MainVest. The investment round will end late next week.
Soliciting public investment isn't the only creative way Brato has built interest in its future brewpub, a 4,500-square foot, 10-barrel facility with 12 draft lines and a spacious patio just steps from the growing Boston Landing development.
Brato is about to stage its 200th pop-up appearance of the year, returning on Saturday to Cambridge's Lamplighter Brewing Co., where it is a weekly fixture. In total, the team has held court at 15 New England breweries, including those with which Brato has produced creative collaborative brews. Highlights have included the Lamplighter co-brew "Smokey and the Beer," a lager made with beech and cherry wood-smoked malts from micro-maltster Valley Malt in Hadley; "Showdown," a black chili stout made with Bone Up Brewing Co.; and "Orville Schwarzenbacher," a roasted corn-invoking schwarzbier created with Night Shift Brewing.
When doors open in Brighton, Corona expects Brato will produce a "conservative" 600-800 barrels annually, to start. About half the beers will be "lager centric," he says.
As for the food? Gilman is emphasizing gourmet grilled cheese sandwiches (flavor-spanning "flights" have been the biggest seller at pop-ups, he says) and house made sausages in varieties like lamb harissa. He's provided a glimpse of the current concept menu below.
As they race toward the finish line for an opening, Team Brato is looking forward to joining a rapidly developing corner of Brighton—and to starting a business-savvy brewpub in a city where investing efforts in a traditional restaurant may not provide the same returns.
"From a practicality standpoint, the challenge of opening a restaurant in Boston right now is the prohibitive cost of a liquor license," Gilman says. "So if you're going to invest hundreds of thousands of dollars in a liquor license, you'd be better off spending that money on brewing equipment because it yields a product that is more unique and has more room for creativity."
For more on Brato's MainVest campaign, head here.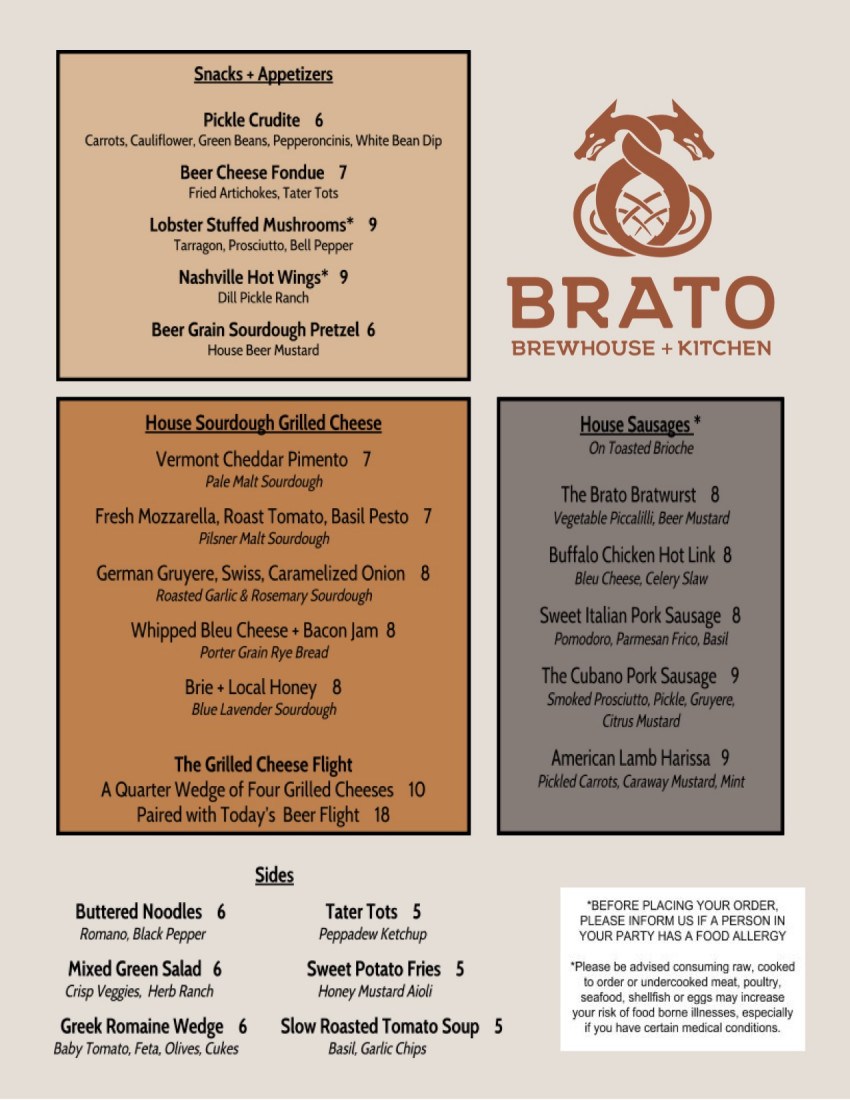 ---
---