The World's First Combination Milk Bar and &pizza Opens in Cambridge
Ahead of their weekend debut,We chatted with the superstar cofounders about entrepreneurship, creative expression, and junk food.
---
An iconic storefront in Harvard Square soon gets new life as a pizza-and-cookies paradise. Milk Bar and &pizza, two East Coast brands doing their parts to rethink fast food, open their first-ever joint storefront in Cambridge on Saturday, transforming the former Crimson Corner newsstand into a sunny, bright café and fast-casual pizzeria created "in the spirit of one of those old-school [Pizza Hut] and KFC combo stores," says vivacious Milk Bar founder Christina Tosi.
Tosi is a James Beard award winner, but this playful project celebrates the simple pleasures. "For me, that was like the best day of my childhood life, the day that it was both pizza and ice cream night," Tosi says.
The idea for this nontraditional, hybrid restaurant hatched in 2017, when &pizza founder Michael Lastoria's initial proposal for a standalone pizzeria was rejected by Cambridge zoning officials. Adding Tosi to the mix was a way to offer the local community something truly unique—something that was "more than just another pizza shop," Lastoria said then.
Deciding to join her friend in Cambridge was "an easy yes" says Tosi, whose husband hails from South Boston. "As business owners, a place like this does not come along [very often]," says Tosi, who appreciates the spot's long history and unique configuration at a storied neighborhood crossroads. She even developed a Boston Cream Pie Milkquake—Milk Bar's version of a loaded milkshake—exclusively for this location.
The place now feels like "a Willy Wonka-esque combo store in the middle of Harvard Square," adds Lastoria. The 40-seat, L-shaped space has separate ordering counters for each brand, and a wall of windows overlooking Brattle Street. In the warmer months, there will be patio seating on the sidewalk.
Milk Bar, which was born from David Chang's Momofuku restaurant in the East Village, now has 17 locations from New York City to Las Vegas. &pizza started in Washington, D.C., and has grown to just more than 30 locations along the East Coast. But both entrepreneurs say none of that experience made opening in Cambridge easier.
"Scaling intimacy, scaling personality—there's no playbook for that," Lastoria says. He admits the joint enterprise "would have made no sense to me or to Christina five years ago. But today, sitting here, watching people all day walking by our windows and smiling from ear-to-ear, it makes all the sense."
Milk Bar &pizza officially opens Saturday, Feb. 2, at 11 a.m., with special $5 dollar pizzas all day, and $1 cups of Milk Bar's trademarked Cereal Milk soft-serve with cornflake crunch. After the grand opening, Milk Bar kicks things off every day at 7 a.m. with a full coffee and espresso menu, cookies, Bagel Bombs, Cereal Milk soft-serve ice cream, Milkquakes, and more. &pizza opens daily at 11 a.m., and both shops will be open until midnight or later each night.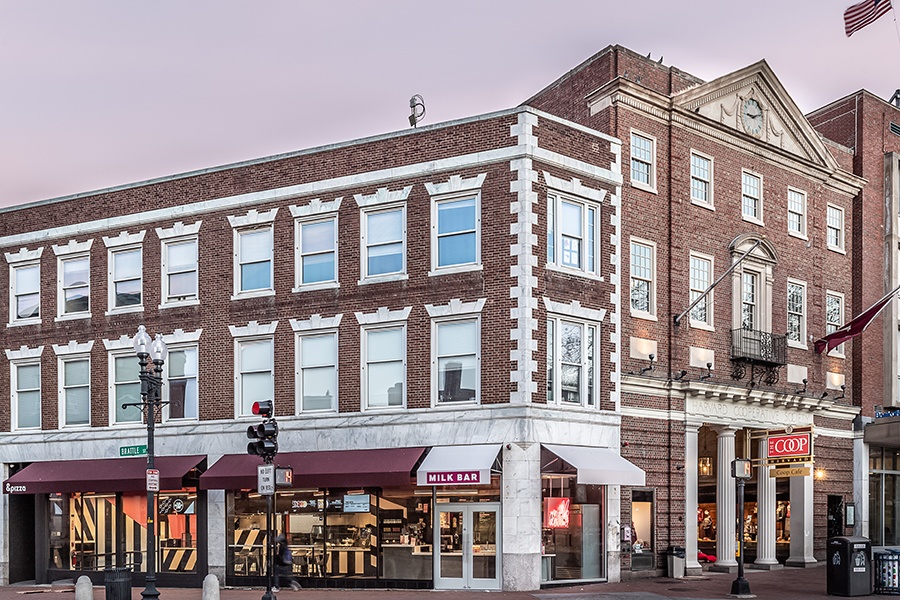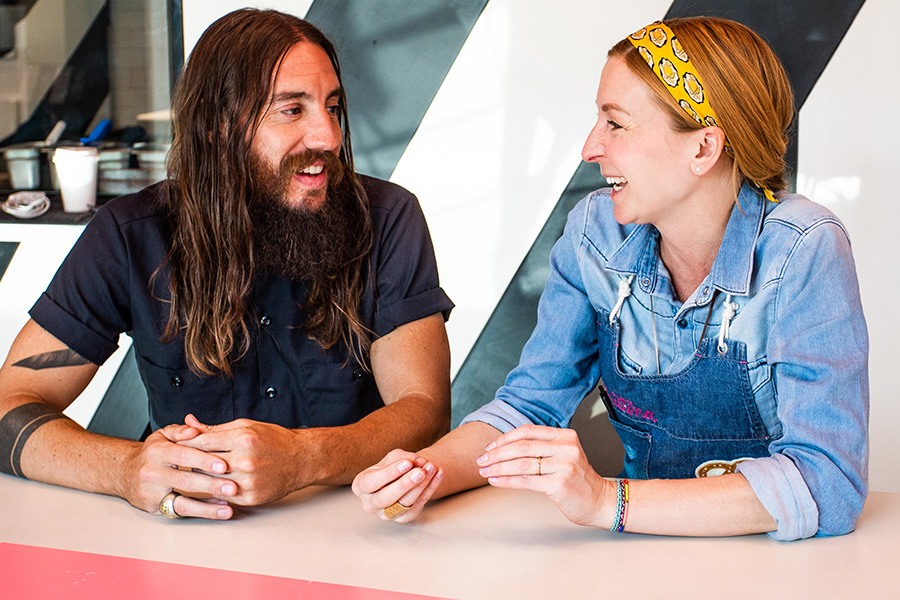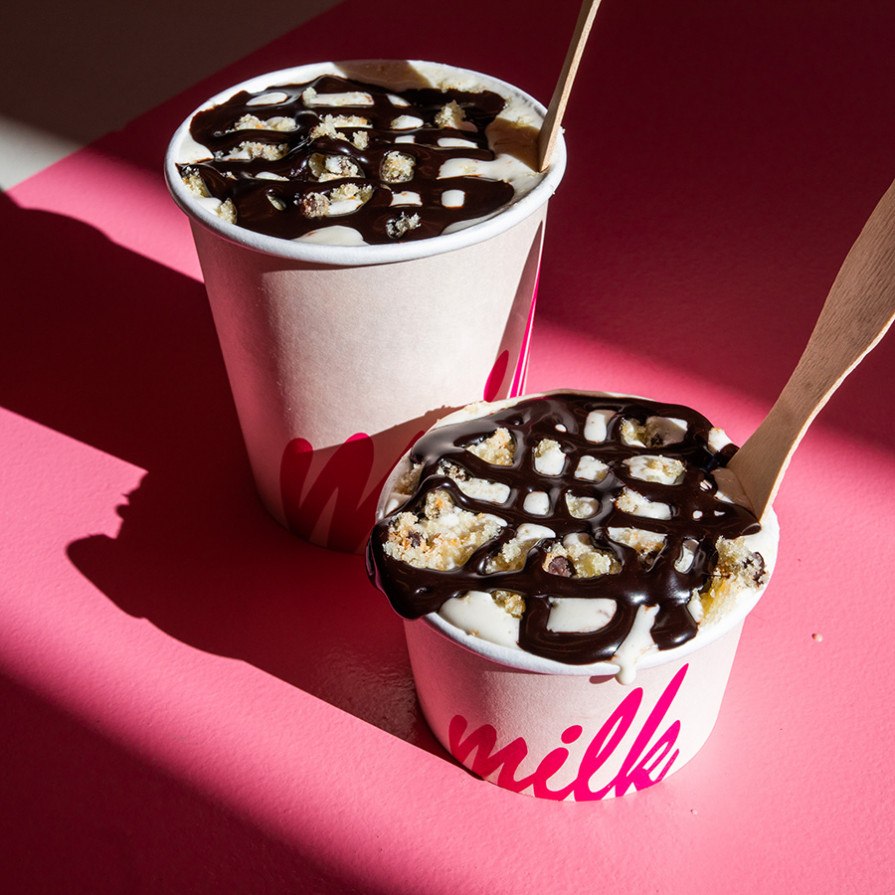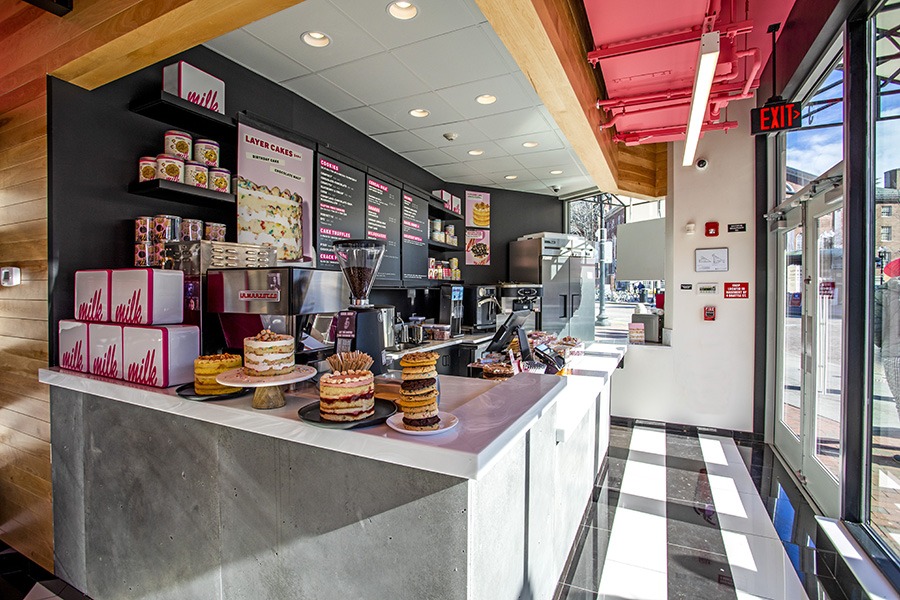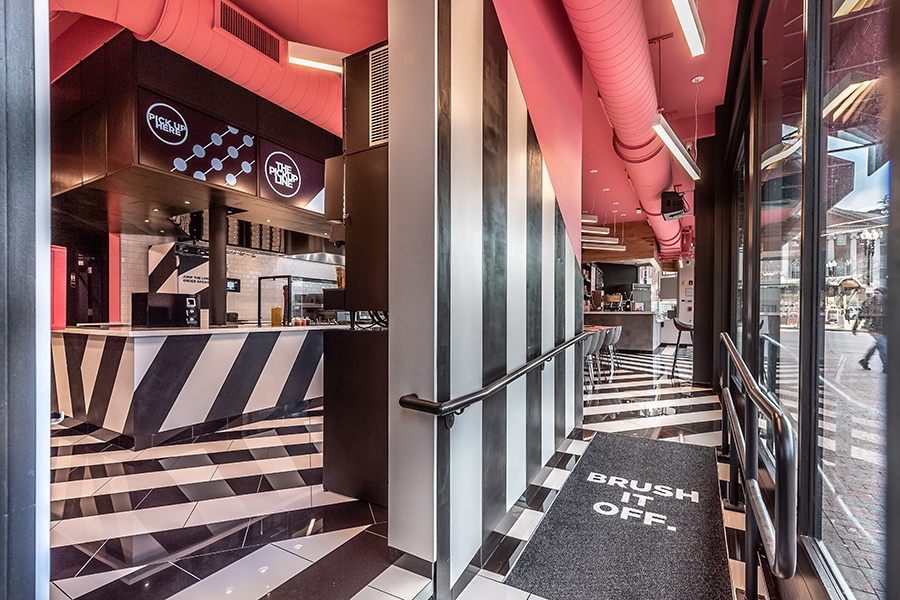 Ahead of the grand opening, we met with Tosi and Lastoria to get a sneak peek of the new space and talk entrepreneurship, creative expression, and junk food.
This conversation has been condensed and edited.
What is an ideal order at this shop?
Tosi: Mine is American Honey [an &pizza signature with spicy tomato sauce, mozzarella, pepperoni, arugula, red pepper flakes, goat cheese, and hot honey], into a Strawberry Corn Milkquake. That would be me living my best life. That's probably what's going to happen tonight.
Lastoria: That sounds excellent, though I'd add a Cereal Milk Cream Soda.
Tosi: Oh, yes, I didn't even think about the drink. The first thing we ever collaborated on was a soda flavor. That's the bridge from the pizza into the Strawberry Corn Milkquake.
I appreciate the deep-cut menu hit. Most people know Milk Bar for your cookies or cakes.
Tosi: Why I love both &pizza and Milk Bar is it's something different to everyone. It was built by two people who believe in the democracy of creativity. My creative mind wants to make a space where other creative minds can come together and feel celebrated.
As you're growing your businesses, what are some of the challenges you're seeing in the restaurant industry across the country right now?
Lastoria: If you want to not only survive but thrive, you can't look at yourself as a restaurant, or even as a food-service concept. You have to think more dynamically: We're a platform, or we're something bigger than four walls. Because 'four walls' is complicated. Some markets are seeing a correction, but in other markets, rents in the last decade have risen exponentially. Labor costs have risen exponentially. The expectations of customers in terms of what a great experience is is also changing.
What are some restaurant scenes you're really excited about right now?
Tosi: I was just in Paris for two days. This [fashion] brand Sézane—they're not in food, but they have a really interesting take on hospitality. They could command a much higher price point, but they're not here for big business in the traditional sense of what a successful fashion retailer looks like. They are building a lifestyle brand and community around what they're here for. People sell cookies with as much great butter [as Milk Bar], and as much technique, and attention, and packaging, for so much more money. I'm sure we could command a higher price point for our wedding cakes. That sensibility is inspiring. It's hospitable, but it's something deeper and bigger than that. Nike is another really good example. It is how people approach why they wake up in the morning, what they stand for, what they want their business to be a reflection of, that's more inspiring to me.
Lastoria: What I'm most interested in is the humanitarian work that businesses are leaning into. What is a business's responsibility socially, morally, ethically? We started offering free pies [to furloughed workers] when the government shut down, then partnered with José Andrés. The support he gained as a business owner is inspiring: While D.C. is getting crushed, people are supporting his restaurants and he's doing extraordinarily well. That's what our symbol, the ampersand, really stands for: Promoting unity.
Christina, do you have an &pizza Ampersand tattoo?
Tosi: No. I am so part of the Tribe, but I don't have any tattoos. I don't even have a cookie tattoo.
Lastoria: We're shoulder-to-shoulder with our [employees] inside the pizza shops, the Milk Bars. A big part of this "Tribe" notion is a group of people who are connected to each other, first and foremost, and connected to a purpose. Our "&" symbol was all about promoting unity. How do we support those very people that are dedicating their time for us, who maybe who didn't get that support in their other jobs maybe because they have tattoos or piercings or maybe another expression of who they are on the inside that maybe wasn't allowed? That tattoo thing came from someone feeling a connection to that company and that symbol. I get that, for some people, hearing [about the tattoos] for the first time can sound kind of weird, but if you do the research, you can learn just how impactful working for our business can be.
Finally, I'd like to do a little regional food lightning round. Boston cream pie, or Toll House cookies?
Tosi: I bow to the Toll House cookie, but I'm here for the Boston cream pie. The Toll House is what my childhood is all about, and I make a killer Toll House cookie. But we have a Boston Cream Pie Milkquake on the menu here, and I have fallen deeply in love with the Boston cream pie as research because of it.
Lastoria: Toll House Cookie, so we can each have one.
Pizzeria Regina, or Bertucci's?
Tosi: Regina. We ate Pizzeria Regina three times while we were here over the holidays.
Lastoria: Regina, but I would go Santarpio's over both. There's amazing pizza in Boston.
Friendly's cup, or cone?
Tosi: Cup. I was cut off from ordering cones at like, 7 years old. I like to eat my ice cream slowly, and the cone would always fall on the ground. That's why we only serve cups at Milk Bar.
Lastoria: Sugar cone.
Dunkin' Donuts, or Dunkin'?
Tosi: Oh, Dunkin Donuts. Don't do that to me. My childhood house in Virginia was a block from 24-hour Dunkin' Donuts. My grandpa and I would go sit at the counter late at night. I can take down six vanilla cream doughnuts like nobody's business.
Lastoria: Dunkin Donuts. Listen, we have a knack for branding. I think there's something iconic about Dunkin' Donuts. They already have an established platform. Like, I don't think differently about "Starbucks" versus "Starbucks coffee." It's a little silly because consumers are smart. If you want to call it Dunkin' as a consumer, you'll call it Dunkin'. You can change the look and feel to modernize it. You don't need to force a rebrand on someone.
Last one, and please know there's no right answer here. Lobster roll, or clam chowder?
Tosi: Lobster roll.
Lastoria: I actually, where I can, will always get a clam chowder with a lobster roll.
Oh, wait, that's really the right answer.
Milk &pizza, 3 Brattle St., Harvard Square, Cambridge, milkbarstore.com, andpizza.com.
---
---