Chef Chris Parsons Will Open the Oyster Club in Downtown Boston
The Park Square restaurant will bait diners with a raw bar, "lobster of the day," and classic New England seafood.
---
UPDATE, July 23: The bivalves are on ice: The Oyster Club opens for dinner on Saturday, July 27. The new seafood restaurant from chef Chris Parsons is starting with dinner service this weekend, then launching lunch on Monday, July 29. Going forward, it will be open daily from 11:30 a.m. until closing time (TBD, based on neighborhood demands).
PREVIOUSLY:
Downtown Boston is netting a sleek seafood restaurant from a chef who propelled his career with a talent for finessing fresh catch. The Oyster Club, an exciting new project from chef-partner Chris Parsons, is coming to 79 Park Plaza. The storied Park Square space by the Boston Public Garden previously housed Michael Schlow's long-running Italian restaurant, Via Matta, and his shorter-lived follow-up, the Greek-oriented Doretta Taverna & Raw Bar.
Parsons will steer the spot's culinary coordinates back to New England when the Oyster Club opens in May. The busy toque is separately working on Lily P's, a Cambridge restaurant conceptualized around fried chicken and oysters.
Today he's a celebrated local chef, a past "Best of Boston" winner, and podium-finisher in the esteemed Bocuse D'Or USA cooking competition. But Parsons, a Boston native, grew up as a fourth-generation fly fisherman with an appreciation for the beautiful, delicious simplicity of well-sourced seafood, he says. He parlayed that into success at his first self-owned restaurant, Catch, a Winchester seafood destination that closed in 2010. Parsons followed it up with Winchester's Parsons Table, then moved over to Steel & Rye in Milton, where his eclectic New American musings were well-received.
The Oyster Club is a return to a seafood focus. "We want a restaurant that is straightforward, approachable, works with great products, and offers our riffs on classics," says Parsons. The space will seat 180, plus 70 on a sprawling patio, and be anchored by a lively raw bar offering a rotating variety of bivalves, crudo and ceviche–plus some warm "in the shell" appetizers like chorizo-stuffed clams and oysters Rockefeller, Parsons says.
The main dining room, fully reimagined by Sousa Design Architects (the Brookline firm behind interiors for restaurants like Alden & Harlow), will have a yacht club-chic aesthetic: nautical hues of blue, high-gloss light and dark millwork, sumptuous leather banquettes with preppy piping, and Venetian plaster accents. The existing four-sided bar will remain, covered in stone tile and stocked with wine, craft beers, ciders, and a cocktail list emphasizing the classics.
When they pull up a seat, guests will find a menu full of fish fare that prioritizes "technique and clean presentation" over trend-chasing, Parsons says. So expect extensive a la carte offerings of "simple and light" grilled fish preparations with sides, options for landlubbers (like steak frites and brick-pressed chicken)–and of course, hot and cold lobster rolls among the splay of sandwiches available for lunch and dinner.
But there will also be a section of the menu devoted to "tinned, potted and house-smoked" seafood, where options may include bluefish pâté or salmon rillettes. Parsons will purvey a "lobster of the day" program that highlights the crustacean in ever-changing ways. (You might find lobster thermidor, he muses.) And he's also planning a section of "pan roasts," including an oyster pan roast inspired by a dish he served back at Catch.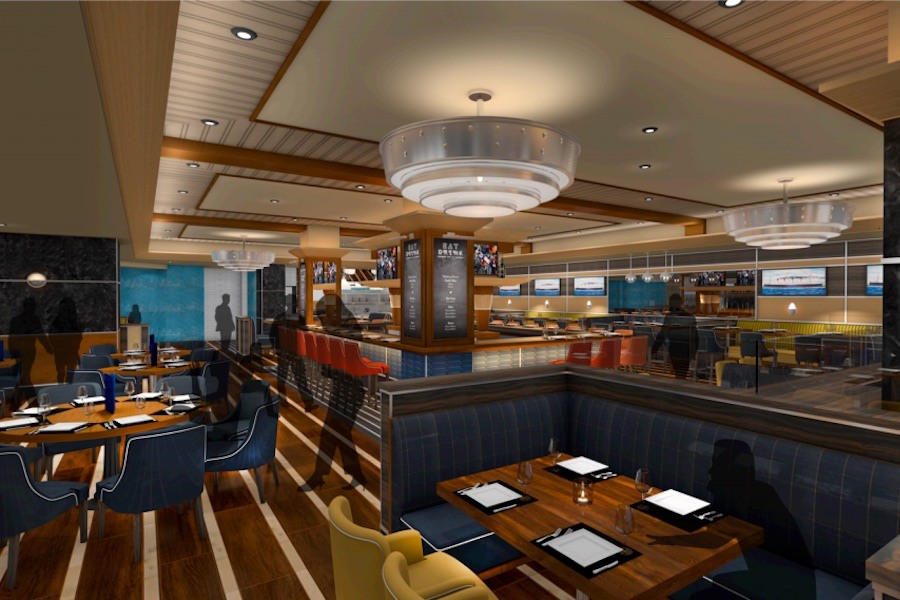 "I was really excited about writing this menu," Parsons says. "A lot of it is classics that I think people definitely associate with Boston."
"At Catch, I don't know if I would have put a lobster roll on the menu," he adds. "But here, I embrace it. We're going to do it, but we're going to make it awesome."
For a moment, Parsons actually considered reviving the name Catch for his new restaurant. But for a chef focused on his future—he's also working on an undisclosed third project, set to open by year's end—it was time to chart all-new waters.
"In some ways, calling it Catch seemed like a good idea," Parsons says. "We have great memories of it, and it was part of me building my reputation. I wouldn't be here without it. But I also felt like that chapter had closed."
"We want this to be fresh and new," he says of the Oyster Club. "We want it to be around for 20 years. Hopefully we can build an iconic restaurant right here."
The Oyster Club, 79 Park Plaza, Boston, 617-426-6700, theoysterclubboston.com
---
---