Seven New Brewery Taprooms Coming Soon to Metro Boston
Roslindale, Malden, and other nearby locations will soon have fresh beer in the neighborhood.
---
Massachusetts is home to upwards of 130 craft breweries—and in 2019, there are several more in the works close to the city of Boston. As much as we love traveling to check out character-filled taprooms all around New England, we're particularly excited to welcome fresh beer and community-focused programming in our own neighborhoods. From Malden to Roslindale and Everett to Dorchester, here are seven new breweries that should be on every beer-loving Bostonian's radar.
---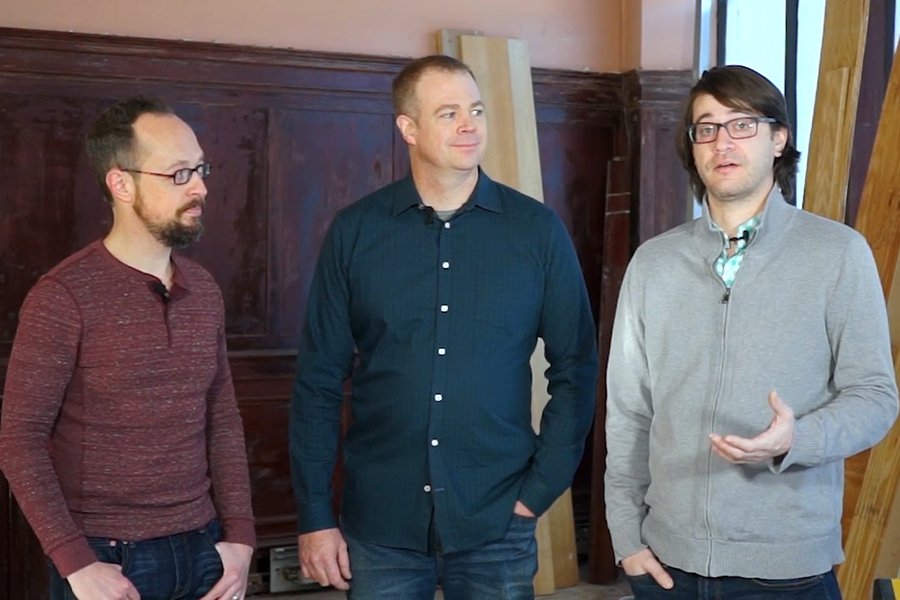 Distraction Brewing Company
Opening summer 2019 in Roslindale
Rozzie residents will soon have a brewery to call their own. Distraction Brewing Co., a startup by three local dads in the works since fall 2017, is putting the finishing touches on its Roslindale Village taproom and production facility. "We have all our equipment in as of this week and are going through our final round of inspections," reports cofounder Patrick French. "We should be able to start brewing in a few weeks." Distraction just raised $15,000 on Kickstarter, and still have five more days to fundraise. As French and partners Mike Estey and Justin Garnache explain in their crowdfunding campaign video, the money go toward "maximizing your experience in our brewery." Instead of starting with their originally planned 2-barrel brewhouse and working up to a 10-barrel system, the team sprung for the increased capacity at the outset. They are also using funds to install a better sound system in the community-focused taproom. When Distraction Brewing Co. opens, head brewer Estey will have six fresh beers on draft, ranging in style from the full-flavored RoslinPale Ale, to a Belgian-inspired wheat tripel called Belgrade Tripel, to a couple of hazy New England IPAs. "The grand opening's right around the corner, and we can't wait to serve you," French says.
Coming summer 2019 to 2 Belgrade Ave., Roslindale, 617-977-4537, distractionbrewingco.com.
BearMoose Brewing
Opening summer 2019 in Everett
There is a lot of development happening in this north-of-Boston city—hello, Encore Boston—and of course that includes fresh, local beer. About a mile away from both Down the Road Brewing Co. and Everett's Fermentation District (home to Night Shift and Bone Up brewing companies, and Short Path Distillery), BearMoose Brewing Co. is headed for Revere Beach Parkway. Cofounders and longtime homebrewers Jeff Wetzel and Andrew Gilman are installing a vintage, 10-barrel brewhouse, as well as a 2-barrel pilot system, on which they'll create a variety of taproom-only beers. They're sharing a rustic-industrial taproom with Deep Cuts Deli, a pop-up sandwich shop from restaurant and music industry veteran Ian McGregor. (UPDATE, July 16, 2019: BearMoose Brewery has opened, but it's no longer in partnership with Deep Cuts Deli.) Wetzel is an architect by day, and he is leading the DIY renovations, which include mahogany bar tops crafted by Gilman's father-in-law. When it opens, alongside the beer focus, BearMoose Brewing will be an artist-centered community space hosting concerts, art shows, and workshops. "Staying small and just having a taproom gives us a lot of freedom to experiment," Wetzel says.
Coming summer 2019 to 1934 Revere Beach Parkway, Everett, bearmoosebrewing.com.
Brato Brewhouse + Kitchen
Opening summer 2019 in Brighton
Chef Jonathan Gilman and head brewer Alex Corona are deep in the throes of construction on their forthcoming brewpub, a 144-seat restaurant with additional outdoor space, located not too far from the new Boston Landing development. The duo recently raised more than $100,000 on MainVest, and have ordered a 10-barrel brewing system to install along with a full kitchen. They hope to announce an opening date in June. Both former employees of Cambridge Brewing Company, Gilman and Corona have operated a prolific pop-up version of their concept for the past 16 months—event #300 is coming up on April 27. When the brewpub opens, expect a range of beers on tap spanning all styles. The food menu will feature inventive sausages and sourdough-grilled cheese sandwiches, all made in-house, plus more creative fare made with ingredients sourced locally.
Coming summer 2019 to 190 North Beacon St., Brighton, bratobk.com.
Faces Brewing Company
Opening fall 2019 in Malden
A band of brothers who have ample nightlife experience are behind a new brewpub headed for downtown Malden. Dan, Anthony, Joe, and Bob Martignetti, whose family previously operated Cambridge's bygone Faces nightclub and Lanes & Games bowling alley, will open Faces Brewing Co. this fall inside an old bank building on Pleasant Street. (It's just a 10-minute walk from Malden's popular Idle Hands Craft Ales taproom.) A fair amount of construction remains, Dan reports, but so far, the team has framed out both a tasting bar and a larger bar near the front of the space; installed new plumbing; and poured concrete floors. Meanwhile, their buddy and Faces head brewer Eddie Ducharme is using an offsite, one-barrel brewing system to test and perfect the beers that will be on tap and available to-go in crowlers. The large space will eventually have a full, 200-seat gastropub with a lively bar area, and a private dining room in an old vault; as well as a quieter, more chill tasting room in the back. There will be a menu of house-made bar snacks, sandwiches, and more—plus a full bar, and other beers available in addition to the house brews. In other words, it will be a very different experience from anything currently available in Malden. "We want to bring people into the area to hop from brewery to brewery," Dan Martignetti says.
Coming fall 2019 to 50 Pleasant St., Malden, Facebook, Instagram.
Medford Brewing Company
Looking for space in Medford
For more than two years, Medford has had its own American pale ale, IPA, and more canned beers thanks to contract brewery Medford Brewing Co.—and now cofounders Nick Bolitho and Max Heinegg are looking for a place in Medford to call home. "We are knee-deep in location hunting," Bolitho reports. While the company is raising funds from small-scale investors via WeFunder—$181,000 and counting—they are also looking for a 5,000-10,000-square foot space, ideally in Medford Square or West Medford. "There are a lot of very popular breweries right now in industrial parks, but in my mind, if you're going to open a taproom you want to be somewhere with foot traffic," Bolitho says. His vision is for an open taproom with bench seating. "I would like to have space we can be creative with, and make it a decent space for the community," he says. It will have 10-barrel brewing system for head brewer Heinegg to experiment with, while Medford Brewing Co. will continue its contract relationship with Down the Road Beer Co. to produce cans there for retail sale. In the meantime, MBC currently has the flagship APA, a golden ale, an IPA, and a double IPA in the market, at 235 retail locations and a dozen local bars and restaurants. In the coming months, be on the lookout for a new brew called Phantom, the first of a series of New England IPAs named after schooners built in Medford.
---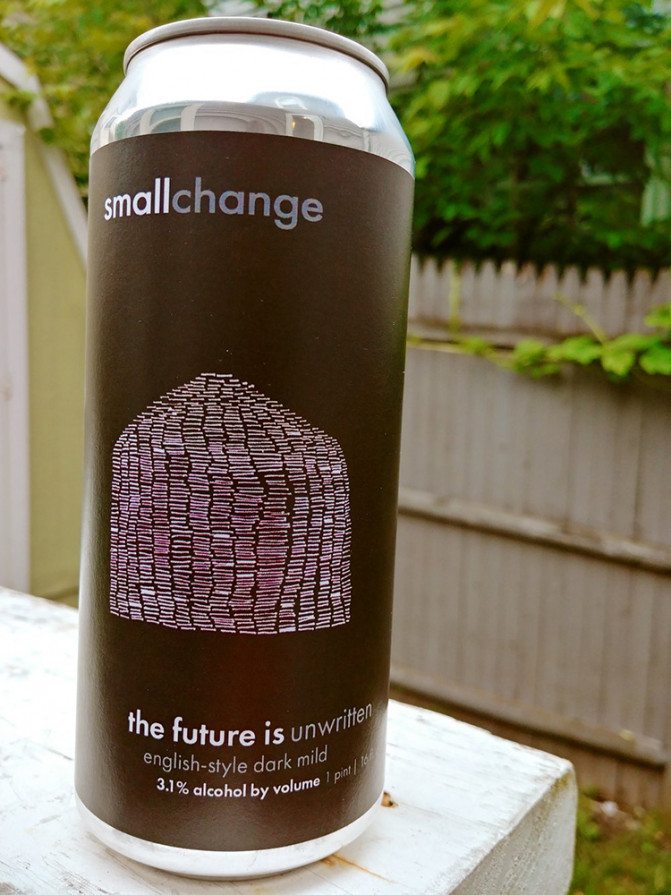 Small Change Brewing Company
Looking for space in Somerville/Medford
Husband-and-wife homebrewers Mike Patterson and Emily Vides launched their beer brand last summer, self-distributing quality cans of classic styles, brewed at a Manchester, N.H., production facility. Patterson is a university janitor by night, and has built up his brewing skills over the past decade with volunteer stints at the original locations of Night Shift and Idle Hands, an internship at Blue Hills, and a job at Mystic Brewery. Vides works in communications at Harvard University and does Small Change's branding. Starting with a couple full-flavored, low-alcohol beers—A Little Rain, a 4.8% mosaic-hopped American pale ale, and a 3.1% dark English mild ale called the Future Is Unwritten—Small Change Brewing Co. has been well-received by local beer lovers. The company keeps up a robust tasting-event schedule, is participating in the Massachusetts Brewers' Guild's upcoming Power Beer Fest, and is sold in stores and bars around Boston—and it just released its first IPA. Now, the family is starting to think about a brick-and-mortar. "We are looking for a space, ideally in the Medford/Somerville area," Patterson says. East Somerville would be awesome, he adds; since Scout Somerville featured Small Change Brewing in its local magazine, Patterson and Vides have been in touch with city officials there. A brick-and-mortar is not imminent, but Small Change is one to watch—and drink. Check out the list of locations carrying their beer here.
Bruno's Brewery
Coming in 2020-ish to Dorchester
Ralph and Vito Bruno, the brothers who own Boston Winery along the Neponset River, are expanding their craft-beverage endeavor into the growing beer market. "[With] the winery already here, and Boston Harbor Distillery right down the street, this area will become a sort of hub for alcohol in Boston," Ralph Bruno told Eater Boston when Bruno's Brewery plans were announced last year. But, it's a bit far off. Reached today, Bruno says the brewery addition requires a new building—and the environmental considerations that come with such a project. It could be a 2020 debut or later, he says. In the meantime, Boston Winery takes reservations for wine tastings every Thursday-Sunday.
Boston Winery, 26 Ericsson St., Boston, 617-265-9463, bostonwinery.net.
---
---