M&M BBQ Will Open Inside Dorchester Brewing Company This Fall
One of Boston's original food trucks will fuel the expanding brewery's rooftop beer garden with ribs and more.
---
If you told Geo Lambert 15 years ago that he'd be opening up a restaurant inside a Dorchester brewery, he wouldn't have believed you. For one thing, then-teenaged Lambert did not imagine himself ever taking over his family food truck business, M & M Ribs. And besides, his grandparents, M & M founders Marion and Maurice Hill, had already long been out of the brick-and-mortar restaurant game. Lastly: a brewery, in Dorchester? What? Why? A brewery in Dorchester?
A decade-and-a-half later, a lot has changed. This fall, Lambert will open his first restaurant, M & M BBQ at Dorchester Brewing Company. The former food truck, currently a catering-and-pop-up shop, will post itself inside a huge addition that is now under construction at the nearly-three-year-old Massachusetts Avenue brewery. When M & M BBQ at Dorchester Brewing Co. opens, guests will be able to order from a takeout window adjacent to the main taproom, and bring their food anywhere—including upstairs to DBCo.'s soon-to-open rooftop greenhouse.
And M&M is expanding those offerings to coincide with its new home: Alongside signature dishes like ribs, chicken, pulled pork sandwiches, and mac and cheese, Lambert's new menu for DBCo. will feature options like barbecue bowls and burgers. There will also be more-traditional beer hall fare—like grilled sausages, soft pretzels, and soon-to-be-signature Dorchester Dumpster Fries, loaded with a smoked cheese sauce, pulled pork or chicken, barbecue sauce, and scallions.
Turning a mobile rib business into a restaurant has been a big task. But, "the friendly, social atmosphere [at Dorchester Brewing Co.] is one of the biggest things that made me push forward and say yes" to opening a brick-and-mortar, says Lambert, who took over "the rib truck" from his mom about 10 years ago, when he was just 22 years old. "A brick-and-mortar is a big deal. It's a lot of responsibility." Lambert says he was convinced to take plunge by the brewery's mission to create a community-focused environment with its year-round rooftop and expanded taproom. "This is the vibe I want to create here," Lambert says.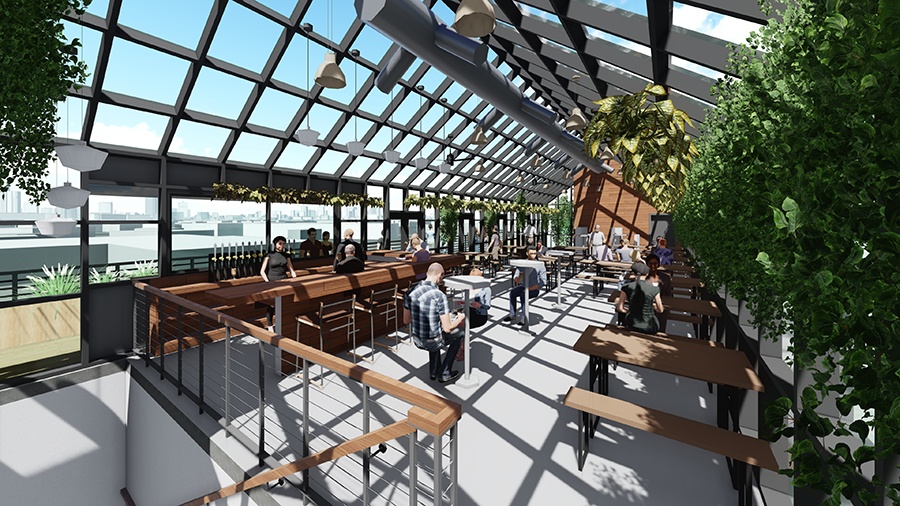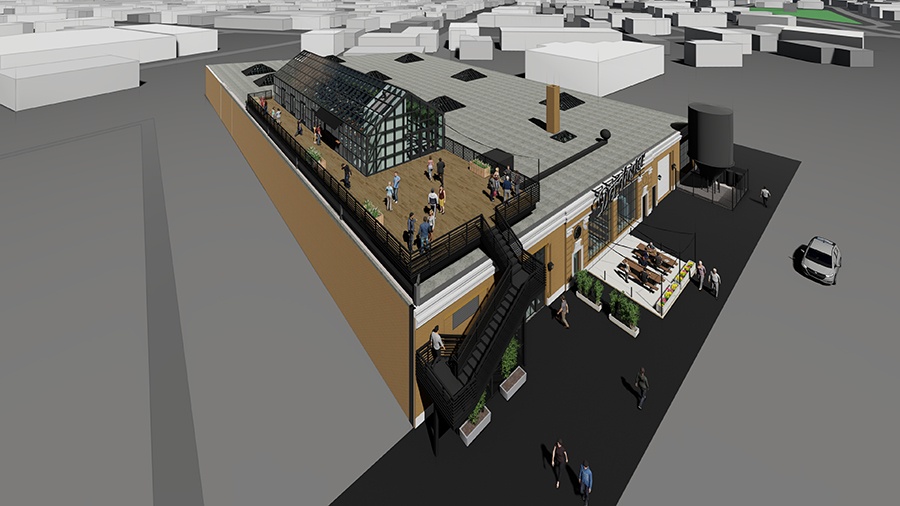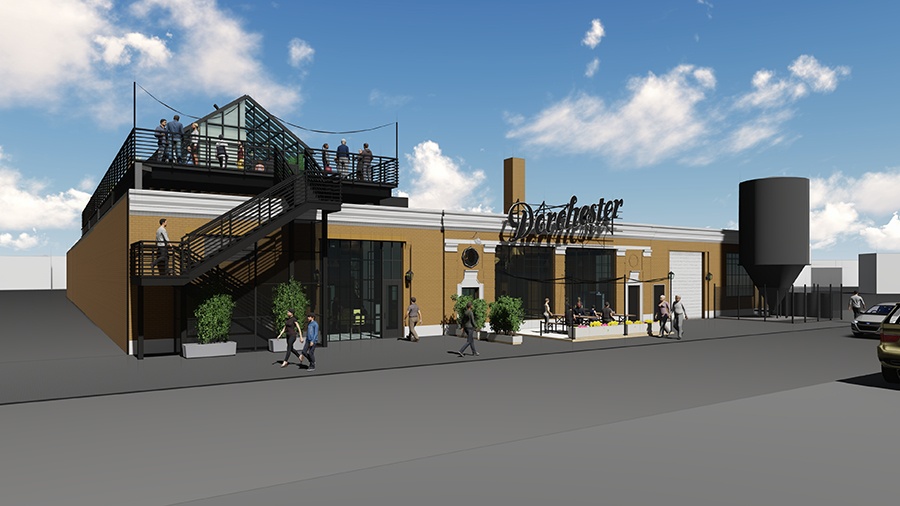 With its 1982 launch, the M&M truck started making regular stops at a few private land parcels in Roxbury and Dorchester, where the family sold containers of its (subsequently Best of Boston-worthy) tender pork ribs and succulent smoked chicken. By the late aughts, the street food scene in Boston was finally starting to blossom; M&M Ribs became one of the city's first officially-licensed food trucks in 2011, when new regulations allowed for such vending in public places. (The brand has since evolved into M&M BBQ.)
Lambert says he loved growing the M&M brand by parking in prominent locations like SoWa, as well as participating in local festivals and events. The third-generation business also appeared at breweries, and in 2017, Lambert hosted his first pop-up at Dorchester Brewing Co. Since then, M&M has made regular appearances at the brewery, and earlier this year, Lambert took the truck off the road to focus on on-site events.
Even still, Lambert admits that he never expected to open a restaurant. It's an expensive, daunting proposition—from finding a location and building out a kitchen, to hiring and retaining service staff. But those concerns are alleviated by partnering with Dorchester Brewing Co.: Though M&M will be independently operated, the beer company owns the building, and is funding the new construction. In addition, Dorchester Brewing Co. CEO and cofounder Matt Malloy says that he always anticipated bringing a distinct food operation into his taproom and contract-brewery; for that reason, the brewery's infrastructure—such as the plumbing and electricity—was designed from the outset to accommodate new additions without disrupting the existing business.
Thanks to all this, the new buildout is happening fast and staying close to (though has exceeded) its projected $3 million budget. Malloy is currently eyeing an October grand opening for the expanded space, which will include the M&M kitchen; a vintage arcade-filled gaming room and intimate performance space; capacity-tripling new bathrooms; and of course, the rooftop greenhouse-beer hall.
"We're figuring out actually how to make sure everybody wins in this situation, but we're really trying to remove the capital burden for Geo as part of this as well," Malloy says. "We are experts in beer-making; he is clearly an expert in barbecue. There are more [customers coming in] asking for food. Why wouldn't we do this?"
Having an in-house restaurant will mean the end of most other food pop-ups at DBCo., and guests will no longer be allowed to bring in their own food. But it's an exciting transition for the growing brewery, which is celebrating its third anniversary on July 20.
It's also an exciting development for its new restaurant-in-residence. "I want to keep M&M BBQ as relevant today as it was three decades ago, in a new, changing Dorchester," Lambert says. "It's an opportunity to create a place to go and socialize, network, and build off of that community."
M&M BBQ will pop up at DBCo. a couple more times this summer, including Sunday, July 21, before opening the restaurant there in October.
1250 Massachusetts Ave., Dorchester, 617-514-0900, dorchesterbrewing.com, mandmribs.com.
---
---