The North End's Table by Jen Royle Can Finally Fill You a Wine Glass
The family-style Italian restaurant, opened in January, now has vino, beer, and cordials. Salute!
---
Raise a toast (now that you can): Table by Jen Royle, a North End restaurant that uniquely specializes in family-style Italian feasts, has finally scored a license to serve beer, wine, and cordials. It's been a long road for the spot's eponymous sports-reporter-turned-chef, a finalist from the ABC cooking-show The Taste, who opened her 32-seater back in January. But starting tonight, guests will be able to sip vino and spritzes while passing around bowls of short-rib Bolognese and other Boot-inspired comfort foods. (Just try not to upturn any glasses with all those fast-moving hands, capisce?)
"As Tom Petty said, 'the waiting is the hardest part,'" says Royle, who had to be patient about introducing alcohol in a neighborhood that had reached its cap on licenses. Eventually, she says, she was able to purchase a license from the team behind nearby Ducali restaurant, "for what most people would pay for a new home." (In case you haven't been following along, such licenses are insanely, prohibitively expensive in Boston.)
According to Phil Frattaroli, the restaurateur behind Ducali and other North End staples, Ducali plans to "expand its cocktail program" under his existing all-alcohol license that was previously being applied only to sibling restaurant Filippo, which is part of the same building. (The group's beverage director, Joe Camiolo, will soon spotlight an "extensive collection of craft whiskeys and other liquors with an Italian focus.")
But anyway, back to Table: Royle says she's decided to keep it simple, now that she's finally able to unveil a drink list (which you'll find below). You'll find mainly Italian wines, plus a few wanderings to France and California; some celebration-appropriate reserve bottles; one Italian beer; and a handful of easy cordial offerings, like limoncello and sambuca. "Personally, I think when restaurants try to do too much with cordials, they just end up creating weird and complicated drinks," Royle says. "We want to keep our food the focus and have the wines complement the courses."
Focusing on food has worked so far. In fact, Royle says that while some folks did register initial disappointment that Table was an alcohol-free zone, most of the early skepticism she encountered actually had to do with the restaurant's family-style approach, which gathers guests at two communal tables for fixed, multi-course menus—featuring, say, white-wine mussels and ricotta-laden meatballs. (There's also a Sunday brunch service, if bacon-and-egg flatbreads are more your line.)
"We just knew we just had to prove that we served great food," Royle says. We'll drink to that. Like, actually, though.
Check out the debut beverage list below.
445 Hanover St., Boston, 857-250-4286, tableboston.com.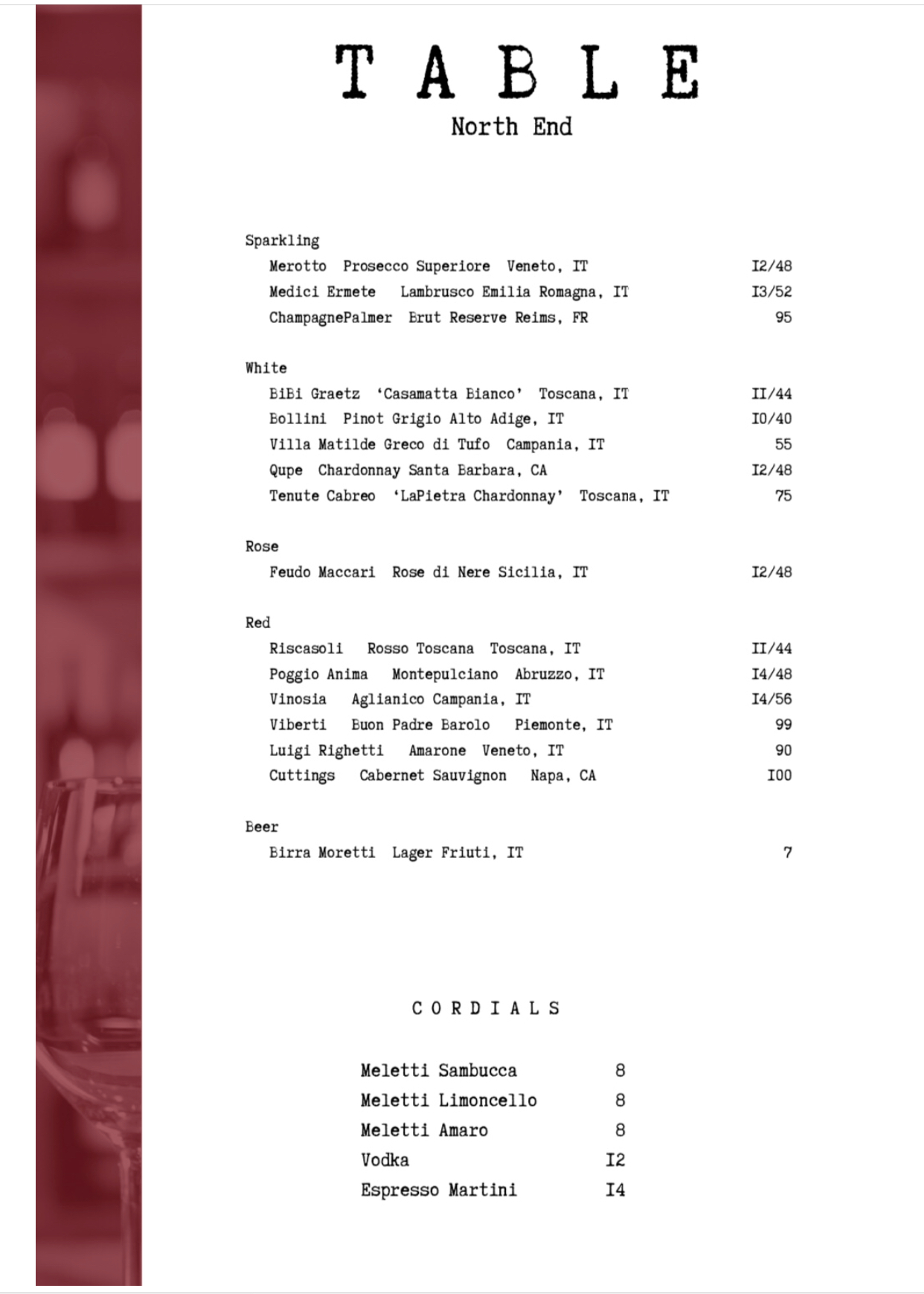 ---
---