The Emory Opens in Beacon Hill With Not-So-Classic Bar Food and Cocktails
From foie gras tots to buffalo sweetbreads, check out the menu of steakhouse-inspired snacks and spirited drinks.
---
Emory "Andy" Kilgore's grandfather, the third-generation Emory in his family (Andy's the fifth), was best known to his friends and family as "Spuds," on account of his love for potatoes. It's fitting, then, that a signature dish-in-the-making at Andy's highly anticipated Beacon Hill bar and kitchen, the Emory, which opens Monday, July 29, is baked potato beignets: buttery choux pastry dough with starchy potatoes and bacon worked right in, fried up fluffy and light and served with cultured cream.
"It felt very uncomfortable to name a bar after myself at first," says Kilgore. But the restaurateur, who comes to ownership two decades into a bartending and managing career at the likes of No. 9 Park, Stoddard's, and Broad Street Riot, kept going back to the family name. He's been called "Andy," short for his middle name, Andrew, for his entire life. His father, Emory, is known as Bucky.
"Friends and family are the most important thing in life," Kilgore says. Family was a big inspiration for his solo venture. "I want people to feel like you're coming into the home of Emory. When I went to my grandparents' house as a kid to eat bologna sandwiches and ice cream, that's a family vibe. It's a comfortable vibe. That's the idea."
Kilgore has created a casual, fun spot for the after-work crowd around Beacon Hill, with fully half of the interior set up with high-top tables for a bar-like atmosphere. The former Scollay Square restaurant seats about 75 people, and also has a 38-seat patio. The one-time site of the c. 1899 Bellevue Hotel, it maintains its late-19th century grandeur as the Emory—high ceilings, original Corinthian columns, leather banquettes, a gray marble bar top—with modern touches like a lively open kitchen spanning nearly the entire left side of the space, and a large communal table.
And the food and drink match: Menu items are rooted in steakhouse classics (like those baked potato beignets), "cheffed up" by executive chef Derek Robert with modern techniques, such as using fermentation to deepen flavors. Robert joined the Emory pre-opening team as chef de cuisine under original executive chef Brian Young, who left the project in May. Since Robert took the helm, he's moved away from an initial focus on large-format dinners—though the Emory will offer a seasonal roasted pork shoulder set, and a New England lobster bake, for four to six people—in favor of more small plates to share: Expect buffalo-fried sweetbreads with pickled celery; roasted asparagus with lemon aioli; and dry-aged sirloin tartare with deviled egg mousse. There will also be individual entrees like house-made pasta, sausages, and a garlic cheddar-fondue-drenched burger.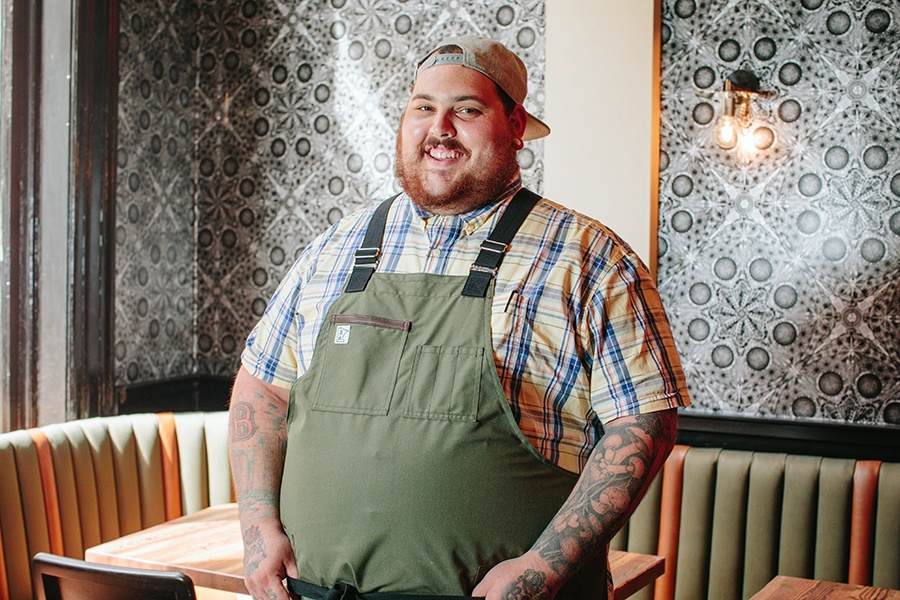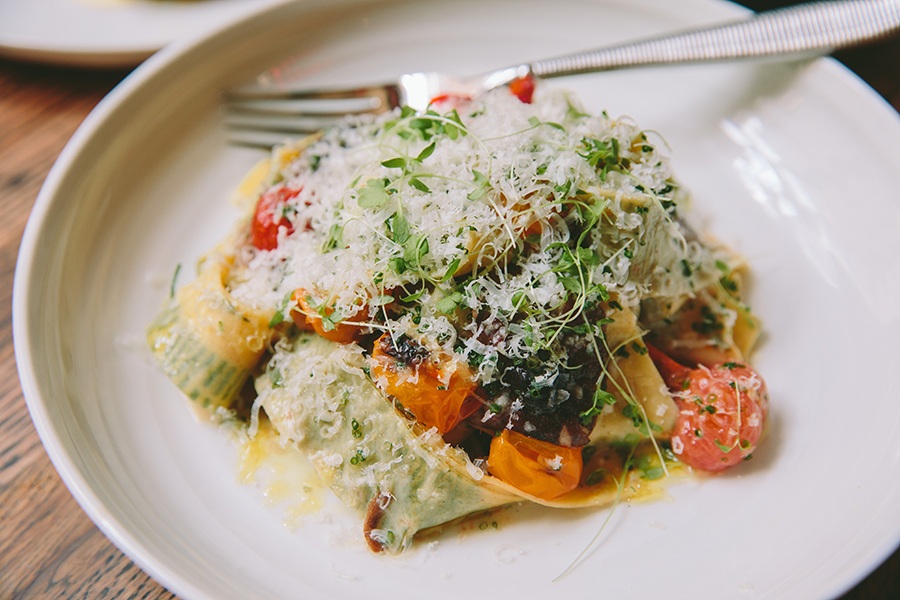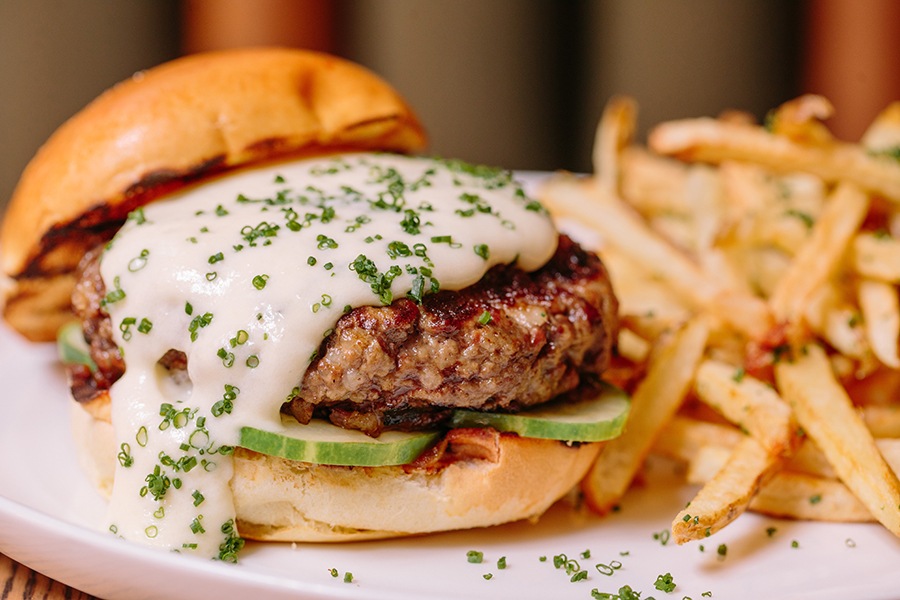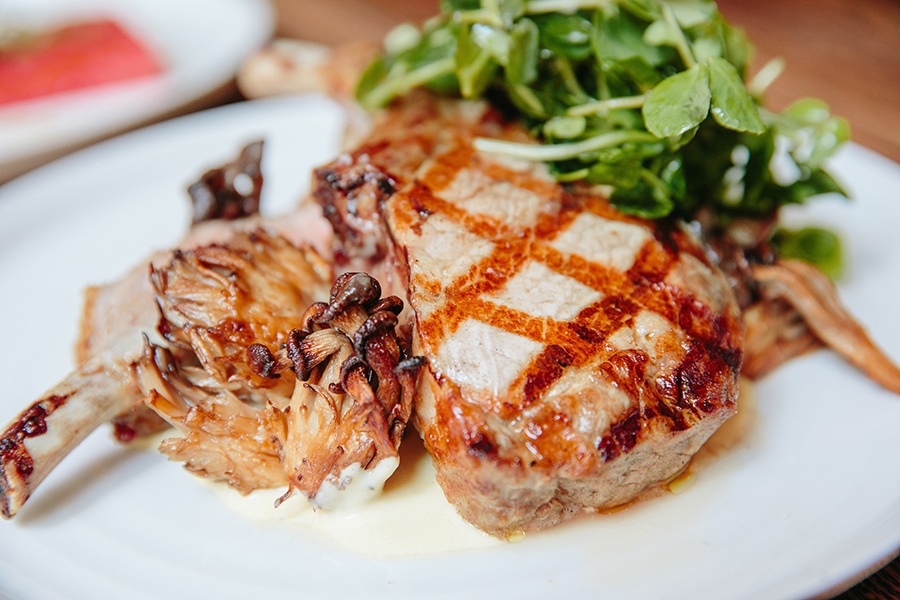 "Some of the intricate, large-format [ideas we had initially] were conflicting with the [casual] vibe a little bit and made it seem more like a special occasion place," Robert says. "The direction we're going in now is more inviting and approachable."
Cocktails, created by bar director Melissa Benson, are also simple, but use high-quality spirits and fresh ingredients to offer something unique. The Manhattan riff, for example, called Top of the Hill, uses Rittenhouse Rye, Cinzano Bianco vermouth, and a dash of house-made lemon-sage juice. Beverage director Tess McMahon is curating an affordable wine-by-the-glass list, and there are a half-dozen craft beers on draft, plus the full gamut available by the bottle or can.
The Emory doesn't have a pastry chef, but Robert and team are creating ice cream flavors and toppings in-house for a rotating option of "fun bar sundaes."
"Anybody around Beacon Hill can find something they're comfortable with" on the menu, Robert says—from the grandparents' generation on down.
Check out the opening food and drinks lists below. In the near future, it will open daily at 11:30 a.m. for lunch, soon followed by Sunday brunch. There will be a more limited bar menu available daily between 2:30-5 p.m. The Emory will begin with dinner service first, starting Monday, July 29, at 5 p.m.
21 Beacon St., Boston, 617-430-6325, theemoryboston.com.
---
---