The 10 Most Anticipated Fall 2019 Restaurant Openings around Boston
From a Garden-adjacent sports bar with a heavy-hitting cocktail program (trust us), to a rustic and relaxed grill in the 'burbs (again, trust us).
---
The leaves are changing colors, the students are back in town, and new Orange Line trains are finally hitting the tracks—it's fall, Boston. With a new season comes a whole new lineup of restaurant openings to keep an eye on around the city. The autumn winds will blow in a downtown food hall with a stacked lineup of chefs, Guy Fieri's first Massachusetts restaurant, and, imminently, a très Français café and brasserie in a prominent place. Keeping in mind that restaurant openings are often subject to unanticipated delays (we'll keep you posted!), here are the 10 upcoming restaurants we are most looking forward to—plus a few other future spots that should be on your radar.
El Tacuba Cocina & Tequila Bar
Why we're looking forward to it: We've been waiting for this boozy Tenoch sibling for a long, long time.
A long-anticipated sit-down spot from the brothers behind Tenoch—the popular empire of quick-serve Mexican restaurants and food trucks—will finally land later this fall, Eater Boston reports. Alvaro and Andres Sandoval are planning a menu of Veracruzana food, such as a white fish dish with tomatoes, capers and olives; a broad list of tequila and mezcal, and local craft beers. El Tacuba is headed for a space just around the corner from Tenoch in Medford Center.
When: Late fall 2019
Where: 35 Salem St. Medford, eltacuba.com.
Grand Tour
Why we're looking forward to it: It's the latest from the team behind a standout seafood restaurant that also has one of our favorite wine lists around.
What: Chef Michael Serpa and partner Lina Velez have taken over a small space—just around the corner from their first Back Bay restaurant—to open an intimate Parisian bistro. Around just 50 seats, it will nevertheless have a lofted private dining area and outdoor seating on Newbury Street. With atmospherics inspired by prestigious European cycling events, expect classic bistro fare from a to-be-announced executive chef, like steak frites, roasted duck, rabbit in mustard sauce, etc.; plus seasonal vegetables, cheeses, and charcuterie. Oui, oui!
When: November 2019
Where: 314 Newbury St., Boston, grandtourboston.com.
High Street Place
Why we're looking forward to it: This 20-vendor-strong food hall is going to be a game-changer for the Financial District lunch crowd.
What: This splashy canteen has officially signed on 11 new concepts, including additional outposts for recent Best of Boston winners Pennypacker's, Mother Juice, and Wheelhouse. Maverick chef Tiffani Faison is unveiling her takes on seafood with the Eastern Seaboard-inspired Dive Bar, and on pizza with Tenderoni's. A venerable duo of bartenders will riff on classic cocktails at a new bar called Daiquiris & Daisies—and diners will be able to take drinks with them throughout the labyrinthine food hall. And there's more. Stay tuned for another round of vendors to be announced soon. Taking over an underused atrium between office towers at 160 Federal and 100 High streets, High Street Place will be an afternoon respite for office dwellers and a happy-hour hotspot.
When: Fall 2019
Where: 100 High St., Boston, highstreetplace.com.
The Hub on Causeway
Why we're looking forward to it: Several new dining options are coming to a busy exchange in downtown Boston, including the first Bay State outpost of Flavortown, a sports bar with serious bar-star power, and a local-flavor-packed food hall landing later this winter.
What: Banners Kitchen & Tap is a huge, upscale sports bar and restaurant headed for the site of the original Boston Garden. The latest from the national Patina Restaurant Group, the menu will include not just game-day staples but also fancier tavern-style fare for lunch and dinner, plus creative brunch dishes and a kids' menu. And while it boasts 60 draft lines for plenty of local craft beers, cocktail drinkers should also get excited: The one and only Jackson Cannon—the founding drinksmith of Eastern Standard and the Hawthorne—is developing the cocktail program, and will act as a consultant for the Banners opening. Beyond food and drink, the multi-level sports bar will have tons of TVs, including a nearly-40-foot screen behind the bar; and the venue will offer interactive games to play, like Topgolf Swing Suites.
Guy Fieri's Tequila Cocina will be a 185-seat, full-service restaurant located inside Big Night Entertainment Group's forthcoming Big Night Live music venue. At the Food Network star's first Massachusetts restaurant and first "Tequila Cocina" concept, expect "interpretations of Latin street food with a focus on rich and bold flavors that put a unique twist on traditional dishes." It will serve both lunch and dinner, and the bar will boast an agave-spirits list 100 bottles strong.
When: October 15, from 4-11 p.m. (kitchen closes at 10 p.m.)
Where: Banners Kitchen & Tap, 82 Causeway St., Boston, patinagroup.com. Guy Fieri's Tequila Cocina, 100 Causeway St., Boston, bneg.com, Facebook.
Krasi
Why we're looking forward to it: Meze mavens are creating something fresh for a character-filled space in the Back Bay—and they're adding a super-secret cocktail bar.
What: Partners at Committee and GreCo have taken over the former Cafe Jaffa space and are building out a Greek islands-inspired meze bar, whose name literally translates to "wine." Krasi will have a unique bottle and by-the-glass list from new-to-Boston sommelier Alexandros Efkarpidis. Those new-to-Boston wines will pair with flame-cooked souvla, wood-fired breads, Greek cheeses and charcuterie, and more shareable plates. Plus: Shortly after the convivial meze spot opens, a mysterious cocktail bar-sibling called Hecate will debut in the basement below.
When: November 2019
Where: 48 Gloucester St., Back Bay, Boston, krasiboston.com.
Mariel
Why we're looking forward to it: Initially branded as La Sirena, this is yet another cocktail-forward concept from the fine folks who've given us Yvonne's, Lolita, and Ruka.
What: Nightlife specialists of the COJE Management Group are taking us to Miami and Havana with this Cuban-inspired restaurant and bar. As is their usual way, partners Chris Jamison, Mark Malatesta, and culinary director Tom Berry are keeping details under wraps ahead of the opening, but we've learned they've hired Sebastian Cañas to lead Mariel's bar program. An East Boston native and alum of Drink and Yvonne's, Cañas is also the "cocktail master flex" for splashy pop-up outfit East Boston Oysters. He is adept at entertaining with flair bartending—while building well-balanced and beautiful beverages, of course.
When: Monday, September 30
Where: 10 Post Office Square, Boston, 617-333-8776, barmariel.com.
Nightshade Noodle Bar
Why we're looking forward to it: One of the most exciting pop-up restaurants finally has a place to call home.
A former coffee shop in downtown Lynn will soon become the brick-and-mortar version of chef Rachel Miller's Best of Boston-worthy Viet-American pop-up series. Miller was formerly chef de cuisine at two Boston fine-dining icons, Bondir and Clio, before launching the Nightshade pop-up in April 2017. Her noodle bar will serve casual, grab-and-go lunch with options like banh mi sandwiches, noodle bowls, and vegetable dishes, plus Vietnamese iced coffee. At dinnertime, expect about 16-18 ever-changing small plates, noodle dishes made with some locally milled grains, and Viet-Cajun-style boiled seafood to mix and match. Miller's partner, Liana Van de Water, was involved in every single Nightshade pop-up and is the new restaurant's wine director; she also hand-painted the mural inside the place. John Groh, an alum of Tavern Road and Downeast Cider House, is the bar manager.
When: Wednesday, October 23
Where: 73 Exchange St., Lynn, nightshadenoodlebar.com.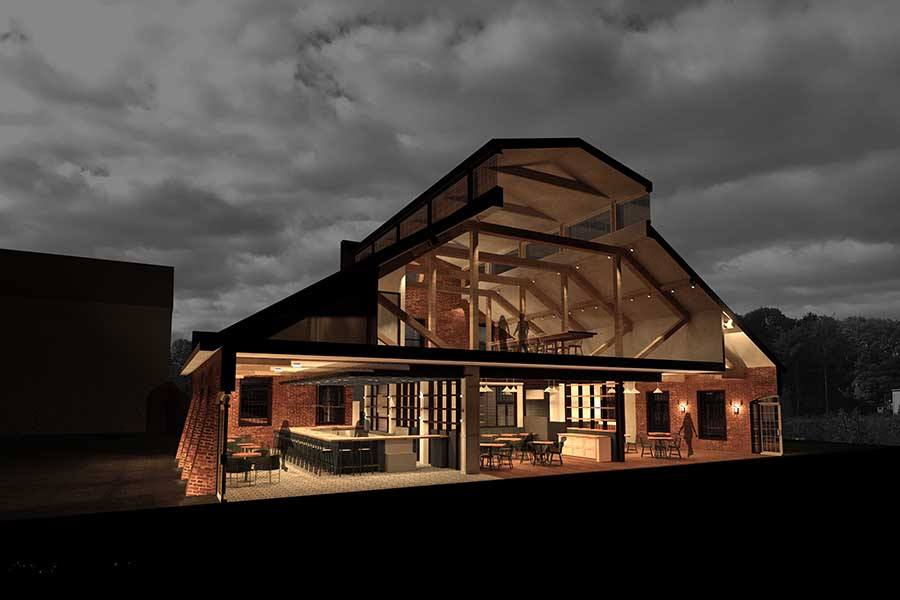 Northern Spy
Why we're looking forward to it: The suburbs deserve high-quality casual fare, too.
What: Imagine, for a moment, "the kind of place where your parents would go out to eat in the '80s, but updated with ingredients sourced from a real farm." That's what restaurateur Daniel Myers is bringing to Canton, with help from his partners at Loyal Nine. Whereas their Cambridge restaurant aims to surprise diners with esoteric recipes and oft-forgotten ingredients, this suburban hangout will be family-friendly and familiar. A wood-fired grill will yield approachable items from chef Marc Sheehan (and a kids' menu), like a grass-fed beef burger, free-range roasted chicken, clam chowder, clam dip, hot-buttered crab on Parker House rolls, prime rib, and mac and cheese. Headed for a historic building that was America's first copper mill, the bucolic property will also host private events—in fact, Northern Spy's first party is already on the books.
When: Late fall 2019
Where: 96 Revere St., Canton.
Rochambeau
Why we're looking forward to it: It's a big return to a prominent place for one of Boston's most established hospitality groups.
What: Restaurateur Patrick Lyons' eponymous company is behind 20 Boston-area establishments, from Back Bay stalwarts like Sonsie, to Fenway bars like Game On, to second acts for iconic chefs like Lydia Shire's Scampo and Jasper White's Summer Shack. The Lyons Group's latest is an all-day café, bar, brasserie, and events space. The très Français venue will soon replace their formerly boisterous, multi-bar venue Towne Stove & Spirits, on the edge of the Hynes Convention Center. Leading the charge is culinary director Nick Calais, formerly executive chef of Brasserie Jo and the Colonnade Hotel; along with executive chef Matt Gaudet, who earned a Food & Wine honor, among many others, for his now-closed Cambridge restaurant, West Bridge. Rochambeau will be open from early-morning to late-night, with French-inspired fare ranging from Calais' signature profiteroles, to coq a vin, steak frites, seafood, and specialty items like Gaudet's once-classic egg in a jar appetizer, and lobster popovers served as an homage to Lydia Shire's days as chef of Towne Stove & Spirits. The multi-level venue will have a Boylston Street-facing café with its own entrance, a 65-seat seasonal patio, and 120 seats inside.
When: Early October, beginning with café service on October 3 and limited reservations through the weekend.
Where: 900 Boylston St., Boston, 617-247-0400, rochambeauboston.com.
Woods Hill Pier 4
Why we're looking forward to it: A farm-to-table leader from MetroWest is making her Boston debut—on the hallowed ground of the late, great restaurant Anthony's Pier 4, no less.
What: Restaurateur Kristin Canty and chef Charlie Foster together operate two of the best reasons to travel west: Concord's farm-grown, fine-dining favorite, Woods Hill Table, and its newer, Mexican-inflected sibling, Adelita. Their third restaurant together is rising up in the Boston Seaport, as part of a new mixed-use development which already boasts a Tatte and a GreCo, and which will also be home to Nantucket export, the Nautilus. Like the Concord original, Woods Hill Pier 4 will showcase grass­-fed proteins, raw milk cheeses, and organic produce grown—among other local sources—on Canty's Bedford, N.H., farm. Besides a spacious dining room and private-dining option, the waterfront spot will have a lively bar with glass, garage-style doors leading out to a large patio.
When: November 2019
Where: Pier 4 Blvd., Seaport, Boston, woodshilltable.com.
Also in our sights this season:
---
---