Five New and Noteworthy Reasons to Dine Out This Week in Boston
Free bar snacks, a massive new sports bar, and more newsworthy leads on where to eat right now.
---
It's a busy time to be a food lover in Boston. Here, an easily digestible roundup of the five restaurant news stories you need to know to have a delicious week.
Free Bar Snacks at Puritan & Co.
Chef Will Gilson's Inman Square restaurant now opens a half hour earlier every weeknight, which gives you more opportunities to drink your way through the new fall cocktail menu. Dinner still begins at 5:30 p.m., but early birds can now pull up a stool at the bar Monday-Friday beginning at 5 p.m.—and whet their appetite with a free snack. Rotating bar bites—such as pimento cheese biscuits, sesame and spice "Cracker Jacks," and roasted eggplant dip with grilled flatbread—are on the house weeknights from 5-5:30 p.m., courtesy of Gilson and executive pastry chef Brian Mercury. And just a reminder: There is always gratis South Shore-style pan pizza at the bar every Thursday night beginning at 9 p.m., too—just in case you need more excuses to belly up to the bar.
Puritan & Co., 1166 Cambridge St., Cambridge, 617-615-6195, puritancambridge.com.
Otto Pizza Reopens in Harvard Square
Four months after a hood vent fire forced Otto Pizza's Harvard Square outpost to close, the small shop is back in business as of 10:30 a.m. this morning. To celebrate the reopening, the Otto team is hitting the Square at random times throughout this week to hand out 1,000 "free slice" cards to passersby, so swing through the Harvard area to claim yours. The Harvard Square Otto, which reopens with the bi-state chain's new fall menu, is open every day from 10:30 a.m. until midnight.
Otto Pizza, 1432 Massachusetts Ave., Cambridge, 617-873-0888, ottoportland.com.
Banners Kitchen & Tap Opens for Dinner
Boston is now home to a noteworthy new sports bar: The highly anticipated Banners Kitchen & Tap officially opens October 15 at 4 p.m. Located on the footprint of the old Boston Garden, next door to the TD Garden, the gigantic new restaurant and bar boasts New England's largest LED-screen TV, and TopGolf Swing suites to rent. Beyond those amenities, there is also elevated tavern fare and a very serious beverage program, including 50-plus craft beers and a cocktail list by bar star Jackson Cannon. Expect pub grub like chicken wings, barbecue chili nachos, and a sirloin, short rib and brisket burger with cheddar and smoked bacon on chef Jacqueline Kelly's new menu. But the Patina Restaurant Group's Boston culinary director is also getting more creative with less-expected cuisine, such as a sweet potato "noodle bowl" with baby rainbow kale, roasted cashews, Thai basil, and a black garlic dressing; and yellowfin tuna tacos with avocado and seaweed salad on blue corn tortillas. Look for four days of brunch service to launch in the coming weeks (it will be Friday-Monday, every week), as well as for reservations to open for the colocated VIP club, Blades & Boards. Check Instagram for hours-of-operation updates.
Banners Kitchen & Tap, located at the Hub On Causeway, 82 Causeway St., Boston, 617-263-8200, bannerskitchenandtap.com.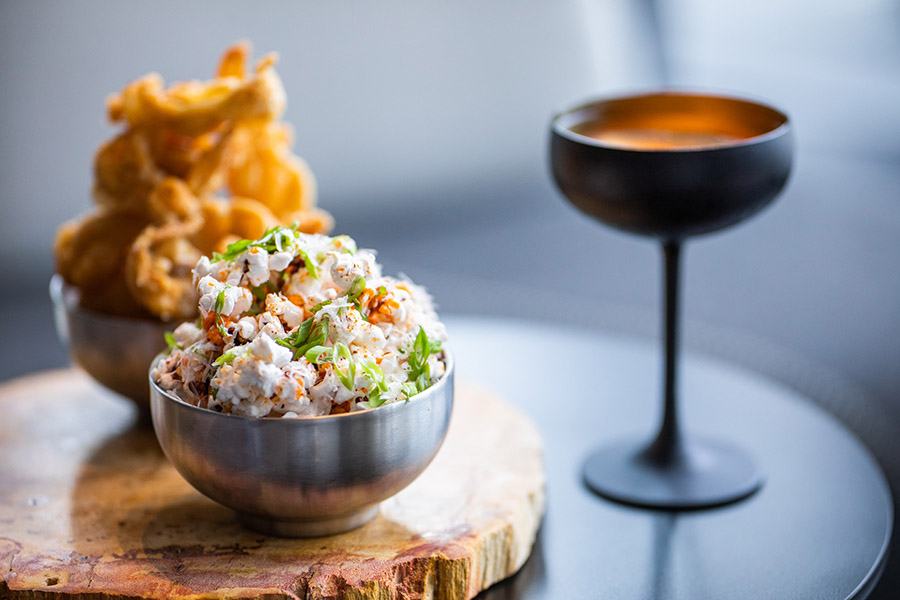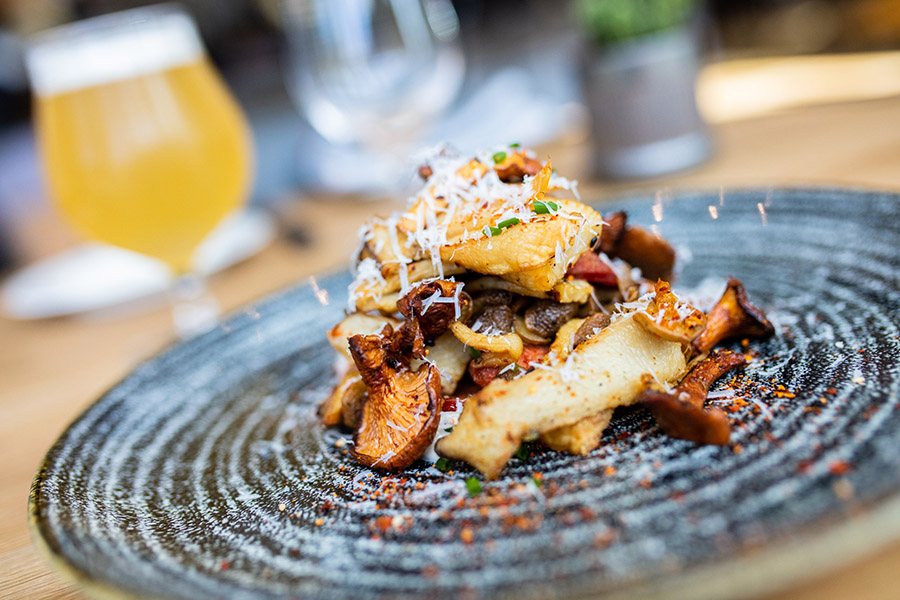 Six / West Opens for Dinner
The brand-new Cambria Boston hotel has been hosting guests in the heart of Southie for the past two weeks, but starting October 15, the general public can get a taste, too. The ground-floor restaurant, Six / West, opens at 4:30 p.m. with drinks and shareable dishes from chef David Daniels, who was most recently behind Hush at Wink & Nod. The all-day menu includes a burger, king crab mac and cheese, and small plates like crispy chicken skin "chips" and onion dip; American caviar panini; and "magical mushrooms:" a fried pile of exotic mushrooms and linguiça with a dusting of truffle powder. The breakfast menu launches October 16, and runs the gamut from healthy starts to hangover cures. Think gluten-free blueberry oatmeal pancakes with crunchy honey butter; shakshuka; and a short rib egg "sando" with aged gruyère. Lunch service also begins October 16, and in the coming weeks, a highly anticipated rooftop bar will debut, too. The 4,000-square foot rooftop boasts skyline views beneath a dramatic wood overhang; follow @sixwestbroadway for updates on its opening. The lobby-level restaurant is open all day from 7 a.m.-1 a.m., with a specific breakfast menu on from 7-11 a.m., lunch from 11:30-4:30 p.m., and dinner from 5-11 p.m. On Saturdays, Sundays, and holidays, it will offer a brunch menu from 7 a.m.-3 p.m., too.
Six / West, Cambria Hotel, 6 West Broadway, South Boston, 857-496-0245, cambriaboston.com.
Rowes Wharf Bar Earns Forbes Travel Guide Honors
Luxury seekers found what they're looking for right on Boston Harbor. Rowes Wharf Bar at the Boston Harbor Hotel is one of just 11 U.S. establishments to make Forbes Travel Guide's new list of the World's Best Hotel Bars. The global brand dispatched anonymous inspectors to visit luxury hotels, restaurants, and spas, and rate them on criteria like beverage program creativity, and thoughtfully selected service- and glassware. The critics were impressed with the hotel overall, but specifically called out the "dark and seductive" ambiance of the Rowes Wharf Bar, and its satisfying menu of drinks (especially Scotch) and tavern fare. Forty-four hotel bars in 13 countries made the list; check it out here.
Rowes Wharf Bar, Boston Harbor Hotel, 70 Rowes Wharf, Boston, 617-439-7000, bhh.com.
---
---