Here's Your First Look at Guy Fieri's Tequila Cocina and Big Night Live in Boston
Local chef Rachel Klein is overseeing the spiky-haired Food Network star's menu.
---
Take the train to Flavortown: Guy Fieri's Tequila Cocina opens for dinner on Thursday, Oct. 31 at the Hub on Causeway. It's Boston's first Guy Fieri restaurant—the first place in our town where we can take down fun fare like a stack of Fieri's signature trashcan nachos, a sizzling molcajete (stone mortar) of panela cheese, and a chipotle-spiced sour margarita. Leading the kitchen will be local chef Rachel Klein, whose background includes some upscale Boston-area dining spots where Donkey Sauce would definitely not be on the menu.
Adjacent to North Station and the TD Garden, Guy Fieri's Tequila Cocina is a joint venture from Hub on Causeway developers Delaware North and Boston Properties with Big Night Entertainment Group. It is co-located with a private events space called Studio B, and a luxury new music venue called Big Night Live, which both also debut on Thursday. All three places span 43,000 square feet at the Hub on Causeway. These Big Night projects are the latest efforts from the same nightlife impresarios responsible for the Grand, Scorpion Bar, Empire, Memoire at Encore Boston Harbor, and other Boston clubs and venues, as well as Guy Fieri's Kitchen & Bar at Foxwoods Resort Casino in Connecticut.
Chef Rachel Klein has joined the Big Night Entertainment Group to lead culinary operations at Guy Fieri's Tequila Cocina, as well as at Studio B and Big Night Live. Klein started her culinary career in New York and Providence before moving to Boston in the mid-00s and making her mark on the scene by helming Om in Harvard Square, and the kitchens at the Mandarin Oriental and Seaport hotels. She was also opening executive chef at the now-closed Liquid Art House, a luxe-minded restaurant-slash-gallery.
"Her vision and passion for culinary excellence is a natural extension of our brand goals and we are excited to introduce a new dining destination with her at the helm," BNEG principal Ed Kane said in a press release.
Klein will oversee the staff at Guy Fieri's, and execute the Food Network star's menu of Latin-inspired fare like ceviches, as well as tacos in flavors both traditional (al pastor, carnitas) and not (crispy cheeseburger). You'll also find plenty of shareable dishes, including the aforementioned trashcan nachos, covered in SMC—"super melty cheese"—and borracho beans, chorizo, cotija, jalapeño, and crema; smoked chorizo guacamole with roasted poblano, charred onion, chicharrones; and carnitas chile verde, or roasted pork shank with pickled red onions, tequila-lime crema, and crispy garlic. Scroll all the way to the end of this post to check out the full menus.
The Tequila Cocina bar is stacked with more than 100 selections of tequila and agave spirits. The cocktail menu makes good use of them in creations like the Maracuya Mule, with passion fruit and ginger beer; an Al Pastor Margarita (!) with roasted pineapple puree, chipotle sour mix, and a chili-lime dust rim; and a sparkling basil margarita topped with Prosecco.
Along with BNEG's corporate executive chef Kevin Scott, Klein will also oversee a "luxury buffet" menu for parties held at Studio B, a private events venue located within Big Night Live. The room is a relatively subtle slate of raw woods and oversize tiles, with floor-to-ceiling windows. It has its own bar, with room for 440 guests for standing receptions, and at least 200 people for seated events.
Besides luring fans of Fieri, the Tequila Cocina will likely also capture plenty of guests from Big Night Live, the newest Live Nation and Ticketmaster venue in Boston. The music hall fires things up with U.K. producer duo Camelphat & Gorgon City on Halloween night; DJ Steve Aoki on November 2; Erykah Badu gracing the stage on November 6, and more events on the calendar. It boasts state-of-the-art lighting and sound systems, three bars, and 24 VIP tables as well as other luxury viewing suites. Design details include oversize chandeliers, stylish drapes, and glamorous finishes.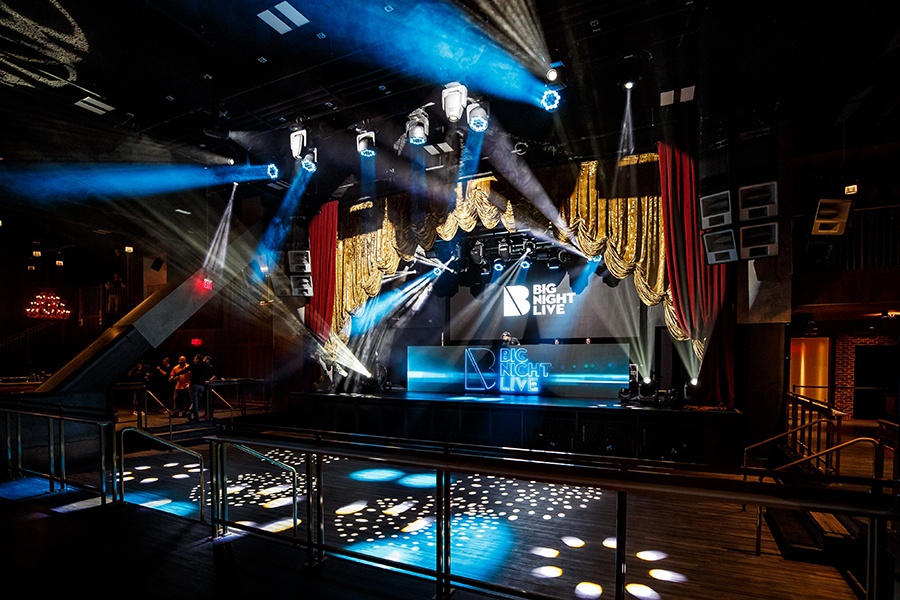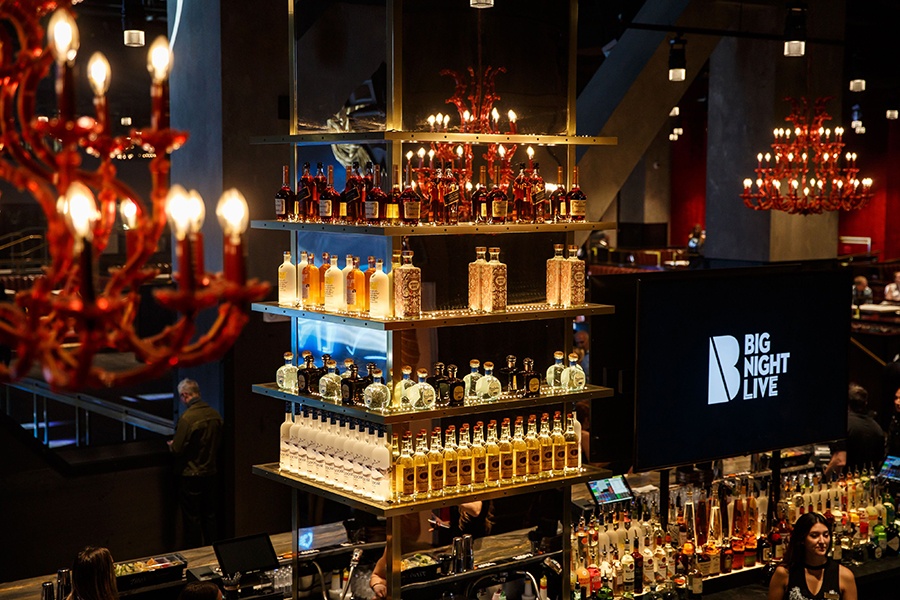 Of course, Guy Fieri's Tequila Cocina is a sight to behold, as well: The eminently recognizable chef's first Boston restaurant is decked out in colorful murals, including art by local creator Dirty Dek. It has eye-catching light fixtures and vibrant upholstery; imagine the "flavor of the streets of Mexico" coming to life on the walls, suggests today's announcement. Regular BNEG collaborator Peter Niemitz designed the space.
Get your first look on Halloween. Following opening night, Guy Fieri's Tequila Cocina will be open Sunday-Thursday from 4 p.m.-midnight, and on Friday and Saturday 4 p.m.-2 a.m.
Guy Fieri's Tequila Cocina, 110 Causeway St., Boston, 617-896-5222, guyscocina.com.
---
---