Weekly Digest: The Seaport Has a Sizzling New Burger Restaurant, and More Must-Know Food News
Plus, a new Chinatown spot is coming from the Shōjō team, Soup Shack opens in Brookline, and other newsworthy leads on where to eat right now.
---
It's a busy time to be a food lover in Boston. Here, an easily digestible roundup of the restaurant news stories you need to know to have a delicious week. (And if you missed last week's Digest, check it out here.)
Soup Shack Opens in Brookline
Just in time for the cold weather to set in, Brookline has a cozy new spot for ramen and more. Soup Shack softly debuted a Harvard Street location on Sunday night, with a grand opening on Monday, Nov. 11. The menu features the same Japanese, Thai, and Vietnamese-style dishes as the original Soup Shack in Jamaica Plain, with some notable additions: The Brookline location serves beer, wine, and sake. It also has some new bowls on the menu, including black tonkotsu ramen, colored and flavored with black sesame and black garlic oil; a grilled chicken rice bowl; and karaage (Japanese fried chicken). Soup Shack delivers via Grubhub and Uber Eats, and the shop seats 18 people inside at a counter and some tables. It's now open daily from 11:30 a.m.-10 p.m. (10:30 p.m. on Friday and Saturday).
401 Harvard St., Brookline, 617-383-5038, soupshacknoodles.com.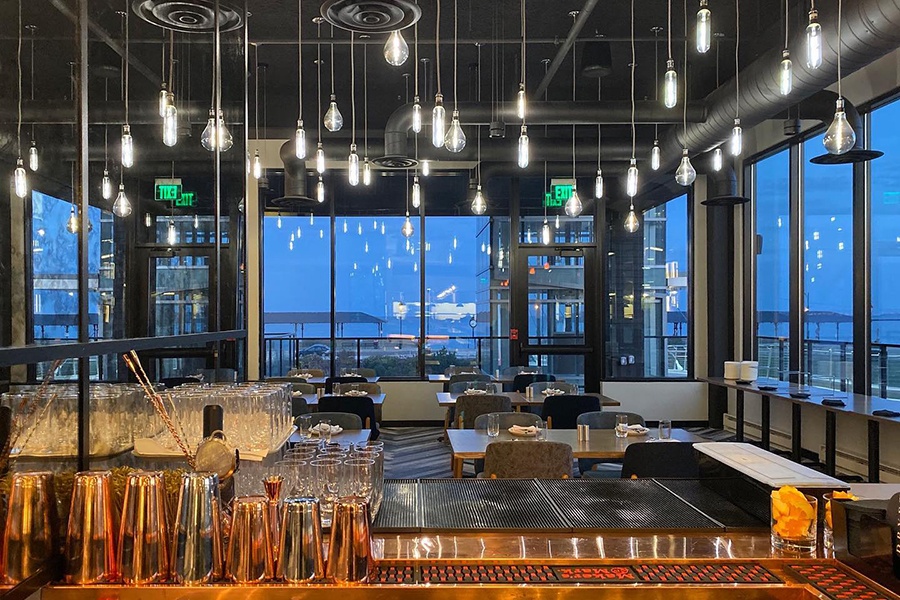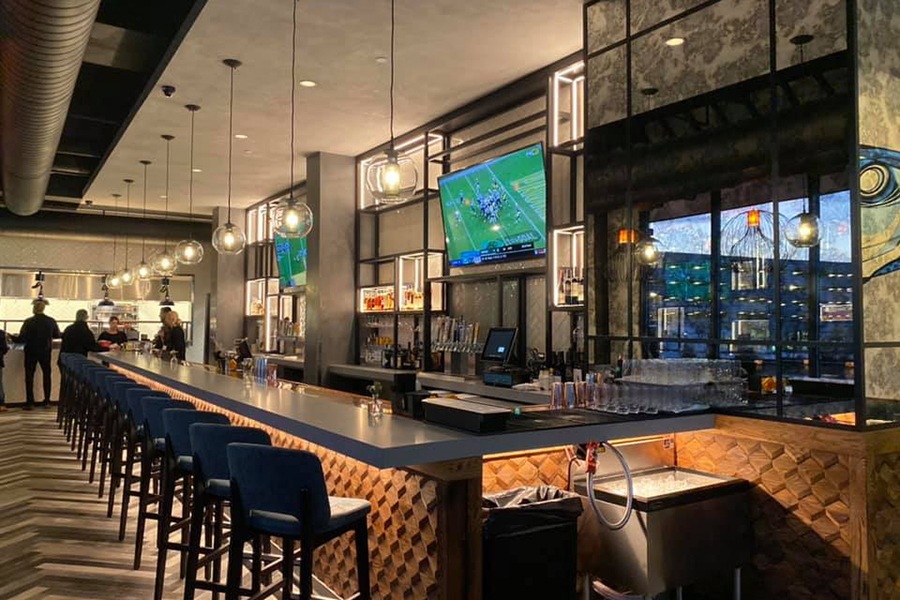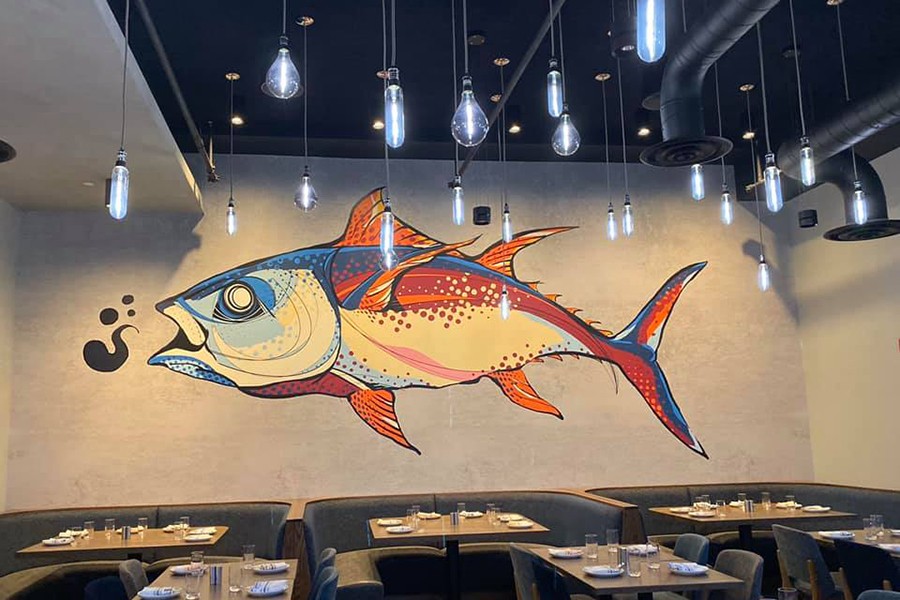 Dryft Opens in Revere
Here are some warm thoughts: A new, oceanfront bar and restaurant has landed, overlooking America's oldest public beach. Dryft opened on November 11 at 500 Ocean Ave. in Revere, bringing contemporary Italian cuisine, a raw bar, and aspirational "Miami meets Boston" nightlife to Revere Beach. Dryft is latest from restaurateur Michael Aldi, who's involved in Boston restaurants Pier 6, Reelhouse, and Mija Cantina & Tequila Bar. The 140-seat Dryft anchors the brand-new 500 Ocean Avenue residential development, a "luxury lifestyle community" situated on the Blue Line. Next year, Dryft will debut a 100-seat outdoor bar, too. "We're trying to bring a higher-end restaurant to the beach because no one's ever done that over there before," Aldi told Eater Boston. On the menu, you'll find New England seafood selections at the premium raw bar, plus house-made pastas, steaks, poultry, and local vegetable dishes. Dryft is now open for dinner from 5-10 p.m. Monday through Wednesday, and 5-11 p.m. Thursday through Sunday; and for weekend brunch from 11 a.m.-3 p.m., with lunch hours to come. "It's a tremendous opportunity to be part of the nightlife scene in Revere and contribute to the dining options in this great community," Aldi said in a press release. "We plan to become a central destination on Revere Beach for residents and visitors alike."
500 Ocean Ave., Revere, dryftRevere.com.
The Shōjō Team Has Something New in the Works for Chinatown
The forerunner of modern dining in Chinatown is at it again: Brian Moy will open a fourth restaurant in the neighborhood in spring 2020, the Shōjō Group announced this week. The early word foreshadows something new in a subterranean space below their hip hop noodle shop, Ruckus. The yet-unnamed concept will be helmed by chef Mike Stark, who joined the Shōjō Group in 2017 to help launch Ruckus. Formerly the chef de cuisine at Toro and the opening chef at Tiger Mama, Stark now oversees the menus and kitchens at Shōjō (and its new Logan Airport location), BLR by Shōjō, and Ruckus. Stay tuned for more on what he's planning next.
Coming spring 2020 to 7 Tyler St., Chinatown, Boston.

LoLa Burger Opens Thursday in the Seaport
A well-done Nantucket restaurant is serving up seconds in the Seaport. LoLa Burger will open a second location on Thursday, Nov. 14, at 11 Fan Pier Blvd. It's yet another expansion for restaurateur Marco Coelho and his Team Hospitality's LoLa brand, which opened the bistro and sushi bar, LoLa 42, in the Seaport in 2017; and also just announced plans to bring its Nantucket flagship, LoLa 41, to Palm Beach, Fla., in 2020. Like the Nantucket original, LoLa Burger in the Seaport deals in big burgers with mix-and-match toppings, thick and creamy milkshakes, and a large selection of craft beer and wine. LoLa 42's popular LoLa Burger is on the new joint's menu—it's an eight-ounce Angus beef patty topped with cheddar, red onion compote, and foie gras gravy on an oversize English muffin—along with a lamb burger, topped with creamy feta, spicy harissa, and arugula; a classic LTOP with American cheese; and a few vegan and vegetarian options, too. LoLa Burger also serves up Wagyu hot dogs, other sandwiches like falafel, and salads, including a classic iceberg wedge with house-made dressings. LoLa Burger opens in the 73-seat space that most recently housed Team Hospitality's short-lived hot pot concept, 111 East. Beginning this Thursday, it's open daily from 11:30 a.m.-10 p.m.
11 Fan Pier Blvd, Seaport District, Boston, lolaburger.com.
Little Donkey Is Bucking Into Bangkok
Jamie Bissonnette and Ken Oringer, the dynamic duo behind Boston's JK Food Group, is bringing its most eclectic restaurant to the vibrant city of Bangkok. Later this month, Little Donkey will replace the group's three-year-old location of Toro in the Thai capital. "We had a really fun three-year run with Toro in Bangkok," Bissonnette said in a press release. "Today, the neighborhood is so different than it was when we opened in 2016, and the timing feels right for us to make a change as well. We're excited for the opportunity to start fresh with Little Donkey, and to introduce one of our favorite cities in the world to global flavors and techniques inspired by our recent travels." The second location will feature some signatures from the Cambridge original, but the new spot's executive chef, Steven Doucakis, and culinary director, Arnold Marcella, will also bring their own creative vision to the table.
It's not only Bangkok that has Little Donkey news today: The Cambridge restaurant also has a brand-new business partner. In conjunction with today's announcement about the overseas expansion, Oringer and Bissonnette share that longtime JK Food Group employee and opening Little Donkey general manager Katy Chirichiello has been promoted. "People like Katy are one in a million," Oringer said in a press release. Since she was a server at Toro 10 years ago, "[Chirichiello] has proved herself as a natural leader and an irreplaceable member of our team. [She] has been the driving force behind Little Donkey's success since it opened, and when Jamie and I think about the restaurant's future, we can't imagine operating without her." Congrats, Katy!
505 Massachusetts Ave., Cambridge, 617-945-1008; coming to 72 Courtyard FL 1, Bangkok, Thailand, in November 2019, littledonkeybos.com.
---
---