Weekly Digest: A Medford Pub Opens with Detroit-Style Pizza, and More Must-Know Food News
Plus, a new brunch destination in the Seaport, Chowder Hour hits Harvard Square, and other leads on where to eat right now.
---
It's a busy time to be a food lover in Boston. Here, an easily digestible roundup of the restaurant news stories you need to know to have a delicious week. (And if you missed last week's Digest, check it out here.)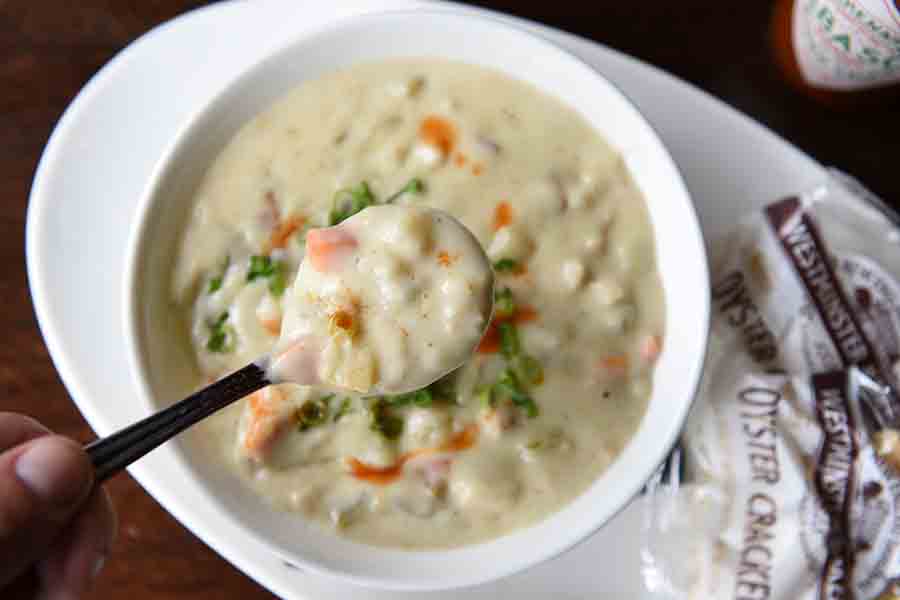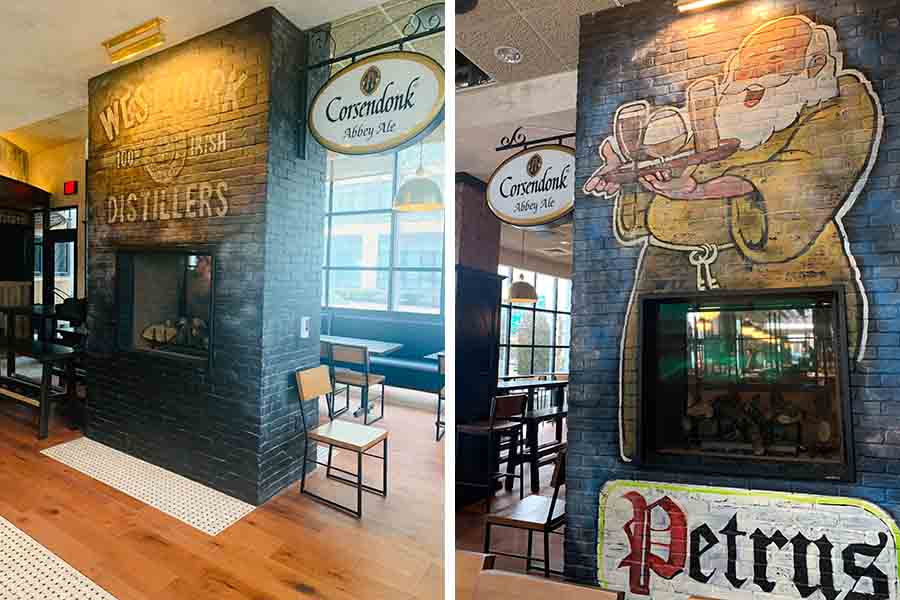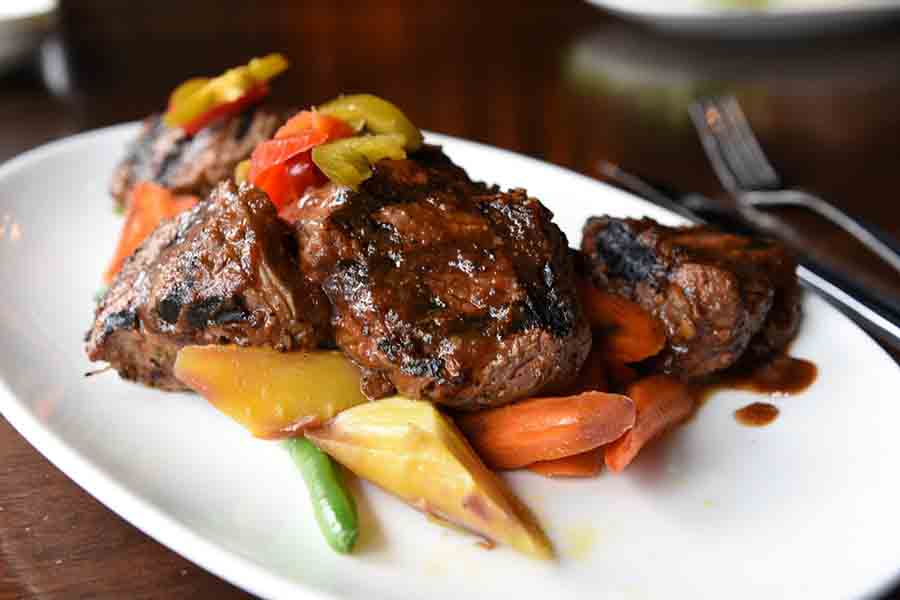 LongCross Bar and Kitchen Opens in Medford
The owner of popular pubs Olde Magoun's Saloon and Blackmoor Bar + Kitchen has a new debut in Medford. LongCross Bar and Kitchen is now open in the former Not Your Average Joe's space at Station Landing. The latest from restaurateur Gregory Coughlin, LongCross offers some menu items that will be familiar to fans of his Somerville and Charlestown spots, such as clam chowder, fish and chips, and grilled steak tips with cherry peppers and fingerlings. But it also offers something totally new: Detroit-style deep-dish pizza. Expect a robust selection of craft beers from around the world—and a cozy two-sided fireplace to enjoy them by. LongCross is now open nightly from 4 p.m.-1 a.m.
501 Fellsway, Medford, 781-874-1033, longcrossbar.com.
Woods Hill Pier 4 Launches Daily Lunch and Brunch
The Seaport's new Woods Hill Pier 4 begins its first full year in business with more service hours every day. As of Monday, Jan. 6, chef Charlie Foster is now offering lunch Monday-Saturday from 11:30 a.m.-2 p.m. Some menu favorites have been plucked from the promising dinner offerings, and new lunch-exclusive dishes include the WHP4 Patty Melt, stacked with two four-ounce, grass-fed beef patties, cheddar cheese, dill pickles, and a house-made special sauce; salad Nicoise; sassafras-glazed pork butt; and New England suquet (a Spanish-style seafood stew with local fish and shellfish). Beginning Sunday, Jan. 12, brunch is served weekly from 11 a.m.-2 p.m.—and there are new cocktail and coffee menus to match. The brunch menu ranges from elevated classics like eggs Benedict with either Woods Hill Farm ham, braised Swiss chard, or poached lobster; and cinnamon swirl French toast; to new creations like a lobster popover with Old Bay potato chips; buttermilk-fried chicken and waffle with peach-habanero maple syrup; and house-made beignets with apple butter.
300 Pier 4 Blvd., Boston, 617-981-4577, woodshillpier4.com.
M & M BBQ Has Regular Hours in Dorchester
In other lunch-and-more news, M & M BBQ at Dorchester Brewing Company is now open every day from 11:30 a.m.-7:30 p.m. Chef Geo Lambert is dishing up ribs, barbecue chicken, "dumpster fries," and more, but consider this soft-opening mode: The former food truck plans a grand opening on January 20.
1250 Massachusetts Ave., Dorchester, 617-514-0900, dorchesterbrewing.com, mandmribs.com.
Vitamin Sea Brewing Adds Thursday Hours in Weymouth
And in other more hours news, you can now visit the South Shore's outrageously buzzy Vitamin Sea Brewing on Thursdays (and Fridays). Beginning on January 10, the popular Weymouth taproom is now open Thursdays from 2-8 p.m. for full pours to enjoy on-site, as well as for merchandise sales—and any cans leftover from the previous Saturday's release. To start things off, four-packs of a Long Live Beerworks collaboration DIPA called Live At Sea are available this week. Thanks to eye-catching can art, savvy online marketing, and strategic beer fest appearances, the Vitamin Sea taproom opened nearly a year ago with tons of early hype—it even won Boston magazine's Malt Madness competition its first year. To manage early demand, the taproom was open only on Saturdays, before adding Friday hours in late November. Thursdays—and another possible day to nab those coveted cans—are a welcome addition.
30 Moore Rd., Weymouth, 781-812-0882, vitaminseabrewing.com.
Chowder Hour Is On at the Hourly Oyster House
To celebrate National Soup Month in January, the Hourly Oyster House in Harvard Square is offering a sweet deal—every dang day. From 4-6 p.m. through January 31, a bowl of clam chowder, a cup of house-baked crackers, and a 16-ounce can of Narragansett Lager will run you just $9. Sounds like a perfect excuse to get out of the cold.
15 Dunster St., Cambridge, 617-765-2342, thehourlycambridge.com.
SRV Cicchetti Takeovers Move to First Thursday
The new year brings a slight change to a reliably fun monthly event: SRV's Cicchetti Takeovers—which feature free snacks from the city's best chefs—have moved from Wednesdays to every first Thursday of the month. To kick things off in 2020, chef Carolina Curtin of Yellow Door Taqueria is coming through this week (…with a little change in regular programming after the holidays), bringing carne asada, crab tostada, chicory salad, and more free snacks to share. Before YDT opens its own South End location, head to SRV to taste what's in store for the neighborhood this Thursday, Jan. 9, from 5:30-7:30 p.m.
SRV, 569 Columbus Ave., Boston, 617-536-9500, srvboston.com.
---
---