Five Things to Know about the New Sam Adams Brewery at Faneuil Hall
The downtown Boston taproom opens this week with brand new beers, flatbread pizzas, and cool innovations.
---
It's huge.
If you've walked by Faneuil Hall in the past two years, you might have already noticed: The new Sam Adams brewery is really big. All told, it can hold more than 400 people—and produce up to 1,100 barrels of beer annually.
Local firm Bergmeyer designed the space, and Gilbane Building Company constructed it, including the glass-walled structure at the front of the former Hillstone Restaurant, adjacent to the historic Quincy Market at the corner of State and Congress streets. That new frame serves as the taproom's main entryway, and also holds the brewhouse, and one of three, 20-tap bars.
From that so-called Faneuil Hall Bar, guests can either head upstairs to the Plaza Level, where they'll find another bar, plus tables, couches, and sliding glass walls that open up to the second-level rooftop patio. Or, they can head downstairs into the brewery's Main Bar and Beer Hall area, where silver serving tanks line the back wall, a small kitchen and retail area is on the left, and fresh beer is at rest in fermentation tanks on the right. Between the Faneuil Hall and main bars, rows of stadium-style, cushioned benches offer more casual seating.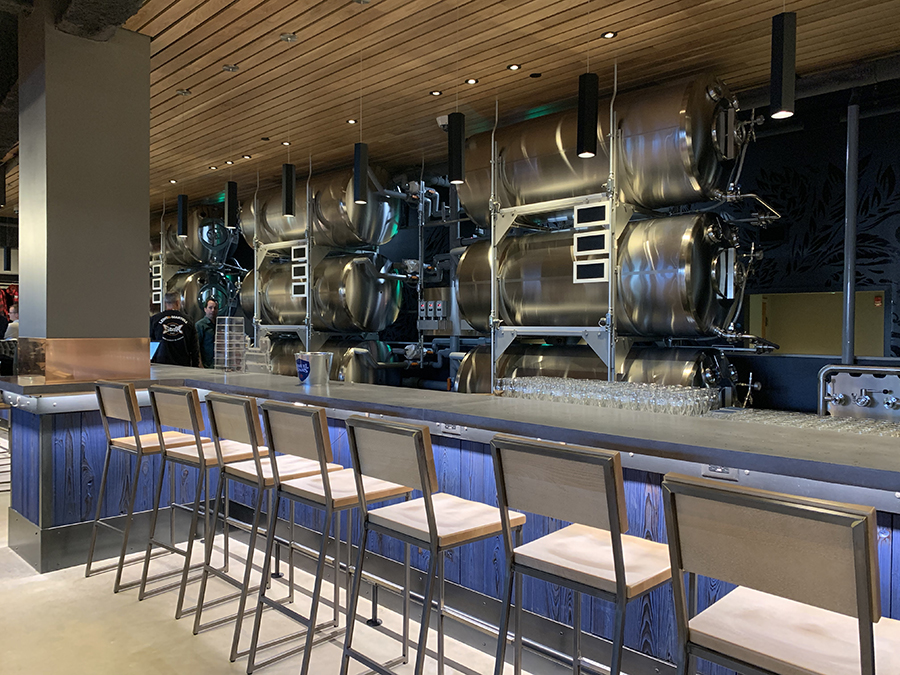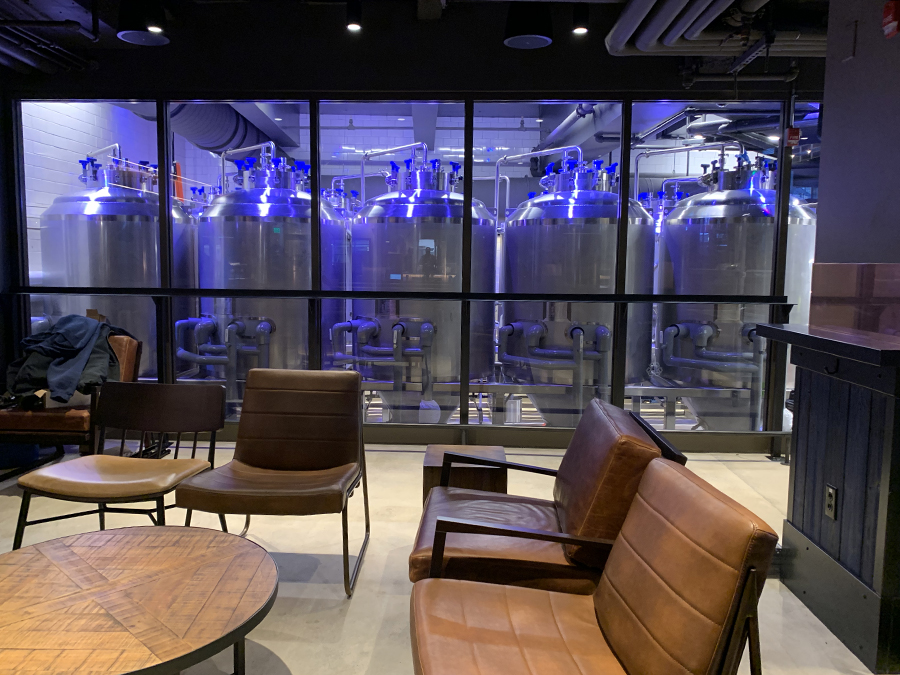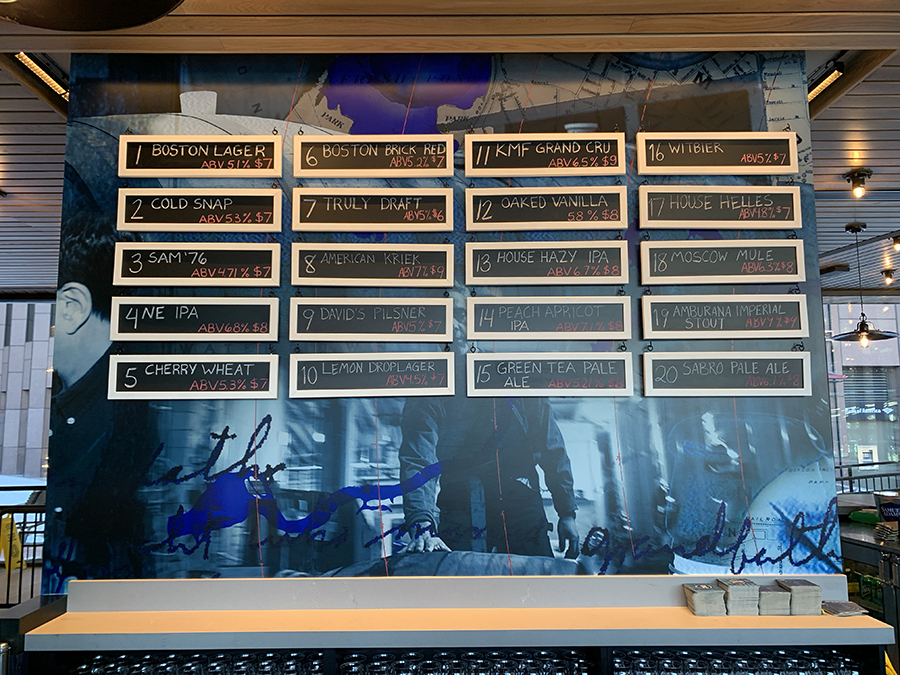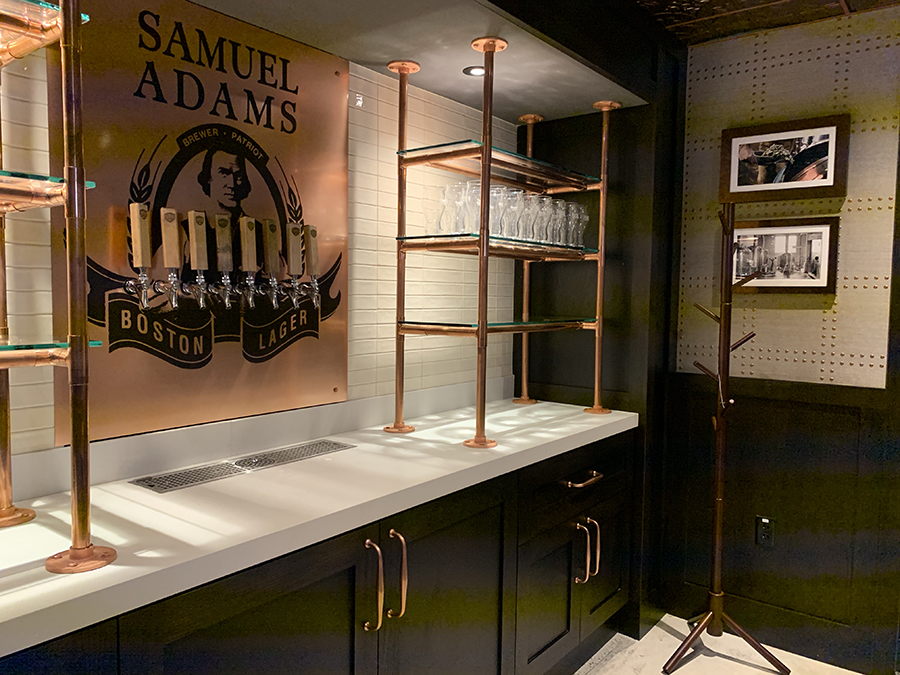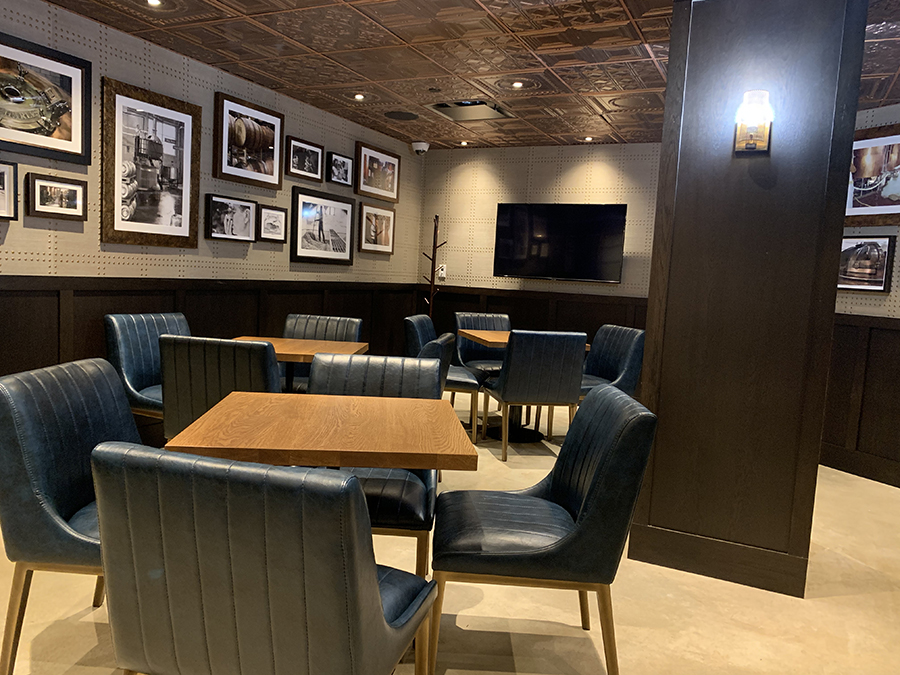 Out of sight, there's also a swanky, 20-seat private space called the 1984 Room, in honor of the year Boston Lager came to be. It has its own set of eight draft lines, and a dining room full of sumptuous leather chairs around four-top tables, coppery tinned ceilings, and photos of Boston Beer founder Jim Koch and the early days of Sam Adams.
It's full of beer you can't get anywhere else.
The shiny, new brewhouse won't be churning out ubiquitous staples like Boston Lager: Rather, the Boston taproom is home to Boston Beer Company's newest innovation brewery. (Boston Lager, Sam '76, Cherry Wheat Ale, and other leading brands are actually produced at Boston Beer's two production breweries in Cincinnati, Ohio, and Lehigh Valley, Pennsylvania.)
Helmed by longtime Jamaica Plain brewer Megan Parisi, the new, 5.5-barrel brewing system will make certain beers that drinkers will only be able to try at Faneuil Hall. The classics will be available, though, at each and every bar, as well as other innovation brews created in JP.
The Boston brewery is fueled by farmer-brewery and pouring licenses from the City of Boston, so it can only serve what Boston Beer Co. makes. But luckily for gluten-intolerant drinkers—or anyone else who prefers not-beer—that also includes Truly Hard Seltzer. General manager Billy DeCain says that other non-beer brands, like Angry Orchard hard cider, as well as collaborations with sister brand Dogfish Head, could eventually make the Faneuil Hall draft lists, too.
You won't go hungry, and you can order your food from your cell phone.
Despite its pioneering status among the nation's craft breweries, Sam Adams got into the taproom game late. The company only debuted a bar at its Jamaica Plain home base two years ago, and it opened a Cincinnati spot in 2018, more than 20 years after it started brewing there. Jim Koch has said he has no intention of operating a brewpub—but the Faneuil Hall taproom is getting closer to the restaurant world.
The new spot has a small kitchen, outfitted with a state-of-the-art, quick-cooking "jet oven," and a couple of CVap cooking and warming units. Boston Beer Co. will also partner with the Briar Group, the local hospitality company behind nearby venues like the Anthem Kitchen & Bar, to offer more robust catering for private events.
Catering veteran Josh Kaplowitz is the taproom's kitchen manager, overseeing a team of lines cooks and a menu of drinking fare. Think: warm pretzels and tots served with beer-bolstered sauces; beer-braised sausages and sauerkraut; flatbreads and sandwiches of the day; and locally baked Top Shelf Cookies. Guests will be able to order at a kitchen counter—or from their cell phones—and sit anywhere they'd like.
It offers a front-row seat to high-tech innovations.
Mobile food and beer ordering is just one way technology is part of the newest Sam Adams experience. Employees will be equipped with iPads to ring in orders from the floor, but guests will also be able to log in online and submit their own orders, DeCain says, thanks to a partnership with the mobile ordering platform Table Up. The taproom is Wifi-connected, and there are ample outlets in the beer hall area where folks can plug in laptops. Juicing up mobile phones is even easier: Communal tables in the beer hall boast wireless charging pads.
Plus: The Faneuil Hall taproom is reimagining the brewery tour format. Instead of walking through the narrow brewhouse, guests will be able to reserve a spot at the eight-seat "Innovation Group table," situated just outside of the glass-walled production area, and have a guided tasting with a Sam Adams brewer. Using the house iPads, drinkers will be able to rate the beers in real time, says Boston Beer Co.'s senior communications manager, Brittany Zahoruiko. "The feedback we get on innovation brews can really inform not just new research and development, but actually what can go to market on a national scale," she says.
The spirit of Sam Adams is already a regular.
Modern touches aside, the historical location is key. Built right next to Boston's statue of Samuel Adams himself, Koch tells Boston.com he would walk by Faneuil Hall at night feel "like Sam's spirit was somewhere."
For DeCain, the general manager, it's a return to the plaza; he oversaw Boston's two Cheers restaurants, including the Faneuil Hall location, for 24 years before joining Boston Beer Co. in September. "Before I had any inkling of taking this position, being the GM over at Cheers, I was excited [about the news] because I looked at it as a draw for Faneuil Hall," DeCain says. "With all the other competition around town—the [TD] Garden area, the Seaport—Faneuil Hall is still pretty solid during the the tourist season, but it definitely needed something. We're here to boost the area."
The Samuel Adams Boston Taproom opens to the public this Thursday, Jan. 30, at 5 p.m. Opening weekend hours are Thursday, Jan. 30, from 5-9 p.m.; Friday and Saturday, Jan. 31 and Feb. 1, from noon-8 p.m.; and Sunday, Feb. 2, from noon-6 p.m. Beginning Monday, Feb. 3, it's open daily, from 11 a.m.-10 p.m. Sunday-Wednesday, and from 11 a.m.-11 p.m. Thursday-Saturday.
60 State St., Boston, 617-466-6418, samueladams.com.
---
---