Weekly Digest: An Udon Noodle Brasserie Opens in Kenmore Square, and More Must-Know Food News
Plus, Whaling in Oklahoma has closed, Flour Bakery is headed for Beacon Hill, and other leads on where to eat right now.
---
It's a busy time to be a food lover in Boston. Here, an easily digestible roundup of the restaurant news stories you need to know to have a delicious week. (And if you missed last week's Digest, check it out here.)
Tsurutontan Udon Noodle Brasserie Opens in Kenmore Square
Kenmore Square has a new spot for handmade noodles: Tsurutontan Udon Noodle Brasserie is now in business inside Hotel Commonwealth. Freshly cut udon noodles are the main event, starring in soups, stir-fries, and cold salads; but the menu also has sushi, and other Japanese dishes like tempura, salads, and dumplings. The 150-seat restaurant offers wine, beer, and sake by the glass, plus libations like the Tokyo Mule, made with Jinro Soju (a clear, neutral spirit with about half the alcohol content of vodka), yuzu sake, ginger beer, cucumber, and shiso. Tsurutontan has roots in Osaka, Japan, as well as two restaurants in New York City, and one in Honolulu, Hawaii. Eater Boston notes that it's just the latest arrival onto Boston's spiraling udon scene, joining the likes of Yume Ga Arukara in Porter Square, Love Art Udon in Packard's Corner, and the still-new Futago Udon, located a half mile from Kenmore in Audubon Circle. Tsurutontan will eventually add lunch hours, and will begin accepting online reservations next week. For now, it's open nightly from 5-10 p.m.
500 Commonwealth Ave., Kenmore Square, Boston, tsurutontan.com.
South Boston Has a New Vegan Café
Lulu Green opens Wednesday, Jan. 30, on West Broadway, with a Mediterranean-inspired plant-based menu. Think: steel cut oats with apples and currants, and house-made kaak bagels for breakfast; mezze like tabouli, hummus, and baba ghanoush; oven-baked za'atar fries; and mains like a spicy cashew-soba noodle bowl, and seitan shawarma sandwiches with pickled turnips, tomato, and onion. Lulu Green also has special brunch dishes every Saturday and Sunday, plus a selection of baked goods made with the help of Andrew Platt, cofounder of the Biscuit bakery in Somerville. Along with vegan-friendly fare, it has fair trade coffee roasted locally by Barismo, plus a juice a smoothie menu, including booze-free cocktails like Mood Ring, with lemon, lavender, lemon balm, butterfly-pea flower (a natural purply food dye), and maple syrup. Beginning Thursday, Jan. 30, it's open weekdays from 7 a.m.-8 p.m., and from 8 a.m.-8 p.m. on weekends.

246 W Broadway, So. Boston, 617-420-4070, lulugreen.com.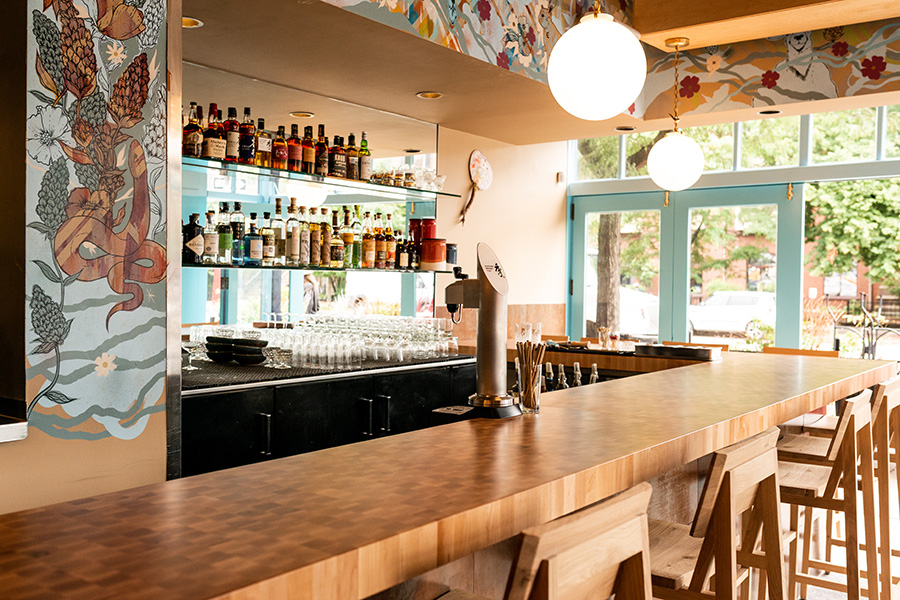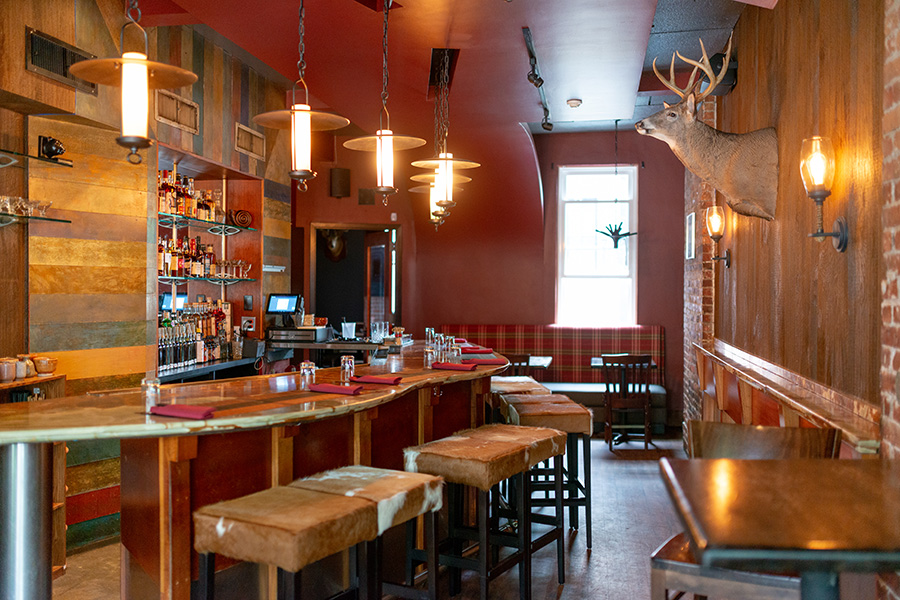 Whaling in Oklahoma Is No More
Just a year and a half after debuting in the South End, chef Tim Maslow's Whaling in Oklahoma has closed. Boston Restaurant Talk reports that both the Tremont Street restaurant and its sister wine bar, Le Canular, were dark on Sunday afternoon during normal business hours, and business partner Brian Lesser confirms the closure with Boston. Maslow declined to comment. Replacing Andy Husbands' beloved neighborhood institution, Tremont 647 and its Sister Sorel bar, Whaling in Oklahoma opened in August 2018 as something of a comeback for the talented young chef: In 2016, Maslow had shuttered his critically acclaimed Brookline restaurant Ribelle following some financial and personal troubles. In collaboration with chef de cuisine Matt Hummell (Ribelle, Brassica Kitchen), the Whaling menu paid homage to Japanese cuisine, with well-balanced raw-fish crudo, handmade noodle dishes, and items off the charcoal-fueled binchō-tan grill. Another Ribelle alum, Colin Mason, led a stellar bar program. Critics did enjoy Maslow's second act; Whaling earned a spot on Boston magazine's 50 Best Restaurants, and it received two and a half stars in its Boston Globe review. Boston magazine critic Julia Clancy noted in her two-and-a-half starred review, "When Maslow and chef de cuisine Matt Hummel are at their best, their dishes find that crucial balance between craft and simplicity, creativity and self-restraint." But the curiously named spot apparently didn't quite catch on with the dining masses. "The restaurant was not doing as well as we expected," Lesser says. "We are exploring and considering various options for the space." Stay tuned for more.
647 Tremont St. , Boston, whalinginoklahoma.com.
Flour Bakery Is Headed for Beacon Hill
Beloved Boston bakeshop brand Flour Bakery & Café is expanding once again: Joanne Chang has announced the ninth location of her Best of Boston-worthy bakery will land in the MGH area this spring. Taking over a former Au Bon Pain at 209 Cambridge St., it will be the first two-story Flour location, director of operations Mike Brucklier tells Boston via email. Chang shared on Instagram that it's a location she's been eyeing since the early days of Flour. "I looked at almost this exact space over 20 years ago when I was searching for a perfect spot for my first baby," she wrote. "I've come back to this location over and over and over for the last 2 decades… and FINALLY we are going to make it ours. We can't wait to meet all of you and huge thanks to the Flour team for being so amazing and allowing us to spread our wings once again." Stay tuned for more details about the Beacon Hill bakery.
Flour Bakery + Café, coming spring 2020 to 209 Charles St., Beacon Hill, Boston, flourbakery.com.
Juliet Is Now Open on Monday Evenings for a la Carte Dining
Union Square's Juliet is a lot of things: an all-day café, a brunch go-to; a drop-in neighborhood dining option; and a "stage" for fixed-price dining "productions," like this season's "Roman Holiday: Winter in the Eternal City." Now, the Juliet + Company flagship restaurant is open an extra night every week, with no reservations required: Chef Josh Lewin and his team, who are also behind the newer Peregrine restaurant in Beacon Hill, are rolling out a new, a la carte menu on Sunday and Monday nights. The latter is a totally new night of service for Juliet, while the new menu also replaces Sunday night's longstanding, pasta-centric Romeo's at Juliet menu. Pasta lovers need not fret, though: Handmade pasta is an option on the new a la carte menu, along with Juliet staples like an omelette with lemony greens; charcuterie and seafood boards; and a prosciutto and mozzarella sandwich. Beginning Saturday, Feb. 1, weekend brunch hours at Juliet also extend to 10 a.m.-3 p.m., and the first Monday dinner service is on February 3, from 6-10 p.m.
257 Washington St., Somerville, 617-718-0958, julietsomerville.com.
---
This post was updated Thursday, Jan. 30, at 10 a.m. to include information from Flour operations director Mike Brucklier about the future Beacon Hill café's two floors.
---
---