Weekly Digest: Cósmica Lands in the South End with Tacos and Tequila, and More Must-Know Food News
Plus, Allston has a new ice cream sundae shop, a Black History Month happy hour is happening, and other leads on where to eat right now.
---
It's a busy time to be a food lover in Boston. Here, an easily digestible roundup of the restaurant news stories you need to know to have a delicious week. (And if you missed last week's Digest, check it out here.)
Waterfront Restaurant Meritage to Become Private Events Space
Before we get to the good stuff, we have to report that yet another fine-dining establishment in Boston is closing for good. Meritage will shut down after service on Saturday, Feb. 15, ending nearly two decades of wine-pairing dinners on the waterfront. The well-appointed restaurant inside the Boston Harbor Hotel will be repurposed as private events space. "Meritage has been an extremely special place for me over the past 17 years," said Boston Harbor Hotel executive chef Daniel Bruce, who will continue to oversee culinary operations for the hotel's popular Rowes Wharf Bar and Sea Grille, in-room and holiday dining, catering, and the Boston Wine Festival. "I believe that evolution is a key part of the luxury hospitality industry," the chef continued in a press release, "and [I] look forward to the future possibilities within this premier waterfront space."
70 Rowes Wharf, Boston, 617-439-3995, meritagetherestaurant.com.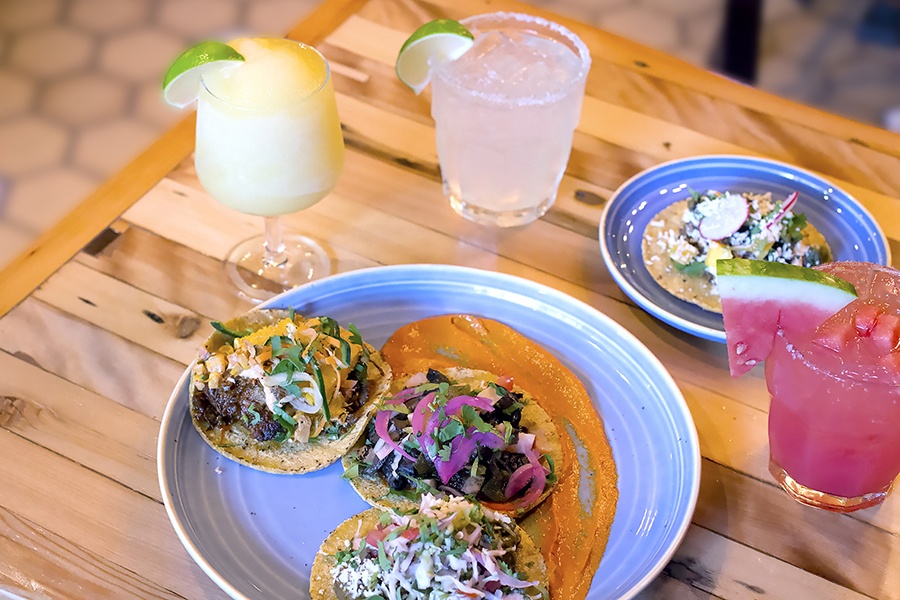 Cósmica Opens Thursday in the South End
On Thursday, Feb. 6, Cósmica Mexican Eatery & Bar finally brings a new dining experience to the Revolution Hotel. The long-awaited South End spot is the latest from Jack Bardy, Jennifer Epstein, and Bill Keravuori of Wildlife Hospitality, the trio who also operate the Beehive and Harvard Square's Beat Brew Hall. Chef Colton Coburn-Wood, who was the opening chef at Yellow Door Taqueria, is overseeing Cósmica's menu of tacos, bowls, and small plates, including cauliflower al pastor; hominy-dusted fried clams; and Yucatan-style cochinita pibil (braised pork served in a banana leaf). The large restaurant has a 30-seat bar, which serves up "vacation cocktails" (think: seasonal sangrias and "sangrita," made with tequila; a signature mezcal-spiked "mezgarita," boozy slushies, and more). The lively, 5,000-square foot dining room has industrial, Bohemian, and cosmic design elements. Eventually, Cósmica will offer daily lunch and weekend brunch, but for now, it launches with dinner nightly at 4:30 p.m., takeout, and reservations.
The Revolution Hotel, 40 Berkeley St., South End, Boston, 617-313-7878, cosmicaboston.com.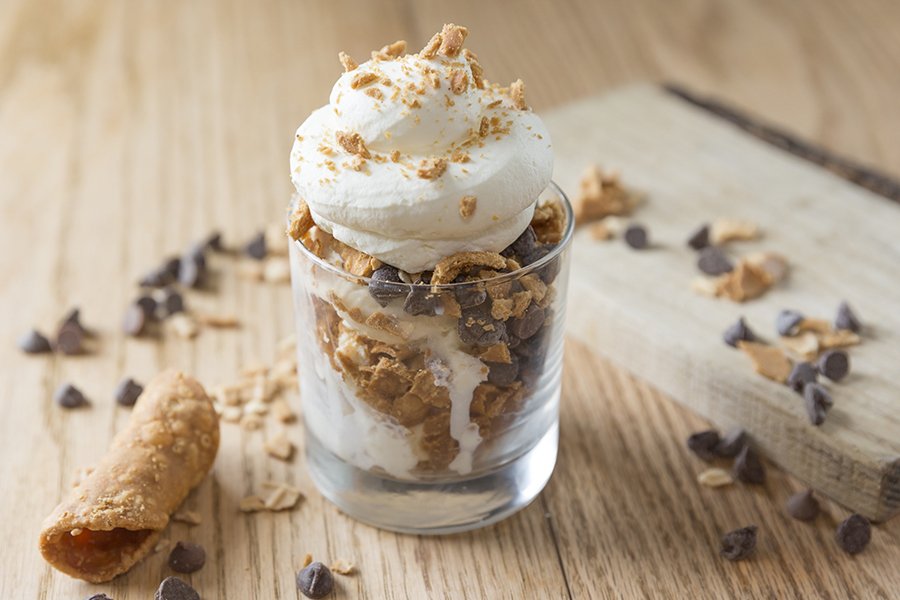 Scoop N Scootery Scoots Into Allston
Arlington-based sundae shop Scoop N Scootery launched five years ago as mobile ice cream purveyors, delivering loaded cups of frozen confections nightly around Arlington, Cambridge, and Somerville. Now, a second brick-and-mortar location in Allston has extended its distribution radius across the river into Boston, Newton, and Brookline. The Allston shop opened Tuesday, Feb. 4, and while it's mainly a second hub for the delivery and takeout-focused operation, it has some standing room inside. The Allston ice cream shop is now open every day but Monday, from noon until midnight Tuesday-Thursday, noon-1 a.m. Friday and Saturday, and noon-10 p.m. on Sundays.
75 Linden St., Allston, 617-208-8016; 112 Massachusetts Ave., Arlington, 781-777-2830, thescoopnscootery.com.
Yard House Opens in Burlington with "Two Miles of Draft Lines"
Here's something to quench your thirst north of Boston: Burlington just welcomed a huge new location of the beer-focused tavern chain, Yard House. The nearly-12,000-square foot bar and restaurant boasts more than 370 seats inside and outside, plus 130 draft lines—which would measure more than two miles laid end-to-end, the company notes in a press release. Yard House, located across the Middlesex Turnpike from the Burlington Mall, debuted Monday, Feb. 3, and is now open daily from 11 a.m.-12:30 a.m.
108 Middlesex Turnpike, Burlington, 781-229-3911, yardhouse.com.
Boston Sends More than $100,000 to Australia—and Counting
Following the huge Boston Barbie for Bushfire Support which KO Pies chef Sam Jackson hosted last week at Capo, the Australia native says Bostonians have already raised about $103,000 for his homeland. "It certainly was a wonderful event, with so much love and support," Jackson says. "Even though the news cycle has moved on, the fires continue to burn and the need still exists for us all to help," he adds, so the online fundraiser he set up remains open through Friday, Feb. 7.
On Wednesday, Feb. 5, Little Donkey has a separate opportunity to support the Land Down Under: The Central Square restaurant will donate $1 from each glass of wine sold from Australian natural wine distributor, Tess Bryant Selections. Beverage director Jodie Battles has selected seven different juices from Bryant's portfolio to showcase tonight, so go try something new and support aid to Australia.
Little Donkey, 505 Massachusetts Ave., Cambridge, 617-945-1008, littledonkeybos.com.
Take the Boston Black Restaurant Challenge
February is Black History Month, and to celebrate in Boston, State Rep. Chynah Tyler is helping to elevate the visibility of black-owned restaurants with the third annual Black Restaurant Challenge. The 7th District representative asks her constituents to visit four of Boston's black-owned restaurants this month, and helpfully shares a list of roughly 70 options (!) from Malden to Hyde Park. Tour Boston's Ethiopian restaurants, like Blue Nile in Jamaica Plain, and Lucy Ethiopian Cafe in the South End; or catch live music at Slade's, Darryl's Corner Bar, or Wally's Jazz Club. Bring your vegetarian friends to Oasis Vegan Veggie Parlor in Dorchester; or go hog wild at Pit Stop Barbecue in Mattapan. At Mida, one of Boston magazine's 50 Best Restaurants, chef and proprietor Douglass Williams is hosting a Black History Month happy hour every weekday this month from 5-6:30 p.m. During this "Community Through Hospitality" happy hour, proceeds from the sale of special bar snacks and cocktails will be donated to the Black Economic Council of Massachusetts, and the Victory Programs, "two organizations that resonate with our strong believe in building a better future by investing in people. The goal is to bring people together to celebrate diversity." We'll drink to that!
---
---