Weekly Digest: Yellow Door Taqueria Opens at Ink Block, and More Must-Know Food News
Plus, married chefs will debut Thistle & Leek, Nightshade adds a "Dayshade" menu, and other leads on where to eat right now.
---
It's a busy time to be a food lover in Boston. Here, an easily digestible roundup of the restaurant news stories you need to know to have a delicious week. (And if you missed last week's Digest, check it out here.)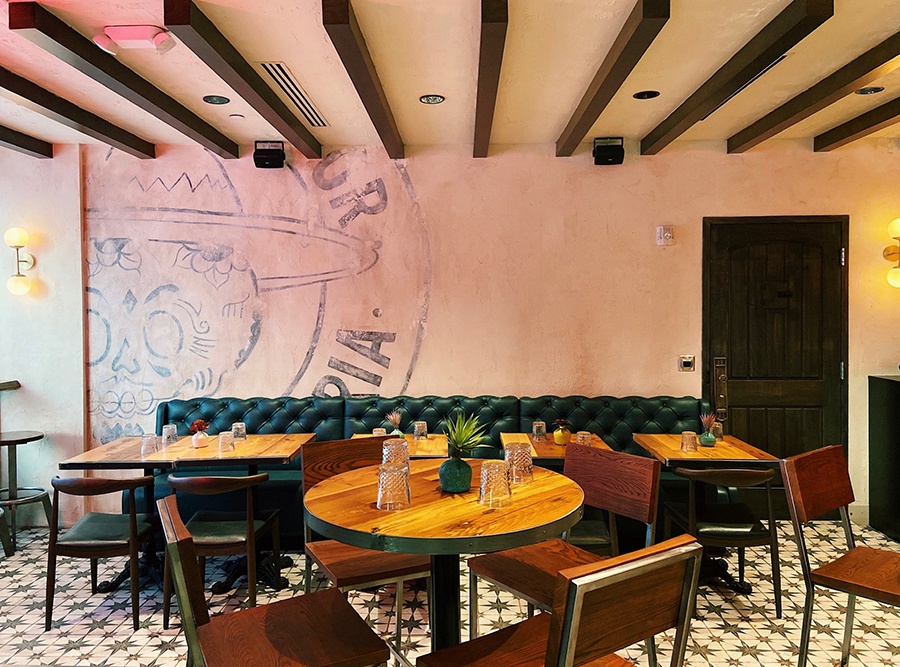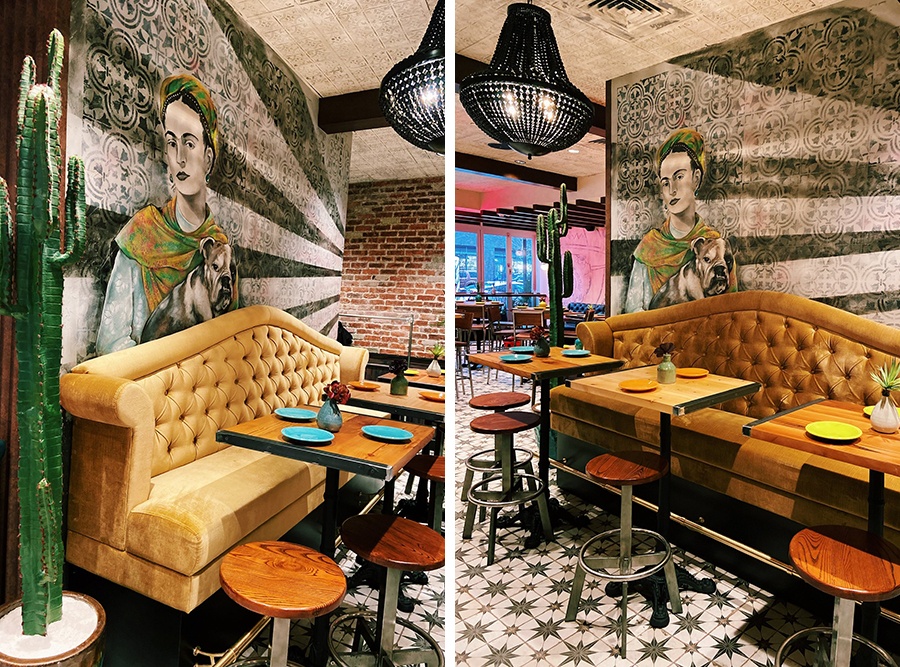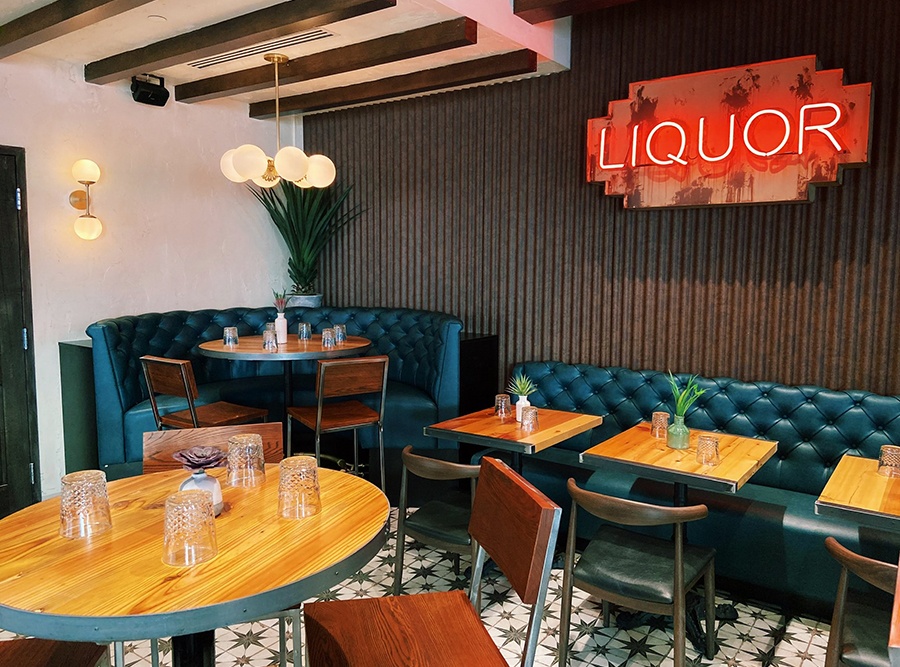 A Second Location of Yellow Door Taqueria Debuts in the South End
Big news: You can now score reservations for the best tacos in town. A larger, more glamorous, reservations-accepting location of Yellow Door Taqueria officially opens tonight at Ink Block, making Best of Boston-winning tacos more accessible than ever. Restaurateurs Brian O'Donnell and Ken Casey (yes, the Dropkick Murphys frontman) debuted YTD in Dorchester in 2017—this sequel replaces their South End cocktail bar, Lion's Tail, which closed around the new year; another partner, Jarek Mountain, remains on board as the new spot's general manager and beverage director. Mountain originally created the beverage menu at YDT's Lower Mills location, and introduces two new drinks at the South End bar: Road to Jalisco, with strawberry-infused blanco tequila, olive oil-washed mezcal, amontillado sherry, banana, black pepper, and cinnamon tincture; and Mucho Guapo, with reposado tequila, green chartreuse, pistachio, lime cordial, lemon juice, egg white, apple bitters, and sea salt tincture. Meanwhile, chef Carolina Curtin's ever-growing menu, which still highlights YTD's signature house-made tortillas full of layered flavors, adds newer menu additions like pork or zucchini-filled papusas, elote, and empanadas from Buenas, a specialty maker with a popular kiosk at Somerville's Bow Market. In addition, YDT South End builds on the antique vibes that interior designer and HGTV personality Taniya Nayak envisioned for the taqueria's original Dorchester location: Tin ceiling tiles, weathered woods, and ceramic tile flooring give the still-sleek Ink Block location a lived-in feel. Stay tuned for open accordion doors and patio seating during the warmer months, but in the meantime, tufted vegan leather barstools and cozy couches are perfect for getting comfortable. Yellow Door South End debuts tonight at 4 p.m., and is now open nightly until last call. The kitchen is open 4-11 p.m. Monday through Thursday, 4 p.m.-midnight on Fridays, 11 a.m.-midnight on Saturdays, and 11 a.m.-11 p.m. on Sundays. Delivery options—including text a taco—and weekend brunch service are coming soon.
Yellow Door Taqueria, 354 Harrison Ave., South End, 857-239-9276; 2297 Dorchester Ave., Dorchester, 857-267-4201, yellowdoortaqueria.com.
Coming Soon: Married Chefs Introduce Thistle & Leek
Before Kate and Trevor Smith cooked in kitchens like New York City's Gramercy Tavern and Le Bernadin—as well Craigie Street Bistrot, Toro, and more in Boston—they were a couple of aspiring chefs, traveling to Spain and becoming obsessed with European cider and cooking. Fast-forward a couple decades, and the Smiths are now opening their own restaurant somewhere in Boston, with plans to feature terroir-driven Spanish and Italian flavors in a refined, gastropub setting. It will be called Thistle & Leek, and per menu teasers from an upcoming, sold-out sneak peek at the Formaggio Kitchen Annex, we can expect dishes like salt-baked rutabaga with braised oxtail and crispy leek; and smoked mackerel with cauliflower and horseradish. Thistle & Leek has claimed its place on Instagram, so stay tuned for more details about this exciting new endeavor from a pair of talented local toques.
Mod Espresso Adds a Mocktail Menu and More at Modern Relik
The sensory experience of a visit to the South End's gorgeous Modern Relik furniture showroom isn't restricted to the covetable textures and stunning details of owner and designer Meg Kimball's collection—the European coffee bar located at the showroom also contributes. Since opening just before the holidays, Mod Espresso at Modern Relik has served up an enticing food and beverage experience, curated by trailblazing Boston restaurateur Michela Larson and featuring La Colombe roasts, Mem Teas, and locally sourced treats from the likes of Toscanini's Ice Cream, Praliné Confections, Clear Flour Bread, and EH Chocolatier. Earlier this month, Mod Espresso upped its offerings with savory new toasts topped with avocado and spicy labneh, or prosciutto, mozzarella, pesto, and arugula; plus new coffee mocktails, including a cold brew old fashioned with ginger bitters and an orange twist. Imagine you have the chicest loft in the South End and have breakfast at Modern Relik's showroom. Mod Espresso is open daily from 8 a.m.-4 p.m. (Sundays from 10 a.m.-4 p.m.).
485 Harrison Ave., Boston, 617-513-336, modernrelik.com.
Nightshade Noodle Bar Adds an After-Work Menu: "Dayshade"
Tell your boss you have somewhere to be at 5 p.m. and escape to Lynn: Nightshade Noodle Bar has just launched a post-work snack menu called Dayshade. From 5-6 p.m. every Wednesday-Friday, chef Rachel Miller's must-visit Vietnamese-inspired bar is serving up $8 snacks and drinks, from a half-dozen oysters with spicy cocktail sauce to a rotating option of jungle juice. Miller is also offering a selection of banh hoi, or lettuce wraps with vermicelli noodles and toppings like nem nuong pork sausage, and cheddar-broccoli bratwurst with sweet chili mustard. Check out the subject-to-change menu online, and make plans to hit Nightshade soon. Although full dinner is served from 5-10 p.m., the Dayshade snacks are exclusively available from 5-6 p.m.
73 Exchange St., Lynn, 781-780-9470, nightshadenoodlebar.com.
Zuma Brings "Bottomless" Brunch to Boston This Weekend
Much to the chagrin of any Miami transplants on our shores, Boston isn't known for bottomless brunch. But this weekend, Zuma—which boasts a baller bottomless brunch service at its Miami location—is bringing a taste of that excess to Boston with a special, Valentine's Day weekend brunch package. The $65/per person reservation includes access to two endless buffets, one loaded with sushi and sashimi, and the other with items hot off the robata grill; plus an entree, and a towering dessert platter for your party to share. Along with specialty cocktails and other a la carte dishes to choose from, DJ Tao sets the vibe from the One Dalton tower hotspot's floating DJ booth from 12:30-4:30 p.m. both days this weekend. Zuma brunch reservations are available Saturday, Feb. 15 and Sunday, Feb. 14, from 11:30 a.m.-2:30 p.m.

One Dalton St., Four Seasons Hotel (second floor), Back Bay, Boston, 857-449-2500, zumarestaurant.com.
It's Time for Romance
Valentine's Day is this Friday, Feb. 14. Need a little inspiration for how to treat bae? Check our food and entertainment editor Scott Kearnan's ideas for a romantic V-Day in Boston—from indoor skydiving together, to scoring a coveted reservation at a special table in town. If you're looking for the most romantic restaurants around, we got you right here—and at 8 p.m. on Wednesday, Feb. 12, deputy food editor Jacqueline Cain will join Food Queen host Bianca Reyes to talk about more date-night ideas on Facebook Live. Tune in, and good luck!
---
---