Weekly Digest: A Blast of Cambridge Ice Cream News
Gracie's has a Kendall Square location in the works; Honeycomb Creamery returns with more seats and treats; and more sweet ice cream updates.
---
It's a busy time to be a food lover in Boston. Here, an easily digestible roundup of the restaurant news stories you need to know to have a delicious week. (And if you missed last week's Digest, check it out here.)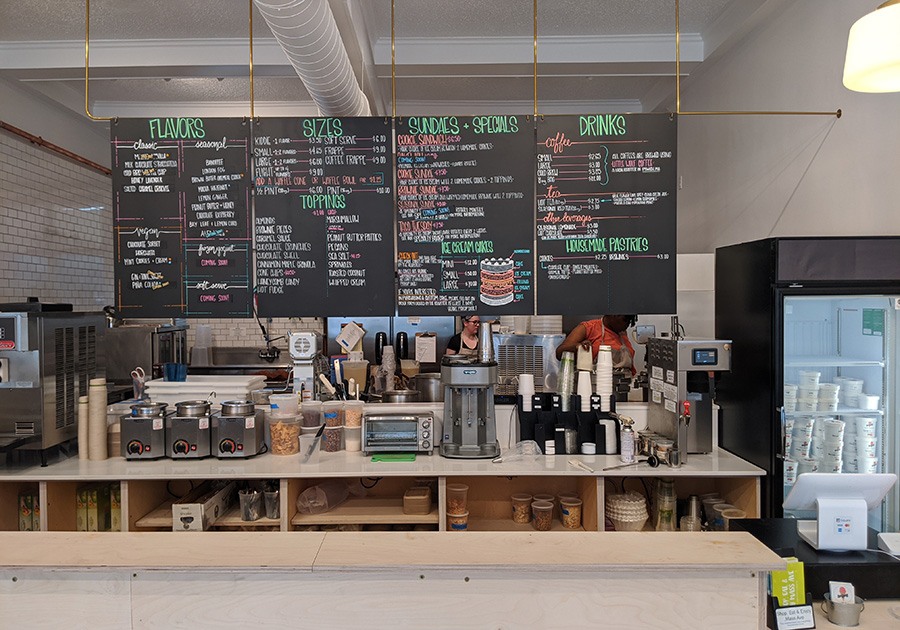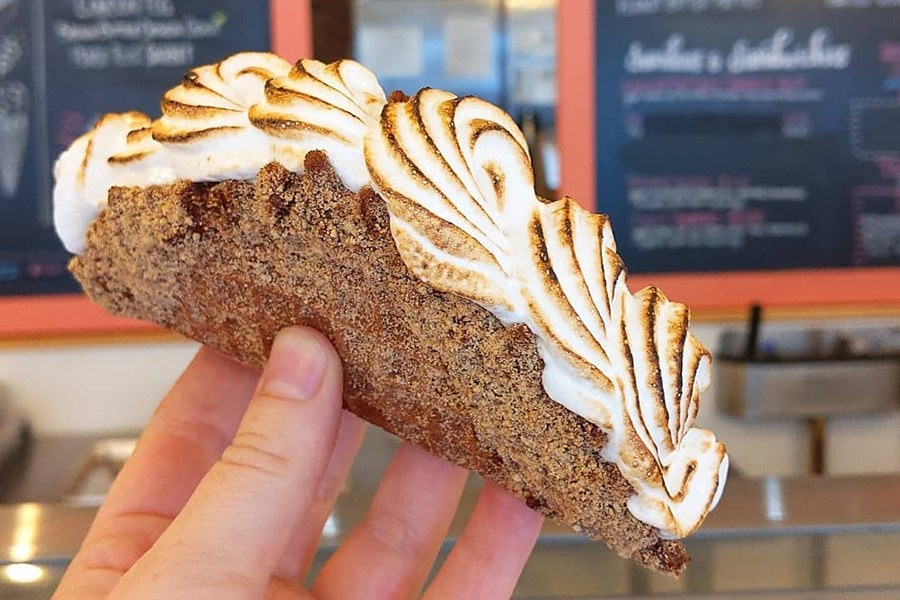 Honeycomb Creamery Returns to Cambridge with More Seats and Soft Serve
Just in time for spring-like weather, Honeycomb Creamery reopened on Monday, March 9. Typically a year-round treat, the Best of Boston-worthy ice cream shop had been closed for several weeks of renovations. Owner Kristen Rummel threw open the doors this week in time for the season's first Taco Tuesday, but a few upgrades are still to come: Those include sea-foam green vinyl covers for new window-seat banquettes; brass countertops; and mint green-and-gold hanging planters of live vines.
Architect Helen Han, who happens to be a Honeycomb regular, led the redesign, which overall has opened and brightened up the scoop shop, Rummel says. There is now more comfortable space for groups to congregate inside, including not only at those banquettes and a new four-seat counter, but also around new standing-height tables with ice cream cone-shaped legs.
And it's not just aesthetic upgrades to the Mass. Ave. café. Rummel installed a brand-new soft-serve machine, and will debut homemade soft-serve as early as next week. "We plan on doing rotating flavors, not just vanilla and chocolate," she says. "We thought of about 100 million ideas for soft-serve, and can't wait to share great flavor combinations like matcha and strawberry, and a mimosa-inspired twist with champagne and creamsicle."
She has also been developing frozen yogurt, a first for Honeycomb. It could debut as soon as this weekend, in flavors like coconut-almond and lemon. Rummel also plans to add more vegan-friendly flavors in the coming days and weeks. The shop currently serves drip coffee, but Rummel is in talks with Ipswich roasting company Little Wolf Coffee to add an espresso menu, too.
Honeycomb Creamery reopened this week with 18 flavors—as well as the return of its popular Taco Tuesday specials, which will continue weekly with a vegan option, too. Say "happy spring" to Honeycomb: The shop stays open nightly 'til 10 p.m. (11 p.m. on Fridays and Saturdays).
Honeycomb Creamery, 1702 Massachusetts Ave., Cambridge, 617-714-3983, honeycombcreamery.com.
Gracie's Ice Cream Reopens Wednesday in Somerville—and Will Open in Cambridge This Spring
Fun favorite Gracie's Ice Cream is back on the Somerville scene this week—and founder Aaron Cohen is working on a bigger, potentially boozier second location in Cambridge. The ice cream shop in Union Square reopens full-time on Wednesday, March 10, meaning it's now open seven days a week. Meanwhile, Cohen awaits a rescheduled liquor license hearing with the City of Cambridge licensing board, he says, in hopes of opening an ice cream bar by early summertime at 399 Binney St. It's right nearby the Kendall Square Cinema, and he's thrilled about the prospect of expanding Gracie's offerings. "I've been looking for ways to sell stuff year-round," he says.
Cohen has been developing plans for the Cambridge shop for about a year. Besides potential bar service, it will differ in some ways from his original outpost: It will be larger, for one, with production space for more ice cream flavors—expect 16 choices in Cambridge, compared to Somerville's typical 12. It will also have coolers inside full of pints to-go; as well as always-available ice cream pies, which are currently a special-occasion treat in Somerville.
But reopening for the spring is one such special occasion, so Gracie's returns this week with Unicorn Poop Pie, a colorful collaboration with Somerville bakeshop Maca. Pre-orders are open and encouraged. Maca's Bow Market shop will also have slices of unicorn poop pie available this weekend, for Pi Day.
For now, Gracie's is open daily with classics like salty whisky, and toasted Fluff cones, plus "sometimes flavors," like salty Oreo and pandan. The hours are 2:30-10 p.m. on Monday-Thursday, Friday from 2:30-11 p.m., Saturday from 11 a.m.-11 p.m., and Sunday from 1 p.m.-10 p.m.
22 Union Square, Somerville, 617-764-5294; coming spring/summer 2020 to 399 Binney St., Cambridge, icecreamgracies.com.
New City Microcreamery Goes Greener
The innovators at New City Microcreamery, which uses liquid nitrogen to freeze flavors like sweet cream-cake batter with rainbow sprinkles, and vegan Almond Joy, is pioneering a sustainability initiative at its Hudson and Cambridge shops: It now offers a 25-cent discount to customers who bring their own spoons. It's the latest way that New City aims to reduce waste, following steps like serving ice cream in compostable cups, and offering reusable metal tasting spoons.
"The company's aspiration is to take steps towards a sustainable experience by eliminating waste," says owner Jason Kleinerman. "This is an important part of our commitment to the communities we serve in Cambridge and Hudson. Even if five to 10 percent of our guests start bringing their own spoons, it will make a big difference in the amount of waste generated each day."
In these uncertain times, just keep your spoon to yourself. The earth needs our help.
28 Main St., Hudson, 978-333-7144; 403 Massachusetts Ave., Cambridge, 978-333-7144, newcitymicrocreamery.com.
Toscanini's Patiently Awaits a Return to Central Square
More than two years after temporarily vacating its original home in Central Square, Cambridge institution Toscanini's Ice Cream is counting down to an anticipated return this spring. The boutique hotel 907 Main that replaced the graduate student housing on the floors above Tosci's is on track to open sometime in May. Tosci's co-owner Gus Rancatore says he's optimistic the ice cream shop will open then, too. "May's a very important month in Cambridge because of graduation," he says. "We're relying on [Tosci's 10-year landlord and hotel co-owner, Patrick Barrett III] and the subcontractor, and ultimately the City of Cambridge."
But Cantabrigians haven't been without B3 (brown sugar, brown butter, and brownies), burnt caramel, khulfee, and more of Tosci's worldly flavors: In January 2018, Rancatore and his sister, Mimi, opened a second location on First Street, near the Galleria mall. They also do a booming wholesale business with clients like JetBlue, B.Good, and local restaurants like the new French Quarter. Rancatore is currently working with his soon-to-be neighbors at 907 Main, the Dial and Blue Owl, to create exclusive flavors for the hotel restaurants, he shares.
When Toscanini's returns to Central Square, there will be some changes: The new shop will be fully accessible, via a lengthy new ramp entrance. It will also have upgraded electronic menu boards, full of new flavors the team has developed in East Cambridge, like Korean corn, and Milo, inspired by the chocolate-malt beverage popular the world over.
The First Street location, of course, will remain open. Rancatore is not concerned about competing with himself—nor any of the other ice cream-makers and scoop shops in town. "Right before I opened Toscanini's in 1981, I was standing on a corner by the Harvard Coop, and it was just beginning to snow," he recalls. "I looked to my left and I looked to my right, and people were eating ice cream cones. I thought to myself, 'This will probably work out.' I suspect it will work out for everybody who sells ice cream, and for everybody who eats ice cream. We're a happy ice cream-eating region."
Toscanini's Ice Cream, 159 First St., 617-491-5877; returning soon to 899 Main St., Cambridge, tosci.com.
---
---