These 22 Boston Chefs and Food-World Pros Are "Rising Stars Award" Winners
National organization StarChefs announces its Hub honorees—and launches a Restaurant Week in September to highlight their most mouthwatering dishes.
---
It's been an exceptionally devastating year for the Boston dining scene. Thanks to the pandemic, restaurants are on the ropes and have few reasons to celebrate this summer. But here's a bright spot: For the first time since 2015, StarChefs, the national restaurants magazine, has returned to Boston to name its Rising Stars Award winners, announcing today more than 20 chefs and other hospitality pros that the industry publication says represent the top talent in their field.
What's more, for the first time in its 25-year history, StarChefs is launching a Rising Stars Restaurant Week to celebrate the honorees and encourage diners to try the standout dishes that most impressed reps from the org when they taste-tested around the Boston area last fall. Think: maple-black pepper pork ossobuco at frequent Chopped judge Tiffani Faison's Italian stunner Orfano; grilled, chermoula-spiced lamb chops with date syrup and mint from chef Josh Elliott at Toro; and decadent carrot cake ice cream with cream cheese swirl from Alyssa Lieberman of New City Microcreamery.
The full lineup of plates reads like a mighty fine bucket-list of fall dining ideas—so start getting your reservations ready for Rising Stars Restaurant Week, which will run from September 21 through October 4.
Besides Faison, Elliott, and Lieberman, the list of local Rising Stars Award winners includes, among others, Pagu chef-owner Tracy Chang, whose cofounding of the now-national nonprofit Off Their Plate earned her the StarChef "Game Changer" mantle (as well as a recent Best of Boston nod). Chefs Ellie Tiglao and Sāsha Coleman of Tanam, a progressive Filipino outfit from the worker-owned Olio Culinary Collective, also made the list. So did artisan pâtissière Hana Quon of the South End's elegant Cafe Madeleine, as well as bartender Ryan Lotz, whose spirited work for Traveler Street Hospitality results in the refreshing Campari-spiked cocktails at Bar Mezzana, olive-briny martinis at Black Lamb, and tiki-style drinks at Shore Leave and its new palm frond-filled patio, dubbed the "Life Raft."
The Boston restaurant scene certainly needs the boost right now: Thousands of workers have lost their jobs, businesses are being forced to reinvent themselves to survive, and takeout—including to-go cocktails, something the buttoned-down Bay State finally okayed over the summer—has become a crucial component of even the high-end dining scene. These difficult times have inspired different decisions about how and whether to dole out chef-world awards; while Food & Wine went ahead and unveiled its annual Best New Chefs lineup in May (which happened to include Boston's own Douglass Williams of MIDA), the James Beard Awards recently decided to not release 2020 winners in deference to the "uphill battle" the industry faces (and also, according to some reports, over concerns about diverse representation).
For its part, StarChefs has been "even more inspired by Boston's hospitality professionals since the COVID crisis hit," according to managing partner Will Blunt. "For all the change and challenges, Boston has shown what it's made of: generosity, ingenuity, and perseverance."
Honoree Hana Quon of Cafe Madeleine acknowledges that it "feels surreal to be celebrating these accomplishments in the midst of economic and political turmoil." Still, she says, she's honored to be included in a lineup of "amazing and talented chefs that I admire. This is especially true during these unprecedented times where survival is foremost on everyone's plate and a chef's ability to be flexible and roll with the punches is being stretched to the limit."
Chef Charlie Foster of Woods Hill Pier 4, another Rising Stars winner, agrees. "It requires an incredible amount of flexibility to have a chance of success in this environment," says Foster. "We are having to reinvent ourselves and our way of conducting business in real time, while trying to stay true to our mission—all while trying to generate the revenue we need to keep as much of our staff employed as possible."
Boston's first Rising Stars Restaurant Week—which replaces a traditional awards ceremony and tasting gala—is a way to focus attention on hard-pressed, independently owned businesses at a time when local chefs are concerned about their survival prospects. "I really hope Boston doesn't get taken over by chain restaurants," says Kevin O'Donnell, who is being honored by StarChefs alongside his former SRV co-chef Michael Lombardi (Although Lombardi continues to slay it at SRV, O'Donnell has since relocated to Newport, where he'll launch his first solo restaurant, the Italian-oriented Giusto, opens for lunch on Tuesday, September 8.) "There's got to be a breaking point where landlords charge a fair price for rent to help keep independent restaurants alive. This should be a wakeup call not only to them, but to local government to provide assistance. I've seen the conversations with local senators, and I've seen local chefs-turned-activists fighting for change. It's been amazing to witness, and I hope it happens more."
In the meanwhile, diners can show their support eating their way across all the winners' restaurants (and be entered to win a $100 gift card if they share their meal on social media). Check out a sneak preview of highlighted Restaurant Week plates below—and you'll find the full list of Rising Stars honorees here, which additionally includes O'Donnell and chef Michael Bergin of the temporarily-shuttered Salty Pig restaurant.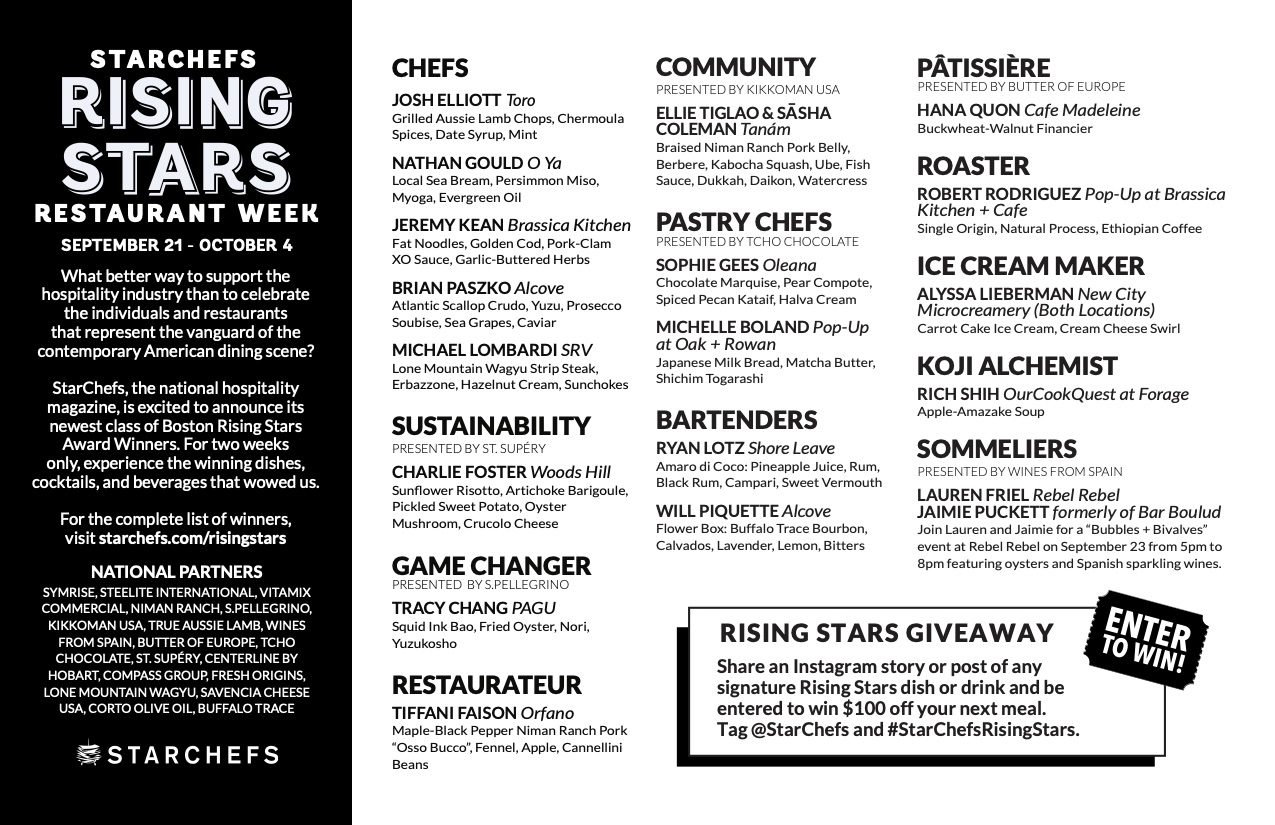 Courtesy of StarChefs / Artwork by Kit Collins
---
---