The Boston-area Restaurant Openings We're Most Excited for This Spring
A stylish global-cuisine addition to the Seaport, wood-fired pizzas in Mission Hill, a spirited tavern in Brookline, and more.
---
Believe it or not, there's only a few weeks left before it's officially spring in Boston, and by April 1, the city's expanded patio-dining program will kick off again too. With the new season will come a number of new restaurant openings for taking in that al fresco experience—or simply taking some takeout. And after a year of devastating closures, seeing such additions to the Boston area's dining scene will be a very welcome bright spot. What are some of the soon-to-come spots that have us most excited? Check out a few below, and refresh this page as the weeks roll on; with timelines fluid during the pandemic, we'll update it with other high-profile entries as opening-day calendars get confirmed.
Cafe Iterum
The takeout era has taken us a few steps back when it comes to getting away from eco-unfriendly, single-use packaging. So we tip our hat to chef Matt McPherson, whose sustainably minded fast-casual cafe, slated to open at East Boston's Clippership Wharf development in early June: Once the pandemic is in the past, McPherson says he'll roll out a "reusable container program," allowing guests to return their to-go cups of Intelligentsia Coffee or chlorophyll-enhanced water for professional cleaning. The Menton alum is also working with local farms to source ingredients for a morning-through-night menu that includes a "Farmwich" breakfast sando filled with veggies, eggs, and soy mayo; lunchtime bowls of dukkah chicken with apples and dates; and weekend-brunch toasts covered with, say, white chocolate with rose and strawberry compote. It's all part of McPherson's mission to ultimately make his modern American spot, which will boast a three-season patio with harbor views, a zero-waste restaurant. He's also thinking about economic justice, too—he's implementing a no-tipping policy to instead pay his staff a fair wage.
25 Lewis St., East Boston, cafeiterum.com.
Cloud & Spirits
Hopefully, you've already had a chance to hop over to the MIT-side space where the Mikkusu Sando pop-up has been doling out destination-worthy shokupan sandwiches from chef Katie Cheung, previously of Oishii, Menton, and Kamakura. Soon, though, she and her team will permanently open Cloud & Spirits in the same location. The new spot will be a full-service New American restaurant where you might find house made spaghetti in a spicy cream sauce with mentaiko roe; deep fried honey-sesame chicken; and desserts of miniature, matcha milk-glazed doughnuts. The interior will be divided into dining room and bar areas, with plenty of creative cocktails—say, the Lone Ranger of tequila, sparkling rosé, and grapefruit-infused syrup—flowing in the latter. Expect to eat (and drink) up starting in early May.
795 Main St., Cambridge, cloudandspirits.com.
Madre Osteria & Bar
Rustic Tuscan cookery will guide the menu at Madre, expected to open mid-Spring in Milton Village. Think charcuterie boards of 24-month-aged prosciutto with imported cheeses, pastas tossed with duck ragu or wild boar, or secondi such as garlicky codfish, all served with house baked bread for swabbing your plate clean of sauces. Madre comes from restaurateurs Jairo Dominguez (whose portfolio includes Publico in Southie) and Brian O'Donnell (behind Yellow Door Taqueria, among others), and they've tapped HGTV star Taniya Nayak to design this latest, fireplace-equipped space, which will be inspired by the lovingly lived-in style of 17th-century Italian villas.
88 Wharf St., Milton, instagram.com/madreosteria.
Nautilus Pier 4
No longer will you need to hop a ferry to taste one of Nantucket's hottest restaurants—you'll just need to head to the Seaport once Nautilus Pier 4 opens in April. Chef Stephen Marcaurelle (previously of Tres Gatos) will put his own spin on the kind of Asian- and Latin American-inflected selection of small plates and multi-person feasts that culinary director Liam Mackey has used to bait guests to the glittery ACK location: Tempura oyster tacos, blue crab fried rice, and whole roasted Peking duck are all on the agenda, alongside adventurous wines, sakes, and cocktails that invoke local farm-sourced ingredients. Design-wise, the 230-seat establishment, which is triple the size of the original and includes a 65-seat harbor-side patio, will be a 180-degree change from the old-school trappings of Boston's late, beloved Anthony's Pier 4, which formerly stood here. Instead, you'll find a whimsical, modern-cool style inspired by Jules Verne's 20,000 Leagues Under the Sea. We can't wait to dive in.
300 Pier Four Blvd., Boston, 857-233-4639, thenautilus.com.
Nomai
The name Nomai nods to a Japanese tree with deep roots, which is fitting for the latest from Brian Moy: After all, the restaurateur's family has operated the landmark China Pearl in Boston's Chinatown for decades now, and Moy branched out by launching Ruckus noodle shop (which reopens in the spring) as well as two locations of Shōjō restaurant—a third will come to 425 Massachusetts Ave. in Cambridge this fall. Now Moy is planting Nomai at Hingham's Derby Street shops in late spring, and although details are scarce at the moment, a rep for the restaurant promises a "destination for couples and multi-generational family celebrations, with pan-Asian takes on raw bar offerings, shareable small plates and larger format sharing portions." Knowing the surname behind it, even that is enough to get us excited.
100 Derby St. (Derby Street Shops), Hingham, nomaihingham.com.
Punch Bowl
After a year spent in various states of social distancing, we can't wait until it's safe again to gather around a big bowl of punch with pals. Chef Josh and Jen Ziskin, the married couple behind nearby Italian stunner La Morra, are hoping that'll be possible by the time they open their latest venture in Brookline at the beginning of April. The historic tavern-style spot will put forward classic punch, of course, as well as cocktails like the Kahlúa -based Muddy River, named for the babbling waterway that guests will overlook from a spacious ground-floor patio or rooftop terrace; Jen, the certified sommelier of the pair, will also curate a "female focused wine list" with selections from Italy, Portugal, and elsewhere. In the kitchen, meanwhile, executive chef Amanda Lowry (previously of Barbara Lynch's Butcher Shop) will craft modern New England cuisine for enjoying in a space inspired by local history. For instance, leather strapping details on the banquettes reference a stage coach route to Boston; along the way thirsty travelers would stop at Brookline's original Punch Bowl Tavern, its image now etched in seeded glass behind the hostess stand here.
700 Brookline Ave. (Hilton Garden Inn), Brookline, punchbowlbrookline.com.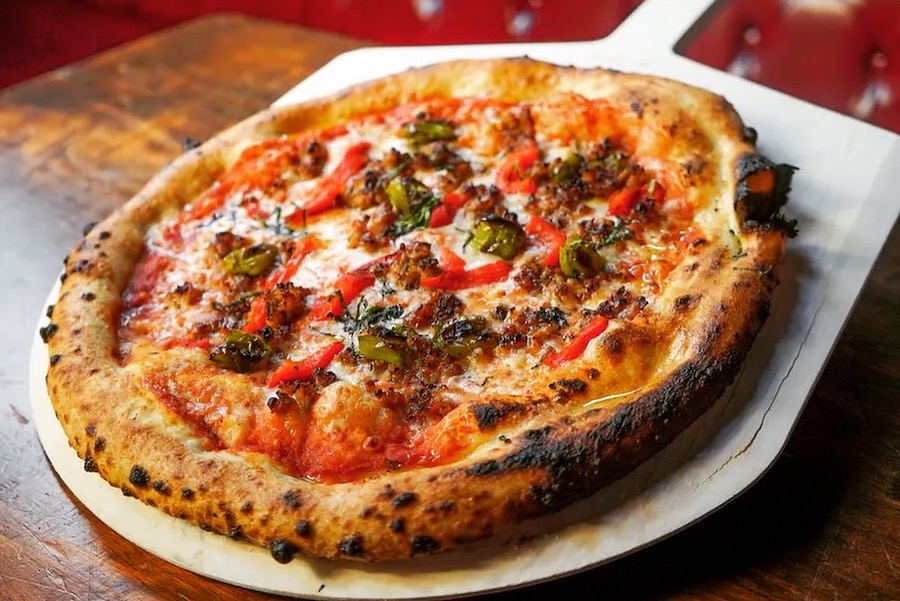 Wood Fired Love
Can Boston ever have enough great pizza? No. Does Mission Hill need some fresh new restaurants? Yes. Will Wood Fired Love help us out on both counts? We feel strongly confident that it will when it opens, hopefully by the end of March. The owners of the late Squealing Pig have transformed the space, moving in a wood fired pizza oven for turning out pies topped with ingredients from New England farms and artisan makers—say, cheese from Narragansett Creamery and Jasper Hill, as well as greens and herbs from Little Leaf Farms and Eva's Farm. Sounds like a slice of heaven.
134 Smith St., Boston, 617-322-5299, woodfiredlove.com.
---
---