First Look: Here's Everything You'll Eat at Nautilus Pier 4, Opening in Boston This Week
An even bigger, waterfront sibling to one of Nantucket's hottest restaurants has dropped anchor—and its own canned rosé wine—at an iconic Seaport address.
---
Does the warming weather already have you itching for a summertime ACK escape? Well, don't pack your whale pants quite yet—it's only the end of March.
You can, however, set your sights on Boston's Seaport, where one of the most highly anticipated restaurant openings of spring has finally arrived: Nautilus Pier 4, an urbane answer to Nantucket's island-cool Nautilus, opens on Thursday, April 1. We've got your first look at the menu below, no foolin'.
If some of it looks familiar, it should: There are a number of favorites from the popular original location, which has enjoyed lots of love since it opened in 2014 as a fresh-faced, buoyant-feeling antidote to the Nantucket dining scene's stodgier seas of pastel pants and critter belts. "We're ultra fine-dining, but we do it in Hawaiian shirts and board shorts," says partner and beverage director Clinton Terry. See: the new Nautilus-brand canned wine that sommelier Stephen Bowler developed with Napa Valley winemaker Sean Larkin, a pinot noir rosé that reflects the restaurant's approach to casual elegance.
You'll sip it while sharing some of Nautilus' signature small plates, which make up most of the menu. Among them are tempura East Coast oysters wrapped in nori with wasabi aioli and a spicy chili barbecue sauce; Berkshire pork belly buns with a coffee mayo and pickled cucumbers and herbs; blue crab fried rice topped with a crispy egg, scallion, and a Thai-style nam jim sauce; and house-made dandan noodles with heritage pork, peanuts, and a dash of tongue-numbing Szechuan peppercorns.
For the Boston location, though, Nautilus culinary director Liam Mackey has tapped as executive chef Stephen Marcaurelle, formerly the head hep cat at Tres Gatos, a tremendous tapas spot in Jamaica Plain. Naturally, Marcaurelle has added even more Mediterranean influence to all the Asian-inspired accents that have already characterized the Nautilus kitchen. Think za'atar-spiced Colorado lamb chops with spring pea labneh and harissa lime mojo, one of the larger-format dishes on the agenda. Want something to share with the entire table? Check out feasts like the whole, rotisserie-roasted Peking duck with confit legs, steamed buns and a smoky aioli.
Speaking of upsizing, you'll be stuffing your belly in a beast of a restaurant. Nautilus Pier 4 is triple the size of the Nantucket original, seating up to 165 in its submariner-chic dining room—aesthetically inspired by Jules Verne's Twenty Thousand Leagues Under the Seas—as well as 65 on a sprawling patio. Like its neighbor Woods Hill Pier 4, a fab farm-to table restaurant from natural-foods activist Kristin Canty, Nautilus Pier 4 inherits a Seaport parcel that once belonged to Anthony's Pier 4, a Boston seafood landmark that baited Boston-area families and tourists with white fish and white wines for half a century.
With its swinging style and contemporary approach to port-hopping cuisines, though, Nautilus seems much more representative of modern Boston. So raise a toast to charting new waters with the nifty list of wines and chilled sakes, as well as Seaport-exclusive cocktails—made with local farm-sourced fruits and herbs—and even digestifs served on tap.
Ready to swim by? Check out the full menus below. Take note: Seating will start off on a first-come, first-served basis when Nautilus Pier 4 opens for dinner on Thursday, April 1; reservations are currently being accepted for dates beginning Tuesday, April 6. Move fast—there'll be plenty of Nautilus fans eager to experience this even bigger, buzzier year-round outpost of a nouveau-Nantucket legend, no ferry required.
300 Pier Four Blvd., Boston, 857-957-0998, thenautilus.com.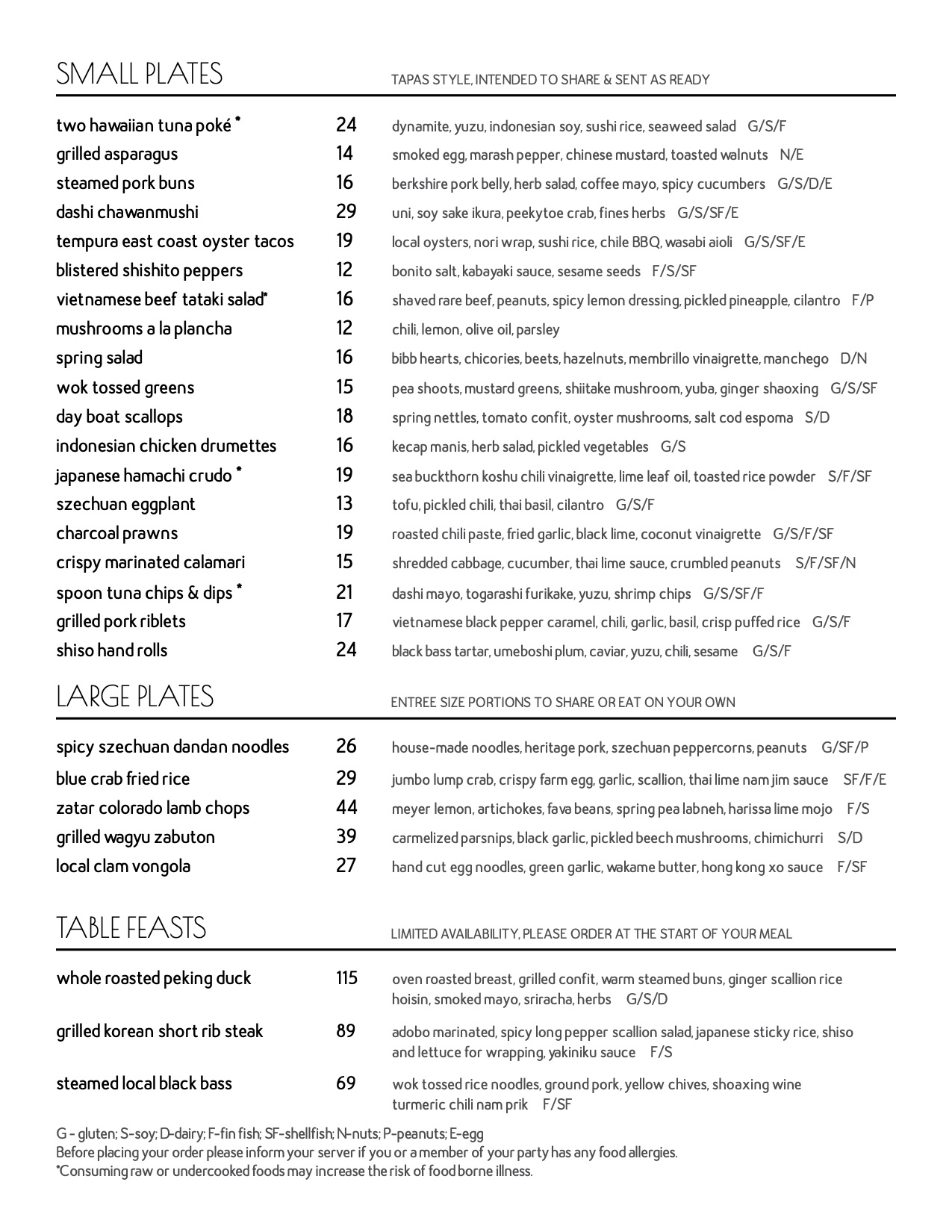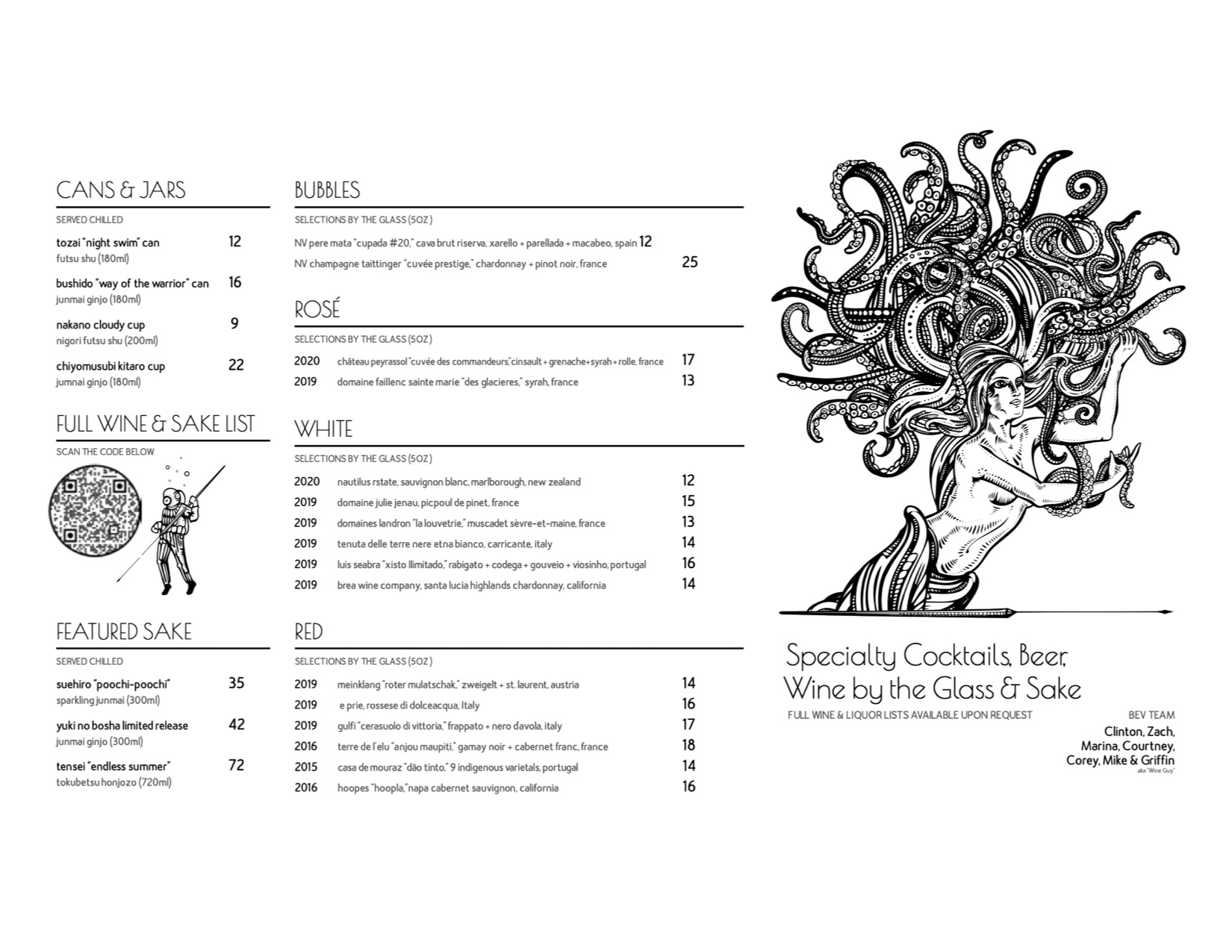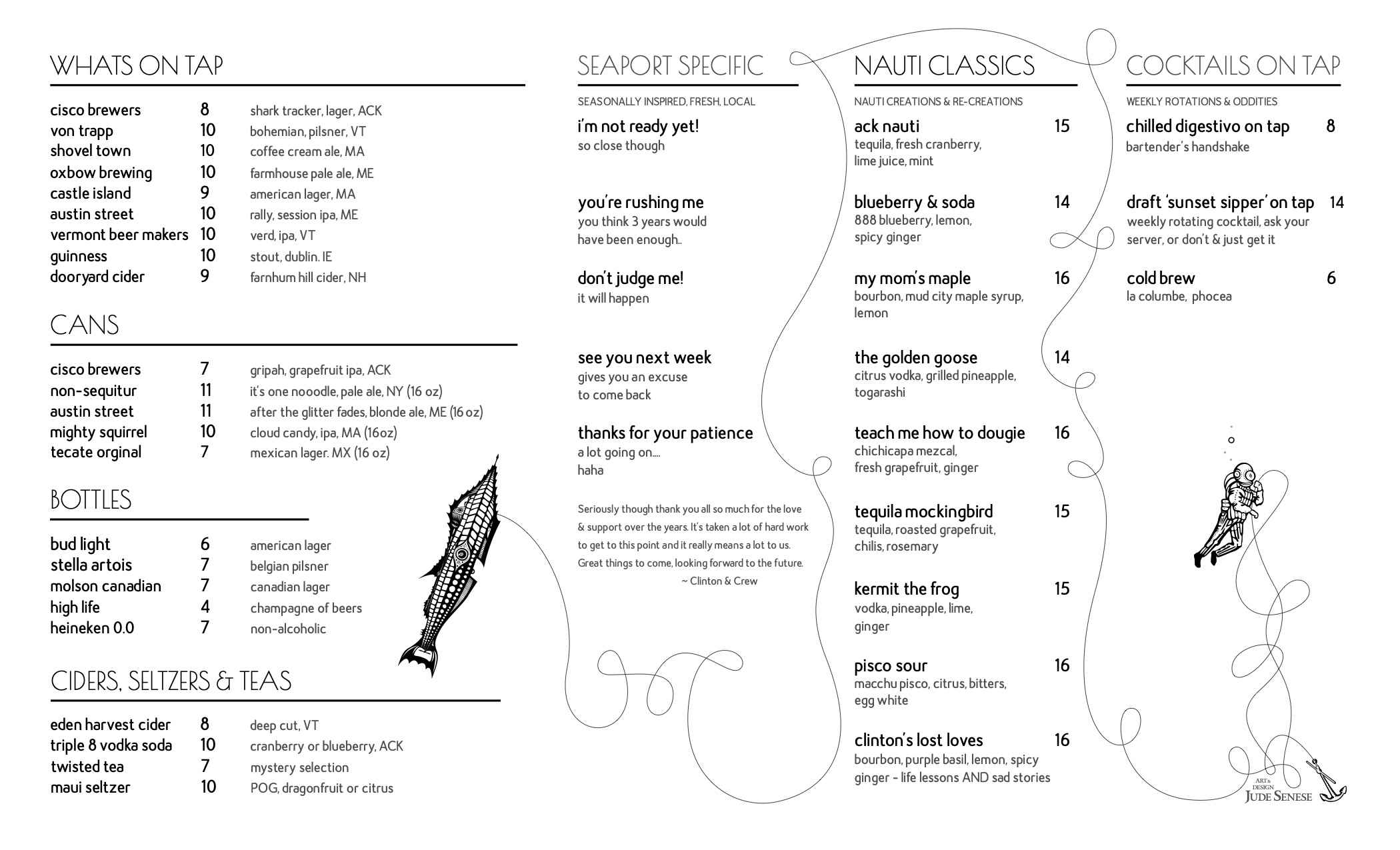 ---
---