News
Aceituna Grill's New Cocktail Program Honors Bartending Legend Brother Cleve
Nick Mallia's Mediterranean-forward mixology pours one out for the late local icon.
---
You could call Nick Mallia's process in crafting the cocktail program at the newest location of Aceituna Grill, which opened on Newbury Street in early April, "forensic bartending." From the bustling Back Bay restaurant, the cocktails transport customers to the Mediterranean, but the journey of designing those drinks was not something Mallia, the director of operations at Brookline's Paris Creperie, had planned. Rather, it was a months-long detective hunt—a picture here, a few scraps of notes there—on the trail of his friend and mentor, the Medford-born mixology maestro known as Brother Cleve, who passed away last September.
Originally, the Aceituna Grill team—wife-and-husband duo Gina and Andrew Kurban, with son AJ—had hired Cleve to captain the cocktail ship at its fourth Mediterranean restaurant. Unlike its three fast-casual older siblings, the Newbury location is split into two, its front entrance asking customers to choose one of two doors, literally and figuratively. Enter right to savor slow-cooked shawarma, fresh salads, and pitas in a fast-casual setting, much like the other locations (Kendall Square, the Seaport, and the Financial District). Enter left to unwind in a dining room with a 12-seat bar and tables by the open window, with an al fresco feel.
For a cocktail menu to pair with the dining room's handful of meze, sides, and other bites—herby falafel balls with pillowy centers, a new muhammara joining the smoky babaganoush and house-made hummus—Cleve was the perfect fit.
If you're not familiar with Cleve—and to be fair, he seemingly lived a million lives, from touring with Tom Petty in his musician days, to DJing around the city, to shaking things up coast-to-coast at tiki cocktail events—you've likely savored some of his sips. Say, at the Crystal Ballroom in Somerville, where he designed the cocktail program. Or at Paris Seaport Bar and Creperie, which quietly closed during the pandemic. There, Cleve's French twists on classic cocktails caught the Kurbans' eyes, and he was working on Aceituna's new cocktail program when he unexpectedly passed at age 67.
"It was heartbreaking," Mallia says. "Basically, after a couple of weeks of mourning, I was like, 'I have to let [the Kurbans] know that Cleve died.' Because for all I knew they were still expecting him to come in and finish building this program."
The two had become buddies after meeting through mutual friends when Cleve was DJing at Brass Union, now Vera's, in Somerville back in 2014. They started collaborating in 2017 on the cocktail program for Paris Seaport, which was then in the planning stages and ultimately opened in 2019, as a sibling to Brookline's Paris Creperie (which remains open).
Mallia was used to the culinary world—whipping up sandwiches at his aunt's convenience store at 15 in Danvers before starting at the Brookline Paris Creperie during college, and eventually moving up to general manager, then manager of operations, after he graduated. But dabbling in drinks was new, and he drank up all the experience and advice Cleve had to offer.
By the time of Cleve's death, Mallia knew the legend well enough, both as a friend and as a mixologist, thanks to countless events at each other's houses. So Mallia remembers promising the Kurbans, "I will, in his name, finish this menu for you."
The menu both celebrates Cleve's legacy and lets Mallia flex his own alcohol alchemy. As he's the first to admit, "This isn't one hundred percent of what he had in mind. More like seventy-five percent, and I can take it to the finish line with the skills that he taught me."
Cleve stored decades of notes—recipes cribbed from antique cocktail books, unusual pairings and preparations—in his iPad, which Mallia can't access. No recipes. No names, even. Instead, the biggest peek at Cleve's creative process came in the form of a few pictures from a tasting that he'd hosted for the Kurbans. "There's one picture of him standing behind the bar with these three or four spirits together," Mallia says. "And I was like, 'I think I might know what you have going on here.'" Some sleuthing, along with a handful of recipes from their Paris Seaport days and backyard hangouts, served as the basis of his research, and he trusted his palate to pioneer the rest.
The late barman was heading in a few directions that seemed obvious. Like the namesake Aceituna Cosmo: Strawberry vodka and basil add some depth, with lime juice to balance out the sweetness of a rose syrup by Lebanese purveyor Kassatly Chtaura. Indeed, many of the cocktails showcase Mediterranean spirits or ingredients. Take the anise-y Greek liqueur mastiha, made from tree sap from the Mediterranean island of Chios. It's a peculiar and playful party guest in the Omega cocktail—a classic Prohibition-era sip—along with grapefruit vodka, chartreuse, and lime juice.
Another standout includes the Midnight at the Oasis—a riff on a Paris Seaport drink, with black fig vodka, orgeat, a French cherry and almond-based aperitif called Maurin Quina, and saba grape must—a balsamic vinegar-like spirit made of spent grape leaves. A dash of edible glitter swirls like stars in the night sky.
Meanwhile, date syrup adds first-class flavors to the Manhattan-ish Marrakech Express, with Bully Boy whiskey, Italian vermouth, and mint fernet. And that za'atar rim? It's a blend of earthy herbs and toasted sesame that's more often sprinkled over hummus than in a drink. Here, it prevents the sip from chugging headlong into too-sweet territory.
And who doesn't love an espresso martini? For the wildly popular concoction you can find everywhere in the city, Mallia really wanted to knock it out of the park. And like a jolt of a double shot, he does. The Arabica Nights uses Grainger's vanilla vodka, fresh-brewed espresso, espresso rum, chocolate bitters, and a house-made burnt sugar syrup. The Kalani coconut liqueur (which tastes like a dangerously drinkable Almond Joy) is from the Yucatán, and as Mallia says, "it makes every other coconut anything you've ever tried taste fake, fake, fake."
Peering over the menu, plenty of ingredients jump out like one of Cleve's Hawaiian shirts. Saba grape must. Ancho Reyes liqueur, which hits you with sneaky spice and smoke in the Vesuvius cocktail. And who knew mint fernet was a thing? "Every time he came over my house, he gave me a bottle of something—and it was the newest thing," Mallia says. "Next month, everyone would have it. That flow of new information in my life has ceased, and I can't play catch up."
Mallia is, of course, selling himself short. He's already consulting on other cocktail menus around, like his recent work at Kushula Sip Coffee House's new Chelsea location, where he crafted a menu with a kicking caipirinha with aged cachaça, Mexican rum, and guava paste. He's busy concocting more sips for Aceituna's upcoming brunch on Newbury; plus, Paris Creperie is expanding with a new bar in Brookline. And at a memorial event at lauded bar Lullaby in New York City where Cleve was a partner, Mallia found himself swimming in a who's-who sea of bartending greats, like cocktail king Dale DeGroff. Mallia felt out of his league, but tasting that Arabica Nights espresso martini is proof that he's one to watch.
When you come to Aceituna on Newbury, do make sure to try the Cleve's Idol, too. "It's a tiki drink we worked on over the years, and this is my latest iteration," Mallia says. It's a joyride of grapefruit whiskey, almond syrup, allspice dram, lime juice, and angostura and orange bitters. A playful and complex sip, just like its namesake. "I thought it made sense as a tip of the hat."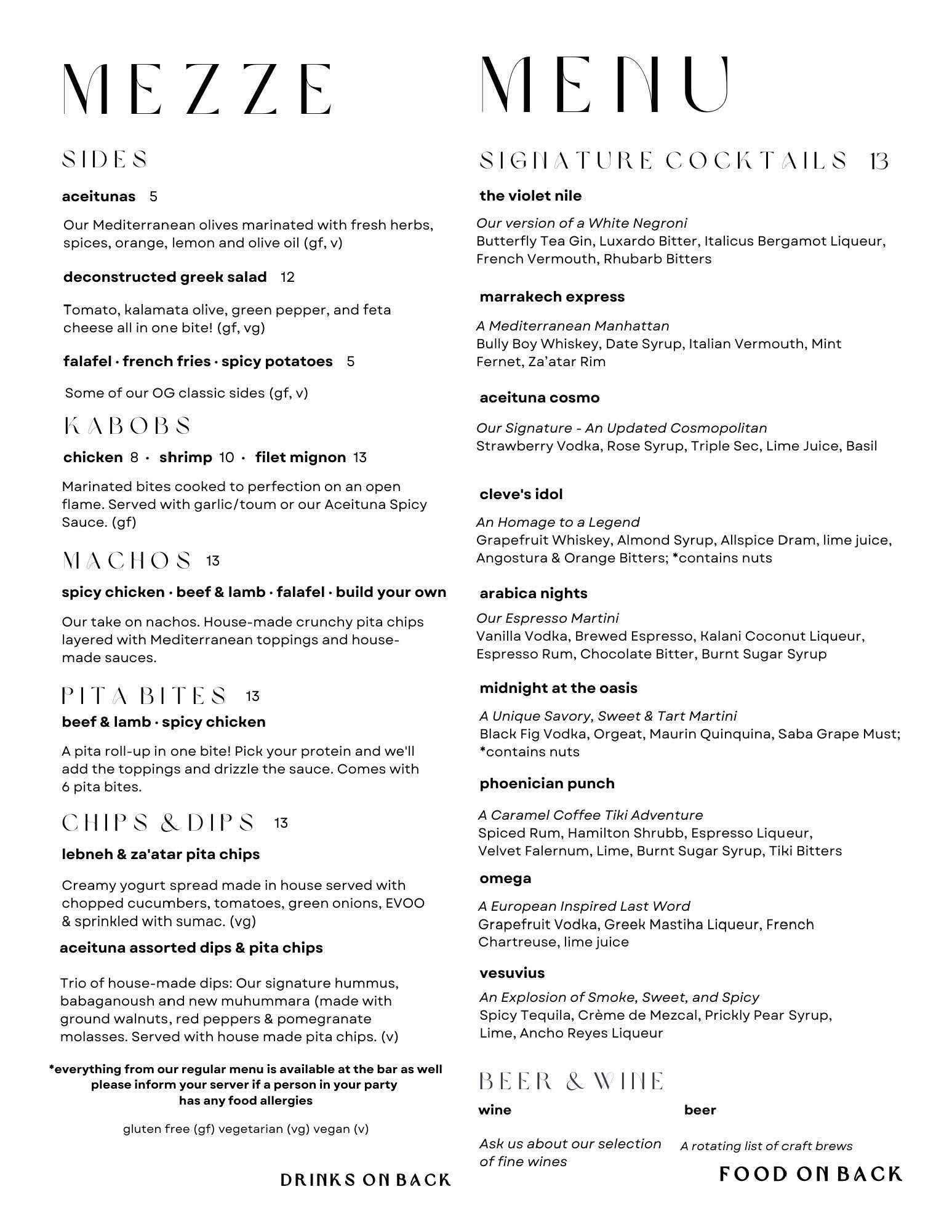 267 Newbury St., Back Bay, Boston, (857) 239-8973, aceitunagrill.com.
---