Guides
26 Perfect New England Summer Drinks
From beer and boxed wine to canned cannabis cocktails, the region's best beverages are perfect for sunny days.
---
Beer
Big, boozy brews are so last season. Start fresh this spring with five cans that are light, floral, fruity, and exceedingly refreshing.
JACK'S ABBY CRAFT LAGERS
Banner City Light Lager
What else would Boston beer fans want to raise during the playoffs? As the official craft beer of the Celtics, cans of this easy-to-drink, 3.8 percent lager—a recent collab between Framingham brewery Jack's Abby and our 17-time NBA champions—sport the team's iconic green logo and are available in an arena-ready 19.2-ounce format (along with standard 12- and 16-ounce options).
LAMPLIGHTER BREWING
Wabi Pale Lager
Steeped with Sweet Annie, white fir, and wild cherry bark, Wabi offers an herbaceous alternative to traditional pale lager that's perfect for spring. Lamplighter crafted the 4.6 percent ABV recipe with fellow woman-owned brewery Japas Cervejaria as an exploration of the Japanese concept of wabi-sabi, or ​​finding beauty in nature's impermanence. Pick up some Wabi in stores this month or visit the Cambridge brewery this summer once its barrel-aged counterpart, Sabi, is available for side-by-side sips.
RESCUE CLUB BREWING COMPANY
Non-Alcoholic Pils or IPA
Over the past five years, non-alcoholic beer has gone from elusive to the industry's fastest-growing category. Rescue Club Brewing is the non-alc beer project of Zero Gravity out of Burlington, Vermont—and like the brewery's full-strength options, its Pils and hazy IPAs combine aromatic hops and clean malts for balanced refreshment that will satisfy any beer fan.
MAST LANDING BREWING COMPANY
Windbreaker IPA
Tropical, citrusy New England IPAs are always a crowd-pleaser among the craft-beer crowd, but these lush styles often pack an alcoholic wallop. Not so with Windbreaker, a hazy IPA from southern Maine's Mast Landing. With the characteristic low bitterness of the style and a middle-of-the-road alcohol content of 6.5 percent, this IPA is what to get for weekend patio sips.
LONG LIVE BEERWORKS
Hola Fantasma Sour Ale
Thick, smoothie-like sours are among the bold brews that have made Long Live Beerworks a destination in Providence. Now, with a second taproom in Roxbury, the brewing company adds to its lineup a new style of fruited sour ale with a lighter, livelier body. Hola Fantasma is flavored with blood orange, strawberry, blackberry, and pineapple, then fully fermented to 6 percent ABV with equal tartness and sweetness.
---
Canned Cocktails
Too busy for at-home mixology? Serve these ready-to-drink dupes at your next cocktail party instead.
IF YOU LIKE AN APEROL SPRITZ, TRY…
Bully Boy Distillers "Grapefruit Spritz"
Bully Boy's Boston-made Amaro is richer and spicier than its sweeter Italian counterpart, lending a more-complex flavor to this ready-to-drink spiked spritz. If you're feeling particularly fancy, pour the 7 percent can over ice.
IF YOU LIKE AN ESPRESSO MARTINI, TRY…
Nantucket Craft Cocktails "Rise"
New to the lineup of ready-to-drink options from Nantucket's Triple Eight Distillery, this espresso-rum soda contains an invigorating blend of Triple Eight vodka, Hurricane rum, and Rise Brewing Co. espresso at 7 percent ABV.
IF YOU LIKE A MOSCOW MULE, TRY…
WhistlePig PiggyBack "Barrel-Aged Rye Smash"
No whiskey was mistreated in the canning of this cocktail. Instead, WhistlePig of Vermont uses rye to make a unique 8 percent malt beverage in citrus-driven flavors such as Blackberry Lemon Fizz and the mule-like Fresh
Ginger Lime.
IF YOU LIKE A CAPE CODDER, TRY…
Cod'r Craft Cocktails "Classic"
Ever wish you could bottle up the feeling of a Cape Cod summer? That's literally the idea behind Cod'r Craft Cocktails. This vodka-cran doppelgänger was inspired by the moment cofounder Kevin O'Leary's grandfather gave him his first sip of a spirit on a Dennis Port deck at sunset.
IF YOU LIKE A BLUEBERRY COBBLER, TRY…
Maine Craft Distilling "Blueshine Lemonade"
Sweet liqueurs and real fruit garnish give cobbler cocktails a distinctive juiciness, and this drink made with wild Maine blueberry liquor and fresh lemonade meets any summertime moment—especially when served on ice adorned with a lemon wheel and a few floating berries.
---
Cannabis Beverages
Kick off summer on a high note with these cannabis-infused drinks.
Levia
Bubbly and fresh-tasting, calorie-free Levia seltzers are as thirst-quenching as your favorite fizzy water but with the Massachusetts maximum of 5 fast-acting milligrams of THC per serving. The slim cans match classic, crisp flavors with specific effects, such as the indica-infused jamberry "Dream" and sativa-blended raspberry-lime "Achieve."
Rec. Weed
A hop-forward option from one of Boston's biggest names in beer, Rec. Weed is Harpoon's first THC beverage. Brewed in collaboration with New England cannabis innovator Novel Beverage Company, the name nods to Harpoon's low-alcohol Rec. League beer. With just 25 calories and three grams of sugar per can, the cannabis version is similarly refreshing thanks to additions of Citra hops, passion-fruit purée, and green tea.
Pine + Star
This Maine-based brand of cannabis drinks recently expanded into the Bay State market with two campfire-ready combinations: THC-spiked Cinnamon Cider and Sparkling Blueberry Lemonade. Brewed using natural ingredients, the bottled bevvies are robust, full of flavor, and mercifully come without the risk of a hangover.
---
Non-Alcoholic Refreshers
Good news for teetotalers: Your grocer's beverage cooler is better stocked than ever before. Get a taste of the coolest new soft drinks with these four faves.
Wave Sparkling Hop Water
What it is: Carbonated water—made by Vermont's Burlington Beer Company—infused with Pacific Northwest- and Vermont-grown hops (the flowery nuggets that flavor your preferred IPAs).
What it tastes like: Mellow and rejuvenating, Wave has notes of orange blossom, lime zest, lemongrass, pine-apple, and grapefruit from Cascade and Chinook hops.
Who it's for: The hophead who wants a calorie-free fix (or knows it's too early in the day to crack open a beer).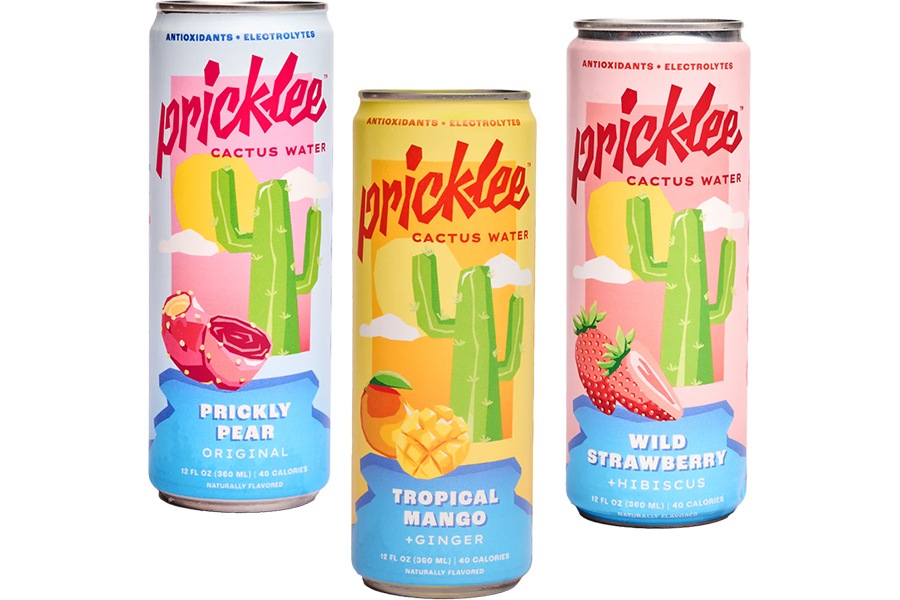 Pricklee Cactus Water
What it is: Juiced fruit of drought-resistant cacti inspired by a recipe from cofounder Mo Hassoun's Lebanese grandmother.
What it tastes like: Non-carbonated and lightly sweet like watermelon, Pricklee comes in a can in three flavors: Classic Prickly Pear, Tropical Mango, and Wild Strawberry.
Who it's for: Health-conscious folks—like the cofounders, who quit gigs in Boston healthcare to launch Pricklee—seeking natural hydration loaded with antioxidants and vitamin C and less sugar than coconut water or many other popular refreshers.
Superfrau
What it is: An Alpine-inspired soda alternative in an eye-catching pink can. It's made with upcycled whey leftover from fermenting yogurt, which gives the bevvie plenty of B vitamins and gut-beneficial acids.
What it tastes like: Fizzy and tangy, with a velvety mouthfeel, in not-too-sweet-or-sour flavors such as Cucumber Lime and Peach Mango.
Who it's for: Food-waste-fighting heroes ("Superfrau" means "superwoman" in German) looking for a light refreshment.
Simple Sips
What it is: Craft cocktail mixes made with fresh fruit, herbs, and aromatics in Dorchester.
What it tastes like: Your favorite bottled juices, all grown up. Flavors like Lei'd Back (pink guava, citrus, coconut, almond, vanilla) and Rye Not (passion fruit, apple cider, rosemary) are blended with booze in mind but are just as tasty with a splash of seltzer.
Who it's for: Cocktail and mocktail enthusiasts who want a tasty drink at home—without all the prep.
---
Wine
A bottle for every occasion—as recommended by the people who know best.
Beach trips
The expert: Michael Burns, Eataly Boston wine store manager
The box: Alileo Wines "Rosato Bronzato"
"There's a reason why these are the only boxed wines we currently have in our store. We think they are really representative of the terroir of Sicily, and we appreciate the green packaging. Not every winemaker's intent is for wine to be cellared and aged. Some you just want to enjoy on a warm day outside. These wines are perfect for that, at an extremely approachable price point for everybody."
Shucking Oysters
The expert: Alyssa Mikiko DiPasquale, advanced sake professional and owner of the Koji Club sake bar in Brighton
The bottle: Farthest Star Sake "Mountains on the Moon"
"There's something, texturally, that's extra silky about this nigori (unfiltered sake). It counterbalances the salt and perfectly matches the level of umami in an oyster. And oysters are a great picnic food, as long as you can keep them cold, because you can just shuck them and eat them. You don't need a plate, and you don't need a cup. Drink your sake out of oyster shells."
Grilling
The expert: Hadley Douglas, cofounder and president of the Urban Grape and Progressive Wine Company
The bottle: Progressive Wine Company Pinot Noir
"The nose and palate of this Russian River Valley pinot noir remind us of warm, homemade mixed-berry jam, served with a cup of herbal tea. It pairs amazingly well with a variety of foods—sticky ribs on the grill, a bone-in chicken breast with peach barbecue sauce, roasted veggies. Chill it down in the fridge before serving it. If you have glassware, great. If not, it won't suffer from being glugged into a red Solo cup."
Outdoor Concerts
The expert: Ryan Connelly, sales rep for Ruby Wines and drummer for the Boston band Hallelujah the Hills
The bottle: Lieb Cellars "Bridge Lane Bubbles"
"This wine checks a lot of boxes for me: It's refreshing and delicious, it's local and sustainably produced, and the can format allows for it to be taken anywhere. It's a super-refreshing, Riesling-based blend that has great acidity and is low in alcohol (11 percent)."
---
Hard Seltzers
Who knew there were so many ways to make boozy bubbles? We tested and ranked five local brands, so you don't have to.
Celly Vodka & Soda
Flavor: Blueberry-Pomegranate


Tasting Notes:
"This one has a lovely purple color—with tiny blueberry flakes!"
"It smells really nice."
"It has a pie sweetness going on. It's dessert-y in a way that's not too overwhelming."
"I could drink these all night."
Soak Seltzer by Trillium Brewing Company
Flavor: Tangerine-Lime
Tasting Notes:
"Getting a lot of tangerine on the nose."
"This one has a nice sourness to it that I like."
"The fizz is really good."
Après
Flavor: Pine Rickey (lemon-lime and pine)
Tasting Notes:
"Elegant can design."
"It smells strong."
"It has some sweetness."
"Yeah, more tree sap than piney."
Spindrift Spiked
Flavor: Lime
Tasting Notes:
"It smells tangy, like lime sorbet."
"It has a weird, musty aftertaste."
"It almost tastes like potato."
Hoot Hard Seltzer by Night Shift Brewing Company

Flavor: Blood Orange–Mango
Tasting Notes:
"It smells orangey, like very real citrus."
"I expected it to taste stronger."
"Flat in flavor and in bubbles."
First published in the print edition of the May 2023 issue with the headline "Say Cheers!"
---
---