How to Cook New England Steak Tips at Home
It's not rocket science, but it does require a little know-how. Here's how the pros do it.
---
Ah, steak tips: those tender meat morsels unique to New England. Sure, you can try them at countless restaurants around Greater Boston, but sometimes you just want to bust out the grill and make them at home, especially when summer cookout season or tailgating rolls around. Preparing steak tips isn't rocket science, but it does require a little know-how. Read on for tip tips from the pros. Plus: where to shop, what marinades to try, and what wines to pair—and what's the difference between steak tips and tri-tips?
---
Jump to:
---
Meat Market
How to find the best tips to cook at home.
What to Look For
Buying good steak tips at the store is, fortunately, a no-brainer: You really only have to decide which marinade you want, if any. One other thing to keep in mind is that you'll get the best results by purchasing the best beef possible. "Get prime sirloin tips," says Ron Savenor, butcher and owner of the legendary Savenor's in Cambridge and Boston, referring to the top beef-quality grade according to the USDA. That ensures you'll get the most tender and flavorful cut available.
Where to Buy
Thanks to the popularity of steak tips throughout New England, you can find them just about anywhere, but these are some of our local favorites.
Alpine Butcher
This fourth-generation family butcher shop dates to 1913. All beef is USDA Prime, and marinated tips come in several barbecue varieties, as well as flavors such as teriyaki and maple bourbon. Shipping is available.
963 Chelmsford St., Lowell, 978-256-7771, alpinebutcher.com.
Bianco & Sons Sausage
Founded in 1960 and now run by the third generation, Bianco specializes in sausages, but the steak tips are also top-notch. Choose from unmarinated or four marinated varieties, including the house marinade, a solid take
on the traditional sweet style. Shipping is available.
1 Brainard Ave., Medford, 781-289-4688, biancosausage.com.
Crane River Cheese Club
The only spot on the list that's not decades old, this Tip Tap Room sibling and neighbor arrived in Beacon Hill in 2022, offering meats, cheeses, and a variety of specialty grocery items, including marinated tips (a feature at the restaurant). You can pick up some ostrich filet while you're there, too.
138 Cambridge St., Beacon Hill, Boston, 617-936-3069, cranerivercheeseclub.com.
Dom's Sausage Co.
Around since the 1930s and selling steak tips since the 1980s, this family-owned institution is known for its steak tips, which come in marinades such as balsamic fig, sriracha, and teriyaki. Shipping is available.
10 Riverside Pk., Malden, 781-324-1310, domsausage.com.
Henry's Fine Foods
Founded in 1941, Henry's offers an extensive meat selection, including tips with several marinades—and a couple types of tenderloin "tips" if you want to try out a different cut for comparison. Local delivery is available.
588 Cabot St., Beverly, 978-922-3885, henrysfinefoods.com.
McKinnon's Supermarkets
This small grocery chain, with locations north of Boston and in New Hampshire, is known for its butcher shop, which boasts more than 100 varieties of marinated meats. When it comes to tips, that means smoky-sweet barbecue, bourbon, and more. Local delivery is available.
Multiple locations, mckinnonsmarkets.com.
Savenor's Butcher & Market
Julia Child was a fan of this high-end butcher shop, founded in 1939. Today, Savenor's sells its prime flap meat as the whole cut or sliced into tips, marinated or plain. Local delivery is available.
160 Charles St., Beacon Hill, Boston, 617-723-6328, and 92 Kirkland St., Cambridge, 617-576-6328, savenorsmarket.com.
---
A Tale of Two Tips
Before we dig into how to cook tips, let's talk about the other tips: tri-tips. Born on opposite coasts, New England steak tips and California tri-tips sound similar, and they're both typically affordable, flavorful cuts—but they're not the same.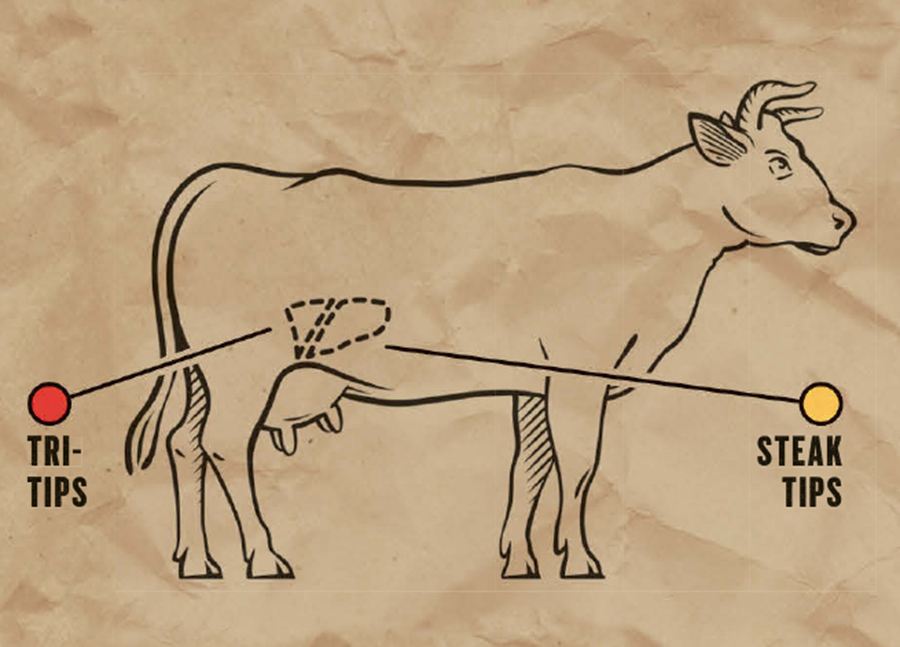 Cut of Meat
Steak tips: Sirloin flap meat (also called bavette), located in the bottom sirloin near the flank.
Tri-tips: A triangular cut from the bottom sirloin, also known as Santa Maria steak (among other names).
Pros
Steak tips: Great for marinating and grilling. Tender and flavorful if handled correctly.
Tri-tips: Great for grilling or roasting. Tender with good marbling.
Cons
Steak tips: Can be tough if not marinated or sliced correctly.
Tri-tips: Tough if overcooked. Important to slice against the grain—which can be difficult, as it changes directions in this cut.
Typical Cooking Method
Steak tips: Marinated (often, but not always, in something sweet) and grilled, pan-seared, or broiled.
Tri-tips: Seasoned simply and grilled or seared, then roasted.
Origin Story
Steak tips: Emerged in New England in the 1960s and 1970s without one clear inventor.
Tri-tips: Emerged in California in the 1950s, with several dueling origin stories.
---
Tip Tips
Now that you've got your meat, here's how to prepare it.
Cutting the Meat
If you purchase flap meat that hasn't already been cut into tips, or if you want to cut tips into smaller cubes, it's important to slice across the grain, says Ron Savenor. Cutting with the grain will yield a much tougher chew.
Marinating the Meat
Sure, you can buy marinated tips anywhere these days, but if you want to make your own special sauce, the key is for the marinade to be a little sticky "so that it caramelizes when it gets on the grill," says Cambridge chef and Groton native Will Gilson, who owns Puritan & Co., the Lexington, and other spots. He enjoys a combination of soy sauce, honey mustard, fresh garlic, and shallots.
Cooking the Meat
Whether you grill your tips outdoors year-round like a true New Englander or pan-sear or broil indoors, you'll want to aim for "high heat, quick technique," says Chris Schlesinger, founder of the now-closed Cambridge icon East Coast Grill and author of several cookbooks focused on grilling. "It's a relatively tender meat, so the quicker you can cook it, the better." (A bit of an outlier in the world of steak tips, he prefers rubs rather than marinades, but he can be forgiven, as he's not a New Englander by birth.) Steak-tips expert Domenic Botticelli, co-owner of Dom's Sausage Co. in Malden, notes that three minutes per side will yield a nice medium rare.
Serving the Meat
The sky's the limit when it comes to serving tips: Go old-school with a starchy side and some hot cherry peppers, or get a little creative. "You can do anything with them," says Dom's president Elizabeth Botticelli. "Salads, sandwiches, subs, in a taco, in a burrito, or on pasta." The one thing she can't recommend, she adds with a laugh, is "putting them in
cereal with milk."
---
What's in a Marinade?
The marinade is a key part of the steak tip equation, with the sweet-meets-smoky barbecue you find at NewBridge Cafe and elsewhere coming to mind first for many steak tips fans. (Other marinades are also acceptable, though: everything from a simple Italian dressing to Sriracha to teriyaki. It's just the general act of marinating that's important.)
Hunt around the internet for copycat recipes of NewBridge's top-secret concoction, and you'll see a lot of Coca-Cola and ketchup, a combo that is replicated elsewhere in the steak tip scene. At Frank's Steak House in Cambridge, for example, the house-made marinade includes Pepsi and ketchup, says owner George Ravanis, plus sugar, vinegar, and some other spices. Or peek at the ingredients in Medford-based Bianco & Sons' tips with the house marinade: There's caffeine, caramel color, and phosphoric acid—that sounds an awful lot like Coca-Cola—and tomato sauce.
But other restaurants go a less sweet route. At 16C in Quincy, for example, the tips have a very subtle marinade that tastes like it might have an Italian dressing base. "I don't want to divulge what it is," says owner Kerri Lynch-Delaney, "but I think it's funny that most people tell me there's Coca-Cola in it. There isn't. And they'll say there's ketchup in it, but there isn't. Whatever keeps them intrigued!"
In short: (Almost) anything goes, and if you're buying tips at a butcher shop to cook at home, you'll find everything from balsamic fig to carne asada to sweet bourbon.
---
How to Pair New England Steak Tips with Wine
Local experts share their recommended pairings for three styles of marinated tips.
While steak tips are the epitome of casual dining, who says you can't jazz them up with a lovely bottle of wine? We consulted a few local wine experts—Urban Grape cofounder and CEO TJ Douglas, with general manager Logan Perez-Braxton, and Haley Fortier, owner of wine bars Haley.Henry and Nathálie—for some recommended pairings for tips with three different marinades.
Classic Barbecue-Style Tips
"I'm one of two thoughts," says Fortier: "something richer and full-bodied for people that like classic pairings, or something light, tart, and electric to complement the sweet element that is usually in a barbecue sauce."
For the former, says Fortier, "you want something meaty, but elegant, something that can kind of dance with the fat that lingers throughout the meat." One recommendation in that vein is 2017 Salcheto Vino Nobile, a Sangiovese with bold tannin and hints of plum, cherry, and herbs. "It's pure Tuscany in a glass," says Fortier.
And for something lighter and more tart? 2020 Stratum Matas Atlas—a Spanish wine that's mainly Monastrell blended with five other grapes from the area. "It's got electric energy that tap dances on the tip of your tongue," says Fortier, noting that it pairs well with Nathálie's braised short rib—"so, similar vibes" to tips. "It brings out the sweet note of the sauce, but still respects the savory. A win-win in my book."
Douglas and Perez-Braxton think a wine that "stands up and breaks through the sweetness [of the sauce] so that it's not overpowering" will do the trick here, suggesting 2021 Progressive Wine Co. Pinot Noir from the Russian River Valley. (Progressive Wine Co. is Urban Grape's sister company.) This particular Pinot offers "delicious notes of tea and ripe berries with bright acid," they say.
Teriyaki Tips
Paired with teriyaki tips, "nothing says perfection like a glass of spicy red," says Fortier. "Think of it in the same vein that you would Asian food. Things with this flavor profile really respond to spicy, peppery numbers," like a cabernet franc or another red "that carries a bit of warming spices to it." One recent hit on the Haley.Henry menu that'd be a good fit? 2020 Sylvain Bock Neck, a blend of grenache with a hint of syrah and notes of cinnamon, nutmeg, and black pepper.
Douglas and Perez-Braxton lean fully in the syrah direction for this one, recommending 2017 Reyneke Syrah from South Africa. "This is a super yummy wine with a really good balance of earthy notes, lush fruit, and soft tannin," they say, making for a "fun pairing" with the savory notes of a teriyaki marinade.
Italian Dressing Tips
"You've got to bring in the fun, fabulous, chilled red wines," says Fortier. "They're light, cold, and more structured patio pounders than a rosé. Chilled reds allow you to have that tannin that you're looking for, but with a relaxed vibe, and Italian steak tips need that." Fortier suggests 2021 Las Jaras Slipper Sippers Nouveau, with "zippy tones" and blueberry and pomegranate flavors. "It's crunchy, playful, and fun," says Fortier.
Douglas and Perez-Braxton suggest a Chilean red: 2020 Clos de Luz Massal Carmenère. "We are fans of big acid wine complementing big acid dishes, and this dish seems to have a ton of acid in it," they say. "This wine has plump fruit and bright acid, so the intense flavors of the dish should not overpower it at all. This will leave the drinker/eater with a puckered mouth, ready for another bite or sip."
First published in a feature in the print edition of the May 2023 issue with the headline "Long Live Steak Tips!" Learn about the mysterious origins of steak tips here, and find a guide to Greater Boston's best steak tips here.
---
---