Your Ultimate Guide to the Boston Area's 21 Best Breweries Right Now
Here are the 21 taprooms, gardens, and beer-to-go stations you can't miss on a hop-around tour.
---
Devoted foodies and restaurant newbies love The Feed. Sign-up now for our twice weekly newsletter.
Massachusetts is now home to more than 200 breweries, quadruple the number it had back in 2011. The remarkable figure comes from industry bloggers Mass. Brew Bros., using their own records, corroborated by Brewers Association and Mass Brewers Guild data. But drinkers don't have to see the numbers to know there's never been a better time to love beer around here. Here are the breweries you can't miss, with their service status updated for the current COVID-19 climate. [Updated March 2021]
67 Degrees Brewing
Status: Open Wednesday through Sunday for on-site service and beer pickup.
It's worth tossing a little extra gas in the tank to hit this suburban standout, which—like Brockton Beer Company, another exciting brand that will soon open its first brick-and-mortar location— is one of only half a dozen Black-owned breweries in Mass. 67 Degrees was opened by Olivier Edouard in early 2020 in the town of Franklin as a family-friendly hangout for fresh beer and food pop-ups. Hazy IPA lovers should not miss Route 140, a New England-style sipper hopped with fruity Citra, Mosaic, and Azacca buds. Brewer Tim Morse also uses local ingredients in rotating brews, such as honey brown ale made with raw honey from Franklin Honey Company. Follow 67 Degrees on social media for news about food trucks and pop-ups, as well as acoustic live music.
158 Grove St., Franklin, 508-507-7376, 67degreesbrewing.com.
Aeronaut Brewing Company
Status: Somerville brewery open Tuesday through Sunday for on-site service and beer pickup; also open Monday for to-go service only. New Everett cannery open Wednesday through Sunday for drive-thru beer pickup; also open Friday and Saturday for on-site service.
Somerville's first production brewery in 100 years has been building community since opening in 2014. It shares warehouse space with the innovative Tasting Counter restaurant, Somerville Chocolates, and fledgling food businesses like resident Venezuelan arepa vendor, Carolicious. There's always something going on at the taproom, from jazz by New England Conservatory musicians, to book clubs hosted by the Somerville Public Library, to a Best of Boston indie trivia series. Oh yeah, and there's beer! Aeronaut experiments with all styles, but standards like Hop Hop and Away session IPA and A Year with Dr. Nandu IPA are always on point. In 2016, Aeronaut launched Boston's first seasonal beer garden in Lower Allston, and it also pops up in Arlington each summer.
14 Tyler St., Somerville, 617-987-4236; 199 Ashland St., Everett, 617-370-5904, aeronautbrewing.com.
Bent Water Brewing Company
Status: The taproom is currently closed. Bent Water is only brewing for package stores and other retail partners at this time.
Scientist-turned-homebrewer-turned-entrepreneur Aaron Reames chose Lynn as the home of his startup in 2016 because of its superior water quality. The Commuter Rail-accessible city turned out to be a good bet: It's growing fast with more residential development and buzzy businesses like Nightshade Noodle Bar and its just opened sibling, Sin City Superette. And about that crisp, clean H20? Head brewer Adam Denny Golab uses it to craft signatures like Sluice Juice and Thunder Funk IPA, plus ever-changing seasonals such as G.O.A.T. Helles Lager, and Boris chocolate peanut butter porter. As Lynn's only brewery (and a convenient halfway point between Night Shift in Everett and Notch in Salem), Bent Water is a destination thanks to a dog-friendly patio, and frequent programming like retro arcade game nights, live music, and taproom yoga.
180 Commercial St., Unit 18, Lynn, 781-780-9948, bentwaterbrewing.com.
Brato Brewhouse + Kitchen
Status: Open daily for on-site service, takeout, and delivery.
The Allston-Brighton area got its first brewery in fall 2019, but beer fans in Boston were already familiar with Brato. That's because the fermentation-focused concept—which pairs innovative beers with chef Jonathan Gilman's house-made sausages, grilled cheese sandwiches, and tasty vittles—hosted more than 400 pop-ups and collaborations prior to opening the brewpub, creating IPAs with Cambridge Brewing Co., a lager brewed in conjunction with Idle Hands, and more. Now Brato has its own solo-brewed beers available, including the chocolate- and caramel-invoking After Dark stout, as well as the super wheat-y Brighton Item barleywine. The penchant for partnerships now extends to takeout meal kits made with other area eateries, and the comfortable, industrial pub fits an underserved niche in the student- and locals-centric neighborhood.
190 N. Beacon St., Brighton, 617-903-3766, bratobk.com.
Cambridge Brewing Company
Status: Open Tuesday through Sunday for takeout only.
With an awesome seasonal patio and inexpensive comfort food, this old-school, family-friendly brewpub is an oasis in glass-walled and tech-fueled Kendall Square. It also happens to be one of the most influential breweries in the U.S. Thanks to founder Phil "Brewdaddy" Bannatyne and longtime brewmaster Will Meyers, CBC has been innovating for 30 years and counting, producing some of the first American barrel-aged and sour beers, pioneering a locavore movement in craft brewing, and mentoring what seems like an entire generation of beer makers. Despite the history, on the day-to-day CBC is simply one of the most low-key, friendly, and reliable watering holes around.
1 Kendall Square, Cambridge, 617-494-1994, cambridgebrewingcompany.com.
Castle Island Brewing Company
Status: Open Thursday through Sunday for on-site service and takeout; also open Wednesday for to-go service only.
Named in honor of the South Boston neighborhood where founder Adam Romanow was living while writing his business plan, Castle Island actually put down roots in the suburban town of Norwood. There, it produces distribution-bound cans like Candlepin session ale, Keeper IPA, and American Lager, plus smaller-batch brews like Super Guapo key lime gose, and the gold medal-winning Czech-style pilsner, Bohemian Shine. The lively spot has a local snack menu to complement tons of rotating pop-up food vendors, and hosts fun events like comedy nights and ax throwing. Since 2018, Castle Island has also had a summertime beer garden at Charlestown's Constitution Wharf.
31 Astor Ave., Norwood, 781-951-2029, castleislandbeer.com.
Democracy Brewing Company
Status: Temporarily closed.
A 2018 startup by economic justice organizer James Rasza and veteran local brewer Jason Taggart, this downtown brewpub serves up fresh beer, locally sourced pub fare, and economic sustainability for its employee-owners. Beyond the forward-thinking business model, the Downtown Crossing area was ripe for a large and comfortable place with a casual menu of simply prepared fare and inexpensive, crushable pints of classic styles, like Worker's Pint American blonde ale, Fighting 54th saison, and 1919 Strike stout.
35 Temple Place, Downtown Crossing, Boston, 857-263-8604, democracybrewing.com.
Dorchester Brewing Company
Status: Open daily for on-site service, delivery, and pickup.
Boston's largest neighborhood got its very own craft brewery in 2016—and also the city's only state-of-the-art contract brewery, where world-renowned brands and locals alike can produce their own beers for the wider market. Dorchester Brewing Co. hasn't rested on its laurels, though: In 2020, for instance, it opened Dorchester's first rooftop beer garden, as well as a permanent home for longtime pop-up M&M BBQ. Meanwhile, the taproom hosts myriad events, and along with house brews that might include Embarrassment of Riches IPA, Clapp's Cream Ale, or a sour called Stone Fruit Steve Austin, there's beer on draft from the network of tenant-brewers like Hudson's Medusa and Maine's Lone Pine.
1250 Massachusetts Ave., Dorchester, Boston, 617-514-0900, dorchesterbrewing.com.
Exhibit 'A' Brewing Company
Status: Open daily for curbside pickup only.
A 40-minute drive or Commuter Rail ride out to this Framingham brewery is well-worth the effort: Longtime Massachusetts brewer Matthew Steinberg's original beers like the Cat's Meow IPA, Goody Two Shoes Kolsch, and Briefcase Porter are world-class. A host of regular live music performances, food trucks, and other family-friendly programming, it will only continue to be a draw: After a couple scrappy years establishing itself in the original home of Jack's Abby, in 2019 Exhibit 'A' purchased a building across the street to add a seasonal beer garden.
81 Morton St., Framingham, 508-202-9297, exhibit-a-brewing.com.
Harpoon Brewery and Beer Hall
Status: Open Tuesday through Sunday for on-site service and curbside pickup.
One of New England's original craft breweries is among the U.S. biggest craft producers. In 2013, Harpoon debuted a German-style beer hall deep in the Seaport District, and now it's a must-visit for Boston beer fans. Find on draft not only fresh Harpoon IPA and UFO brews straight from the source, but also limited-release pilot brews, beers under the Clown Shoes brand, which the employee-owned Harpoon bought in 2017, and house-fermented City Roots hard cider. Honestly, though, the signature spent-grain pretzels—served with the likes of IPA cheese, ale mustard, and marinara for dipping, or dusted with cinnamon-sugar or parmesan cheese—are destination-worthy on their own.
306 Northern Ave., Seaport, Boston, 617-456-2322, harpoonbrewery.com.
Idle Hands Craft Ales
Status: Open Wednesday through Sunday for on-site service and curbside pickup.
The European-inspired styles in Chris Tkach's repertoire—like Blanche de Grace Belgian wit, Emelyn zwickl lager, and a barrel-aged Baltic porter—helped put his Everett-founded brewery on the map when it launched in 2011. A decade later, from their comfortable taproom in Malden Center, Idle Hands is now a source for everything from exquisite Belgian styles to baseball-themed New England IPAs. One of the Bay State's first nano-breweries still bottles some of its special releases, and also keeps a robust canning schedule. The Orange Line-accessible taproom and seasonal patio offers a satisfying snack menu of grilled cheese, hot dogs, and pretzels.
89 Commercial St., Malden, 781-333-6070, idlehandscraftales.com.
Jack's Abby Craft Lagers and Springdale Beer
Status: Jack's Abby is open Wednesday through Sunday for take-out only. Springdale Barrel Room is temporarily closed.
Before Jack's Abby got started in 2011, American craft beer had all but left lagers behind: That stuff was for Europeans and Super Bowl-advertising macro-brewers. When Framingham natives Jack, Eric, and Sam Hendler opened their hometown enterprise, they began to change the game by reinventing the crisp, bottom-fermented style with care (and the occasional dose of tropical hops). Not only did they pioneer the India pale lager style, they've also brought attention to less heralded German styles with award-winning bocks and schwarzbiers. In 2015, Jack's Abby moved into a huge, full-service restaurant and beer hall, and in 2016, it opened Springdale Barrel Room next door. The offshoot project—whose taproom has its own, game-filled vibe—is devoted to anything non-lager, from barrel-blended sours, to lush and juicy IPAs, to Brigadeiro breakfast stout.
Jack's Abby, 100 Clinton St., Framingham, 774-777-5085, jacksabby.com; Springdale Beer by Jack's Abby, 102 Clinton St., Framingham, 774-777-5430, springdalebeer.com.
Lamplighter Brewing Company
Status: Lamplighter's retail window is open daily for to-go orders, including selections from Pepita Coffee Co.; taproom is temporarily closed.
A hotspot since opening day in 2016, this café-by-day is typically hopping from morning through night. That's mainly because of a solid selection of house brews by cofounder Tyler Fitzpatrick, such as Birds of a Feather IPA, London Calling chocolate porter, and an annual barleywine release. But it also has to do with the lively atmosphere across two, 100-person bars—a light-filled café up front, and the moodier party room in the back—plus great food options from the in-house Pepita Coffee by day, and near-nightly pop-ups by the likes of Manoa Poke Shop, Allium Market, and Deep Cuts Deli. It's community building at its beeriest.
284 Broadway, Cambridge, 617-945-0450, lamplighterbrewing.com.
Lord Hobo Brewing Company
Status: Woburn brewery is open daily for on-site service and takeout; delivery is also available Thursday through Saturday. Note that the Seaport brewery, as well as Lord Hobo's Cambridge bar, are temporarily closed.
After establishing some of the Bay State's more celebrated beer bars (he still owns Lord Hobo in Cambridge), Daniel Lanigan got into the brewing game with the clear mission of creating New England's go-to IPA. The house that Boomsauce built is now a production brewery with a 15-state distribution network and goals to crank out 50,000 barrels of beer annually, as well as a full-service restaurant with house-made pizzas and burgers, plus wine and cider options. In 2020, Lanigan added a spacious outdoor patio in Woburn as well as a new gastropub and taproom in Boston's Seaport—one that he promised would be "the Taj Mahal of breweries" in the neighborhood.
5 Draper St., Woburn, 781-281-0809; 2 Drydock Ave., Boston, 857-277-1496, lordhobobrewing.com.
Mighty Squirrel Brewing
Status: Open daily for on-site service and beer pick-up.
If there's one thing that the pandemic era has taught us, it's the importance of properly pairing a beer to an outdoor activity. (Hiking with a can in one hand has been a fine way to while away weeks of social-distancing.) For this we had Mighty Squirrel, which makes beers suited to an active, outdoorsy lifestyle, per its founders. No wonder we enjoyed sunning in the grass with a fruity, juicy Cloud Candy IPA, or star-gazing with a Velvet Moon milk stout in hand. Naturally, there's also plenty of outdoor space at Mighty Squirrel's taproom, where food trucks regularly roll up and beer fans break a sweat at an on-site rock-climbing gym before rehydrating with a brew.
411 Waverly Oaks Rd., Waltham, 781-839-9242, mightysquirrel.com.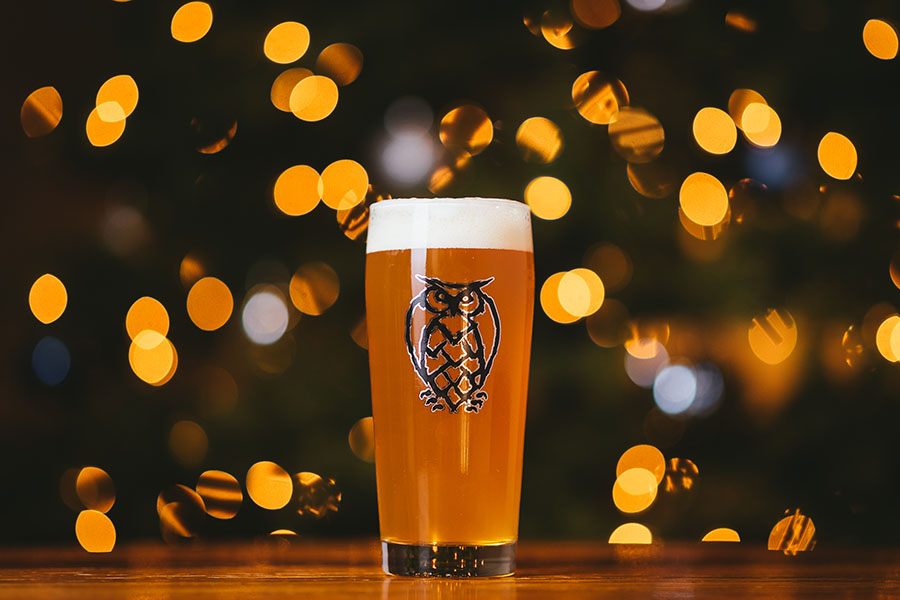 Photo by Tim Oxton for Night Shift
Night Shift Brewing
Status: Everett location is open Thursday through Tuesday for on-site service, curbside pick-up, and delivery. The Boston location is temporarily closed.
Night Shift's owl logo is the mark of one of Boston's most recognizable beer brands for good reason: It's been constant growth since 2012 for this one-time homebrew operation. Now there's a taproom in Everett, two seasonal riverside beer gardens, and an impressive waterfront brewpub in Boston. Every spot stays busy thanks to the Night Shift crew's diverse range of beers, from the crushable, sessionable Whirlpool pale ale, to funky fruited sours, to dank and juicy hop bombs like the 87. Night Shift was among the first craft breweries to get in on the light lager market with its full-flavored Nite Lite, and in 2019, the company debuted a hard seltzer brand called Hoot, as well as house-roasted coffee offered at the Lovejoy Wharf location and a mobile pop-up on the Greenway. We'll stop lining up when they stop innovating—so, seems like never.
87 Santilli Hwy, Everett, 617-294-4233; 1 Lovejoy Wharf, Suite 101, Boston, 617-456-7687, nightshiftfamily.com.
Notch
Status: Open Thursday through Sunday for beer to-go and curbside pickup. The year round biergarten is open Saturdays and Sundays, weather dependent.
Luckily, Chris Lohring didn't listen to the few naysayers who questioned whether a European-inspired "American session brewery"—one that produces only beers with 4.5-percent alcohol or less—had a place in 2010's burgeoning craft market. Lohring—also the founding brewmaster of Boston's long-gone Tremont Brewery—has more than proved the idea's success. At Boston bottle shops and bars, cans and draft lines of his Session Pils, Left Of the Dial, and Raw Power IPA are a regular sight. The taproom and beer garden experience Notch has created on the Salem River is unparalleled, and certainly worth an easy Commuter Rail ride or Boston Harbor Cruise to visit. But soon Bostonians will get their own portal to Bavaria, when Notch opens a second location in Brighton at the revitalized Charles River Speedway.
283R Derby St., Salem, 978-238-9060, notchbrewing.com.
Samuel Adams Boston Brewery
Status: The Jamaica Plain brewery is open Thursday through Sunday for weather-dependent beer garden service, as well as to-go orders and curbside pickup; it is also open on Wednesdays for to-go orders only. The Faneuil Hall taproom is open Thursday through Sunday for service at its "to-go station" only. All tours are temporarily suspended.
Now the second-largest craft brewery in the U.S., Boston Beer Co. was a true novelty in 1988, when Jim Koch himself was going bar to bar to convince publicans to serve anything other than watered-down, fizzy yellow lager. Over the decades, its Sam Adams brand has pioneered American brewing techniques, like barrel-aging—fueled by Koch's shrewd business moves, like diversifying the portfolio (see: Twisted Tea; acquiring craft behemoth Dogfish Head in 2019) and marketing (Sam is the official beer of the Boston Red Sox, among other things). Under Cambridge Brewing alum and brewmaster Megan Parisi, the Jamaica Plain brewery is where experimental brews like the lager-ale hybrid Sam '76 are born. With a real taproom and outdoor beer garden finally established there in 2017, as well as a permanent Faneuil Hall presence established in 2020, this Boston-born brand remains worthy of pilgrimage from beer lovers all over.

30 Germania St., Jamaica Plain, 617-368-5080; 60 State St., Boston, 617-466-6418, samueladams.com.
Trillium Brewing Company
Status: All locations are open Wednesday through Sunday for beer pick-up only; Boston-area delivery routes are also schedule for every Thursday through Sunday.
In only a few recent years, hustling husband-and-wife duo JC and Esther Tetreault opened a Fort Point brewpub, a Fenway taproom, and a draft-filled Canton headquarters; kicked Boston's beer-garden scene into high gear; and put down literal roots in North Stonington, Conn., a coastal farm town near where they wed. Through it all, Team Trillium has continued to create genre-defining New England IPAs and boundary-pushing pastry stouts, and newer European-style lagers and wild ales, with plans to eventually incorporate ingredients grown on their Connecticut farm. Boston's most-hyped haze makers are well-known throughout the beer world—and that means Trillium also makes cool collaborations worth lining up for, working with the likes of Omnipollo, Bissell Brothers, the Veil, and even the folks at America's Test Kitchen.
110 Shawmut Rd., Canton, 781-562-0073; 50 Thomson Place, Fort Point, 857-449-0083; 401 Park Dr., the Fenway/Kenmore, Boston, 857-449-0778, trilliumbrewing.com.
Turtle Swamp Brewing
Status: Jamaica Plain brewery is open daily for on-site service as well as to-go beer; the Roslindale Beer Garden is temporarily closed.
Named for the naturally purifying wetlands in Jamaica Plain and Roxbury that earned Boston the pre-Prohibition distinction of the city with the highest number of breweries per capita, Turtle Swamp was opened by cofounders Nicholas Walther and John Lincecum in 2017. Walther formerly brewed at Harpoon, and has created a lineup of standards like JP Porter, Orange Line IPA, and Nik's Bitter (but Never Angry), as well as an imperial squash ale recipe that's become the signature seasonal Skwäshbuckle. In 2019, Turtle Swamp opened a second taproom in Roslindale Village, becoming the first full-time tenant of the centrally located Substation, which had been conspicuously mostly empty since the 1970s. At both locations, Turtle Swamp serves up a family-friendly, community focused experience.
377 Washington St., Jamaica Plain, 617-522-0038; 4228 Washington St. Roslindale, turtleswampbrewing.com.
Vitamin Sea Brewing
Status: Open Thursday through Sunday for pick-up purchases only; limited availability on first-come, first-served basis.
One of our most recent, reader-based Malt Madness winners, Vitamin Sea is making some of the most standout New England IPAs in Massachusetts right now. Opened in Weymouth in early 2019, Vitamin Sea has actually been building hype around Boston and beyond for years with beer fest appearances and awesome can art commissioned by Tree House Brewing label artist Dean McKeever. It's worth sailing over to try the often-changing stouts, cream ales, and juice bombs like the aptly named Sea For Yourself IPA.
30 Moore Rd., Weymouth, 781-812-0882, vitaminseabrewing.com.
---