Where to Find the Best Pizza in Boston Right Now
Whether you want tender Neapolitan crusts or thick Sicilian slices, we know just where to find the perfect pie.
---
Devoted foodies and restaurant newbies love The Feed. Sign-up now for our twice weekly newsletter.
We don't care what your friends in New York have to say: Boston is a great pizza town now. Besides its handful of old-timers that are still tossing delicious dough around, the city has also spawned a new wave of artisan pie makers who are playing with tradition, developing their own pizza-style permutations, and loading us up with gourmet toppings. We've collected a few new spins we think you'll like, and we've updated our list of the 15 best pizza places in the city with info on availability during the pandemic.
Coppa
The wood-fired pizzas (and the cute street-corner patio) have long been legendary at this South End enoteca, where perfectly browned, wood-fired crusts are further enhanced by star chef Jamie Bissonnette's charcuterie skills—think toppings like lamb sausage and spicy, dry-aged salami. More recently, though, Coppa has hopped on the cocktails-to-go train; you can now pair your pie with tipples such as the house Negroni (sized for one or two!) made with Boston's own Bully Boy gin.
253 Shawmut Ave., Boston, 617-391-0902, coppaboston.com.
Frank Pepe Pizzeria Napoletana
You have to hand it to the folks behind Frank Pepe: Even as the pizzeria opens its dozenth location this month, the 1925-founded, New Haven-based business is clearly devoted to preserving every detail that developed the early cult following for its coal-fired pies. In fact, this third Boston-area outpost—which opens Monday, August 17 at Watertown's Arsenal Yards, a rapidly transforming retail and residential development—has built a brick-for-brick duplicate of the first Pepe pizza oven by using iron castings of the original mold. So expect the signature clam-topped pizza, among other favorites, to taste exactly the same.
199 Boylston St., Chestnut Hill, 617-964-7373; 24 Eldridge Ave., Watertown, 617-774-6733; 75 Middlesex Turnpike, Burlington, 781-273-7377, pepespizzeria.com.
Lincoln Tavern & Restaurant
If we could make a suggestion that would manifestly improve your life: Slice out some time to re-up your tan at Southie's M Street or Carson Beach, and bring a pizza box from Lincoln. The neighborhood haunt offers its beloved wood-fired pies, a dinner-menu staple, among its weekday and weekend brunch options, so they're sure to stay warm in the midday heat. Our favorites? The round topped with sweet fennel sausage and pickled cherry peppers always brightens our day, as well as the butternut squash pizza with bacon, caramelized onions, and rosemary oil.
425 West Broadway, South Boston, 617-765-8636, lincolnsouthboston.com.
Little Pizza King
For such a humble food, pizza really brings out the snobbery in people: There's no shortage of self-described foodies out there who will argue to blows over the best regional variation (Sicilian vs. Neapolitan!), the correct ratio of chewiness to crunchiness with respect to crusts, and which chef-driven pie makes the best use of artisanal ingredients. But if this pandemic has taught us one pizza-related lesson, it's that sometimes, even the most polished and sophisticated parlor can't compare to the comforting consistency of a favorite neighborhood hole-in-a-wall. To that point, all hail Little Pizza King, a family-owned Brighton spot that isn't fancy but always cranks out awesome pizzas—and quickly!—from a simple electric oven. The delightfully doughy, hearty crusts come with toppings like buffalo chicken, eggplant, feta, steak, and more.
389 Washington St., Brighton, 617-787-7800, lpkbrighton.com.
Pagu
Plenty of us have spent the pandemic getting creative in our kitchen—and Tracy Chang, chef-owner of Pagu, is no exception. When she wasn't helping to launch the Best of Boston-worthy project Off Their Plate, a now-national effort to feed frontline workers and keep restaurant staffers employed, Chang started experimenting with pizza-making. Though she's said she was inspired by the legendary pies at Al Forno in Providence, Rhode Island, her inventive offerings—now available for takeout and delivery—are unmistakably her own, topped with fino sherry, tamari, Thai basil pesto, and other ingredients that reflect Pagu's Japanese tapas approach. Most striking of all is the squid ink calamari pizza, its black dough additionally topped with house-made hot sauce and pickled Basque peppers.
310 Massachusetts Ave., Cambridge, 617-945-9290, gopagu.com.
Puritan & Company
Chef-owner Will Gilson is currently prepping the Lexington, a multi-venue project in Cambridge that will include Cafe Beatrice, where pastry guru Brian Mercury will churn out his amazing baked treats. Right now, though, you can taste the magic Mercury brings to more savory pies at Puritan & Company, which just launched "Pizza Thursdays": Every week, takeout guests can try one of his sourdough pizzas—a hybrid of Sicilian and Roman styles—topped with ricotta, mozzarella, pepperoni, tomato, and basil. Each four-slice order can be paired with a six-pack of Narragansett Beer, too.
1166 Cambridge St., Cambridge, 617-615-6195, puritancambridge.com.
The 15 Best Places For Pizza In Boston
You know 'em, you love 'em—and they're back in action. Here's our recap of the best places to find pizza in Boston, with details on the availability of takeout, delivery, and on-site dining. Watch this space for more updates!
Area Four
Status: Cambridge location is open for take-out, delivery, and patio dining on Tuesdays through Saturdays. South End location remains closed. 
Thanks, Obama. When #44 lunched at chef-partner Jeff Pond's Kendall Square restaurant back in 2015, the place hardly needed the publicity. After all, its existing reputation for amazing wood-fired pies is what lured the then-commander-in-chief to start. (If you're curious, he ate the mushroom and fontina pizza, and also took a sausage-, soppressata-, and bacon-topped "carnivore" pie to go.) But we appreciate anything that draws deserved attention to the spot—or its newer, South End sibling—since it was such an important, early entry in the Boston area's Better Pizza movement. It still gets our vote as one of the best.
500 Technology Square, Cambridge, 617-758-4444; 264 E Berkeley St., Boston, 857-317-4805, areafour.com.
Armando's Pizza
Status: Open daily for takeout.
Every small town once had a place like Armando's, which is tucked in a residential-feeling corner of Cambridge: the burnt-orange booths and faux-wood paneled walls, adorned with photos of local little league teams, are straight out of your '80s-childhood memories (and/or an episode of Stranger Things). Nostalgia aside, though, few of those pizza parlors were actually this incredibly good. Armando's, on the other hand, is a decades-spanning, no-frills spot that kills it when it comes to New York-style slices, to be sure. The wonderfully spongy dough of the Sicilian-style squares, meanwhile, is even better than you remember.
163 Huron Ave., Cambridge, 617-354-8275.
Avenue Kitchen + Bar
Status: Open daily for takeout, delivery, and indoor and outdoor dining. 
When it comes to pizza, people can get very hung up on "style." New York! Neapolitan! Chicago! Sicilian! Everyone has a favorite. Until recently, though, Detroit-style pizza didn't really have a presence in the Boston area. That's starting to change, and Avenue is among the rare restaurants to offer it. Here, pies topped with sliced meatballs, chipotle BBQ pulled chicken, or braised short rib capture the crisped-edges excellence that is characteristic of Motor City-rooted 'za, which is traditionally built cheese-first, sauce-second in deep and square steel pans.
158 Boston Ave., Somerville, 617-764-0879, avenuesomerville.com.
Brewer's Fork
Status: Open daily for takeout, delivery, and outdoor dining. 
Okay, so, speaking of slavish devotion to pizza "styles"—in Boston, we're not really about that life. There are purists, of course, but the prevailing wisdom around here tends to be: take what you like from different approaches, leave the rest, and concentrate mainly on just making really goddamn-yummy pizza. (This seems like a solid maxim.) Brewer's Fork, for instance, has been a local favorite since its 2015 opening thanks to wood-fired pies that don't approximate any one style—though their rustic, craftsmanlike qualities do match up with the restaurant's brick-and-granite environs. They're simply fantastic, topped with foraged mushrooms, roasted Honeynut squash and more, and washed down with a stellar local beer selection.
7 Moulton St., Charlestown, 617-337-5703, brewersfork.com.
Ciao Pizza and Pasta
Status: Open daily for takeout as well as indoor and outdoor dining. 
Hello, Ciao! When you arrived on the scene less than five years ago, we didn't know that one of the Boston area's best pizza spots would be found in Chelsea—a city that has not generally had a ton of restaurants that bait those of us on the other side of the Tobin Bridge. (Shout-out to the oldie-but-goodie NewBridge Cafe, though.) And yet, here we are, beckoned by the promise of awesome wood-fired, Neapolitan-style pizzas like the salsiccia, laden with homemade fennel sausage and cherry peppers, as well as a standout prosciutto-topped round enhanced with a port and fig jam. And now the Ciao team has launched a fun waterfront restaurant and cocktail lounge, too? We greet it with gratitude.
59 Williams St., Chelsea, 617-286-9346, ciaopizzaandpasta.com.
Dragon Pizza
Status: Open daily for takeout and delivery. 
For our most recent Best of Boston issue, we undertook a lengthy, carbohydrate-jammed odyssey to find the number-one slice spot in the city—and it ultimately led us to this Davis Square joint. A newcomer to the scene, Dragon Pizza slays the game by upgrading the neighborhood-pizza-parlor sensibility using the deft touch of established chefs: it was launched by Charlie Redd of the late Redd's in Rozzie, Redd's alum Antonio Reyes, and Keenan Langlois, whose resume has included the Sinclair and Publico. Peruse the decorative collection of retro audio cassettes while waiting for your slice to heat up; we're partial to the bacon-topped pie with chili-spiked maple syrup, and the ricotta pizza with house-made red-wine-and-garlic sausage.
233 Elm St., Somerville, 617-764-5026, dragonpizzasomerville.com.
Galleria Umberto
Status: Open daily for takeout and indoor dining.
You might think that Boston's Italian-restaurant-packed North End would be the epicenter of the city's pizza scene. You would be—well, correct. There's probably more pies per capita here than anywhere else around, but that also makes it harder to find the truly great slices among the sad, soggy imposters. Umberto's offerings belong firmly in the former category. The spare, cash-only eatery has a humble, cafeteria-like vibe, and its limited menu specializes in Sicilian-style squares. Whether tossed on paper plates or tied up with string in take-home boxes, they are, in a word, astounding—and even earned the institution a special America's Classics award from the James Beard Foundation.
289 Hanover St., Boston, 617-227-5709, galleriaumbertonorthend.com.
Ernesto's Pizza
Status: Open daily for takeout, delivery, and indoor dining. 
Ernesto's is another North End icon that actually lives up to its storied rep. It's also a solid bet for Tony Soprano-level appetites: individual slices are a whopping one-fourth of a pie—and those rounds only come in an 18-inch, "extra-large" size, by the way. There's also a pretty broad array of options, with the two-dozen varieties covering Buffalo chicken, eggplant Parmesan, and Hawaiian-inspired toppings. Ernesto's has grown as a business too, recently adding a spiffy new location at Somerville's Assembly Row. Mangia, mangia!
69 Salem St., Boston, 617-523-1373; 641 Assembly Row, Somerville, 617-764-4194, ernestosnorthend.com.
Hot Box
Status: Open daily for takeout and delivery. 
Fast fact: the "drool" emoji was actually invented for the sole purpose of texting your friends about Hot Box, a takeout-only vendor at Bow Market, a dining-and-retail courtyard in Somerville. Hot Box has a playful concept, serving just two regional food staples of the North Shore (roast beef sandwiches) and South Shore (bar pizzas). Bar pizzas, in case you've been missing out, are super crispy, cracker-thin pies covered in char-spotted cheese that oozes all the way to the edge. And Hot Box has a handful of gobble-worthy options, including our favorite: the Roni, topped with premium pepperoni and feta.
1 Bow Market Way, Somerville, 617-284-9600, eathotbox.com.
Pastoral
Status: Open for takeout, delivery, and indoor and outdoor dining on Tuesdays through Saturdays. 
If Neapolitan pizza has your heart, be warmed by the imported, wood-fired oven—made from the stone and sand of Mt. Vesuvius—at this Fort Point hangout. When he opened Pastoral in 2014, chef-owner Todd Winer was only the second person in Massachusetts to be certified as an official pizzaiolo by the American branch of the Associazione Verace Pizza Napoletana, a trade organization that controls the designation of Neapolitan pizzas based on specific ingredients and cooking style. It definitely takes a certain skillfulness to properly pull off these soft and thin crusts, made for folding—and Winer has it in spades. But don't sleep on his also-excellent Roman-style slices, which are thick, airy, and focaccia-like.
345 Congress St., Boston, 617-345-0005, pastoralfortpoint.com.
Picco
Status: Open daily for takeout, delivery, and outdoor dining. 
The pizzas at this South End stalwart are well done—in both meanings of the phrase. If you don't like a blistered char, stay away: here, the gas oven burnishes every pie with signature spots of blackened crackle. But that's the point, that's the appeal—and that's the reason why we can't stay away from greatest hits like the Alsatian, a rich assemblage of sautéed onions, shallots, garlic, crème fraîche, bacon & gruyere. Afterwards, cool down with the restaurant's famous house-made ice cream.
513 Tremont St., Boston, 617-927-0066, piccorestaurant.com.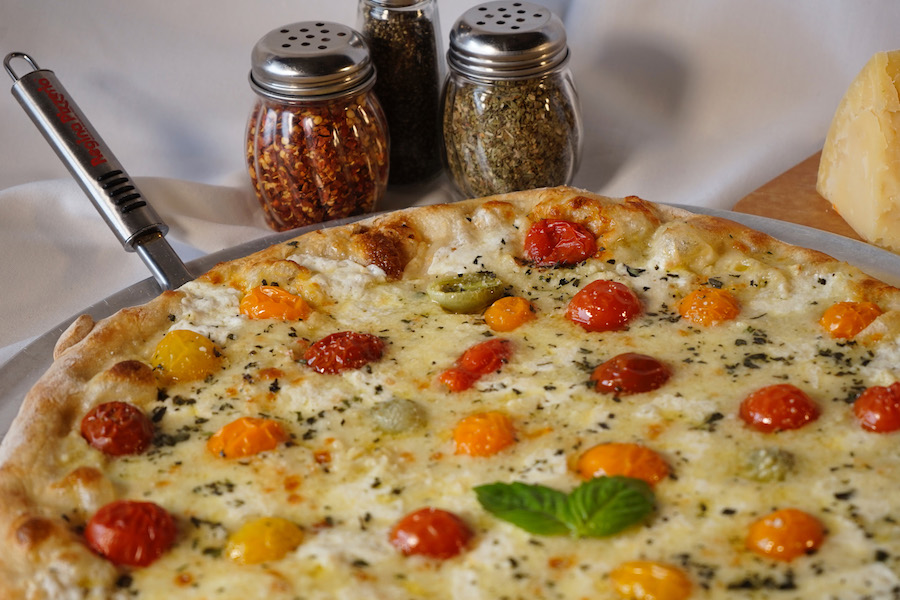 Regina Pizzeria
Status: Open daily for takeout, delivery, and indoor and outdoor dining.
You will never convince us that every outpost of this regional pizza chain lives up to the standard set by the first, 1926-founded North End location. You will also never convince us to hold that against said original, which still has a surplus of charms: an old-school interior lined with framed photos of slice-scarfing celebs, pliant brick-oven pizzas that never fail to scratch our itch—and those signature, triangle-shaped boxes, sized for taking home individual slices, that are just so darn cute. Regina, you're still our queen.
11 1/2 Thacher St., Boston, 617-227-0765, reginapizzeria.com.
Santarpio's
Status: East Boston location is open daily for takeout, delivery, and indoor dining only. Peabody location is open daily for takeout, delivery, and indoor and outdoor dining.
Another longstanding local legend, Santarpio's is famous for a few reasons. Number one, of course, is the pizza itself: the pies are well-charred, and built by first placing down the toppings (which, well, no longer makes them toppings), followed by the cheese, then the sauce. Sound a little backwards? Of course, but leave it to Santarpio's to be contrary—after all, the oft-salty service is another signature element of the original (and cash-only) East Boston location.
111 Chelsea St., East Boston, 617-567-9871; 71 Newbury St., Peabody, 978-535-1811, santarpiospizza.com.
Stoked Wood Fired Pizza Co.
Status: Open daily for takeout. 
It takes a lot of gumption to launch a wood-fired pizza enterprise out of a food truck. Luckily, Scott Riebling, Stoked's pizza-slinging cofounder, comes from a rock-and-roll background: he's the original bassist for Boston-born band Letters to Cleo, as well as a music producer. Hence the moxie required to drive a 3,800-pound, wood-fired oven all over town, churning out delectable, crispy crusts topped with nouveau fixings such as spicy-chili-infused honey and Impossible Burger. Stoked opened a full-service restaurant in Brookline in 2016, and is readying a second brick-and-mortar in Cambridge, but hasn't lost a bit of its energy or edge.
1632 Beacon St., Brookline, 617-879-0707, stokedpizzaco.com.
T&B Pizza
Status: Open for takeout and delivery on Tuesdays through Saturdays. 
What do you get when a chef with a fine-dining background decides to pour his passion—and talent—into pizza? Hungry. You get hungry. Because Tim Wiechmann brings serious finesse to his just-opened, full-service Union Square restaurant, where the wood-fired oven turns out personal-sized pies with kinda-fancy fixings, such as pistachio mortadella and rum-soaked pineapple. Wiechmann doesn't rush his process: the dough for both his Neapolitan- and Roman-style pizzas benefit from a protracted fermentation period. Plus, T&B scores bonus points for its strong cocktail program.
251 Washington St., Somerville, 617-764-4054, tbpizza.com.
---