Where to Find the Best Southern Restaurants in Boston
Check out these Cajun seafood boils, classic soul food, and creative twists on beloved regional traditions.
---
Devoted foodies and restaurant newbies love The Feed. Sign-up now for our twice weekly newsletter.
Can you find great Southern food in Boston? "Bless your heart," is the answer you might get from some natives of New Orleans, Nashville, Savannah, and other cities steeped in their region's respective culinary traditions. Well, look—we beg to differ. Boston may not be the bayou, but we don't need to be. We've got a number of excellent restaurants that put their own twists on Southern cuisine, as well as some traditional soul food spots that can stand up to even the toughest taste test. (Oh, and because it's such a specific sub-category, we didn't even include barbecue joints. If you're looking for those, head here.)
Bootleg Special
If you're looking for a family-style dinner to split with kin, it's hard to beat the signature Cajun-style seafood boils at Bootleg Special in the South End: Bowls of lobster, shrimp, spicy sausage and more, slathered in garlic-butter or other sauces, and devoured together using your (plastic-gloved) hands. Just grabbing brunch with a best friend? Bootleg's Southern-style specialties—such as bananas foster souffle pancakes, crab avocado toast, and clove-spiced sangria—will make for a very happy crew of two.
400 Tremont St., Boston, 617-451-1800, bootlegspecial.com.
Buttermilk & Bourbon
Blue-haired Hell's Kitchen star Jason Santos takes New Orleans-inspired eats in creative, colorful directions at his Back Bay restaurant and its even larger, more boisterous new location in Watertown. Here, the rum-and-fruit Hurricane cocktails flow on draft; the fried chicken comes Nashville-hot or served with Alabama-style white BBQ sauce; and the out-of-this-world honey-glazed biscuits earn a swipe of pimento cheese spread. It's everything you need to party like it's Fat Tuesday any day of the week.
160 Commonwealth Ave., Boston, 617-266-1122; 100 Arsenal Yards Blvd., 857- 760-7128, Watertown, buttermilkbourbon.com.
The Coast Cafe
Since 1997, the Southern-style soul food at this Cambridge mainstay has worked its way into the heart and, well, soul of the area's dining scene—one crunchy fried chicken thigh at a time. Indeed, the birds are the word here, whether you get 'em as BBQ wings, paired with Belgian waffles, or in fried or grilled sandwich form. But don't snooze on the pork ribs, catfish, smoked turkey-studded collard greens, or house-made coconut wonder bars (which, if you're smart, you'll stock up on for when you're feeling peckish).
233 River St., Cambridge, 617-354-7644, coastsoulcafe.com.
Darryl's Corner Bar & Kitchen
More than a destination for shrimp and grits, Cajun roasted salmon, Creole jambalaya, and famous blackened catfish, Darryl's is a longstanding institution for live jazz music in Boston. (In fact, tunes have filled this South End address for decades, under several different names.) Meanwhile, as founder of the Boston Black Hospitality Coalition, owner Nia Grace is the perfect person to push Darryl's into the future as a cornerstone of dining, entertainment, and equity-minded business in Boston.
604 Columbus Ave., Boston, 617-536-1100, dcbkboston.com.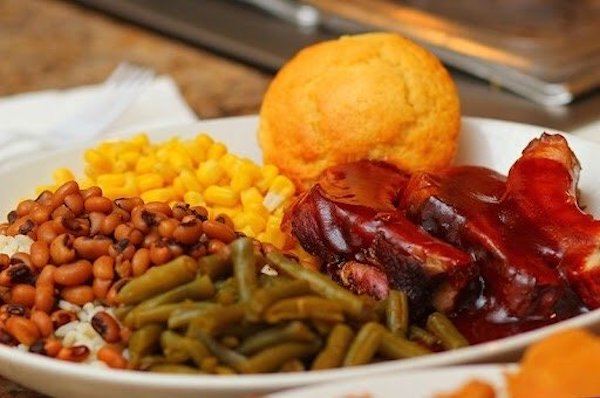 Down Home Delivery & Catering
You don't need to be planning a party to hit up Down Home: Despite its delivery-and-catering-specific name, there is some seating at this stalwart Southern spot. So swing by and dig in to fried pork chops, sauce-dripping baby back ribs, baked mac 'n' cheese that ranks among Boston's best, and delightful desserts like sweet potato pie—offered by the slice for your perfect party of one.
2 Bowdoin St., Boston, 617-288-0813, downhomedelivery.com.
Highland Kitchen
The jukebox never stops booming at this high-energy Somerville fave, where the Southern underpinnings—blacked catfish po' boys, spicy jambalaya with duck confit, and pulled pork sandwiches with North Carolina-style 'cue sauce, for instance—are rounded out with region-agnostic dishes, too. (Anyone for a Cuban Reuben or a bowl of pappardelle Bolognese?) Another draw? Friendly barkeeps who pour out excellent renditions of Dark 'n' Stormys, Mai Tais, and more.
150 Highland Ave., Somerville, 617-625-1131, highlandkitchen.com.
Hunter's Kitchen & Bar
The newest addition to Boston's Southern-inspired dining scene, this South Boston entry is already a standout. For one thing, the place looks like a million bucks—or a million-dollar hunting lodge in Appalachia, anyway. More importantly, though, the grub is great: apple butter-accented hushpuppies, family-style slabs of brisket, fried chicken with cheddar waffles and habanero-lavender-honey. Need even more spice in your life? Suck down the Triple Six Mafia, a libation of ghost-pepper infused tequila with pineapple and sage.
110 Dorchester St., Boston, 617-221-4200, hunterssouthboston.com.
---