Here's Where to Eat All Along the Boston Marathon Route
From Hopkinton to Heartbreak Hill, our picks for refueling on race day.
---
Devoted foodies and restaurant newbies love The Feed. Sign-up now for our twice weekly newsletter.
There's no doubt about it: Marathon Monday is one of the most exciting days in Boston and, for that matter, all the 'burbs that line the route. Planning to come out and cheer on the runners? After you do, refuel yourself by sprinting over to one of our race-day picks for every town and neighborhood from Hopkinton to Heartbreak Hill.
Hopkinton: Bill's Pizzeria Kitchen & Grille
If you want to grab a bite near the starting line of the marathon in Hopkinton, you will quickly discover that a lot of the restaurants in town are closed on Mondays. Bill's, blessedly, is an exception to that rule—the place is firing up pizzas topped with meatballs, BBQ or Buffalo chicken, pineapple (if you play it that way), and much more by 10:30 a.m. So once you've sufficiently seen off the runners, book it over for a pie, panini, calzone, or chocolate mud cake (it's dessert-time somewhere). There's a full bar, too, so take advantage on your own Monday off.
14 Main St., Hopkinton, 508-435-0447, mybillspizza.com.
Ashland: Los Cabos Mexican Grill & Cantina
Let the margaritas flow at this colorful Mexican spot, where the tacos, chimichangas, enchiladas, and other eats are so tasty, runners might be tempted to take a detour for lunch. Luckily, the rest of us will not have to consider tossing months' worth of training out the window to score a sizzling fajita wrap or chipotle-sauced chicken. We'll just need to consider whether we want one, two, or three burritos for our combo plate. Decisions, decisions.
300 Elliot St., Ashland, 508-309-4595, loscabosashlandma.com.
Framingham: Sichuan Gourmet
Speaking of decision-making: One, two, or three chili peppers on the menu will indicate the level of spiciness you'll receive when ordering at Sichuan Gourmet, although the comfy, familiar Chinese restaurant can dial it up or down, depending on how you feel. What you probably feel like, frankly, are house specials of pickled pepper chicken, braised whole fish with pine nuts or a chili bean sauce, or tripe stew. Take note: the slimmed-down lunch menu is supremely affordable, making it easier to table deliberation and try a few things at once.
271 Worcester Rd., Framingham, 508-626-0347, sichuangourmetma.com.
Natick: Night Shift Brewing at Level 99
After all that time marveling at the athleticism of marathoners, you might feel inspired to undertake your own challenge of physical and mental strength and stamina. Also, you might feel inspired to eat some beer and pizza. Both of these feats can be accomplished at the location of Night Shift Brewing—one of the Boston area's best makers of beer and Detroit-style pies, by the way—at Level 99 in Natick. Level 99, if you're not familiar, is an acre-large playground of 40 escape room-type setups with themes like "Aztec Temple," "Ninja Dojo," and "Pirates Brig." Your mission, if you choose to accept it, is to have fun attempting to clear as many of these real-life-video-game levels as you can. And your reward? We mentioned pizza and beer, right?
1235 Worcester St. (Natick Mall), Natick, 617-865-8599, nightshiftnatick.com.
Wellesley: Cafe Mangal
In a race (or anything else), it's always nice to come in first. Being named one of the 50 best restaurants in the Boston area isn't too shabby, though, so save some of your applause for Cafe Mangal when you visit after checking out the marathon route in Wellesley. Its Turkish cuisine, much of cooked in the titular mangal, a type of braising pot, is tops by any estimation—including signature specialties like lahmacun and borek, which join simple-but-delicious fare like smoked salmon salads and an Aegean-style feta sandwich on the lovely lil' lunch menu.
555 Washington St., Wellesley, 781-235-5322, cafemangal.com.
Newton: Union Street Restaurant
If it's a nice day, it's a bummer to move inside after cheering on the runners from the sidelines. Union Street, though, has a hell of a spacious, cloistered patio for continuing to soak up the sun while sipping on craft beers and cocktails, including the breezy N.E. Vacation of Montenegro of amaro, banana rum, lemon juice, and a dark rum float. And if rainclouds move in? Move inside to the usually boisterous, sports bar-like space, a favorite local hang for kicking back over Buffalo wings, mountains of nachos, and comfort food like fried chicken pot pie.
107R Union St., Newton, 617-964-6684, unionst.com.
Brighton: Café Landwer
Watching all the fleet-footed runners tear their way up Beacon Street might put you in the mood for some light, plant-based fare that won't weigh you down. Café Landwer will land just right. Although it's not a vegetarian restaurant, the fast-casual outposts of the Israeli-founded chain have a lot herbivore-friendly options, especially during the breakfast service that runs through 3 p.m. Spicy shakshuka with vegan meatballs is a highlight, and so are the vitamin-packed fresh-squeezed juices like the Mediterranean Energy shake: raw tahini with date, banana, and soy milk.
383 Chestnut Hill Ave., Boston, 617-383-5786, landwercafe.com.
Brookline: Stoked Pizza Company
It's thoughtful for the folks at Stoked to have plopped some of Boston's best pizza so close to the marathon route. Thanks to them, we can dip inside and grab a seat for wood-fired pies topped with everything from Italian sausage to chopped short rib to local mushrooms to hot honey. But if we'd rather grab a box to go and take back to the crowd, well, that's a possibility too—although you may have to slap away hands reaching for a slice of the Porky, loaded with applewood smoked bacon, pepperoni, and more.
1632 Beacon St., Brookline, 617-879-0707, stokedpizzaco.com.
Audubon Circle/Fenway: Time Out Market
Feel like keeping your options open? A short jaunt from where the runners stream through Audubon Circle, this Fenway-neighborhood food hall sits, stuffed with local vendors serving everything from fried chicken sandwiches to burgers to burritos to doughnuts in funky flavors. Grab a table inside or take 'em out to the spacious lawn, where there's often some kind of special event going down.
401 Park Dr., Boston, 978-393-8088, timeoutmarket.com/boston.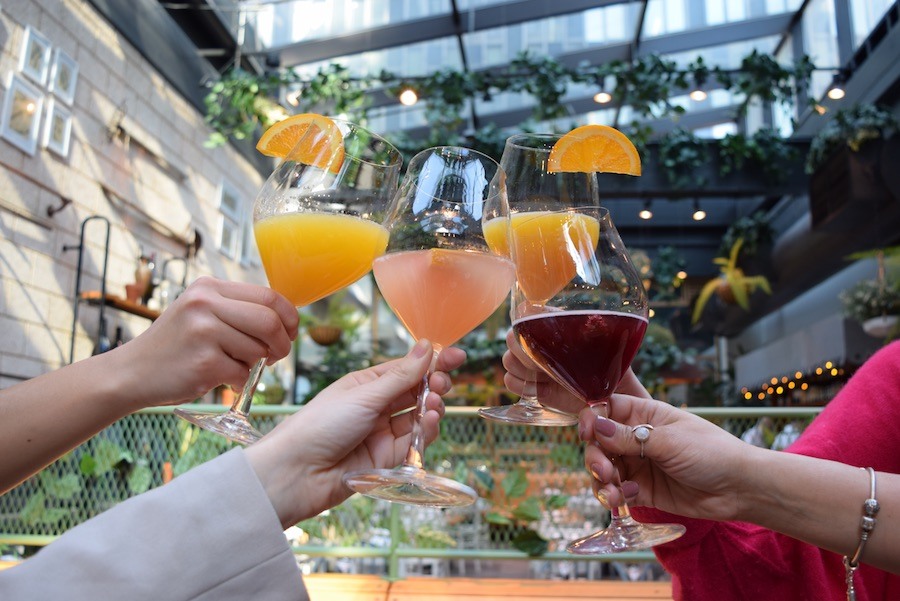 Back Bay: Eataly
There's something that just feels right about digging into a huge plate of pasta while the marathoners burn through their own previous night of carb-loading. So naturally, Eataly—a multi-floor Italian restaurant and market—is offering double-sized dishes of the stuff on the day before and of the race; you'll find those specials at its La Pizza & La Pasta and La Piazza eateries. Eataly's top-floor restaurant Terra, meanwhile, is offerings a special "race day brunch" with favorites from its wood-fired-grill-centric menu—plus make-your-own-mimosa kits, as well.
800 Boylston St., Boston, 617-807-7300, eataly.com.
---