Hot Plates: 10 Dishes to Try Right Now in Boston
From caviar-topped waffles to the best meatballs around, your handy list of buzz-worthy plates.
Hungry? We're here to help. Behold our list of the most crave-worthy, must-try dishes on Boston menus at this very moment. These are the tasty new offerings that have us talking–when our mouth isn't full, of course. [Updated: May 28, 2019]
Freeze-pops at the Barking Crab
Attention, all Bostonians: Now that Memorial Day has come and gone, you may officially commence acting like it's summer. (Calendars be damned!) Here to help is the Barking Crab in the Seaport, which just rolled out some quirky new treats for cooling off under its big, red- and yellow-striped tent: a rotating assortment of refreshing freeze-pops, including some inspired by raw bar selections. The first trio of flavors includes a bloody mary pop, spicy shrimp and turmeric gazpacho, and a suckable oyster shooter–with an actual bivalve to chase it, served on the side. It's a cool way to catch some brain freeze.
88 Sleeper St., Boston, 617-426-2722, barkingcrab.com.
Spaghetti con vongole at Fox & the Knife
James Beard award-winning chef Karen Akunowicz opened her Italian-inspired solo venture in South Boston in February–and it just landed on Food & Wine magazine's first-ever ranked list of America's best new restaurants. (Way to make a splash, chef!) You can check out our critic's review here, and then head over to try one dish that made an especially strong impression: spaghetti con vongole. Akunowicz, inspired by her time cooking in Modena, enhances her house-made pasta with clams, saffron fronds, fennel, and tomato butter.
28 W Broadway, Boston, 617-766-8630, foxandtheknife.com.
Hello Kitty waffle-caviar service at Hojoko
After a night cheering on the Sox at Fenway, decompress at nearby Hojoko, an izakaya inside the rock-n-roll-inspired Verb Hotel. This funky little sibling to O Ya (a luxe sushi palace downtown), just debuted a new Tokyo-style record bar, dubbed the Groove. The chill, vinyl-spinning lounge is perfect for kicking back with a cocktail and some Groove-exclusive snacks–including adorable, soba taiyaki-like waffles shaped like the cartoon character Hello Kitty. They're accompanied by miso-maple syrup, and a choice of smoked trout roe or Island Creek white sturgeon caviar. (Interested in some other new and creative caviar presentations? Check out these ideas, from our feature-length look at what's new in New England seafood.)
1271 Boylston St., Boston, 617-670-0507, hojokoboston.com.
Longfellow's Burger at the Longfellow Bar at Alden & Harlow
Chef Michael Scelfo is officially a burger king. First, his "Secret Burger" at Alden & Harlow became a well-known hit. He followed it up with the WP Burger, topped with tonnato (tuna sauce) to reflect the seafood focus of Waypoint. But Longfellow's Burger, found at this recently-opened cocktail den housed above his Harvard Square flagship, might be his best yet. It's loaded with fermented Nardello peppers, grilled onions, and a Tillamook cheddar spread spiked with pickle brine. It's an insanely delicious napkin assassin.
40 Brattle St., Cambridge, 617-864-0001, longfellowharvard.com.
Boston Cream Pie MilkQuake at Milk Bar
Okay, we're taking liberties with "hot plate" here; this is more like a "cold cup." Semantics. The important part is, acclaimed pastry chef Christina Tosi recently brought her NYC-founded sweet-treats chain to Harvard Square, where the sugar shack doles out something exclusive to this location: a version of her signature loaded milkshake that is inspired by Massachusetts's official state dessert. Creamy. Dreamy.
3 Brattle St., Cambridge, 857-321-8430, milkbarstore.com.
Pastrami ramen at Our Fathers
Chef Pat McRell recently stepped into the kitchen at Our Fathers, where he's mostly focused on introducing knishes, sufganiyot, and other traditional Jewish deli foods to a menu that originally emphasized detours into modern Israeli cuisine. One funky exception: pastrami ramen, quickly earning cult-fave status. It's only available on "GINdustry Night," a monthly (first Mondays) series that sees Our Father, which has an extensive gin selection, pair with a local distiller for a night of special snacks and cocktails. The seasoned beef and noodles soak in tonkatsu broth with a soft egg and pickled root veggies. Slurp.
197 N Harvard St., Allston, 617-303-0101, ourfathersboston.com.
Popovers at Popover King
Frankly, we can't believe it took so long for Boston to finally cook up a restaurant devoted to this staple New England cuisine. In March, Popover King established its empire in the West End, and its flaky rolls come in impressively creative varieties that are filled or topped with notions like lobster, curry chicken, lavender crème and lemon Bavarian filling.  Whether you like your popovers savory or sweet, it's worth popping by to check out King's treasure trove.
74 Canal St., Boston, 617-209-4939, popoverking.com. 
Poke at SloPoke
Yep, we're including chef Karen Akunowicz twice. Not only is her Fox & the Knife one of the hottest full-service restaurants in Boston, but in May she branched out into the fast-casual sphere–with SloPoke, a destination for the Hawaii-rooted raw fish salad that is tucked inside a Beacon Hill Whole Foods Market. Akunowicz's signature bowls include ahi tuna poke with crispy wheat berries and and chili ponzu, as well as Faroe Island salmon with mango salsa and yuzu vinaigrette. There are also standout veggie options, like the Goddess Bowl with local tofu, Brussels sprouts, fried quinoa, green apple, and green goddess dressing. Praise be.
Charles River Plaza Whole Foods, 181 Cambridge St., Boston, wholefoodsmarket.com, Instagram.
Spaghetti and meatballs at Tony & Elaine's
With Ward 8, North Square Oyster, and now Tony & Elaine's, North End restaurateur Nick Frattaroli brings fresh energy to an oft-old-fashioned neighborhood. Frattaroli's latest, named for his parents (longtime local servers), tosses a vintage-kitsch filter over a snapshot of a traditional, red sauce-soaked Italian joint. Naturally, the simple spaghetti and meatballs is stellar. Before doors even opened, chef Eric Bunogurio's creations, inspired by his nonna's recipe, had already won "best meatballs" at the North End's last Fisherman's Feast.
111 N Washington St., Boston, 617-580-0321, tonyandelaines.com.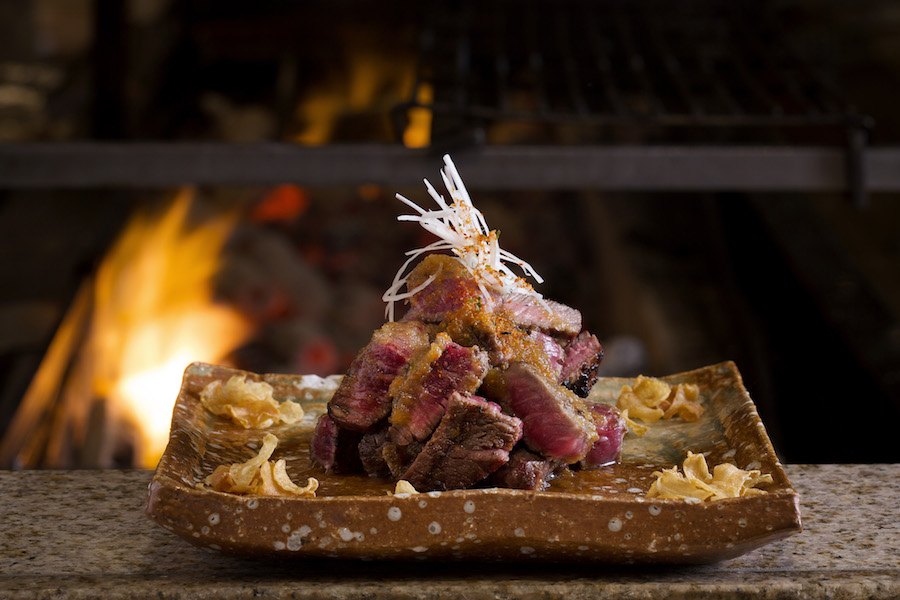 Robata-grilled ribeye at Zuma
The upscale, international izakaya brand has just opened the doors to its new Boston location–but based on some advance visits, we already know that the restaurant's stunning centerpiece, a big robata grill is turning out winners. Among them: a plate of tender, eight-ounce ribeye steak garnished with garlic crisps and wafu sauce, a sharp combination of carrots, apples, celery and onions with rice vinegar. It's a standout, but there's plenty more robata selections to get fired up about (plus sushi, sake, and more). For a full look at the stunning space and its concept, head here.
One Dalton St., Four Seasons Hotel (second floor), Back Bay, Boston, 857-449-2500, zumarestaurant.com.