Hot Plates: Eight Dishes to Try Right Now in Boston
A legendary lasagna, cult-favorite cookies, steaming hot ramen bowls, and more.
---
Devoted foodies and restaurant newbies love The Feed. Sign-up now for our twice weekly newsletter.
Hungry? We're here to help. Behold our list of the most crave-worthy, must-try dishes on Boston menus at this very moment. These are the tasty new offerings that have us talking–when our mouths aren't full, of course. [Updated: February 2022]
Carbonara at Alcove
He's baaaack. (And thank heavens for it!) Boston's Italian-cuisine-loving community shed many a tear when chef Charles Draghi's Bay Village restaurant, Erbaluce, offered its final service on New Year's Eve 2009. (The place was, after all, an annual shoo-in for our list of Boston's best restaurants.) Well, it's the dawn of a new day for Draghi, who just took over the kitchen at Alcove, an excellent coastal New England concept in the West End—and guess what? He's reviving a few recipes from the Erbaluce days, including his signature carbonara, made with house-made guanciale and egg, as well as a flurry of parmesan and smoked black pepper.
50 Lovejoy Wharf, Boston, 617-248-0050, alcoveboston.com.
Yesterday's 100-Layer Lasagna at Bar Enza
Speaking of signature dishes: Acclaimed chef Mark Ladner made this paragon of Italian comfort food famous at Del Posto, NYC's now-shuttered landmark of fine Italian dining. Now that the Cambridge native has come home to open Bar Enza inside the Charles Hotel, he's resurrected it so hometown fans can discover what all the fuss was about—namely, those meticulously assembled layers of pasta, tomato marmellata, fresh mozzarella crema, and sharp provolone. Oh, and the "Yesterday's" modifier? That's there because Ladner assembles the lasagna a day prior to serving, so it can firm up overnight and reach a fabulously toothsome texture.
1 Bennett St., Cambridge, 617-661-5050, bar-enza.com.
Deconstructed s'mores at Horse Thieves Tavern
We're still a few months away from getting back to gathering around summertime campfires, but until then, at least one standout gastropub in the suburbs is igniting appetites with its spin on the best part of said ritual: s'mores. Horse Thieves Tavern's deconstructed take offers melted chocolate, crispy graham crackers for dunking, and toasted marshmallows for filling out bite-sized sandwiches, in warm cast iron. All the deliciousness, with none of the chomping down on burned twig bark.
585 High St., Dedham, 781-708-9185, horsethievestavern.com.
Salmon on Fire at Karma Asian Fusion
Speaking of fire-kissed foods, check out this eye-catching setup on the menu at Karma, a quartet of swish Asian fusion restaurants around the Boston area, including the latest location in Burlington. What you're looking at: luscious little blankets of salmon—speckled with bits of citrus, truffle, and raspberry—draped over a wooden clothesline and offered over a flaming bed of coffee beans. It's as delicious as it looks, so get your finger hovering over Instagram's boomerang button before the server sparks it up at your table.
Multiple locations, karmaasianfusion.com.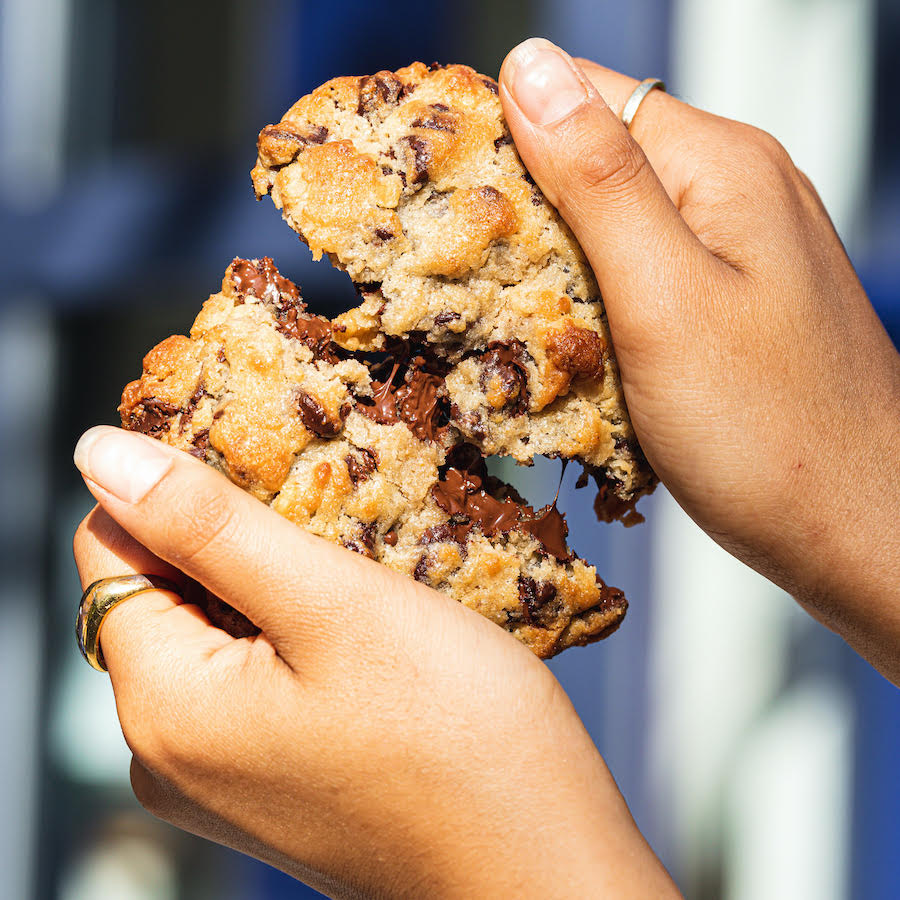 Cookies at Levain Bakery
Remember when NYC's famed Magnolia Bakery, which saw a boom in popularity after making a cupcake-related cameo in Sex & the City, opened a location in Boston to oohs and aahs in 2018? And just like that, it's 2022—and another Manhattan-born baker has moved to town: Levain, which is famous for its six-ounce cookies, in particular. Offered in five different flavors (chocolate chip walnut, dark chocolate peanut butter chip, dark chocolate chocolate chip, oatmeal raisin, and two-chip chocolate chip), they live up to the hype, so bite in to these crunchy-on-the-outside/soft-and-warm-middled sweets when the Back Bay shop opens on Saturday.
180 Newbury St., Boston, levainbakery.com.
Ramen at Ruckus
Even while his downtown Boston ramen spot, Ruckus, was closed during most of pandemic-times, restaurateur Brian Moy stayed busy: In fact, he just opened Nomai, an exciting New American eatery with Asian inflection, at Hingham's Derby Shops. That said, what a relief it is that Ruckus finally reopened this month. Now we can get busy slurping steaming-hot, city's-best-level bowls of noodles laden with pork belly, as well as nori sheets, togarashi, and egg. It's been far too long.
5 Tyler St., Boston, 857-305-3129, ruckusboston.com.
Bianco pizza at the Salty Pig
Food snobbery be damned: Some of us are willing to admit that a steaming hot basket of Olive Garden or Papa Gino's breadsticks is one of life's most delicious simple pleasures. Okay, that confession out of the way—imagine that kind of garlic-and-carb-loaded wonder placed in the hands of an actual chef, transmuted into pizza form, and washed down with an Aperol- or amaro-spiked cocktail. You now have an idea of the bianca pizza at the Back Bay's Salty Pig, a standout new pie that ditches red sauce for tallegio cheese and copious amounts of roasted garlic and espelette.
130 Dartmouth St., Boston, 617-536-6200, thesaltypig.com.
Lobster-loaded Bloody Mary bar at Summer Shack
We wouldn't normally include a Bloody Mary in a list of must-try edibles—but then again, most Bloody Mary bars aren't drinkable and eatable, the way Summer Shack's new setup is. This weekend, the much-loved local spots kick off seafood-oriented brunch service on Saturdays and Sundays: think seafood Benedict, lobster hash, and raw bar towers. The bigger deal, though, is that the shellfish splay extends to Bloody Mary accoutrements. Where else in town can you dress your drink with half a lobster roll, shrimp cocktail skewers, chilled lobster tail, and more?
50 Dalton St., Boston, 617-867-9955; 149 Alewife Brook Parkway, Cambridge, 617-520-9500, summershackrestaurant.com.
---