Hot Plates: 10 Dishes to Try Right Now in Boston
From a loaded lobster bake to a steak for two, plus charcuterie cones, tuna flights, fruity plant-based pop-tarts, and more.
---
Devoted foodies and restaurant newbies love The Feed. Sign-up now for our twice weekly newsletter.
Hungry? We're here to help. Behold our list of the most crave-worthy, must-try dishes on Boston menus at this very moment. These are the tasty new offerings that have us talking–when our mouth isn't full, of course. [Updated: July 16, 2021]
The lobster bake at the Banks Fish House
This seafood-oriented sibling from the Grill 23 steakhouse team opens in the Back Bay on Wednesday, July 21 with a boatload of fish fare—from crudo to caviar to cuttlefish spaghetti to a ciopinno flatbread—from chef Robert Sisca. If you want to dive right in to the most summery assemblage of shellfish, though, you've got to go with lobster bake, a menu centerpiece loaded with clams, mussels, chorizo, potatoes, and corn.
406 Stuart St., Boston, 617-339-0015, thebanksboston.com.
Frozen Mastjito at Committee
Frosé is so last summer (and the summer before that, and the summer before…). What you need right now is a frozen "Mastjito," available only on the patio at the Seaport's cocktail-forward Committee restaurant. It's a Hellenic take on a mojito that makes use of Mastiha, a piney liqueur made from mastic sap, sometimes known as "the tears of Chios," a nod to the Mediterranean island that made it famous. The Mastjito is one of four new drinks on the Summer of Greece cocktail list, with other entries invoking ingredients like baklava orgeat and vyssino sour cherry.
50 Northern Ave., Boston, 617-737-5051, committeeboston.com.
Bistecca Fiorentina at Contessa
Boston's hot new rooftop restaurant, the first Hub project from NYC-based Major Food Group, looks to Northern Italian-inspired cuisine, as well as fine wines and refined cocktails, while guests overlook stellar views of the Public Garden and Boston Common. One major highlight: Florentine-style Porterhouse for two—less house, more mansion, at 40-ounces—cooked perfectly with a flush of pink and served sliced with confit garlic, roasted shallots and rosemary. Juicy. Perfect. It's an absolute stunner of a steak.
3 Newbury St., Boston, contessatrattoria.com.
The "Surprise Bag" (and much more) from Fishy Fish Market
Acclaimed chef Tim Maslow may have shuttered his South End restaurant Whaling in Oklahoma last year, but his unique home-delivery service, Fishy Fish Market, has only continued to accumulate buzz since its pandemic-time launch. Weekly changing menus allow fans to order fresh catch from local purveyors, as well as prepared foods both surf and turf—say, a BBQ package anchored by lemongrass chicken from a nearby farm, or a burger kit that replicates the famous patties from Maslow's late Watertown restaurant, Strip-T's. Feeling adventurous? Go for the intermittently offered "Surprise Bag," an $80-ish assemblage of multiple dishes that serves at least two.

Charcuterie cones at Kured
How did it take someone so long to think of this? Just opened in Beacon Hill, Kured is a fabulous little one-stop shop of build-your-own charcuterie boxes, as well as preassembled splays. What we're really taken by, though, are the so-called "charcuterie cones," paper-wrapped, hand-held bouquets of artisan meats and cheeses—Spanish ibérico ham, Genoa salami, brie, and more—that are perfect for grabbing and getting on your way.
83 Charles St., Boston, 617-870-4151, kured.co. 
"Pop-tarts" at Lulu Green
With all due respect to the Kellogg Company, it's worth getting up early to score the entirely plant-based "pop-tarts" offered at Southie's darling vegan eatery, Lulu Green, exclusively on weekends. These fruity pockets sell out fast, so move quick to score flavors like strawberry marmalade, all with an insanely buttery crust made… without… butter. Beautiful!
246 W Broadway, Boston, 617-420-4070, lulugreen.com.
New Haven-style pizza at Mida Newton
Douglass Williams, our newly anointed best chef in Boston, now has a Newton restaurant to his name: a twice-sized outpost of his South End restaurant, Mida, opened there last month. There's reason to make the trek, too, since the suburban location is previewing the New Haven-inspired pies that Williams will eventually serve at Apizza, his side project debuting at Hub Hall, a soon-to-open West End food court. Although the pizzas aren't coal-fired, which is standard for New Haven style, Williams is working to replicate the same kind of crispy, charred crust for topping with artichoke, spicy sausage, house made porchetta, and more.
261 Walnut St., Newton, 617-546-8010, midarestaurant.com/mida-newton.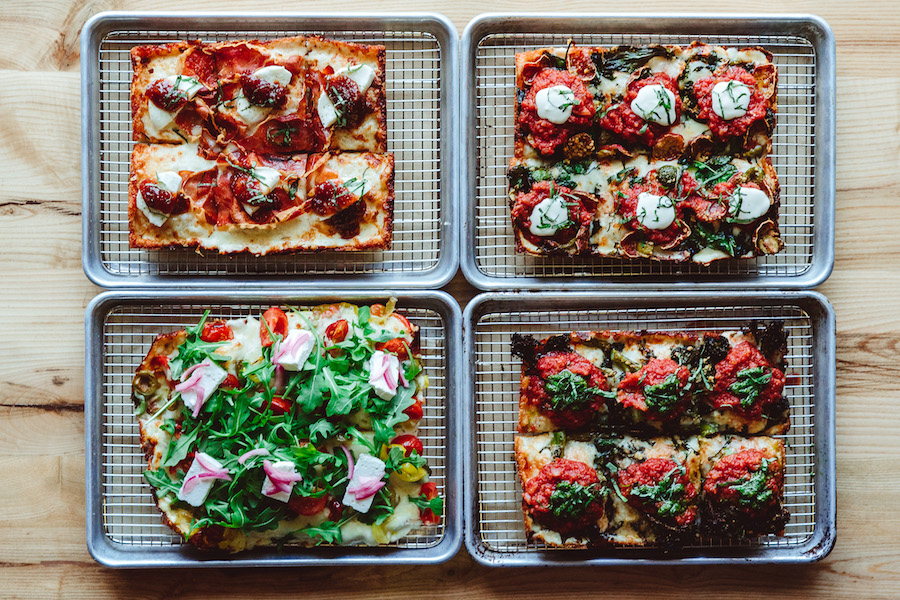 Detroit-style pizza at Night Shift Brewing
Boston is actually a great place for sampling styles of pizza from different cities. On that note, moving from New Haven to Motor City roots, we find that one of the newest pizzas in Boston has rocketed straight to our top slot in the race for the best: the Detroit-style pizza recently launched at the Lovejoy Wharf location of Night Shift Brewing. Under the culinary guidance of the team from Kenmore Square's late, beloved Eastern Standard, Night Shift now has wonderfully chewy, sheet-pan-deep pies topped with pepperoni, charred broccoli, and tomato sauce—added last, on top, as per Detroit-pizza regulations. Unless, that is, you opt for Night Shift's midwestern take on a white pizza, which skips the sauce in favor of fixings like prosciutto and fig jam, plus cheese, cheese, cheese.
Okonomiyaki tater tots at Shore Leave
The patio at the South End's Pacific Rim-inspired rum retreat, Shore Leave, is exactly were you want to spend the rest of your summer soaking up the sun and playing with plastic squirt guns that are filled with tropical cocktails from barman Ryan Lotz (try to not splash your neighbor, please). This all calls for some funked-up food like the okonomiyaki tater tots, which douses the spuds in jalapeno cheese sauce, katsu sauce, kewpie mayo, sesame, bonito, and nori. It's kind of ridiculous, and extremely delicious.
11 William E. Mullins Way, 617-530-1775, shoreleaveboston.com.
Tuna flight at Uni
James Beard award winner Tony Messina has moved on from his perch at Uni, star restaurateur Ken Oringer's modern izakaya in the Back Bay. Now new executive chef Davis Bazirgan is strutting his stuff and making his own mark. But where to start? Try Bazirgan's tuna flight, a sampler of seven different preparations of tuna and tuna belly, ranging from lean to lusciously fatty and from simply composed to creative and luxe. Kama toro with caviar? Check. Spicy tuna maki with uni? That's there as well, at least for now—accompaniments will vary, giving us good reason to come back and discover the rest of Bazirgan's new menu, too.
370A Commonwealth Ave., Boston, 617-536-7200, uni-boston.com.
---