16 Boston Beer Gardens to Visit This Summer
---
Devoted foodies and restaurant newbies love The Feed. Sign-up now for our twice weekly newsletter.
Fast fact: You have not done "summer" correctly in Boston unless you have lifted a glass at one of the many sun- and suds-soaked beer gardens around the city. And that's why, besides our huge list of superlative restaurant patios here, we've gathered up a guide to craft breweries and pop-ups at local parks where the thirst for fun, as well as a saison or IPA, is being slaked right now. [Last updated: September 9, 2022.]
Aeronaut Allston
Besides its Somerville brewery and a drive-thru-window-equipped cannery in Everett, Aeronaut also has a beer garden setup at Zone 3, a group of Western Ave. buildings in Allston that Harvard is helping to activate with retail, art, and events. There's live music and appearances by local food trucks to go with your IPAs and Pilsners when the garden inhabits the zone from Wednesday through Saturday.
224 Western Ave., Allston, instagram.com/aeronautallston.
The Anchor
This setup at the Charlestown Navy Yard earned a 2021 Best of Boston award—yes, in part, because it's a great place to kick back with beers from some of the best craft breweries in the Boston area, from Bent Water in Lynn to Somerville's Winter Hill Brewing Company. But it also does double-duty as a wine garden and hosts different events daily, including exercise classes, live music, artisan fairs, and more. That means the Anchor always offers a new reason to drop by.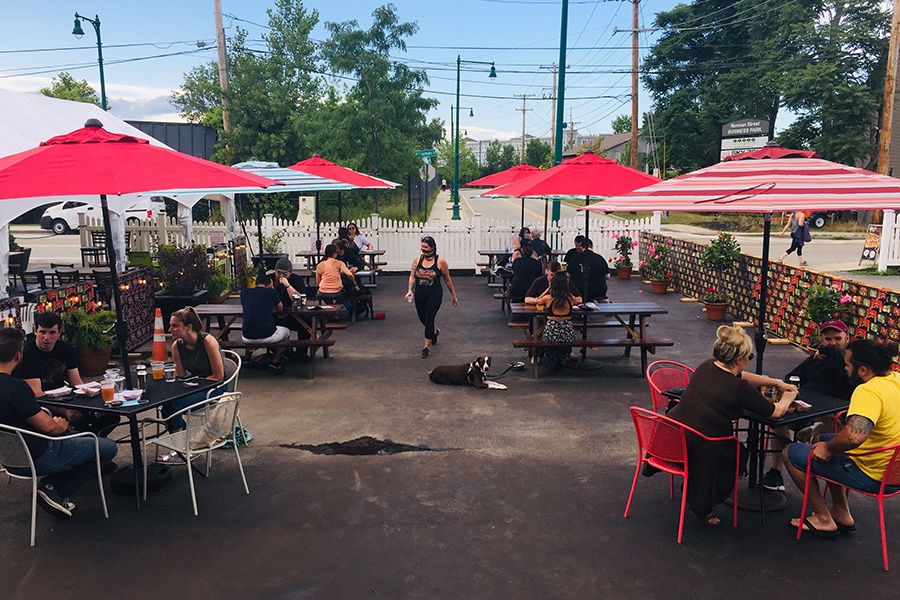 Photo courtesy of Bone Up Brewing
Bone Up Brewing Company
The folks behind this Everett brewery put the "garden" in beer garden by populating a (former) parking lot with pretty terracotta pots. Sit amongst the flowers and sip summer-ready brews like Walkin' Beer, an IPA with tangerine. Snacks include Eastern Standard Provisions soft pretzels, Buenas empanadas, and more drinks-friendly fare. Well-behaved children and dogs are welcome. The Bone Up beer garden is open daily.
38 Norman St., Everett, 781-691-9092, boneup.beer.
Brato Brewhouse + Kitchen
Brighton's first brewpub has an outdoor beer garden in a private, paved lot along Glencoe Street. Strung with lights and furnished with garden chairs, tables, umbrellas, and repurposed whiskey barrels, it's a perfect place to sip brewer Alex Corona's summer saison, as well as sample cookout cuisine (and more) from chef Jonathan Gilman. Reservations are recommended. Brato is open daily.
190 N. Beacon St., Brighton, 617-903-3766, bratobk.com.
Cambridge Brewing Company
The Boston area's original beer garden, Cambridge Brewing Co.'s patio at One Kendall Square is a dog-friendly hideaway serving up a full gastropub menu from chef David Drew. It's open daily.
One Kendall Square, Bldg. 100, Cambridge, 617-494-1994, cambridgebrewingcompany.com.
Castle Island Brewing Company
This Norwood-based brewery has a taproom in South Boston, just a couple miles away from the waterfront park for which it is named. In the meantime, though, you can check out the suburban location and its beer garden with shaded picnic tables and on-site food service by Lombardo's of Randolph. You can pair fare like Lombardo's famous Italian sausage sub with Castle Island Candlepin pepper-and-onion relish and—well, Castle Island Candlepin, a sessionable American Pale Ale perfect for a summer afternoon. Reservations are highly recommended, and it's open Fridays through Sundays.
31 Astor Ave., Norwood, 781-951-2029, castleislandbeer.com.
Cisco Brewers Seaport
Nantucket's favorite brewery is once again docked in the Boston Seaport for the summer (until October 17, to be exact). This year, the dog-friendly fun is fueled by Rexicana Surf Cantina, a South Shore operation serving Caribbean and Central-American-inspired eats. The expansive outdoor area is situated next to the Thursday pop-up farmers market, though the beer (and wine) garden is open six days per week (our regrets to Monday).
65 Northern Ave., Boston, 617-356-7231, bostonseaport.xyz.
Distraction Brewing Company
Boston's Roslindale neighborhood finally scored its first brewery just months before the pandemic arrived to shut everything down. If you still haven't made it over to check out the place, though, know that its taproom and patio-style beer garden are back open and waiting to pour you everything from a summer saison to a "Summer Flight" of refreshing brews enhanced with flavors of berry, peach, or lime with jalapeño.
2 Belgrade Ave., 617-477-3677, Roslindale, distractionbrewingco.com.
Dorchester Brewing Company
This Mass. Ave. rooftop beer garden boasts an exterior deck with open-air tables and Insta-worthy views of the Boston skyline. Along with house beers and wines, plus fresh brews from guest brands like Lone Pine Brewing Co., the place also has access to the full menu from in-house restaurant M&M BBQ—so dig in to chef-owner Geo Lambert's famous ribs or the "Fenway" soft pretzel with smoked cheese sauce. The brewery also has outdoor seating on the ground level. Reservations aren't required, but if you want to make sure you have a seat saved, they are accepted for a $5 deposit per person. Both DBco. and M&M are open daily.
1250 Massachusetts Ave., Dorchester, 617-514-0900, dorchesterbrewing.com.
Exhibit 'A' Brewing Company
Massachusetts' MetroWest region earned its first regular beer garden just a couple summers ago, thanks to Framingham brewery Exhibit 'A.' Located across from the brewery on Morton Street, the space is complete with hand-hewn furniture made from reclaimed wood, and food pop-ups from local vendors. There's always plenty of fresh brews, too, including the Cat's Meow IPA and Goody Two Shoes Kölsch. Exhibit's beer garden is open Thursday through Sunday.
81 Morton St., Framingham, 508-202-9297, exhibit-a-brewing.com.
Harpoon Brewery
While the beer hall is open every day, this employee-owned brewery also runs an "Outdoors @ Harpoon" space at its Seaport digs from Thursday through Sunday. Besides lawn games like giant-sized Jenga, the al fresco setup is also where you'll find a "Summer Food Pop-Up Series," rotating food trucks serving barbecue, lobster rolls, empanadas, and more.
306 Northern Ave., Boston, 617-456-2322, harpoonbrewery.com/boston-brewery.
Jack's Abby Craft Lagers
Get some sun on those guns while hoisting pints of lager at this Framingham beer hall's Bavarian-style garden, including brews from its neighboring sister operation, Springdale Beer. You can also order up lunch or dinner from the beer hall kitchen, including wood-fired fare like pizzas and Mexican-style street corn. Reservations are recommended for the setup, which has 158 seats set between barrels of flowers. It's open Wednesday through Friday.
100 Clinton St., Framingham, 774-777-5085, jacksabby.com.
Night Shift Brewing at Lovejoy Wharf
This spot's proximity to TD Garden means there's a healthy calendar of good reasons to get a pre-game or post-concert beer within view of the venue—as well as the Zakim Bridge and the West End waterfront. The bar pours brews like the Whirlpool pale ale, while the kitchen dishes out, among other things, the 2021 winner for the best pizza in Boston. It's open daily, and so is Night Shift's original brewery in Everett, which also has a beer garden open for the season. Plus, Night Shift has five smaller "Owl's Nest" outposts, beer-garden-style pop-ups open most days at different open-air sites around the city.
1 Lovejoy Wharf, Suite 101, Boston, 617-456-7687; 87 Santilli Hwy., Everett, 617-294-4233, nightshiftbrewing.com.
Notch Brewing
Inspired by the drinking cultures that brewmaster Chris Lohring pays homage to with his flavorful session beers, Notch's original biergarten on the Salem River is the real deal—the perfect place to settle in with easy-drinking brews (say, the Tenner Czech lager) and Eurocentric snacks like pickled veggies and soft pretzels. Now, though, Notch has added an awesome beer garden-equipped tap room to the Charles River Speedway, an open-air market that will also be home to an exciting sake bar and Best of Boston-winning ice cream shop, among other things. As for Notch? Both its beer gardens are already open daily.
525 Western Ave. Brighton, 617-548-294; 283R Derby St., Salem, 978-238-9060, notchbrewing.com.
Samuel Adams Boston Tap Room
This Quincy Market destination debuted at the end of January 2020, so this is the rooftop patio's second summer season. Take the open-air stairs to the second level for Faneuil Hall sights to pair with light fare and all the Sam Adams classics, plus new brews made on-site by head innovation brewer Megan Parisi. The Boston Tap Room is open daily.
60 State St., Boston, 617-466-6418, samadamsbostontaproom.com.
Trillium Brewing Company
All four brick-and-mortar locations of this local craft-beer brand offer beer garden seating. Spend summer in the city on the Fort Point restaurant's urbane rooftop, or in the open-air open space of Trillium Fenway. Or, travel a short distance to check out the sprawling new setup at the main brewery in Canton, which spans the usual patio as well as a grassy new lawn. Besides all those permanent plots, there's also a seasonal Trillium beer garden on the Rose Kennedy Greenway, an early entry in the Boston area's booming beer garden scene.
Multiple locations, trilliumbrewing.com.
---