What to Eat (and Drink) Thanksgiving Weekend in Boston
Your first taste of a sexy new nightclub, restaurants open for Thanksgiving, Black Friday beer releases, and more.
---
Devoted foodies and restaurant newbies love The Feed. Sign-up now for our twice weekly newsletter.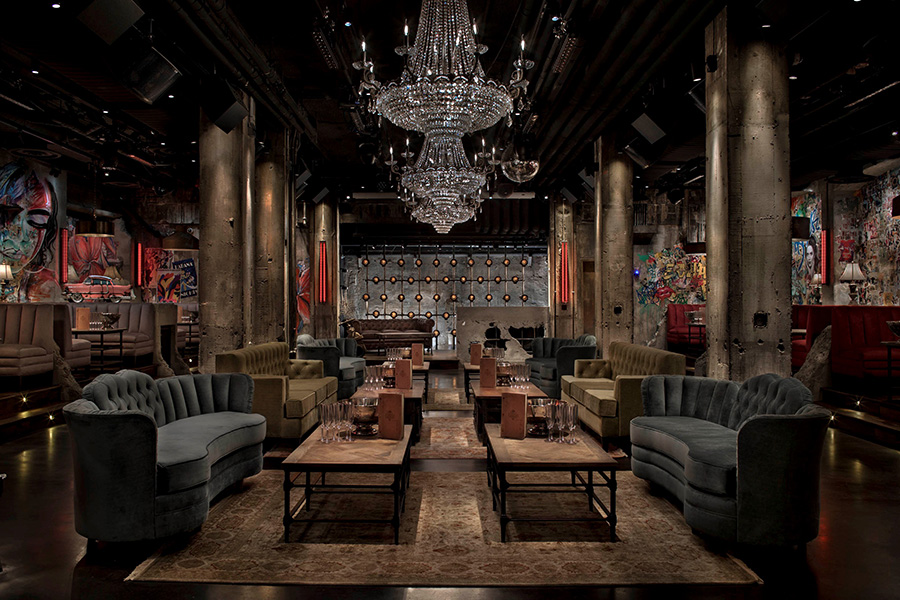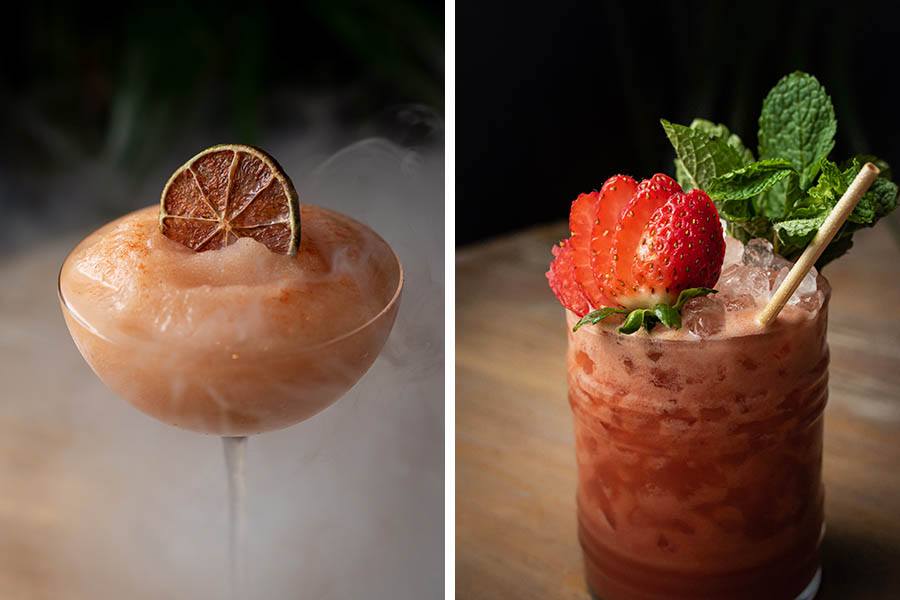 Mariel Underground
With Mariel, downtown Boston has a lively new, Cuban-inspired restaurant with tapas like pork empanadas and fufú gnocchi—and now it has a full-on Havana-style nightclub. Mariel Underground has softly opened in the basement of the two-month-old Mariel, adding an elevated nightlife experience to what's already one of the hottest new spots in town. The cocktail lounge was kept a surprise by COJE Management Group until its social media unveiling; the high-rolling restaurateurs have also given us Yvonne's, Ruka, and Lolita. Like its sister spots and Mariel above, moodily lit Underground is a feast for the eyes with graffiti on the walls done by local artists, meant to evoke "generations of Havana street art." Live DJs and other music programming add to the vibe, which also includes exclusive bottle service available alongside selections from the menu upstairs. Though it lacks Mariel's soaring ceilings, Underground is an expansive 260 seats. Walk-ins are welcome, and reservations can be made by phone or email. The nightclub is now open Tuesday-Saturday from 5 p.m. until last call (but it's closed Thanksgiving day).
10 Post Office Square, Boston, 617-333-8776, marielofficial.com.
Wednesday, Nov. 27
Puritan & Co. Celebrates 7 Years
Before chef Will Gilson and his growing team get even busier with a second restaurant, rooftop bar, and café in 2020, they're taking time to get together with friends and neighbors on the biggest reunion night of the year. The night before Thanksgiving, Puritan & Co. is celebrating seven years serving Inman Square with drink specials from Privateer Rum, Notch Brewing, and Sagamore Spirit, as well as plenty of complimentary snacks from Gilson and co. "Party hats optional, but always encouraged." The fun starts at 8 p.m.
Puritan & Co. Turns 7, Wednesday, Nov. 27, 8-11 p.m., 1166 Cambridge St., Cambridge, 617-615-6195, puritancambridge.com.
A Diva Pizza Party
If you're grateful for strong female artists, you might want to pre-game Thanksgiving at Somerville's new T & B Pizza. This week's edition of chef Tim Wiechmann's Wednesday night pizza party series—with all-you-can-eat slices, special guests slinging drinks, and themed playlists to set the vibe—is all about bad babes, featuring women through the speakers and Little Donkey bartender Alicia Castell behind the bar. Try her special drink, the Regina George, and prepare for a Thanksgiving feast with all the pizza you want for just $10.
Diva Pizza Party, Wednesday, Nov. 27, 8:30 p.m., T & B Pizza, 251 Washington St., Somerville, 617-764-4054, tbpizza.com.
Thursday, Nov. 28
Happy Thanksgiving!
If you plan to bring some cannabis edibles to your Thanksgiving feast, read this first. But if you don't have anywhere to go this holiday? You are not alone, and spots around Boston are ready to welcome you home. Near Beacon Hill, grab a last-minute reservation at Peregrine: The new, Whitney Hotel restaurant is open for breakfast through dinner, with "a traditionally inspired Thanksgiving meal with accents of the Mediterranean" from chef Josh Lewin, served between 11 a.m.-9:30 p.m. Frenchie is open in the South End from 11 a.m.-8 p.m., with Champagne flights, French fare, and traditional Turkey Day treats. Pick any one of the Grafton Group restaurants—Cambridge's Grafton Street Pub, Park Restaurant and Bar, Russell House Tavern, Temple Bar, and the Hourly Oyster House, and Boston's State Street Provisions—to enjoy a special Thanksgiving menu and the full bar during regular business hours. In the 'burbs, try Social Restaurant & Bar at the Newton Plaza Hotel—it's offering a $32 ($16 for children under 12), four-course menu from noon-6 p.m., followed by a "leftovers"-inspired a la carte menu until 10 p.m. Just need a glass of wine to unwind after so much family time? Rebel Rebel Wine Bar opens at 6 p.m. Happy Thanksgiving!
Friday, Nov. 29
Free Coffee and Your Favorite Records
Start your Black Friday shopping at Boston's absolute best Spanish tapas bar-slash-book and record shop, Tres Gatos. As is tradition, the family-owned store opens at 9 a.m. with free coffee and house-made pastries to go with sales across the store, plus hundreds of rare and collectible releases dropping in honor of Record Store Day Black Friday. Shop local, y'all.
Friday, Nov. 29, 9 a.m.-11 p.m., Tres Gatos, 470 Centre St., Jamaica Plain, 617-477-4851, tresgatosjp.com, Facebook.
Black Friday Beers
Our other favorite Black Friday tradition here at Boston magazine's the Feed? Special beer releases! This post-Thanksgiving, you can get the latest iteration of Slumbrew's Yankee Swap, a velvety, 12% barleywine from Somerville Brewing Co. This Friday is also Darkling Day at Night Shift Brewing in Everett, with this year's variations of Darkling Stout—including coffee and orange-chocolate—available on draft, plus a tiramisu variant on cask; select Darkling bottles for sale along with special vessels from the cellar, ice cream floats, and more. Idle Hands Craft Ales is breaking out all things sour and wild for its annual Funky Friday party. At all three locations of Trillium Brewing Co., special bottles including Cuvée de Tetreault 2019, Vanilla Truffle stout, and more are on sale, while all merch is 15% off on Friday and 10% off for the rest of the weekend. And finally, if you're doing some shopping in downtown Salem, save your receipts and bring them to Notch Brewing. Prove purchase of $10 or more from an independent Salem merchant to the bar staff, and receive a delicious, hot, soft German-style pretzel for your troubles. Cheers!
Wine and Cheese
After hitting up the South End's awesome local boutiques, you're bound to be starving—and in desperate need of a glass of wine. Check out Le Canular, the "peculiar little wine nook" that just opened next door to Whaling in Oklahoma. Alongside an intriguing selection of $13 wines by-the-glass, chef Tim Maslow's team is serving up stellar cheeses and A&J King breads, an excellent new burger, house-made pâtés, and more satisfying snacks. It's open Wednesday, Friday, and Saturday this weekend from 6 p.m. until midnight.
645 Tremont St., South End, Boston, 617-266-4600, whalinginoklahoma.com.
$1 Dumplings and $1 Oysters
Accidentally spent too much money on Black Friday gifts for other people? Head to Broadway in Southie, where sister spots Loco Taqueria & Oyster Bar and Fat Baby Sushi and Cocktails are here for your wallet. Beginning at 2 p.m., Loco is shucking $1 oysters, and dishing up discounted tacos. Starting at 5 p.m., dumplings are $1 a pop at Fat Baby, along with 50-cent wings there all night long.
Loco Taqueria, 412 W. Broadway, South Boston, 617-917-5626, locosouthboston.com.
Fat Baby, 118 Dorchester St., South Boston, 617-766-3450, fatbabysouthboston.com.
Saturday, Nov. 30
Coffee, Ice Cream, and Holiday Cheer
Celebrate Small Business Saturday at one of Boston's best coffee shops, as Gracenote hosts its second annual holiday market. Alongside excellent locally roasted espresso, hot chocolate, and single-origin coffees, the fair hosts Boston vendors like Black Cat Ice Cream, Café Madeleine baked goods, Beauty Mystic personal care products, vintage curators, and more.
Gracenote Holiday Market, Saturday, Nov. 30, 11 a.m.-4 p.m., 108 Lincoln St., Boston, gracenotecoffee.com, Instagram.
Festive Drinks
Continue the Christmassy theme with a nightcap at one of Boston's seasonal pop-up bars. Opening this weekend are Miracle Bar at the Kimpton Marlowe Hotel, Beachbum Berry Presents: Sippin' Santa at Shore Leave, the Boston Hot Chocolate Experience at MET Back Bay, and more. 'Tis the season to be jolly!
Sunday, Dec. 1
Lobster Omelet and Bananas Flambé
As the long weekend winds down, send off the extended family with a lovely brunch that will appeal to everybody: Scampo just launched a new Sunday morning menu, full of appealing dishes from the legendary chef Lydia Shire. Among the new items is an omelet with lobster, waffles with banana flambé, and an egg bowl with smashed avocado, smoked bacon, and spiced aioli. The new menu is on weekly from 9 a.m.-3 p.m.
Scampo at the Liberty Hotel, 215 Charles St., Boston, 617-536-2100, scampoboston.com.
Trillium x Firestone Walker at Publick House
And once the family is finally gone, treat yo'self. Incomparable beer bar the Publick House is tapping more than a dozen limited-release offerings from both Trillium and California's Firestone Walker, and beer fans will not want to miss this draft list. Chef Joe Cooke is making food specials to pair. Doors open at noon.
Saturday, Dec. 1, noon, 1648 Beacon St., Brookline, 617-277-2880, publickhousebrookline.com.