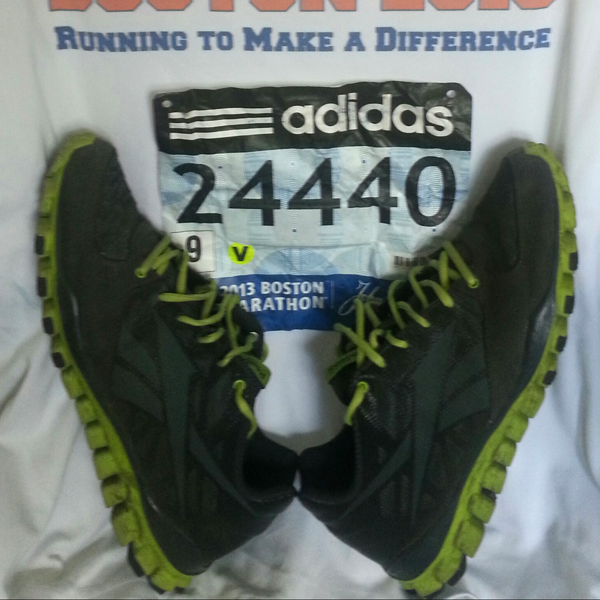 Corey Farina

,

37




Weymouth

,

Mass.

I'm a Lieutenant with the Hingham Police Department, and 2013 was my first Boston Marathon experience. I trained hard through a cold winter with my friend Kaitlyn Shinney. Kaitlyn is a 2010 Boston Marathon alumnae and a seven-year veteran of the Hingham Fire Department as a firefighter/paramedic. I ran on behalf of The McCourt Foundation, which is an amazing organization raising money and awareness for multiple sclerosis and Alzheimer's research. The marathon team was made up of a variety of people, all running for their own reasons. One member named Kathrine McGill is the daughter of the Boston Police officer who was caught in that already iconic photo on the cover of Sports Illustrated. He is the officer in the center who is running toward the runner who was knocked to the ground during the first blast. I should have known as much that the blood of heroes courses through her veins because training alongside her set off a feeling that I need to go on and do good things in this marathon. She's a natural born leader like her father.

April 15 was a highly anticipated day that began early as I traveled from South Boston to Hopkinton on our team bus. We arrived early, so I made sure to take the time to walk around Athletes Village and take in the sites and sounds of the morning. As my start time neared, I laced up my sneakers and made my way to the starting line with our team captain, Steve Sypek. Steve is a Boston Marathon veteran and an amazing person in his own right. Not only an amazingly motivating team captain, he has raised hundreds of thousands of dollars for numerous charities over the years. Our start time was approximately 10:40 a.m. As Steve and I crossed the start and embarked on our journeys, I gave him a look and a nod as we separated, knowing we were going to run at slightly different paces. It was obvious to me right away that my training and race day preparations had paid off because I felt really strong through the first part of the race. It wasn't until mile 19 that I could feel my body really begin to become upset with me and virtually go numb on the right side. With that, it was the amazing crowd that carried me as I managed to take the right turn on Hereford Street—and what an amazing feeling to then turn left onto Boylston and set my eyes on the finish for the first time. As I was one of the lucky ones to be able to feel that sweet feeling of crossing the finish line, the BAA officially recorded my marathon time at 3:34:40. This was my dream time and truly a surreal moment that was about to become a lot more surreal.

As I collected my medal and foil blanket, I made a phone call to Kaitlyn, who along with other friends, was meeting me back at the Lenox Hotel. I had just hung up with her as I was making my way under the grandstands when the first bomb went off directly across the street from me. I knew this was not a planned event and had a good idea it was some type of attack. I immediately hopped the fence back into the the middle of Boylston and the race. In that moment, as I looked toward the runners coming at me expecting to cross the finish, all I could think of was how awful I felt for the people who put so much time into training and would now have their Boston Marathon moment snuffed away, especially the people I trained side by side with as members of the McCourt team. I was now in the middle of Boylston looking directly at the Lenox and screaming for people to evacuate and trying to call Kaitlyn to check on their status. I was able to speak with her briefly and learn that our friends were safe inside and, coincidentally, our paths must of crossed as I hopped the fence on to Boylston and out in front of the Lenox, she had exited the Lennox lobby, hopped the fence herself and headed straight for the first bomb site.

That's when the second blast went off just over my right shoulder. Kaitlyn has described her experience to me as this: She identified herself as a firefighter/paramedic and put on a pair of exam gloves she had acquired from a Boston Police officer. She began assessing the situation and a process called triage, which in a mass casualty setting is basically assessing patients' viability and rendering First Aid accordingly. She described CPR in progress and multiple tourniquet applications as the bomb had severed legs and caused other devastating emotional and physical injuries. She worked hand-in-hand with on-duty EMS personnel to stabilize patients at the first bomb site. I continued to help try and get people to evacuate and turn around runners, who were not completely aware of what they were running into. I noticed a Boston police officer running toward me in the direction of the finish. He was cradling a small blond-haired boy in his arms. The boy was conscious but had a major laceration to the left side of his head, and his hair was soaked with blood. At the same time I could also see a Boston EMS ambulance coming down Exeter toward Boylston. It stopped on that corner. I stood in the police line, and I physically directed him toward the ambulance. The police officer handed the boy to the paramedic, and I opened the doors as he climbed in with the boy. As he sat the boy down on the stretcher and began addressing his wounds, I'll never forget the look of terror in the boy's eyes and the helpless feeling that came over me of innocence lost. With that, reality had set back in and I realized that the ambulance was now blocking the path to oncoming Boston Fire Department, which was trying to gain access to Boylston. With all its paramedic personal hard at work saving lives in the rig, I got behind the wheel to move the vehicle out of the way of other responding personnel. I could see the sheer apprehension in the eyes of the Boston EMS paramedic as I professed to him that I was an off-duty police officer and although I had a medal and foil blanket on, it was what needed to be done. I can still recall my own moment of apprehension when I questioned to myself whether the ambulance would operate in the same manner as a police cruiser. I pulled the ambulance into the marathon route and was directed right to the second blast site. Our unit became the first EMS unit on scene, and the hub of medical supplies as we had already taken on the blond boy and an woman who had at least lost her left arm below the elbow as patients.

The sights, the sounds, the smells and, for that matter the emotions of that day, will never leave me. But after hearing story after story and the front row seat I had to the actions of the EMS, fire, police, and volunteers as truly the stuff of legend. It's begun to restore my faith that President Obama's poignant words reign so true: that the spirit of this special marathon and all it embodies will go on stronger. What I have begun to realize is that the symbol of sneakers on the pages of this Boston magazine and the stories attached to them, really symbolize that all our laces are intertwined and on a day like that, it didn't matter if you were wearing sneakers or fire boots, your laces were intertwined as humans. I'm proud of my teammates that stem from the lineage of hero police officers. I'm proud of my quiet team captain, who, for some reason, I'd follow anywhere, and something tells me that place will be to the start line next year. I am proud of my firefighter/paramedic friend, who, on her day off, rushed into danger to help people only embodying the spirit of all those brave people called to the Fire and EMS services. I am proud of all those who put on the blue uniform as I have been called to do. I am truly proud of all that were called to act for whatever reason. Whatever footwear you were wearing that day, our laces were all intertwined and for that reason such as our President's words, we will be back next year. God bless the Boston Marathon and God bless the USA.