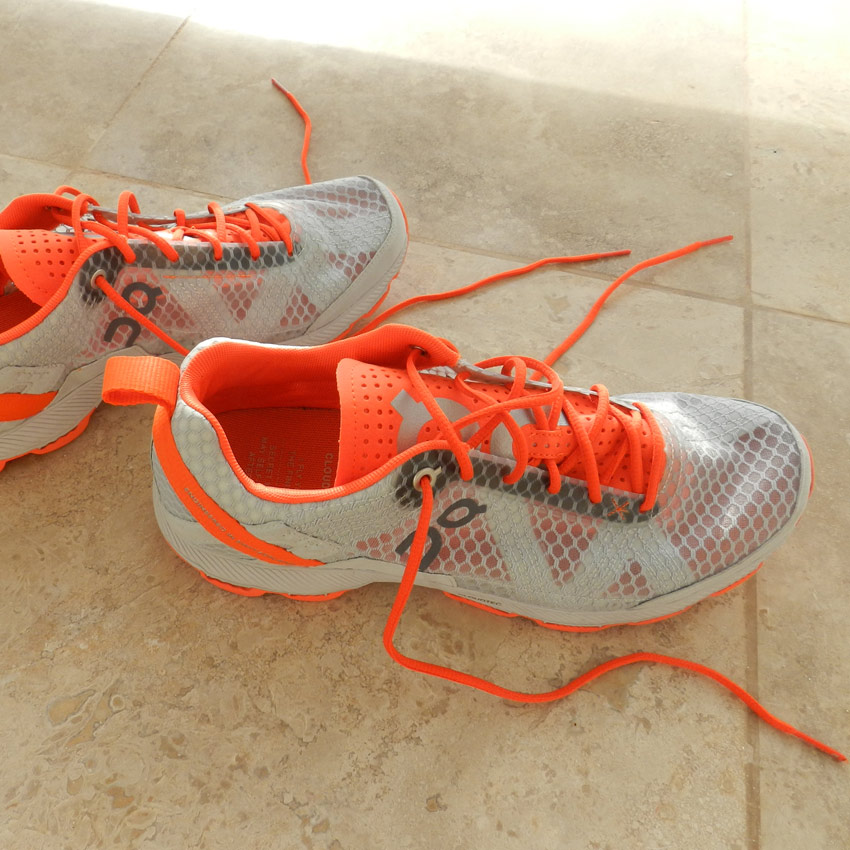 Robyn Dodge

,

29




Austin

,

Texas

I moved to Boston as an 18-year-old to attend Boston University in pursuit of a degree in archaeology. BU is one of the top institutions for archaeology in the U.S., and I have wanted to be an archaeologist since I was a child. It was a bold ambitious endeavor to move 3,000 miles form my hometown of Santa Ana, Calif., to chase my dreams. I wasn't a runner in college. I chose to row Division I Crew. We ran as part of our conditioning and cross training. We even raced the Tuft's 10K every fall as a team. I frequently ran the trails along the Charles River and through town. Athleticism has a rich tradition in Boston. Everything from the Red Sox games, The Head of the Charles Regatta, or The Boston Marathon, Bostonians love their sports traditions.

I was very much looking forward to running my first Boston Marathon. I had been a spectator every year that I lived in Boston. I watched the race from Coolidge Corner, Kenmore Square, or at the finish line in Copley Square. The race always takes place on Patriot's Day, which symbolizes freedom, democracy, and the American Revolution. The point-to-point course is also symbolic of Paul Revere's ride announcing, "the British are coming."

The journey of the marathon is about inspiration, hope, and overcoming the impossible. It is also about truly testing human physiology. As I arrived in Boston for the race, I was already emotional. I love running. I really LOVE running. Returning to Boston to run the very prestigious race was an honor and a privilege. I was suddenly part of an elite circle of runners. We are physically worthy of the blessing of the BAA. The oldest, richest, most selective marathon on the planet welcomed me into their world-class event. It is truly humbling.

Upon returning to Boston, I was flooded with memories of the town. Boston was my first "home away from home." It is a town that challenged me intellectually, physically, spiritually, and geographically. When I moved to Boston as an 18-year-old girl, I was exhilarated by the opportunity to experience life with infinite potential. This trip was an opportunity to reflect on the woman that I have become. It was also symbolic of how my time at BU provided me with the tools to make a good future for myself. I am still chasing personal, academic and athletic dreams. For me, The Boston Marathon is symbolic of the fusion of two identities. I am a runner. I am an archaeologist. Both identities were cultivated in that town.

I was staying with my college roommate, Andrea, at her brownstone apartment in Kenmore Square. I lived with Andrea my senior year at BU in our 728 Comm Ave apartment. Andrea and I have maintained a close friendship over the years. She has family in Austin and often comes to visit. We had a joyous reunion of catching up, reminiscing, and slipping back into comfort of being in each other's daily presence. I was also very much looking forward to seeing my cousin, Kendall. He moved to Boston to pursue a Master's Degree in Sports Journalism at Boston University. I hadn't seen Kendall in some time because our trips home to California were never quite synched since both of us moved away. It was wonderful to visit with Kendall and share our similar experiences about student life at BU.

On Monday morning, race day, I woke up, got ready and rode the city bus across the Mass Ave Bridge to catch "Duke's Bus." Duke would drive us out to Hopkinton, MA to the start. I climbed onto the bus and the rest of the Shipmates were saving me a seat at the back of the bus. I sat next to Sam. We were both nervous, excited, Boston Marathon virgins anticipating the most empowering race of our lives thus far. It seemed like a long ride. I kept asking, "are we there yet?" Once we arrived in Hopkinton we were able to relax, hydrate, use the restroom and take some photos. As time passed and it became closer to the start of the race we wished our friends "good luck" and parted ways. Sam and I coordinated with Mac Allen and his team to warm-up and make our way to the start. Mac collected us. We then checked our bags, jogged to the start and lined up in the corrals. I was in corral 5. I took a few deep breaths, set my Garmin and visualized my goal of a 3:10:00.

My start was 10:20 a.m. Because I was in corral 5 it was really about 10:23 a.m. before I even crossed the starting line. It was extremely crowded. I was stuck in a mass of people, tripping over heels, pinned by elbows, and slowly moving along. I was really frustrated with the crowd of runners amongst my pack. I had no space to get ahead and settle into my race pace. Water stops were a nightmare. They were completely congested and littered with mountains of cups. The road near water stops was slick and slippery from the accumulation of liquid on the ground. I tried to stay relaxed. I knew a slow start would be beneficial in the later miles. I was really frustrated trying to fight my way through gaps in the pack. It was amusing in the early miles to watch men peel off the course and urinate in the woods. The early miles through Hopkinton were along narrow streets. I didn't realize how truly downhill the course is until I could see the top of the heads among the sea of people ahead on the course. It really was crowded. I was really stressed about settling into a comfortable pace to warm-up and then hit my target race pace.

As I ran along the early miles, a few memories stick out. I first saw someone ahead of me wearing a "Tufts 10K" race shirt. I thought of myself running that race many years ago. Then I looked to my right and I saw a man wearing a, "OC Marathon" race shirt. Orange County, "That's where I grew up!" I thought. Then there was an enthusiastic man in a neon yellow singlet who was rocking the course, having a grand time. He had a lot of enthusiasm. He caught me looking at my watch and said, "Your watch says you are smoking hot!" I shrugged it off and was still stressed, frustrated with crowds and trying to hit my pace. I ran with him a bit. We would lose each other, reunite, and then he would say, "You again! You're rocking!"

We learned that we were both experiencing the Boston Marathon for the first time. He was considering the race a 26.2-mile party. We were still rocking that party in each other's vicinity at mile 20.

I really couldn't get away from the volume of people until the first 10K to 10 miles. I kept trying to surge in the gaps, but would quickly have to halt and maneuver around people. I tried to absorb the experience. It was a spectacle. The crowds were amazing. People lined the streets and provided snacks, water, signage, cheering, energy and motivation. We felt like celebrities. In Framingham, I became emotional. The firehouse on my right had the fire truck out with its ladder fully extended and firemen were perched up the ladder. My grandfather was an LA City Fire Captain for 30+ years. I was immediately struck with grief for my grandfather. He died in 2009 and was always proud of my accomplishments.

I don't remember the mileage, but somewhere before Wellesley and the half, my bladder started to feel full. I kept hydrating and it kept filling up. Soon I was really uncomfortable. I kept running. I was hoping my body would reabsorb the hydration. I was hoping I would sweat it out. I was still off pace, running with a very full and uncomfortable bladder. I wasn't going to stop running. There was no way in hell I would stop running. So I emptied my bladder and didn't miss a step. I immediately felt a release and felt 100 times more comfortable. I was finally able to settle into my 7:15 goal pace. My immediate concern was whether my wet shorts would lead to chafing. I grabbed a bit of Vaseline as I ran past an aid station and carried on.

As we approached Wellesley, I was again emotional. I saw "Team Hoyt" from a distance. The father-son team has been running the Boston Marathon together for the past 31 years. I was struck with the visual confirmation that the Boston Marathon is bigger than any one of us individual runners. I realized that the 117th Boston Marathon was an opportunity to share footsteps with literally all walks of life. I felt a kinship with the spectrum of runners I was sharing the course with. I was following in the footsteps of a deep field of strong elite runners as well as those raising awareness for a good cause. As I approached "Team Hoyt" I heard them saying, "we're looking for girls!" I patted Dick Hoyt of his left shoulder as I passed to their left.

I was taking in gels every 5 miles. My legs were feeling strong. My energy was good. I was finally getting into pace as we approached the half in Wellesley. The "Wellesley Tunnel" is the famous stretch where Wellesley College girls line the right side of the course with signage, cheering, and kisses. I was anticipating another surge of adrenaline as I ran through the famous stretch. Olivia, my sister's childhood friend is a student at Wellesley. I knew she was going to be there with a sign cheering. It was another milestone on the course. I was impressed with the noise as I approached the "Wellesley Tunnel." I was pulled along with the intensity of the cheering and the energy it created. My pace dropped dramatically. I kept my eyes on the girls, looking for Olivia. I never saw her. That stretch helped me enormously. I started to believe 3:10:00 was still possible if I could only make up for being 2 minutes behind at the half.

The miles after the "Wellesley Tunnel" started to unravel again. My bladder was full again. I was uncomfortable. My legs were still strong. I was trying to hit the timing mats strong, knowing that I would send a flurry of signals to the loved ones and friends tracking my progress. I didn't want to have an imperfect pace forever stamped and associated with my name. Powerbar was due on the course at mile 17 restocking us with gels. I carried four gels and four salt tablets. I would grab two gels at the Powerbar aid station consuming a total of five gels along the course and keeping a sixth gel for an emergency. I also swallowed three salt tablets during the race as a strategy to beat any onset cramping. My bladder was still very full and uncomfortable as I approached mile 20. I still could not release my bladder. The man in the neon yellow singlet was still having fun near me. I knew I was approaching Heartbreak Hill. I was not intimidated. I continued running. I did not stop. I tried to empty my bladder again. Nothing would come of my efforts. Nothing. I ran up Heartbreak Hill, happy to see such a big crowd. It was not a difficult hill to run. I was not struggling with the hill at all. My legs were strong, but with my uncomfortable bladder I could not hit pace. As I rounded the course into the town of Newton I was beginning to remember the familiar buildings associated with Boston College. I used to ride the T out to visit BC. I knew we were not far in mileage from the finish. My bladder was still hurting.

The next milestone I looked for was Coolidge Corner. Kendall promised to be there. I wasn't sure if I would see him, but knowing he was there was a great comfort. I used the Trader Joe's as a landmark. I used to shop there. I was very happy when I saw it. I did not see Kendall. The last few miles were uncomfortable, as expected. Again my legs were strong. I dug deep and pushed the pace to the best of my ability. I ran into Kenmore Square, under the overpass and left onto Boylston Street. It was a sprint to the finish. The sound of the crowd was deafening. Andrea had asked me earlier which side of the street I would finish so she could be closest to me. I responded, "whatever side is fastest!" I stayed left as to run the tangents. Flags from all the home countries of participating athletes lined the final stretch of the course. I felt like a celebrity. Everyone was cheering. They were cheering for me!

"When you cross the finish line, it will change your life forever," is a line from the Spirit of the Marathon documentary. It was the first marathon I felt emotional on the course and immediately afterward. It was powerful. I was first disappointed that I failed at achieving my goal of 3:10:00. If it weren't for the crowds and miserable bladder control, I am confident I would have run 3:10:00. Once I passed through the finish shoot the volunteers immediately wrapped us in blankets. Andrea was on the other side of the barricade to my left. She called out to me. We embraced, she took a picture and I confided to her that I was disappointed in my finish time. She told me she was proud of me. We walked along Boylston. She followed along the other side of the barricades. I received my medal and the volunteer said, "Congratulations! Thank you for running Boston." I was humbled, again by a city graciously welcoming me into the history books as a participant of the prestigious tradition.

I retrieved my bag of clean dry clothes. My phone was again in my possession. I contacted Andrea and Kendall. I told them I would change clothes and we agreed to meet at the yellow school buses. I was slow moving. I changed and slowly made my way back to the buses on Boylston Street. I climbed over the barricades and embraced both Kendall and Andrea. We took photos. They offered congratulations. They both made sure I was stable before we all three set off in our separate ways. Kendall had plans to meet a friend in another part of town. Andrea had to go back to work. I told them I was feeling fine, but wanted to get a massage. I decided I would get a massage and then go back to the apartment to get cleaned up, relax, and get ready for the after party.

The volunteers told me that the massages were on the corner of Berkeley and Stuart Street. Kendall walked with me in that direction for a short bit until he could continue no further. He was on the other side of the barricade and unable to pass. We hugged one last time. He told me to call if I needed anything. He said he would come back for me if I needed anything. I assured him that I was fine. My right hip was hurting and I really needed a massage. As we parted ways, there was a loud BANG. Then there was another very loud BANG. I could feel the intensity of the blast in my body and it echoed through the tall buildings. Sirens immediately began blaring and ambulances that had otherwise been parked took off in full speed. After the blasts, Kendall and I briefly stole a glance. We were already pretty far away from each other by then, but we were still within eyesight.

When I arrived at the building hosting the massages, it was closed. People were filing out. I was confused. I received a text from Joe, "Are we happy?" I also received a text from James Allen, "Where are you?" I tried to respond to both messages, but they would not send. I curled up for a minute in the doorway of the building where the massages were supposed to be. I just wanted to take the weight off my tired legs. Sirens were still blaring and marathon volunteers were asking us to leave the area immediately. Then I decided I would just go to the apartment because I couldn't get a massage. I rounded the corner back onto Berkeley Street and was walking toward Boylston. At that moment a man collapsed on the curb. He had a head wound on the right temple. He was bleeding vigorously. The entire right side of his body was covered in blood from head to toe. I knew immediately that something serious had happened and it was very bad. People on the street were starting to pass around their cell phones sharing images they had taken with the cameras on their phones. A woman showed me an image of the finish line blown to pieces. I burst into tears. Sirens blared. More people came around the corner, making their way into the medical tent covered in blood. The volume of blood was overwhelming. We quickly learned that two bombs had exploded at the finish line.

I tried to call out, but my calls failed. We were all exchanging cell phones, trying to make a successful call. No luck. Eventually a call from my mom came through. I spoke to her briefly before the call dropped. I was crying. I felt alone. I had just said goodbye to the two people in the city that I call family. I didn't know where my runner friends were or even if they were okay. I was sobbing, shaking, disoriented, fatigued and confused. A woman in a white BAA coat (the medics were wearing white coats and the general volunteers were in yellow coats) grabbed me. Her name was Kathy. She held me tight and I cried hard. I was shaking violently. She pulled a coat and two blankets out of her bag. She wrapped me up in the coat and blankets, then held me tight. She asked whom I was trying to find and I said, "I am here alone. I am here all-alone. I am trying to get home." She said, "You are not alone. I am here with you. Which direction is home?" I told her I was trying to get to Kenmore Square. She informed me that the subways were shut. I would have to walk. She offered to escort me, but I declined. I just wanted to get out of there as fast as I could. She held me until I was composed and she sent me on my way still wearing her coat. She gave me her business card and I promised to mail the coat back to her. She was not concerned about the coat. She was concerned about me.

I set off toward Kenmore Square, but was stopped again on Boylston. I burst into tears. I felt defeated, isolated, scared, and alone. Melissa, another medic, embraced me. She then threw me into a wheelchair. She pushed me into the medical tent and told me stay put until I could warm up. She gave me some water, a small bag of almonds, and sat with me until I was stable again. Eventually cell phones were operable. I received a message from Andrea saying not to go to her apartment. Her neighborhood was unsafe. The neighborhood was evacuated it was in the process of being swept for more bombs. She told me to come to her office and we would find a safe place to go together. Messages started pouring in on my cell phone. My priority was to stay in touch with Andrea. She needed to know my exact whereabouts. Phone lines were crossing. I was receiving calls that were not for me and she was receiving calls that were not for her. I collected myself and began to walk the 2 miles to her office. The subway was closed and police were telling us to stay indoors. I was trying to get to Andrea. I felt vulnerable, exposed, and scared that more bombs would explode in front of me.

Eventually I got to Andrea. Her coworkers were warm and welcoming. They brought me water, snacks and never ending hugs. Once I got to her office I posted to Facebook: "I am safe. I finished the race before the explosions went off. It is a horrible scene near the finish. Such a terrible tragedy. The people of Boston have been so kind and are taking great care of us. Please tell the people you love how much they mean to you!" Since it was not safe to go to Andrea's apartment some friends of hers opened their home to us. They live in East Boston. Andrea and I set out together, first stopping at CVS so that I could purchase some ibuprofen for my aching hip. Nicole, Chris, and Lauren (Andrea's current roommate) were waiting for our arrival. I was overwhelmed at the number of people who reached out to me to find out if I was safe. My phone was flooded with messages and my Facebook page was bursting with love and concern. It was touching. Poor Kendall was a wreck. He felt guilty about leaving me at that moment. I spoke to Kendall and I spoke to my Aunt Sally (Kendall's mother). Everyone was just relieved we were both safe. I finally took a shower and felt slightly more comfortable. We ate a delicious meal of pasta and drank wine. We listened to music and tried to distract ourselves from the tragedy.

Eventually, we learned Andrea and Lauren's neighborhood was safe and decided to go home. When we got back to the apartment we went up to the roof. MIT had light up their building as an American flag. It was comforting. I was due to fly home the next morning. I packed up my belongings. The city was full of armed officers and military. I rode the subway with Andrea. She departed to go to work and I continued on to the airport. I was fragile. It was difficult for me to leave Boston. I felt like I was leaving an old friend when the friend was in pain. I arrived at the airport, wearing my medal and jacket. I posted an update to my Facebook: "Heading home to Austin today. It was an emotional journey. Despite the tragedy, I witnessed a lot of beauty in people. This city is important to me for many reasons including my formative college years. It was a pleasure and honor to be back. I will run the Boston Marathon again in April 2014 as a statement to the world about what a powerful sport the marathon is. Be safe Boston and take comfort in the strength of marathoners! ♥"

I am still struggling to cope. After arriving home in Austin on Tuesday, I am trying to heal. It wasn't until the first suspect was dead and the second suspect was caught did I sense relief. There are realistic steps that can be taken now to achieve closure. I am so sad. Four people died and hundreds were injured in all of the events. I am angry, angry at the awful individuals who planned and implemented the attack. I am angry at my friends who try to comfort. They weren't there. They don't understand. I am angry at my fellow runners who ran the race. They didn't live in Boston year round for four years. They can't mourn like I am. I am not one of the thousands who make an annual pilgrimage, descending upon the city, straining its resources for just one weekend a year. My experience is unique. I am frustrated with my runner friends who try to relate to the tragedy. They have not yet and they may not ever qualify to run the race. They don't understand what it means to be a Boston Marathoner. I want to protect the sacredness and the prestige of the race. I am mad at myself for not running the time I wanted. I am mad at the bombers for robbing us of what was supposed to be a happy day. I am mad at law enforcement for not capturing the suspects sooner or even detecting the bombs before they exploded. This anger and frustration is fruitless. This anger is cursory. It will dissipate in time. I have to allow myself to hurt. I have to allow myself to cry. It was personal. It was an attack. I was victimized emotionally. My precious city and sport was violently assaulted.

The Boston Marathon and the City of Boston have multiple layers of meaning to me. Each layer is the fabric of my being and part of my identity. The footrace is symbolic of what is supposed to be a massive, peaceful, inspiring community event. The finish line is a sacred space symbolizing the completion of a journey. The finish line is an athlete's mecca. The finish line is a place to rejoice, celebrate and breathe a sigh of relief. The finish line is a congregating area for family and friends. The finish line is a reunion area. Every step of the Boston Marathon course is moving forward towards that prized finish line. The 26.2-mile distance is already a physically and emotionally exhausting feat. The race experience deserves time to process, reflect and evaluate what was experienced during the 26.2 miles. It is a brutal distance that forces the human body to transcend limits. Completing the marathon is transferable to other areas of life. Overcoming obstacles makes us feel invincible, empowered and brings confidence that there isn't anything we can't triumph over. For all of these reasons and more are what make the Boston Marathon personal.

My sister reminded me that, "Only good can come of this." Whatever nightmares we experience from the tragedy are abundantly outweighed by good pieces to the story. It is personal. The Boston Marathon has been bringing people together people from all over the globe for the past 117 years. The Boston Marathon is bigger than our individual selves. Together, we are powerful as athletes, spectators, volunteers, medics, media, etc. A few touching acts of human compassion involve runners who, after learning of the tragedy, continued to run off the course and immediately donate blood. Civilians, perfect strangers held each other, bleeding, broken, scared and confused, offering help and compassion. The One Fund was established to help the victims. A fellow BU Terrier died on Monday. Her name and memory will live on forever with the establishment of a scholarship. The marathon sport changed on Monday. It will never be the same. Boston will never be the same. Boston is strong. Boston will recover. Boston does not forget. Next year the Boston Marathon will be the greatest race in its 118-year history. I will be back. It is personal. It is important. It will be a celebration of life and the human spirit. Next year the 118th Boston Marathon will be personal.