10 of Boston's Most Expensive Custom Home Features
When it comes to custom home features, Chris Rapczynski has seen it all.
"We've built some really one-of-a-kind stuff," says Rapczynski, founder and president of Sleeping Dog Properties, Inc. "With all projects that we take on with high-end clients, there's an ultimate end goal. They'll give us insight into problems that they have, and we brainstorm together. What can it look like? What can it be? How much will it cost? We come up with some pretty unique solutions because our clients' needs are unique."
Rapczynski and the Sleeping Dog Properties, Inc. team share some of their most distinctive (and expensive) luxury projects.
Custom closet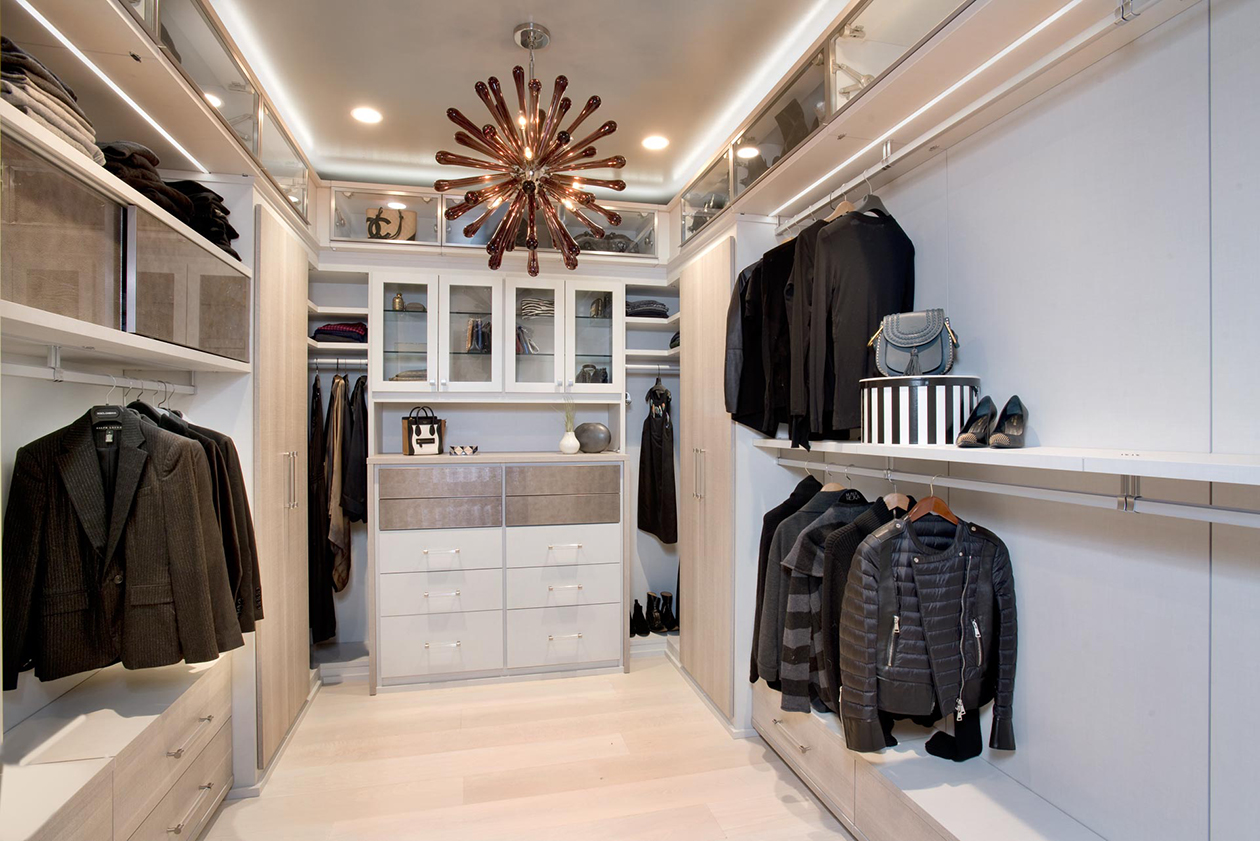 For this project, Sleeping Dog Properties, Inc. collaborated with California Closets, a company offering consultation for custom closet designs with special features like velvet-lined drawers and brand-new finishes. Rapczynski and team ensured that the closet encompassed the right ratios of hanging space for the client's belongings with full-length mirrors that weren't intrusive to the design. They incorporated ambient lighting with a dimmer to adjust brightness based on time of day, type of outfit, and whim.
"This client was asking for an oasis in her own closet," says Rapczynski. "She wanted it to be feminine, organized, blingy, glamorous. You know, it's sort of a space where she could try on clothes, have a glass of wine, and relax."
Dog drying station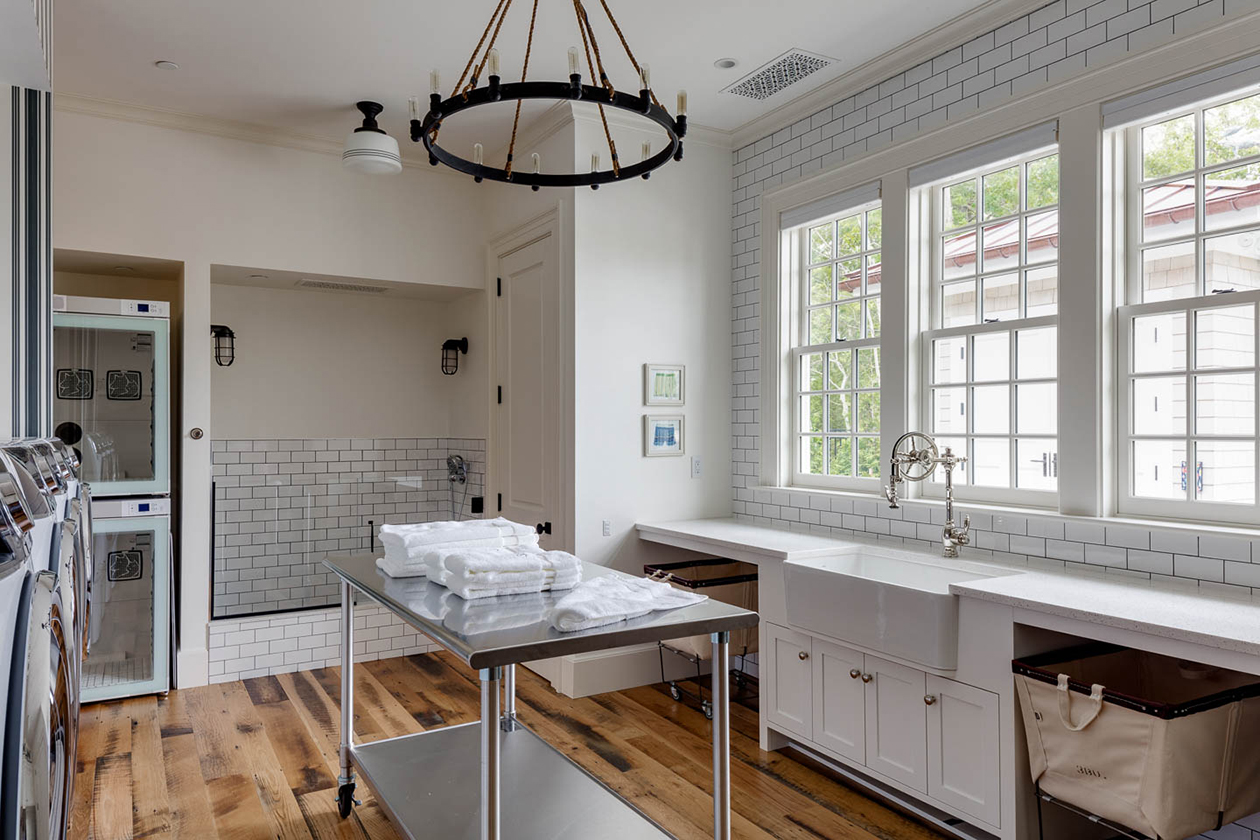 Rapczynski says this client owns two dogs that like to jump in the pool when they roam the backyard, leading them to track in mud and water on the floors and furniture when they return. The client requested two dog drying stations to avoid the chaos of soaking wet dogs in the house.
"Each dog dryer is $6,000 each," says Rapczynski. "At first, it may sound indulgent, but then you realize this solution is more convenient and cheaper than installing a fence around the pool or paying to clean or replace furniture. Having dryers is easier than towel-drying the dogs three times every day."
The dog dryers are stackable, adjacent to a dog washing station, and are situated in the client's laundry room. The team designed the white-tile station to fit seamlessly with the rest of the room in this custom Cape Cod house.
Wine room display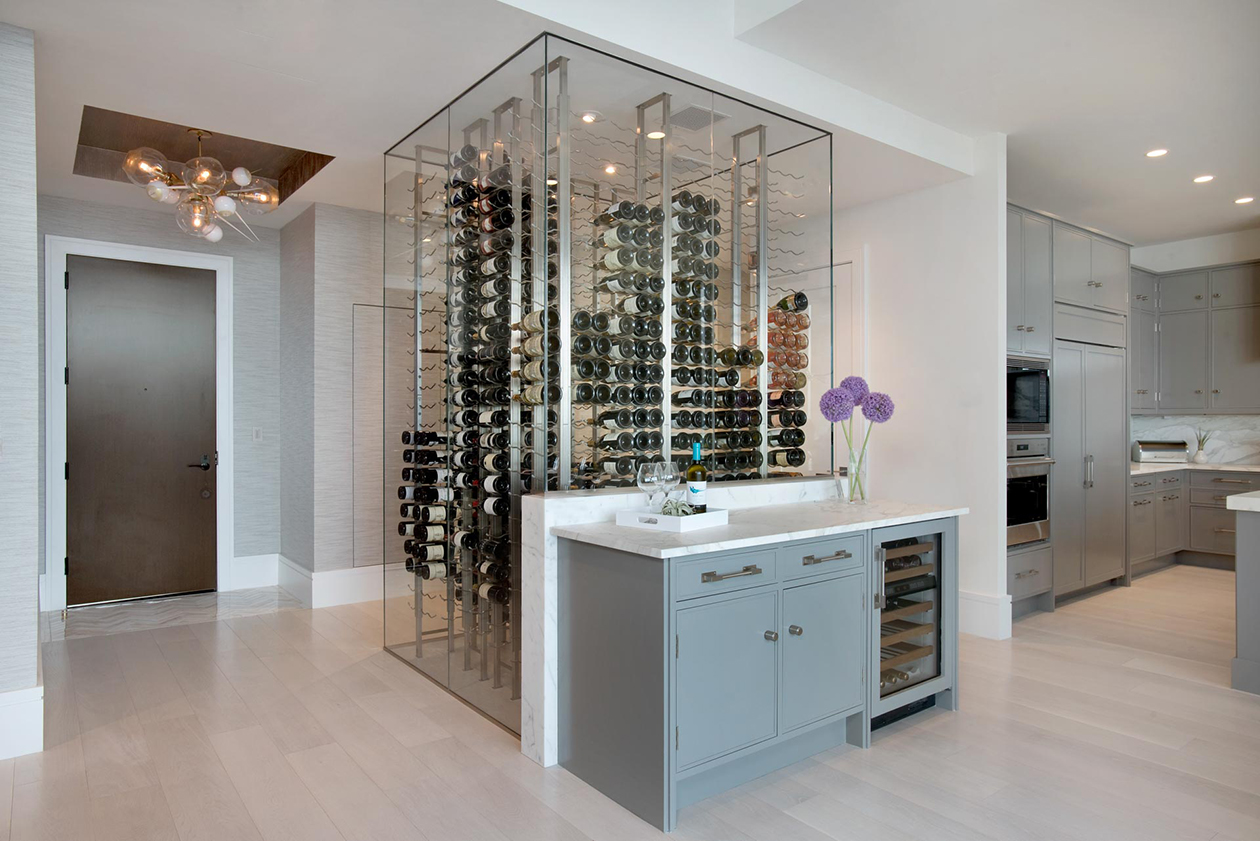 Integrated into a condo at the Millennium Towers, Rapczynski and team took the owner's idea of a glass box display and found ways to make it feasible with insulated flooring to prevent drip damage from condensation and thermostatic control. They designed in-house and crafted the best display for the thousand-bottle collection with custom cabinetry and wine holders to make the design appear effortless.
"There's also a smart wine sensor that sticks through a cork into the center of the bottle, so if the internal temperature of the bottle changes within two degrees, it sets off an alarm sensor that alerts the owner by texting their phone," he says. "There's a lot to this room that you just can't see."
Hand-painted wallpaper and mosaic flooring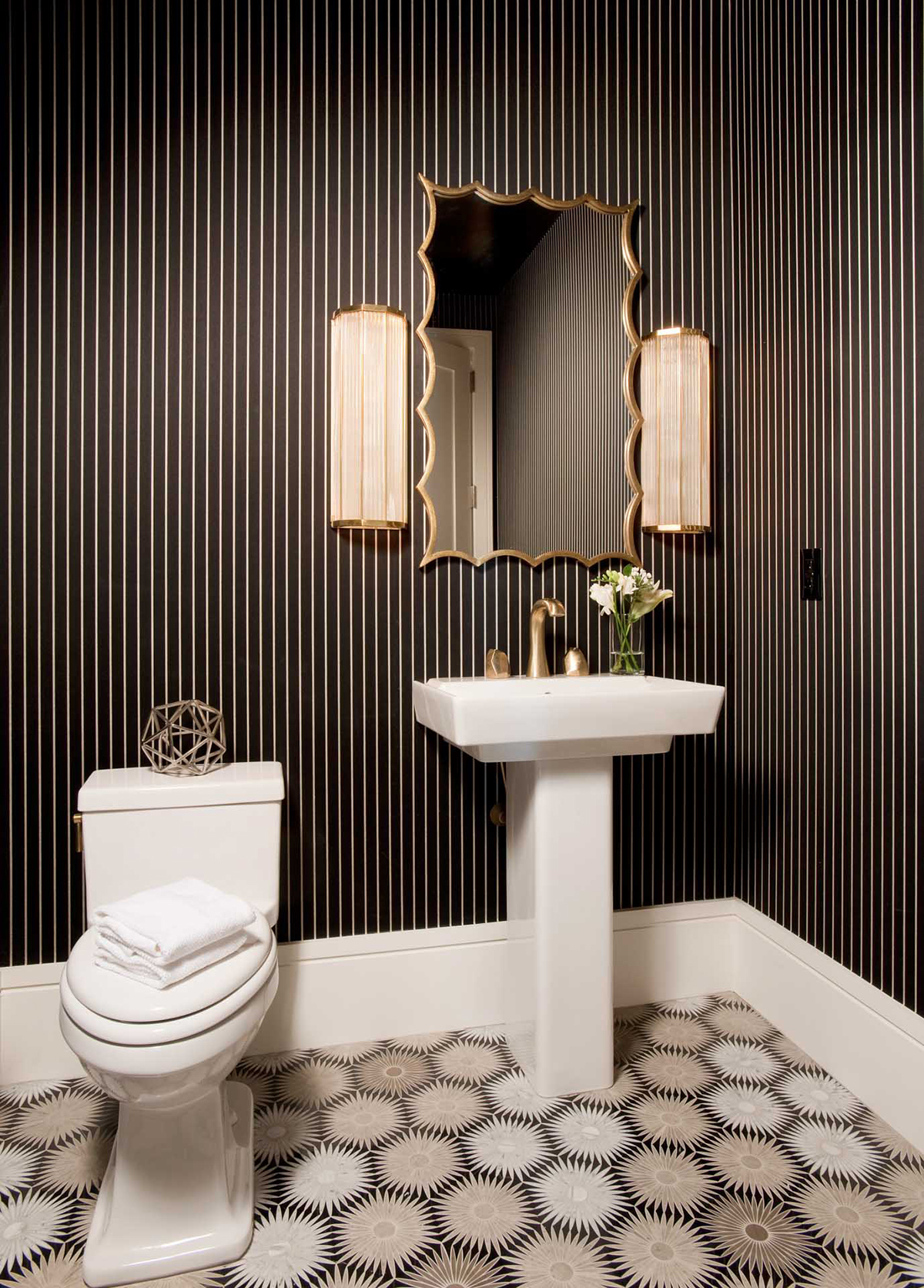 This powder room incorporated hand-painted wallpaper with mosaic tile floor, including hand-picked stones cut into the floor tile. The light fixture and mirror were also customized to match the color selections in the floor.
"Even though it's a small space, it's really personalized," says Rapczynski. "You're never going to see those finishes again and that's what our clients are striving for: one-of-a-kind design."
Bowling alley storage room
Originally a storage project for the basement, this room morphed into a hybrid bowling alley after the client asked for something to entertain her kids. Sleeping Dog Properties, Inc. built the alley using a design from outside architect CBT, building walls for the separate storage area and installing hardwood flooring. A pool table and arcade games complete the game room vibes.
"This was just an afterthought addition and it became super cool," says Rapczynski. "It's a good outlet for her kids. On a rainy day, you can spend hours in there bowling, playing arcade games, and pool."
Golf room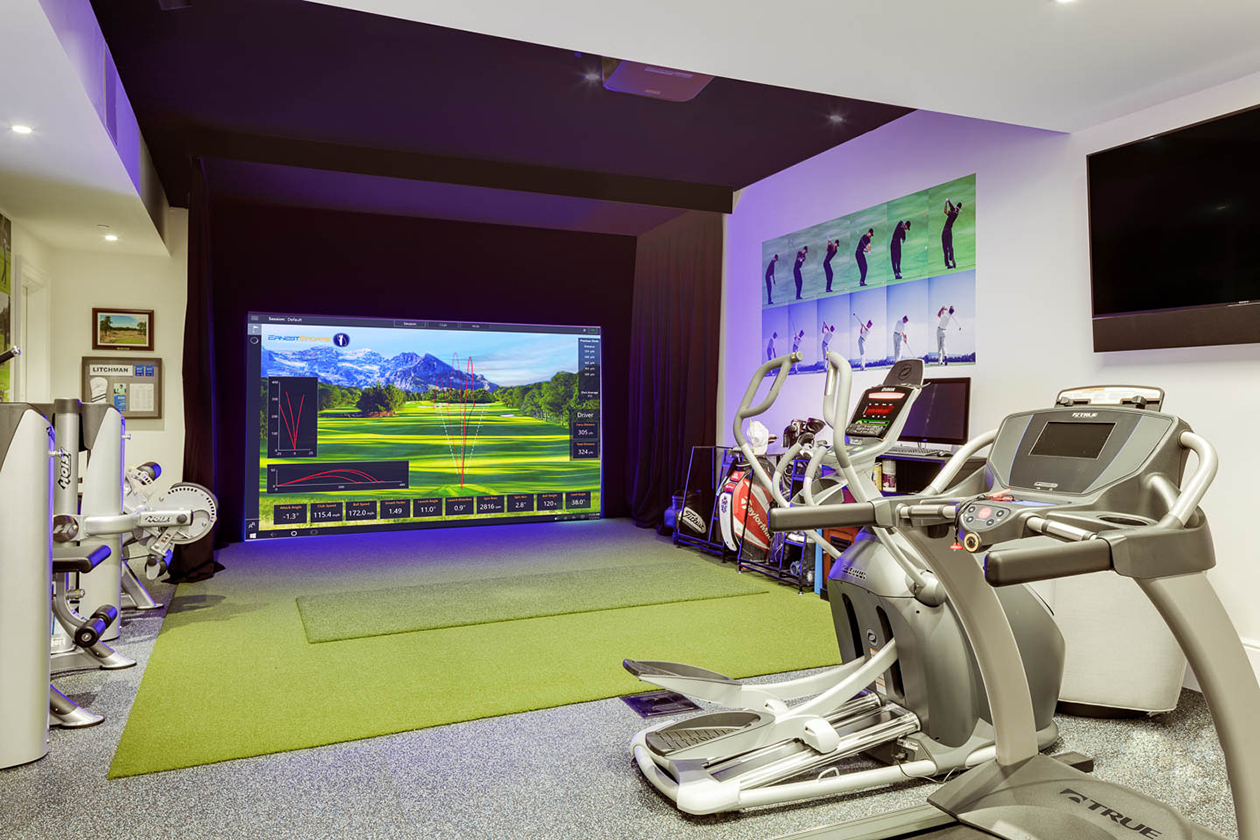 Another feature in the same house as the bowling alley, this room is a golfer's dream.
"The owner is an avid golfer," says Rapczynski. "They worked directly with a subcontractor called Trackman Golf Simulator. We stood on the sidelines and let the subcontractor and owner handle design, while we coordinated installation."
Chinchilla villa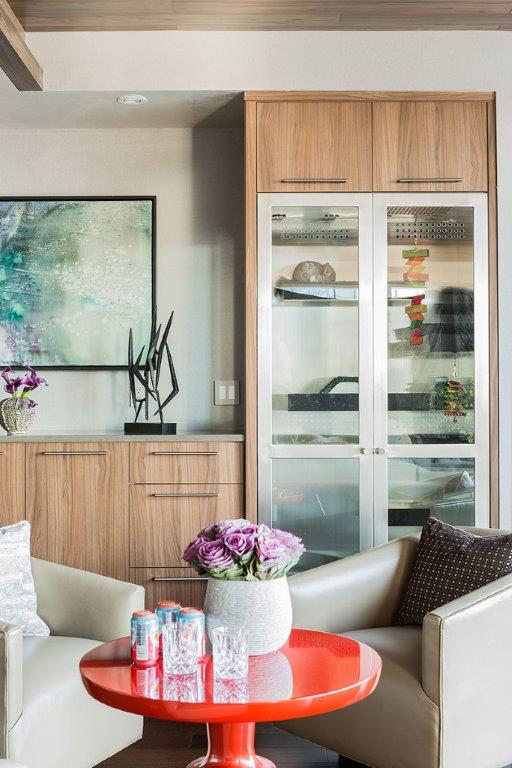 This homeowner was so fond of their pet chinchilla, they requested custom cabinetry millwork as an alternative to a cage. The system is vented at the top with two round vents allowing for fresh airflow for the chinchilla and old air flowing out through the bathroom to contain any unwanted odors. A stainless steel tray at the bottom can be easily removed and cleaned for animal droppings. Floating marble shelves allow the chinchilla to jump around and play, and an ultraviolet light keeps it warm.
"It's certainly one of the more eclectic things we've built," says Rapczynski. "We've been doing unique things for years, and this is a very conspicuous example of that. This is the type of luxury amenity we excel at: those that satisfy a need our client is passionate about. In this case, that need was simply a comfortable and attractive home for their beloved pet."
Fireplace and TV combo
This cozy custom fireplace doubles as an entertainment system. Using a remote control, the fireplace goes on with a thermal temperature sensor and a hidden TV pops up from the inner right panel.
"It really warms up the space in every possible way," says Rapczynski. "We're seeing a trend of many of our clients requesting features that maximize the coziness and comfort of their home without sacrificing form or functionality."
Waterfront living room
This high-rise incorporated walnut flooring with a walnut ceiling, highlighting the stellar surrounding views. The curved TV gives a 3D quality with a theater sound system. The curved automatic blackout shades are retractable and can be remotely powered down to cover the windows.
"If you're watching TV, you can hit a button and it closes off all the windows," he says. "Just like that, you've got a home movie theater with no glare."
Downtown dwelling
Another home in Millennium Towers, this room features Venetian plaster to reflect the daylight pouring in through the windows and simulate a clouded ceiling. The room has wide-plank, solid walnut flooring. A marble fireplace to the left is accented by a hanging swing for premium views of the city.
"You can spin and swing around and really see everything from that seat," he says.
While Sleeping Dog Properties, Inc. is always game for tackling unusual or bigger budget projects, Rapczynski says it's all about fulfilling the needs of the client to ensure they're happy in their home.
"I'm not looking to build extravagance for the sake of extravagance," he says. "That's not what fulfills my career. It's more about helping our client realize solutions that may have never been thought of before and presenting the best options despite challenges. That's the fun in it for us and where the real value comes for our clients."
For more information about Sleeping Dog Properties, Inc., visit sleepingdogproperties.com.
This is a paid partnership between Sleeping Dog Properties and Boston Magazine's City/Studio
---