5 Best Business Phone Systems of 2021: VoIP, Cloud-Based & Multi-line Services
Unless you are part of a small establishment, chances are your business will need more than one phone line for all your staff. It can be impractical, especially if multiple departments or employees rely on heavy phone usage. Office-bound businesses typically turn to landlines and some companies even turn to work phones or, in rare cases, personal devices. While any of these methods may work, most are expensive, and severely lack flexibility. Wouldn't you want an option that works best for you and your employees? This is when business phone services shine.  
Business phone systems and services give your company the versatility to manage accessibility while also protecting personal info all with a flair of professionalism. They are a wonderful tool for any business, big or small, and can increase both productivity and effectiveness immediately. These perks, of course, only apply to the best of the best business phone systems, and cheaper providers may be unreliable, slow, or lacking features. If you want to invest in a phone system for your company or business, make sure you put your money where it counts by checking out these favorite business phone services of 2021. 
Top 5 Business Phone Services of 2021 
No two businesses are the same, so, when picking a business phone system, it is important to make sure that you pick a provider that fits and is appropriate. Although many business phone systems look the same, each has its own unique strengths and specialties, both of which should be enough to determine what would be most fitting for your company.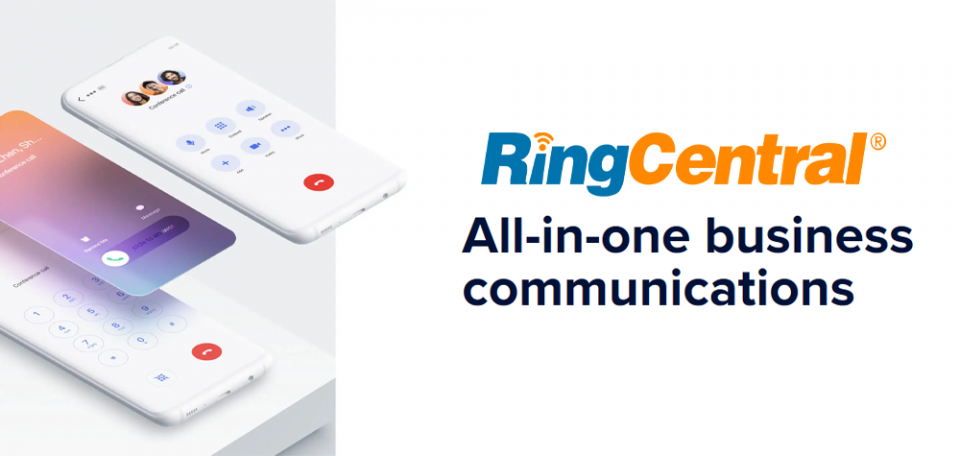 Pros
Service bundles give customers a lot of flexibility and options

Integrates with other commonly used workspace apps 

Provides tools to help company owners choose the right plan 
Cons
No video options for their Essential bundle 
With one of the most secure global PBX services and an innumerable amount of practical application, it's no wonder RingCentral is the favorite of companies from all over the world. Fast and reliable, RingCentral provides users a streamlined experience that will enhance productivity while boosting a business's professional image. Even the lowest-priced plan offers various features that can be helpful in various situations. 
One of RingCentral's biggest selling points is its compatibility and versatility. Sometimes, trying to keep a company organized means having disorganized work devices. Google Workspace, Microsoft Suites, and Slack are all helpful tools when trying to keep everything running smoothly, but juggling these apps can be a headache, or may even slow your device to an unworkable level. Since all of these programs (and more) are integrated right into the RingCentral app, you won't have to juggle application windows. 
RingCentral even allows companies to pick a handful of services a la carte. For a full business phone system, you would still need to subscribe to one of the packages, but if your plan is missing one or two functions that you want or need, you can essentially customize your bundle with this feature. This allows for an entirely new level of flexibility for clients and helps small businesses save even more money.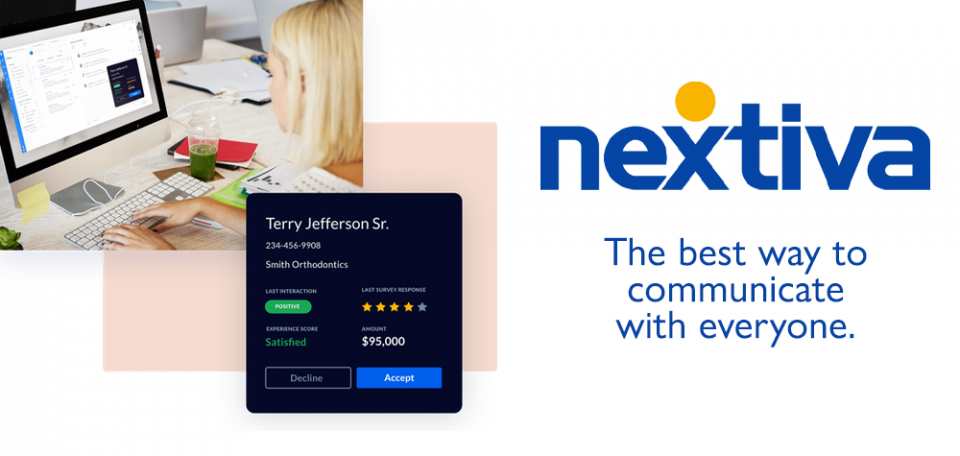 Pros
Integrates with other commonly used workspace apps 

Can connect any phone, computer, or tablet that can download the Nextiva app 

Starts at just $18.85 for 20 users 
Cons
Starting plan does not include unlimited SMS 
With over 100,000 happy satisfied companies under their belt, Nextiva is one of the best cloud-based VoIP phone systems you can find on the market. Something you'll notice throughout our list is that our top picks are often ones that provide users an ample amount of options. Nextiva is no exception to this quality. From app connectivity to call management to improved call quality, Nextiva has your company covered. 
Possibly one of Nextiva's most helpful unique features for new customers is their VoIP call center. It's pretty common these days for business phone services to provide some sort of a VoIP. Even so, Nextiva takes their VoIP call center to the next level, with added functions that help the feature feel more well-rounded and premium. For example, it's assumed that VoIP systems will give users the ability to reroute calls, but the ability to use interactive voice response (IVR) is an entirely new feature that is as useful as it is inclusive. Functions like these are great for people who need a hands-free option and may even help your company better adhere to ADA compliance. 
Lastly, for all it offers, Nextiva is very well priced. Nextiva replaces dozens of other productivity apps, and yet, its price is relatively low since it doesn't actually require any setup or construction. For the low price of $18.95, customers just need to pay and connect their phones to get started. To make things even better, Nextiva gives clients free VoIP phones upon purchase.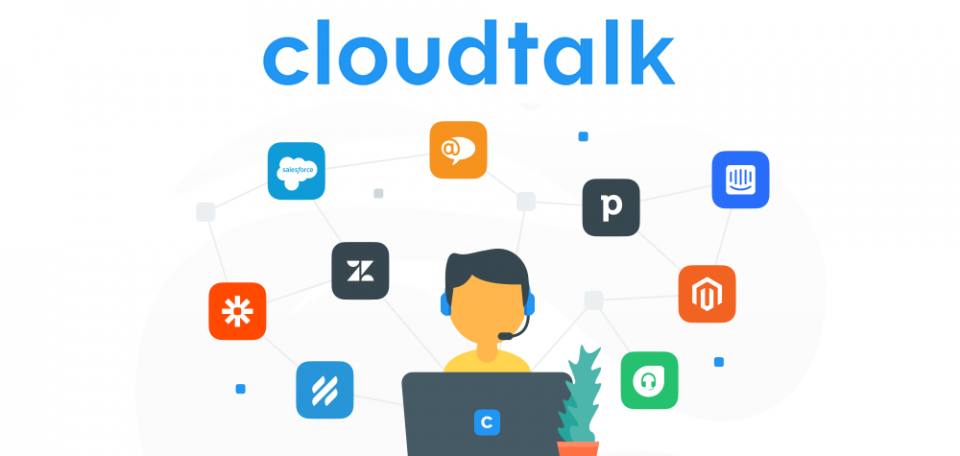 Pros
Completely customizable plans 

Integrates with other commonly used workspace apps

Let's customers connect with preferred agents
Cons
Starting bundle comes with limited options compared to other service providers 
As the name implies, Cloudtalk is a business phone system that is cloud-based. Cloudtalk offers many of the services seen in many of these other providers like the ability to reroute calls and the integration capabilities, however, they place a much larger emphasis on helping to grow your business. With many of these providers offering similar services, it can be difficult at times to stand out. Cloudtalk does so easily with its drive to create a personalized experience for your customers and a knack for increasing productivity. 
If you want to start strengthening relationships with your clients, the preferred agent feature may be a great avenue for your company. This service assigns certain phone numbers to certain representatives. This means that if the same client calls more than once, they will have a higher chance of being placed with the representative they spoke to before. This makes these interactions feel more personal, causing clients to feel a greater emotional tie to the business. This is also immensely helpful for help desk employees. With this feature, a client could lose connection to the business, call back, and not have to worry about reexplaining themselves to a completely different person. 
Does your business have very specific or particular needs? Cloudtalk allows companies the chance to contact them for a quote on completely customizable plans. These plans can be a mix of existing features from other bundles, or may even include premium services that are only available when asked about. This may seem extremely daunting to some, but, in many cases, this can end up saving you money, as you will end up only paying for what you really need.
Pros
Offers substantial information about how to hold yourself as a professional

Offers a free trial

Each bundle contains a great number of services
Cons
Limited amount of phone numbers and extensions
Grasshopper strides to enhance your company's professionalism through separating your work and personal life. It takes more than some fancy phone apps to make a business more successful and elite, so they further their ideas with various business resources aimed at helping your company learn how to talk and grow. The setup is just as easy as many of the other systems on this list and with over 350,000 customers, it has to be great. 
When businesses are just starting to pick up and see growth, typically individuals will turn to use personal phones for all of their company-related needs. This means that they'll use their own cell phones for connecting calls or for contact listings. This is a perfectly fine initial cheap fix for many businesses, but prolonged use of this practice is highly impractical and it endangers your employee's privacy. Grasshopper insists on keeping this separation as a healthy way of separating work from off time. 
This work and home separation, as touched on above, partially leads to personal privacy as well. When a business is just getting started, a worker may not think much about having their phone number shared around. This can quickly become a nuisance, especially if the employee attracts the attention of a client that likes them too much or has a complete dislike for them. The last thing you want to do is put your employee in a position where they need to change their number because they feel unsafe or uncomfortable. Do yourself and your staff a favor and make sure to have those barriers in place.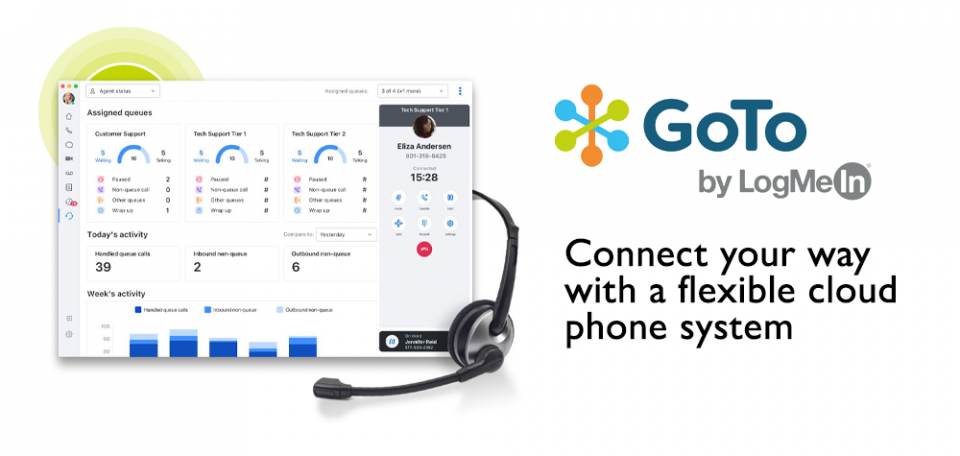 Pros
Can host up to 250 people in a virtual conference 

The lowest plan offers unlimited extensions

Extremely safe protocols
Cons
Cannot do much with a starting plan 
GoToConnect offers many of the services listed above and does them extremely well while also placing a focus on safety. With GoToConnect, businesses can track data and work with various company branches all in one convenient little app. Having clients spanning from educators to healthcare professionals to even people working in automotive, these services are tried and tested and have proven to be versatile in the ways that they help. 
Business phone systems are generally safer than most traditional methods, to begin with; this is what makes them such a great option for smaller businesses. GoToConnect has amplified the safety of their system, even allowing users to remotely interact with and control security systems. Even the conferencing tools have features relating to safety and privacy, with the HD video conferencing meetings being password protected. Although this level of security may seem excessive to some, it can be a handy resource for companies that need to be more secretive with their information. 
This Cloud PBX-based system also allows for some of the largest digital conference rooms, allowing up to 250 meeting participants in the pricier plans. Conferences this large are most likely overkill for most businesses or organizations, but this size room may come in handy for companies trying to run digital seminars. A large digital meeting room like this can, in many cases, supplement the need for a live venue capable of holding the same number of people. Big virtual meetings like this save time and money.
What is a business phone service? 
A business phone service or system is any business-related phone resource that allows customers and users to connect multiple phones and numbers. These services typically allow users the ability to better control the incoming calls they get and give them the power to better sort and receive any messages. The main benefit of this service is the flexibility and control they give to their respective businesses, and, with the right service provider, business calls can go from a clunky inconvenience of the past to something truly nuanced and streamlined.  
The fact of the matter is, business phone services are an immensely versatile tool that can be used to grow a small business exponentially. On one hand, yes, their primary focus is to manage multiple phone lines, but what does that mean for a business on a larger scale? If a company is getting hundreds of calls a day, but only has a limited number of agents, then there's no way they can effectively make it through the queue by closing time. Customers would wait an unreasonable amount of time only to get left at the dial tone. With a business phone service, these customers could be dealt with much faster, as a good portion of them could be weeded out by an automated representative.
What are the types of business phone systems and services? 
Once upon a time, the only type of business phone system companies could use was landlines. While this got the job done, they had very limited use, and the installation process was usually as long as it was expensive. This style grows increasingly outdated and obsolete as each day passes, and a lot of the parts needed to maintain these original systems are fading out of existence. As landlines continue to dip in popularity, the advent of cellphones and computers lay the way for a few new forms of business phone systems. 
If you are currently on the market for a great and fitting business phone system, then here are some things to consider when you're trying to figure out the best type for your needs. 
Multi-Line systems are the most straightforward, and encompass things like landlines. These systems consist of phone networks that are physically connected by wire. This can work well for workers who remain tied down to fixed spots but are highly immobile. There's no way a person can take their calls on the go or listen to their voice memos out of office. 
Virtual or Cloud-based phone systems are affordable, easy to start using, and don't require any special equipment or installation sessions. A virtual system largely works to reroute calls, primarily existing as a forwarding tree. They are great for businesses that just need a little help or buffering, and since they are quite the "set it and forget it" type of system, you don't have to worry about constant monitoring or checking up on it. 
One of the most common types of phone systems these days is a VoIP system. VoIP means "voice over Internet protocol," and they typically refer to any business phone system that operates over the internet. The actual process is much more complex and specific and has to do with data chains, but the main benefit is the ability to take calls from devices like a computer or laptop.  Because of this, VoIP business phone systems are especially useful for employees that need to be behind a screen or need to access data in order to complete their calls. 
There are actually two types of VoIP systems, cloud-hosted and on-premise.  In a Cloud-hosted VoIP system, the provider takes call signals and converts them to be received by VoIP and non-VoIP systems alike.  This is how individuals are able to talk from a phone and a computer. 
On-premise VoIP systems do the same thing, but all the signal converting tech is held in the office. This is more expensive and requires regular maintenance, but it gives users more control and better security.  This may be a great option for individuals who need that extra line of defense. 
How do I choose the best business phone system or service for me? 
The list above has done a lot of the hard work, narrowing down all the options to a concise top 5 and highlighting each provider's pros and cons. From here, it's all about analyzing your company and its needs in order to make the best choice. Here are some things to keep in mind. 
Size – The size of your company is one of the first things you'll want to consider when picking out a business phone service. Are you a fairly sizable operation for a small business? Is this just for a few of the department heads? Will you need all your workers to be accessible? Some providers allow for more users and some allow for a very minimal amount. Make sure you know how many people in your company you need to have added to the plan and you will narrow down your choices by a lot. 
Needs – Still, stuck between a few providers? It may come down to your business's unique needs. If you're an eCommerce retailer with a large international customer base, you may want to lean towards a plan that has free call options for the country you're popular with. International calls are expensive, and when you're being charged by the minute, expenses can add up fast. Think about what your business specializes in or think about your clients. Who are you catering to?
Budget – If you don't have the money to pay for the plan then, of course, you shouldn't get it. If you've narrowed down your options using size and needs and you are still stumped, it may just come down to your business's budget. The most premium plans for a lot of these business phone system providers offer some incredible features, but is that something you can afford? Maybe one of the plans you're stuck between offers cheaper plans that still do what you need? Whatever the case, if it does what you want and you can get it, then it may just be the perfect fit. 
Check the Provider – A lot of business phone service providers do very similar things, and this can sometimes make it difficult to choose between them. If this is the case, then it may help to look into the provider to get some clarity for your decision. This has a couple of benefits. On one hand, you can see whether or not you share the same goals as your potential provider. On the other hand, you can research a bit about the user experience of the business phone service provider's app. If it looks like something you can navigate intuitively, then it might be a better match. There's no point in getting an app to boost productivity if you can't use it properly. 
Conclusion
Even if they don't know what it is by name, most customers are used to the business phone service experience by now, and it is an expected process when calling most companies. Business phone services already increase the professionalism of a company through organization and optimization, but because of this factor, this quality is further bolstered. Since most customers expect to be greeted by an automated assistant or even to just hear waiting for music as they sit in a queue, the lack of these experiences may come off as odd, off putting, or cheap. 
A good business phone service is so much more than just a system used to connect multiple phones, it's a way to help a company grow and flourish. Business phone services and systems have become a huge part of modern work environments, and without them, many small companies would most likely struggle to stay afloat and relevant. With these services, small companies are able to compete on a scale larger than anything before.
This is a paid partnership between Happy Life and Boston Magazine's City/Studio
---