7 Reasons Why Foodies Flock to Plymouth
With its thriving wharf it's no surprise that Plymouth restaurants provide plenty of fresh seafood, but what may surprise you is the community's dedication to eating local. If you are willing to travel a step off the beaten path you can find one Plymouth community with culinary treasures abound – The Pinehills.
From keeping honeybees, growing vegetables, and supporting nearby farms, distilleries, and the like, chefs at The Pinehills are committed to sourcing the best ingredients in order to create the absolute freshest fare. True foodies have already discovered the epicurean gems at The Pinehills and have been flocking there since. Here's a behind-the-scenes look at the major culinary establishments at The Pinehills, spanning from French fare to made-from-scratch muffins.
---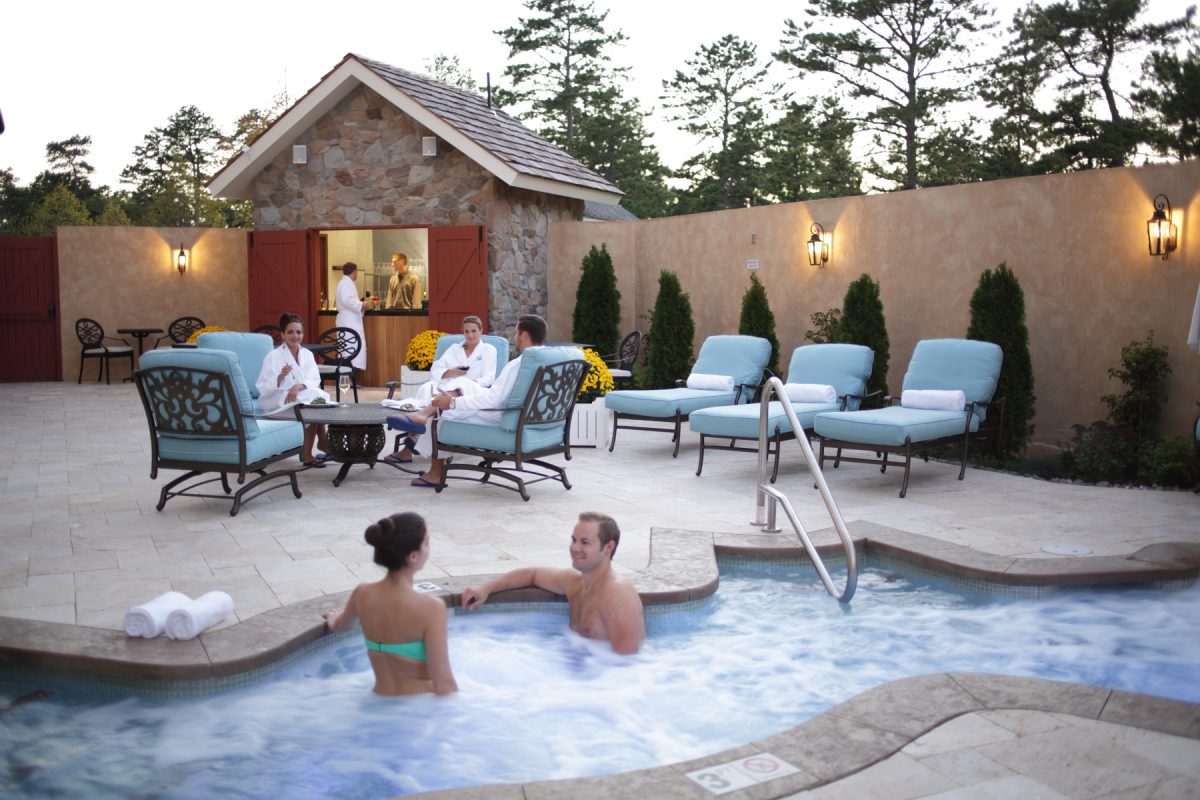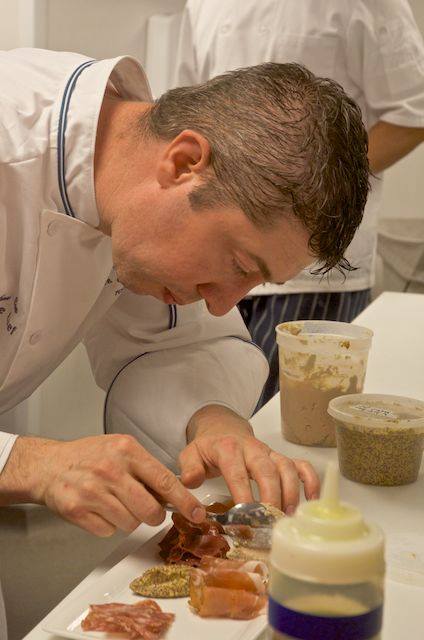 Mirbeau Inn & Spa is much more than just a spa. At this tranquil Pinehills headquarters of serenity, you will find The Bistro & Wine Bar. The cuisine is bistronomy at its best, interpreting French bistro dishes with a present-day sensibility. That means inventive ingredients and produce, meat, and fish sourced almost exclusively from local growers and suppliers. Chef Stephen Coe's menu includes grilled oysters with pancetta and bee pollen while calamari is paired with rice tempura and honey (Chef Coe is a beekeeper too). Classic dishes remain true to their roots: Steak frites is served with truffle fries and bistro streak with creamed spinach. For brunch one finds duck fat fries with bacon jam, a lobster BLT, and crepes. Dine a la terre on the Bistro Porch overlooking the Monet-inspired gardens. At the Aqua Terrace one can order flatbreads and rum punch while soaking in the spa. Not one to limit himself to geography, Chef Coe revels in creating culinary excursions. During oyster season he partners with Plymouth Rock Oyster Growers on an oyster extravaganza that involves hopping a boat to a sandbar for champagne, oysters, and charcuterie, coupled with a lesson on harvesting and shucking. His latest gourmet adventure involves dining in a cranberry bog. He's also hinted at doing something on the Mayflower. It is Plymouth after all.
---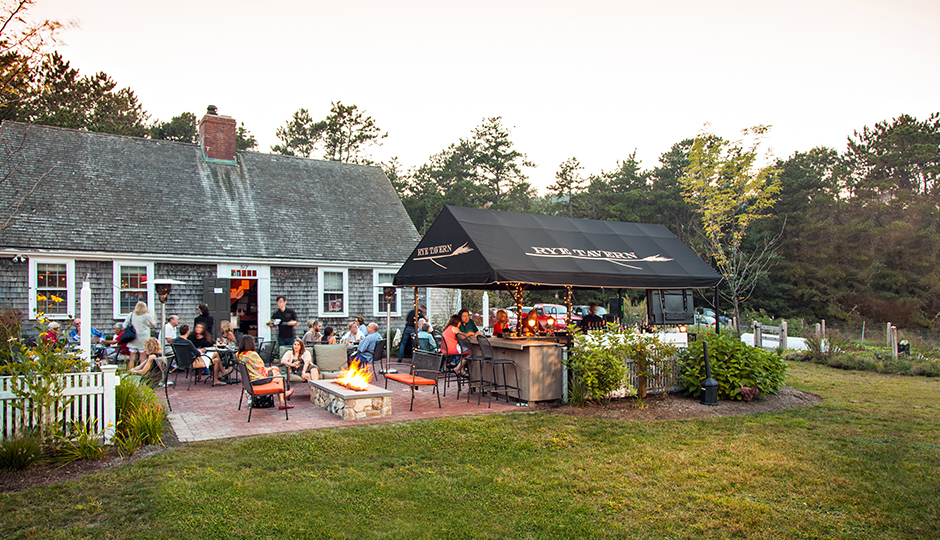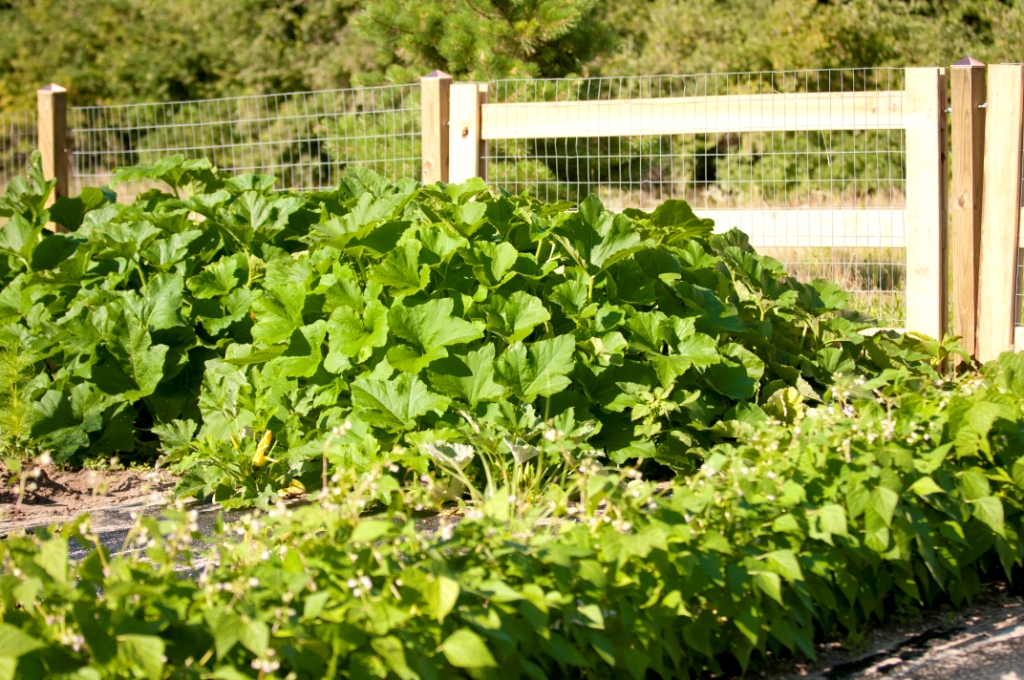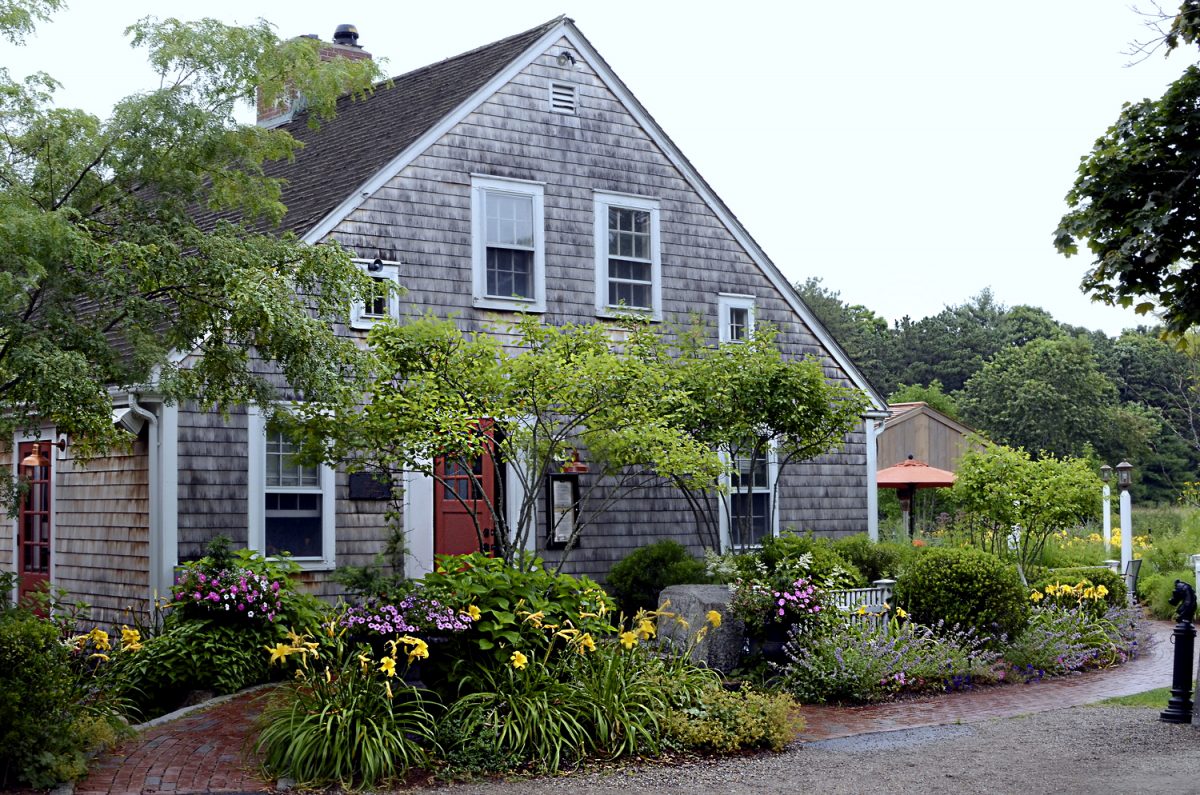 Rye Tavern The rustic (and thoroughly romantic) 1792 building the tavern occupies is historic, but its approach to cuisine is anything but. With a menu that changes every seven weeks based on the vegetables grown on its half-acre farm traditional American fare is infused with seasonal ingredients, rendering every dish modern and fresh. Current appetizers include pork belly with grilled peaches and pepper slaw and tomato onion soup with white beans and whipped brie, while hearty entrees feature a grilled flat iron steak with Sriracha marinade and Korean smoked pork ribs with bacon dashi. "We're trying some dishes with an Asian flair," says Chef Andrew Swain, who grew up in nearby Falmouth. Expect the summer menu to include veggies growing in their garden this spring: snap peas, ghost peppers, Mexican cucumbers, and sunflowers. "Sunflower shoots are delicious raw," Chef Swain says. He also expects to plant fig trees this year. But back to the meat, which they dry age in-house. Chef Swain buys cows, pigs, and goats at auction, working with a local farm just down the road to raise them over the summer for use during the winter months. The cozy restaurant seats 50 indoors, but come spring capacity expands to 200, with two patios nestled into the wooded landscape, complete with fire pit, and outdoor bar. A former rye field across the street adds to the rural ambience. Rye Tavern is made for date night, especially for Bostonians looking for an out-of-city experience.
---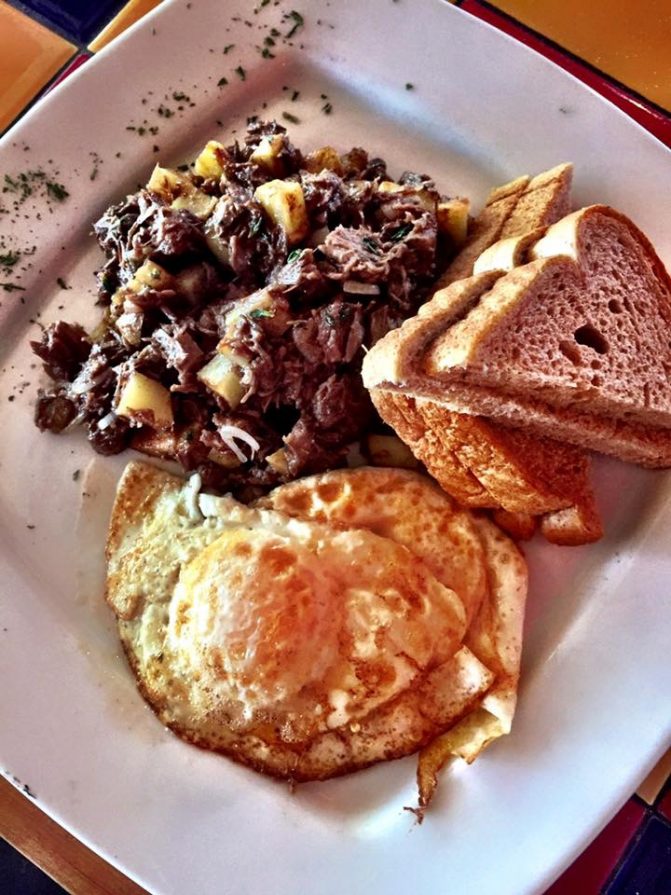 Café Roo This casual café is a sister location to the beloved Plymouth eatery, Roo Bar. It is slated to open mid to late May in the heart of the Village Green and will offer eat-in/take-out options. Morning must-haves include a full array of coffee creations (Americanos, macchiatos, and the like), fresh fruit protein smoothies, and to-die-for breakfast sweets made from scratch by the in-house pastry chef Phillip Caramello. Think Almond Joy muffins and the most sinful of cinnamon buns. He also whips up banana bread and coffee cake using co-owner Kristin Mackin's mom's recipes (owning a restaurant has its perks). Inventive scrambles replace staid omelets (order with a side of short rib hash), and French toast stuffed with Nutella is worth leaving home for on the weekend. Lunch favorites are many, including crunchy eggplant salad, fig and prosciutto panini, Greek veggie wrap with tzatziki, and grilled cheese made with chipotle cheddar, Granny Smith apples, and bacon. As the parents of a six-year-old, co-owners Kristin Mackin and Michael Clinton strive to be absolutely family-friendly, right down to a kids menu even the pickiest eater will accept. Opt for eating al fresco on the stone patio and the mess won't even matter.
The Market The team at this gourmet market is one hundred percent at your service. Just about everything is cooked from scratch in the on site kitchen, and they'll even use your own casserole dishes. "There's a woman who asks us to make her grandmother's lasagna every year," says Chef Dane Axon. "It's a complicated recipe with a white sauce; she just doesn't have the time to do it." In addition to kitchen staples and an abundance of local produce, there's a butcher and fish department too. They cut the certified Angus beef on the premises and ground their own meat for gourmet burgers. How about a Steak Bomb burger with onions, peppers, mushrooms, and cheddar? Yeah, we thought so. Looking to roast a leg of lamb or set up a pig on a spit? The butchers and fishmonger will special order anything you need, with fresh deliveries arriving six days a week. A hot bar at lunchtime serves up eight different items daily, with Asian Day and Taco Day being perennial favorites. For those pressed for time in the evening, grab-and-go entrées like grilled chicken breast smoked in-house is not at all a hardship. For warm weather entertaining Axon tells us that the bacon ranch pasta salad is extremely popular, as is the red bliss potato salad. "We go through a couple of hundred pounds of potatoes in a week," he says. What won't he do? They don't actually cater off site, however if you're willing to take out and set up he says, "Our menu is limitless."
Long Ridge Wine & Spirits The cathedral ceiling and rustic wooden beams inside this butter yellow clapboard building by The Pinehills Village Green makes you want to choose a bottle of fine wine and nestle in fireside or skip off to a picnic by a pond. The staff prides themselves on getting to know customers' tastes so they can cultivate personalized recommendations, sprinkling new finds in with old favorites. In addition to over 500 wines from across the globe, there's a well-stocked craft beer corner and an expansive selection of organic spirits. The shop also stocks local options including rums from Portland, Maine-based New England Distilling and Gloucester-based Ryan and Wood Distillery. (Rum drinks are de rigueur for summer!) In addition to regular Friday night wine tastings, look for a beer, wine, and oyster tasting events this spring with Sweet Sound Oysters out of Duxbury.
---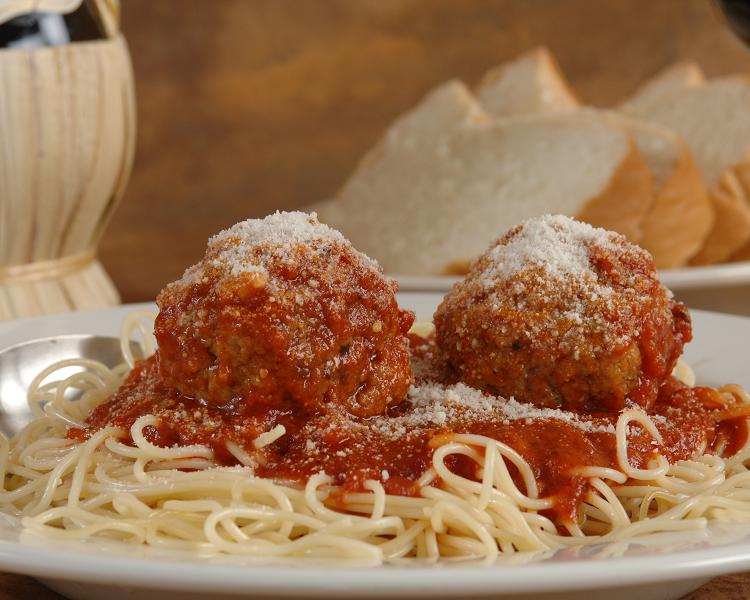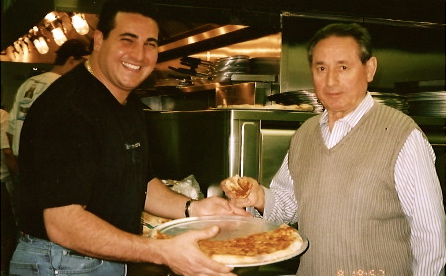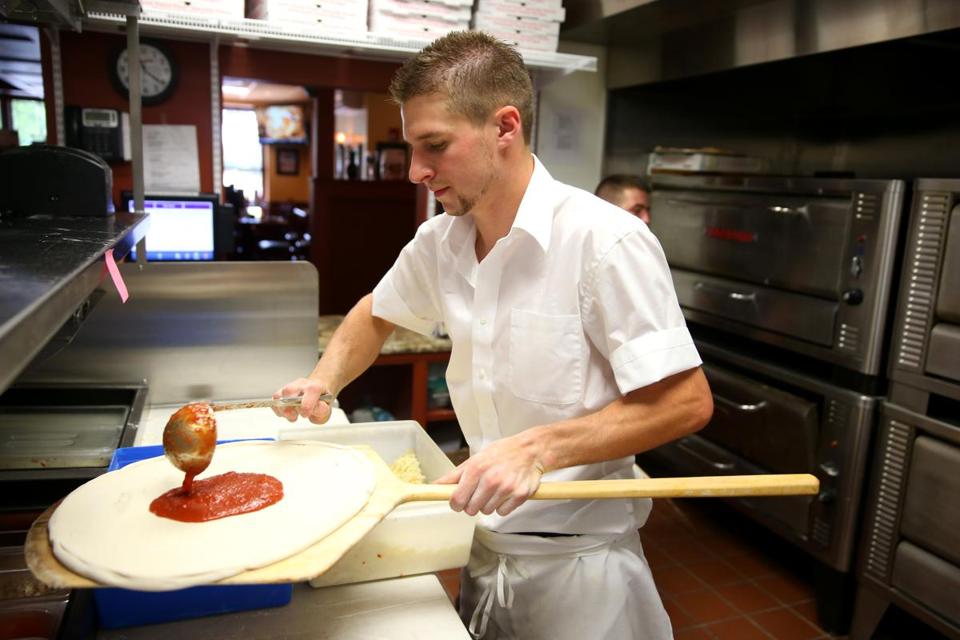 Mamma Mia's Because sometimes you want the hug of a family-style Italian meal without spending the day with your grandmother in the kitchen. Mamma Mia's restaurant at The Pinehills is one of six locations that originated in Kingston over forty years ago, the brainchild of brothers who hailed from a small town near Naples, Italy. Hearty regional fare such as artichoke salad, veal saltimbocca, shrimp fra diavolo, eggplant manicotti, and hand-tossed deep-dish pizzas dominate the menu. Take out trays of your favorite dishes feed 8-20 people if you've got a crowd.
East Bay Grille at The Pinehills Golf Club A round of golf is not complete without a post-match meal, be it lunch or dinner. Overlook the practice green enjoying casual fare like a wagyu burger on brioche with a basket of homemade potato chips, sirloin steak tips over mesclun, or tuna tacos. Dinner dishes include prosciutto wrapped cod with grilled octopus, as well as pan roasted duck served with Brussels sprouts. The restaurant and golf courses are open daily to the public.
This is a paid partnership between The Pinehills and Boston Magazine's City/Studio
---