9 Reasons to Soak Up Spring on the Cape and Islands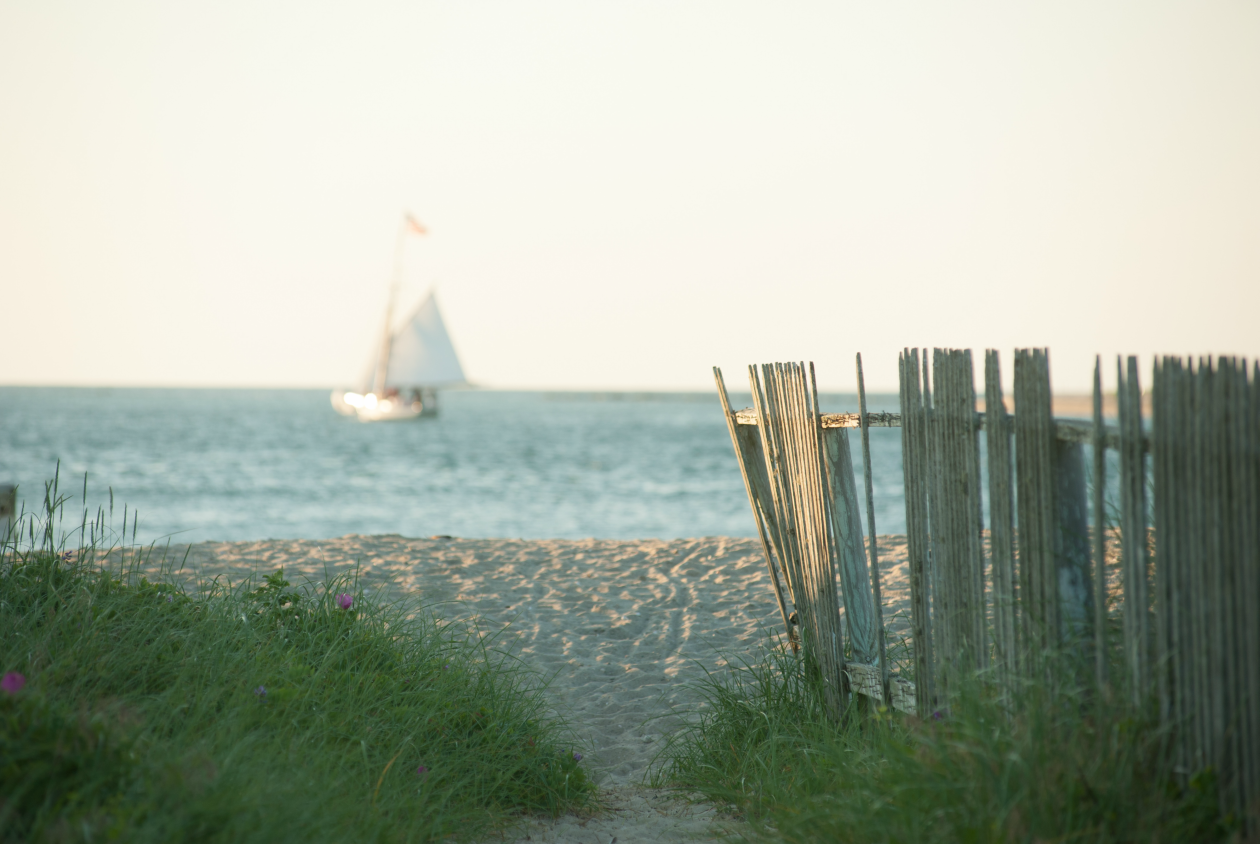 The sun is shining, the weather is warmer, and the skies are blue. Ah, spring is in the air!
And there's no better place to spend your spring break than basking on the beaches of Cape Cod, Martha's Vineyard, and Nantucket. Here are nine reasons to plan your seasonal getaway to New England's favorite vacation region.
Flowers are in full bloom. Stop and smell the roses – or the daffodils. The 44th Annual Nantucket Daffodil Festival on April 27-29 is an Island tradition to honor the yellow flora. Attend the antique car parade and other festivities donning your daffy-themed garb. From May 4-6, the annual Brewster in Bloom brings a 5K Bloom Run, arts and crafts show, Brewster Band concert, and festive parade to the town; bring the kids along to Kid Fest at Drummer Boy Park that Saturday for food, fun, and games. Head to the Vineyard's Pink and Green Weekend on May 11-13, and celebrate the season and Mother's Day amidst a sea of vibrant crocuses, with activities including extravagant brunches, shopping sales, and family-friendly events like a themed dog show. On May 21, the Rhododendron Festival at Heritage Museums and Gardens showcases thousands of the world-famous flowers over 100 colorful acres and exquisite grounds.
Foodies, rejoice! Dig in and enjoy restaurant week on Cape Cod from May 14-20, with three- and four-course menus for $25, $30, or $35 offered by local favorites, including Anejo Mexican Bistro, The Naked Oyster, and Scargo Café. Take an edible journey of Nantucket Island at Nantucket Restaurant Week on June 4-10; three- to five-course dinners ranging from $25 to $48 are presented by such Island restaurants as Brant Point Grill, Nantucket Prime, and The Pearl. Martha's Vineyard's annual Taste of the Vineyard on June 14 and 16 is a tented affair, featuring a Gourmet Stroll on Thursday and Patrons' Stroll on Saturday exploring unique local flavors, including food, wine, and handcrafted beer.
Find family-friendly fun. Island Alpaca's annual Shearing Day will be held April 28 on Martha's Vineyard. Kids will love to get up close with these gentle, curious creatures; refreshments and door prizes add to the fun. From May 25-28, don't miss Figawi Race Weekend, considered one of the top sailing events in the country and the unofficial kickoff to summer. Cheer on the more than 200 sailboats as they race from Hyannis to Nantucket. Root for the home team on June 12 at Opening Day of the Cape Cod Baseball League. Bring a blanket, grab a hot dog, and settle in to watch future Major League Baseball players in action.

Bike around the beaches. Soak up the spring sunshine with a bike ride. Cyclers on Cape Cod have 114 miles of paths to choose from, with routes through picturesque towns, passing ocean views, salt marshes, and lighthouses. If you're cruising through Nantucket, take your pick from more than 33 miles of bike paths, all separate from adjacent roads and offering a gorgeous tour of the Island. Martha's Vineyard boasts 44 miles of bike trails, with mostly flat terrain for beginners and kids. If you're up for a challenge, try a tour of West Tisbury, Chilmark, or Aquinnah.
Time for wine. Wine down this season with some delicious vino, courtesy of the Cape and Islands. From May 16-20, the Nantucket Wine and Food Festival offers a boutique experience with world class wines and award-winning food; fittingly, the festival turned 21 last year. Toast to spring at Truro Vineyards of Cape Cod. For only $10 per person, you can sample five of ten available wines in the open-air tasting room and take home a souvenir glass to remember your trip. If beer is more your scene, you're in luck. Breweries on Cape Cod and Nantucket will quench your palate, as will Martha's Vineyard's two microbreweries Bad Martha and Offshore Ale Company.
Whale watching is back. Spring signals the return of a favorite pastime on the Cape and Islands. Hop aboard one of Cape Cod's many whalewatch excursions for a chance to see these majestic creatures in their natural habitat. Daily trips led by expert naturalists depart from April through October. On Nantucket, set sail for a six-hour whale watching expedition with Shearwater Excursions to get a glimpse of humpback, finback, and minke whales, as well as basking sharks, white-sided dolphins, and sea turtles.
Go golfing. Get some tee time on one of the Cape's 40-plus courses, including championship, nine-hole, and par-54 layouts. Many of the area's hotels and motels feature fantastic stay-and-play package deals, while a few of the upscale resorts provide access to exclusive, private golf courses. When on Island time, take a swing at Nantucket's Miacomet Golf Club, or try Farm Neck Golf Course and Mink Meadows Golf Club on the Vineyard.
Explore to your arts' content. Stop by any (or all) of the four cultural districts on Cape Cod; see glassblowers in action in Sandwich Glass Town, head harborside for Barnstable Village, find a crafty gift at Hyannis HyArts, and hunt for handmade goodies in Orleans Village Center. Nantucket's Cultural District houses live performances, concerts, exhibits, and other exciting events throughout spring. On Martha's Vineyard, the Aquinnah Circle Cultural District is famous for its red brick lighthouse. Built in 1856, the lighthouse is made entirely from clay harvested from the cliffs. The Vineyard Haven Harbor Cultural District is a charming retreat with shops and galleries on Main Street and two ship building centers featuring two Class B tall ships.
It's open season. This time of year brings the opening of several attractions and exclusive events. Miniature golf courses on Cape Cod start seeing action again in April, as does the Cape Cod Inflatable Park, a wonderland of water rides and attractions that's as much bouncy fun as it sounds. The nation's oldest platform carousel and an official national landmark, the Flying Horses Carousel on Martha's Vineyard, is ready to ride in April; take a spin for a chance to grab the winning brass ring. The Maria Mitchell Association on Nantucket also comes back to life this spring with the reopening of the aquarium, observatory, and science museum.
After a wild winter, you deserve a chance to regroup and relax. Bloom where you're planted – just be sure to plant yourself on the Cape and Islands.
For more information on Cape Cod, visit capecodchamber.org. For more information on Martha's Vineyard, visit mvy.com. For more information on Nantucket Island, visit nantucketchamber.org. This post is funded in part by the Massachusetts Office of Travel & Tourism.
This is a paid partnership between Cape Cod Chamber of Commerce, Martha's Vineyard Chamber of Commerce, Nantucket Island Chamber of Commerce and Massachusetts Office of Travel and Tourism and Boston Magazine's City/Studio
---