A Look at Patrick Ahearn's Private Beach Cottage on Martha's Vineyard
Patrick Ahearn is known for his stunning architectural restorations and reinventions of Edgartown's palatial waterfront compounds. He has a knack for artistically weathering new residences and giving facelifts to old ones to complement the surrounding landscape and history of Martha's Vineyard. Take a look at what Ahearn has designed as a private retreat for his own family.
You might expect to see a grand manse, similar to those that have earned him well-deserved accolades and awards, however instead nestled amid a forest of native vegetation is a very unpretentious, unassuming blue-grey shingled cottage on a 2.8-acre sandy beach overlooking the Elizabeth Islands and Cuttyhunk. It is secluded and modest, yet oozes quintessential New England coastal style.
When the Ahearns bought the property in late 2013, it consisted of two beach shacks with private beach frontage. Both structures were in such bad shape that they needed to be stripped to the bones. They decided to make the larger of the two the main house, which would ultimately serve as a multi-generational gathering spot for the family. The smaller was transformed into a guesthouse.
Neither was livable, and Ahearn had to secure proper planning and conservation commission approval before he could begin the transformation. Regulations required that the plans be restricted to a maximum of 2,000 square feet. With a bit of wiggle room, Ahearn was able to add a deck, hot tub, and expanded the bedroom and bathroom to the main house. He installed a pergola in the guesthouse and enhanced the landscaping. However, both buildings needed new roofs, shingles, doors and mullion windows. New wiring, heating, a/c, plumbing and appliances brought everything up to code and comfort standards.
As with other Patrick Ahearn properties, natural light and a muddled differentiation between outside and inside are to be expected. The main house features three bedrooms and two levels of glass windows and skylights that brighten the interior and provide open views to the ocean. Sliding doors connect the newly constructed deck with the living and dining rooms.
Once inside, the talents of Marsha Ahearn are showcased. She designed the interior in a shabby-chic style that plays off of coastal-inspired colors and materials. Floors, walls and furnishings feature a neutral color palette, with spurts of blue and turquoise, plus summer floral adding a fresh, comfortable feel. The two main-floor bedrooms also bring elements of the outside in. One sports a headboard made of old shutters and a cotton rug of wide blue and white stripes. The other has a sisal carpet and bold turquoise distressed furniture. The kitchen is open with white cabinetry topped with teak counters, open shelving and a deep sink. Wicker baskets corral bar essentials, and an eclectic table lamp with a floral 1950s-style shade adds a bit of whimsy.
Besides boasting a cathedral ceiling, the living room's focal point is a fireplace with a surround of set-in beach stones and a rustic mantel. A ship's ladder leads to a loft bedroom lit by a suspended lantern. The bed is dressed in blue-and-white ticking and an array of throw pillows in neutrals and a vivid floral. Everything about the place is breezy and airy, from the white ceiling beams, couches and dishes to light, gently distressed chests and accent chairs, and abundant use of wicker.
The coastal décor carries through to the guesthouse, which is made up of a master bedroom and bath and combined kitchen and living/dining space — this time accented with touches of red and grey. The pergola shades the outdoor deck that serves as additional gathering space. It's perfect for visiting friends or family who would like a little privacy — or those who love being close enough to hear the lapping of the waves and smell the salty air.
Patrick Ahearn's beach cottage is a very personal interpretation of his larger scale work and a lovely, peaceful sanctuary that he very much deserves.
---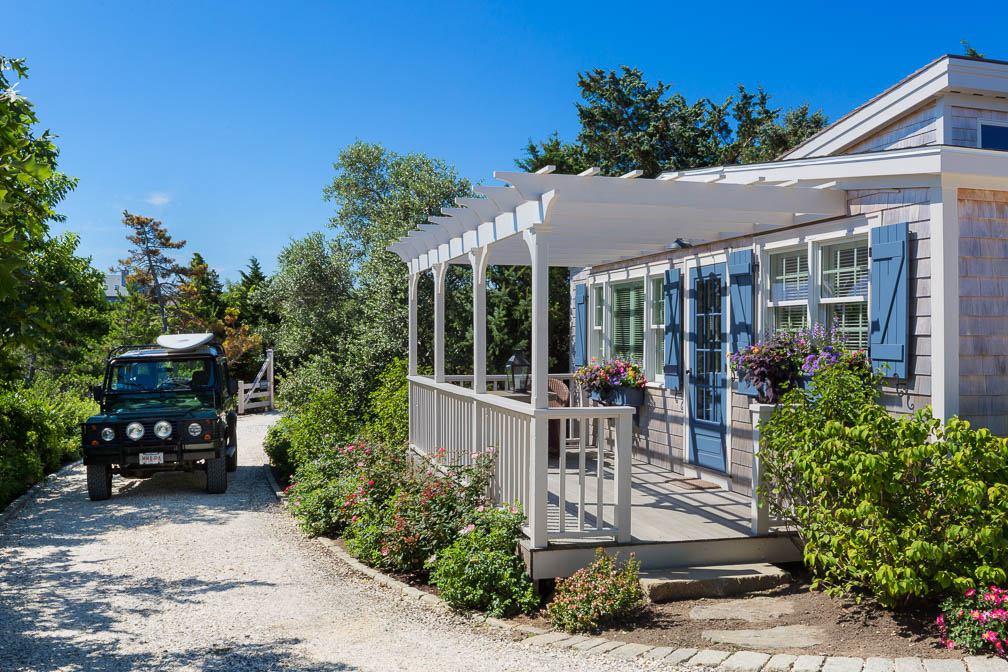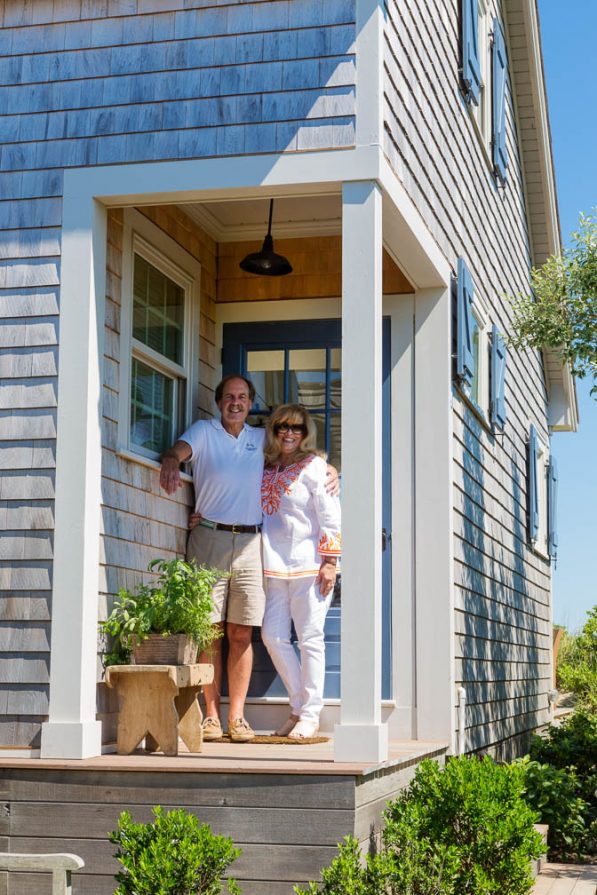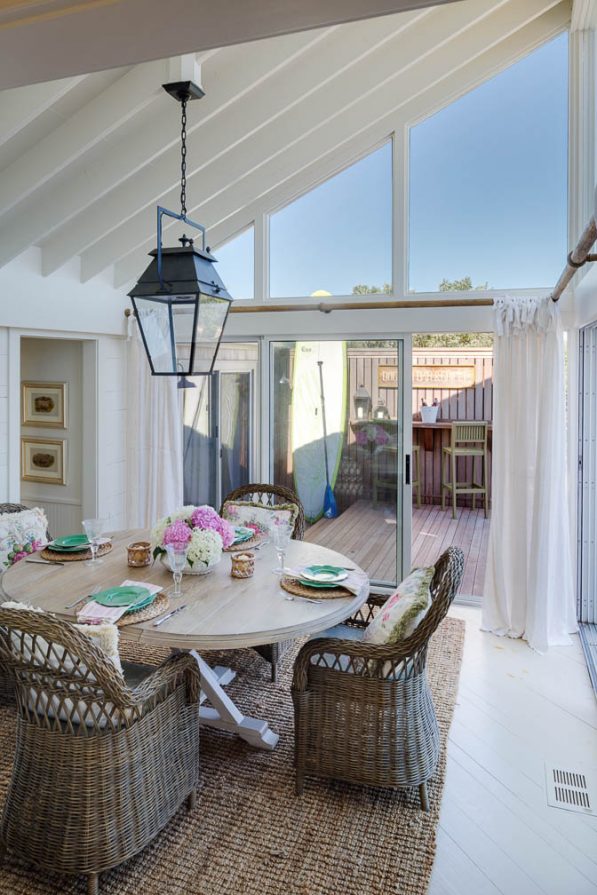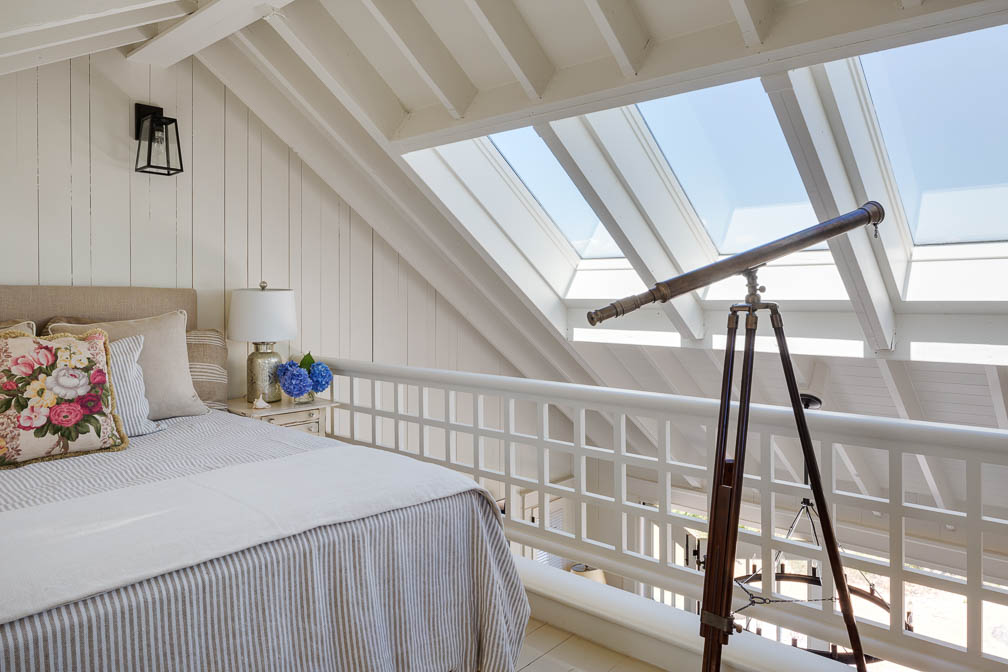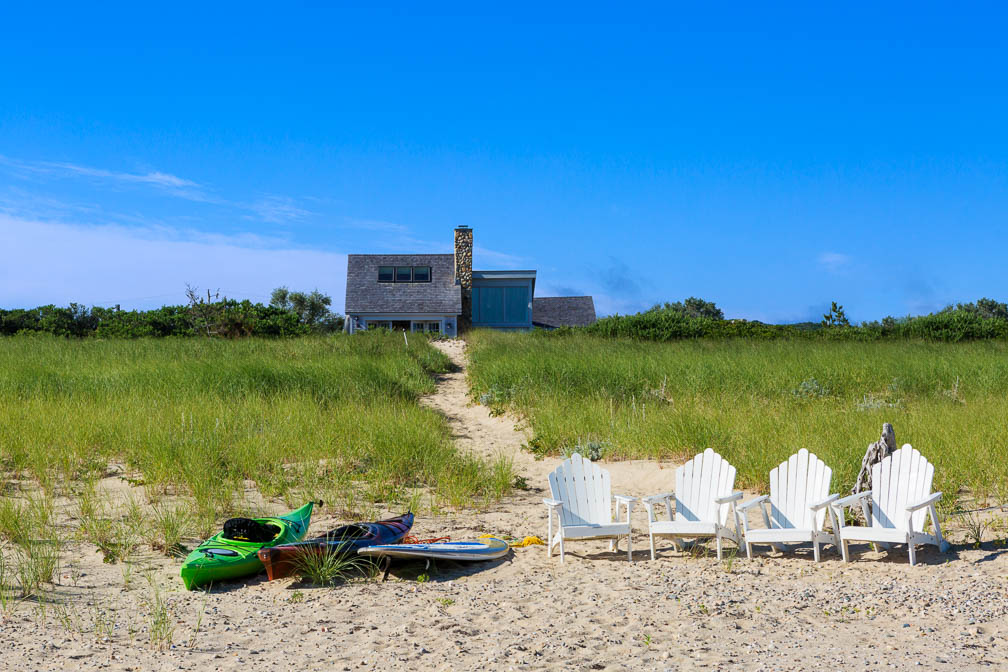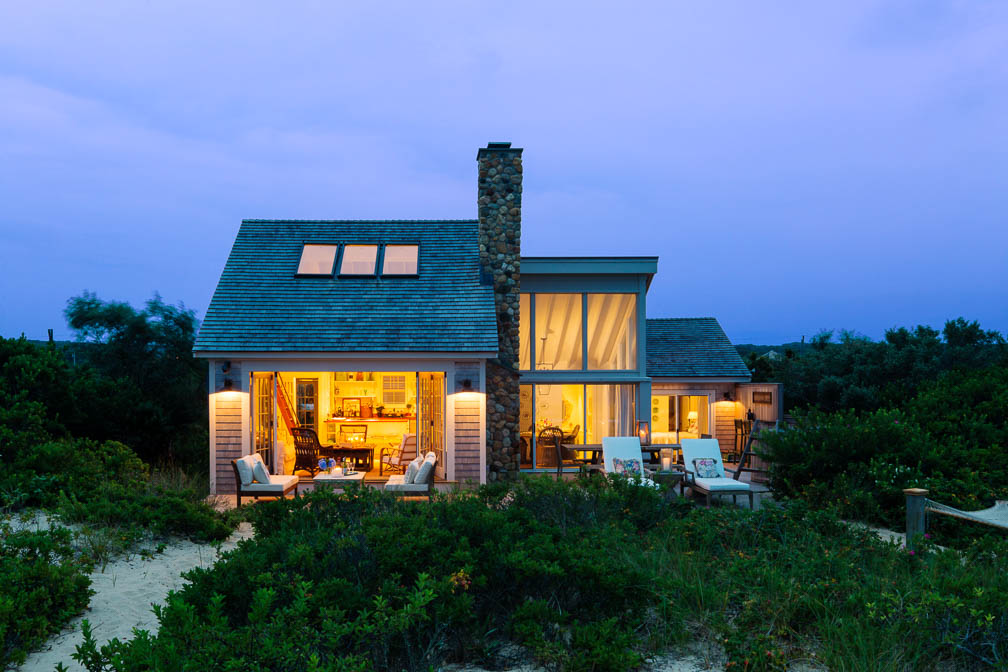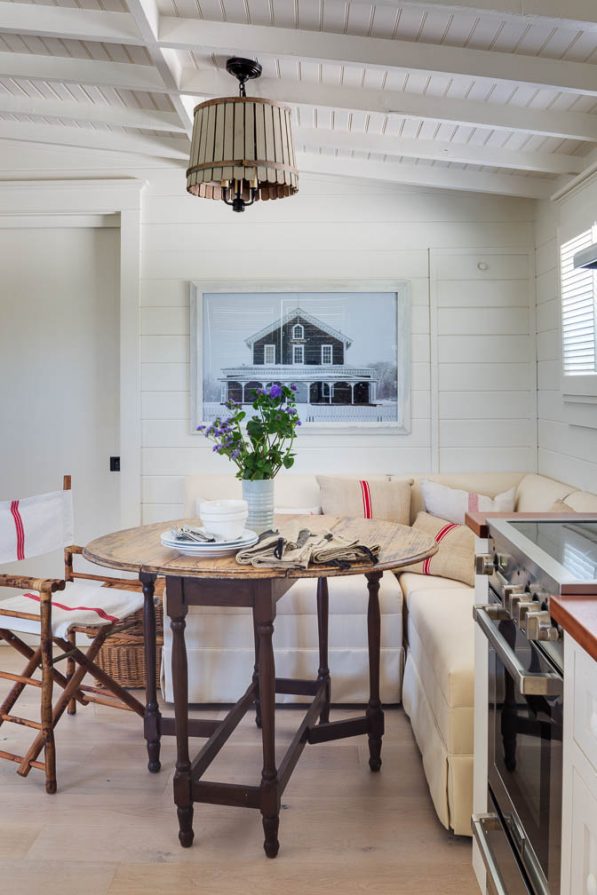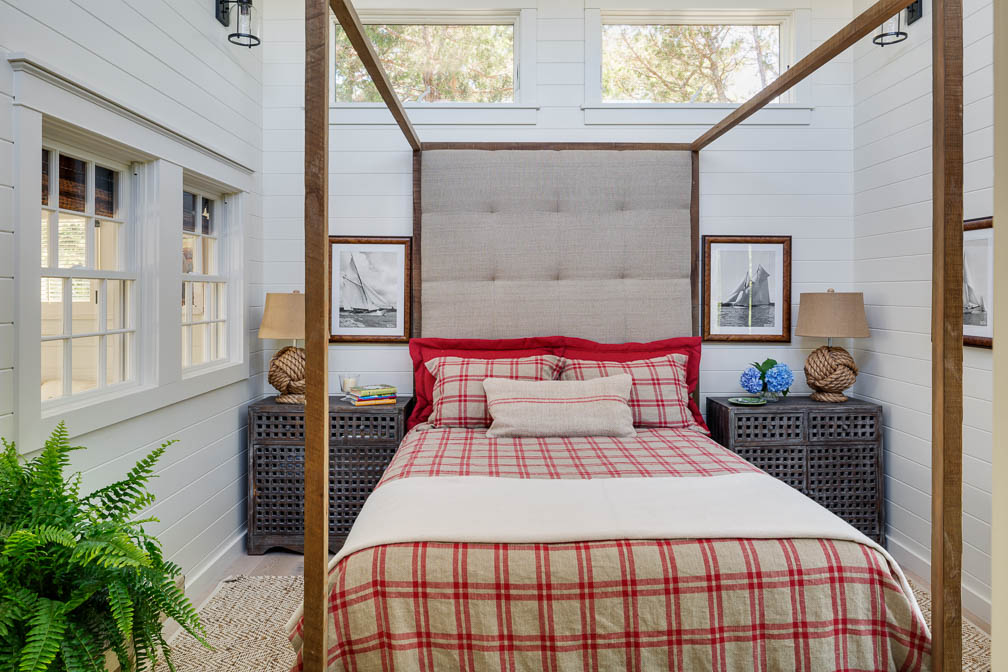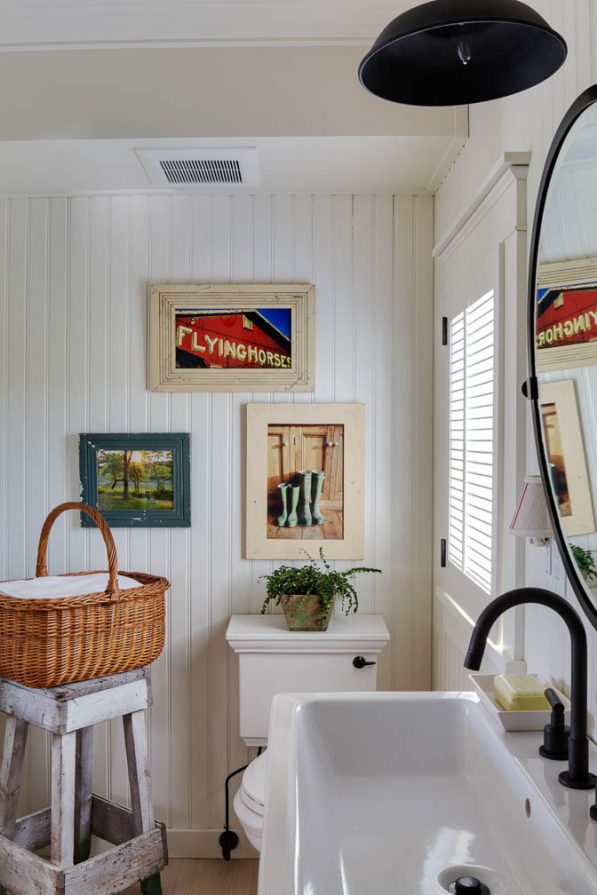 This is a paid partnership between Patrick Ahearn and Boston Magazine's City/Studio
---