Treat Yourself to Some of Boston's Finest Food and Cocktails on a Luxury Fall Weekend in Back Bay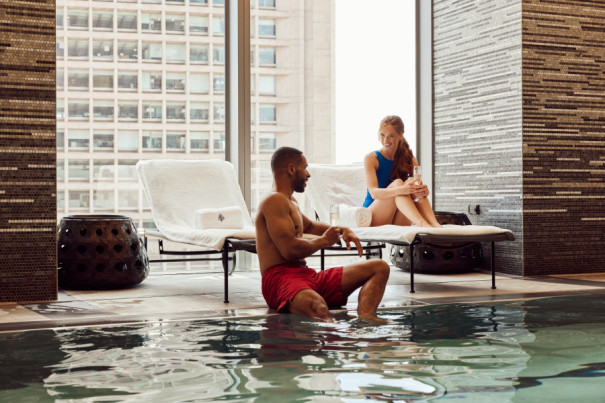 Glorious weather and fiery foliage tell us that fall has finally made its graceful landing in Boston. But it's not all graceful—the changing of the season also accelerates our weekdays, with kids back in school and summer vacations behind us. The bottom line: Our weekends are more precious than ever.
But even if the weekend only allows you a couple days to reset, that shouldn't stop you from getting away. Just look downtown, among the Boston skyline's row of Back Bay towers, and you'll find an elegant, soft-triangular high-rise where a world of renewal awaits. It's the Four Seasons Hotel One Dalton Street, Boston, which is quickly becoming one of the top Boston destinations for fall weekend rejuvenation.
So don't think about Monday yet. Instead, think about a luxury brunch with an emphasis on peak-season ingredients; an afternoon of massages, facials, and tea; and a dinner that will very likely rank among your top Boston meals (don't even get us started on the cocktails), and Sunday morning's breakfast in bed. Here's what you have to look forward to.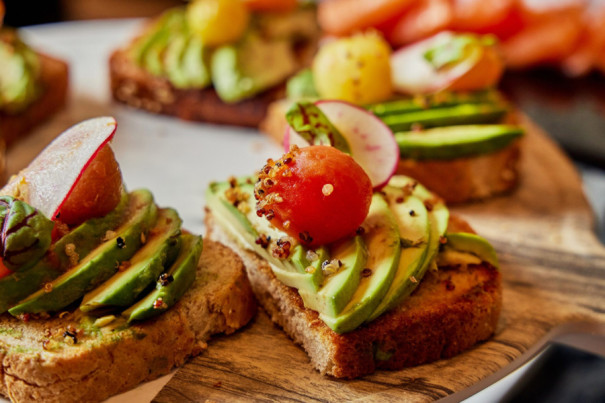 Boston's Freshest Brunch
Ahmed Yacout, general manager of the Hotel, says brunch at One+One is the first must-try for your weekend "away." It's one of the Four Seasons' most iconic offerings, and the only luxury buffet brunch in Boston. At One+One, expect an emphasis on freshness from sips to starters to sweets. "We take a lot of pride in the seasonality of the brunch," Yacout says.
He says the overall freshness of the ingredients elevates every bite, thanks to Chef Daniel Burger's commitment to produce harvested by farmers that yield the most flavorful harvest. That commitment is what sets the food apart, and Yacout says it's something he sees behind the scenes. When Yacout walks by the kitchen, he and Chef Burger often discuss food selections, especially produce.
"Chef says, 'they've produced this for the first time, and it's all organic, and it's grown just three months out of the year,'" says Yacout. "You taste it, and it truly has uniqueness to it."
When it's time for you to taste the flavors for yourself, you can expect a buffet of diverse dishes from the raw bar to the omelet station. Yacout raves about the shakshuka in cast iron pots and the "second-to-none" pastry selection. The inventive beverages, especially the mimosa flight, also keep patrons coming back. "The variety of juices that you are presented with just take the mimosa experience to a different level," he says.
And, of course, freshness isn't just about flavor: Since brunch is booming as of late, Yacout is careful to stay on top of trends. Both "foodies by nature," Yacout and his director of food and beverage Robert Differ often go out to discover what's evolving in terms of brunch. "A lot of times we'll incorporate something new that really excited one of us," he says. "We want to be a bountiful, luxurious, and robust buffet experience—but we certainly don't allow it to become stale."
---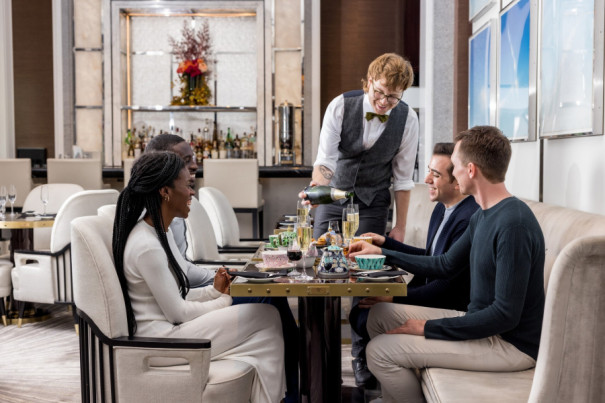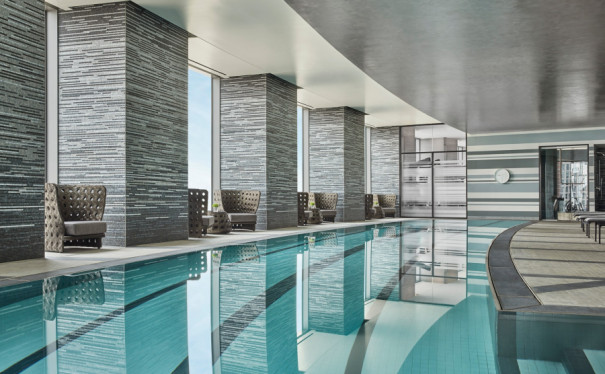 An Afternoon of Self Care
To continue the exceptional service you experienced at One+One, why not aim for a physical and mental reset to follow—and what better way than a spa session and tea time? That's right, your next stop is the The Wellness Floor at One Dalton.
The wellness floor takes traditional hotel spas to the next level, elevating the experience above just spa treatments. "It's not just about getting a treatment, or hanging out by the pool, or doing a little bit of shopping," says Yacout. "Everything that's in there is purposeful."
He points out that every fragrance, oil, treatment, and piece of designer clothing was curated by the spa team, who will talk you through the purpose of each treatment and product. "The team there is so passionate about it," he says. "It really is a great way to leave feeling like you've gotten this amazing tune up."
For the fall hustle and bustle, Yacout recommends one special new treatment, The Sleep Ritual, that aims to improve the quality of your sleep. They've partnered with luxury vegan wellness brand Ground Wellbeing to offer a customized afternoon of breathing exercises, aromatherapy, and massage, plus the Sleep Ritual Slumber Kit, which includes an aromatherapy duo of pillow spray and body oil.
Once your spa time is over, you can reawaken yourself with Afternoon Tea. Trifecta is the hotel's restaurant and bar, but in the afternoon, it's transformed for Afternoon Tea with lighting and music changes, as well as charming tea pots and cups that will transport you to a whimsical fairytale. "You feel like you're in an entirely different space," he says. "We have a lot of pride in the fact that we could flip that switch."
Enjoy a variety of tea flavors, such as sweet orange cinnamon and Japanese green sencha, as well as savory lunch tea sandwiches including smoked salmon, deviled egg with caviar, and pimento cheese on freshly baked corn bread. "The bites are really well thought out," Yacout says.
---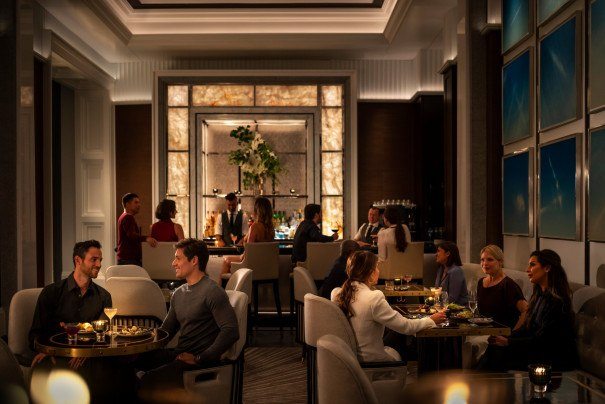 Dinner and Drinks
Saturday night in Boston comes with a quest: You find yourself looking for dinner and drinks that will awaken your senses and offer you an experience you can't get anywhere else in the city. And whether you're already at Four Seasons One Dalton or just in search of a dinner plan, we can assure you that Trifecta will not disappoint.
Chef Daniel Burger answers confidently with a new, robust menu of house-made pasta dishes like langoustine tagliatelle, a surf and turf burger (which was among the top three picks at Boston's recent Battle of the Burger), a lobster roll that Yacout says he would "put up against any lobster roll that exists," and other inventive standouts that will satisfy any group of diners. "Everyone will find something that they could thoroughly enjoy," he says.
When you discover the talent behind the bar at Trifecta, you'll be hooked. Trifecta's bartenders aren't mixing cocktails that you can have at any other high-end restaurant in Boston—each recipe has a distinct flair thanks to hours of taste testing and ingredient choosing. "Their level of craftsmanship is off the charts," Yacout says. "They love being in the lab and testing and creating and playing around with ingredients."
They've taken a classic margarita and added mezcal foam to the top, which Yacout says is "out of this world," even "dangerous." They also apply techniques like butter-washing for bourbon and whiskey cocktails. Yacout also raves about their Manhattan. "I really think we probably have the best Manhattan I've ever had in my entire life," he says, noting his bona fides as a native New Yorker.
The cocktail menu is dotted with other classics, including a negroni and an espresso martini, as well as original mixes, such as the Mrs. Mallard (Braulio Amaro, Chinato vermouth, Earl Grey syrup, Champagne) and the New Day (almond rum, coconut syrup, citrus).
The bartenders are also honing in on their mocktail crafting. Try the Leonessa: date syrup, orange juice, orange, bitters, espresso, and tonic water. "The mocktail world is becoming so strong," Yacout says. "We've introduced some amazing mocktails, so even someone who's not going to have an alcoholic beverage can still enjoy a really well-crafted beverage."
Yacout says Trifecta's bartenders love to discuss the cocktails and think of variations that suit your cravings. And, if they're not too busy with Trifecta patrons, Yacout says, they'll sit and talk shop with you all day long to find out what you're looking for. "They're mixologists," he says. "Their pride comes from your reaction as you take your first sip."
If you're looking for another dinner or drinks option, the Hotel's second floor is home to Zuma: a London-born Japanese restaurant well known for its Izakaya style of dining and its high-demand locations in the world's most foodie-forward cities. Zuma raises the bar for Trifecta, Yacout says, as do other restaurants dominating in Boston's food scene. "We're competing against institutions that have been around for a very long time."
---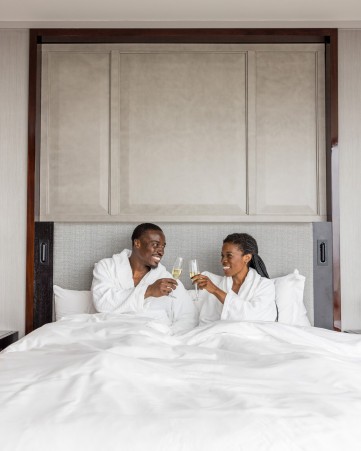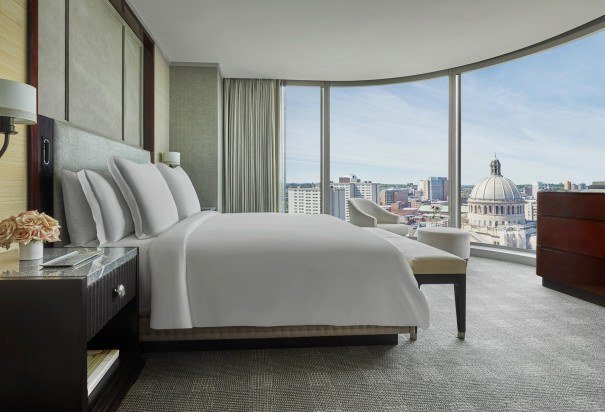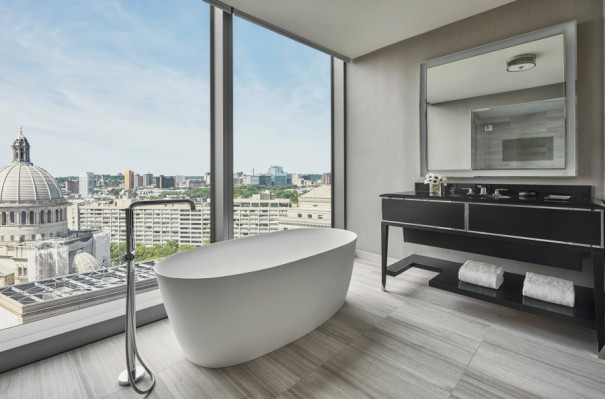 The Ever-So-Tempting Staycation
If you can't help feeling like you'd rather wake up in a place other than your home on Saturday or Sunday morning (or both), we can't blame you. So, if you please, brush out the last bits of beach sand from your weekender bag and pack some fall sweaters, because Four Seasons Hotel One Dalton may be Boston's best opportunity to do just that.
Nestled into Egyptian cotton sheets under a weighted duvet, you'll be satisfied with your decision to book a room before you're even fully awake. "It's like sleeping on a cloud," says Yacout. "Probably the best night's sleep you've ever envisioned."
Then, while you're still relaxing in your warm bed, you can open your remote-controlled drapery to reveal floor-to-ceiling views. "You don't have to get out of bed to open up the drapery and have a view," he says. "Whether you're looking in the direction of Fenway, or the Christian Science reflection pool, or the Back Bay brick homes, it just makes for a nice, cozy Boston day."
Then, you can order coffee or a light breakfast-in-bed straight from your bedside tablet while gazing at the panorama of red and orange foliage—Yacout's insider tip is to book a corner suite, so you can have a panoramic display of Boston's fall beauty. "I personally can't imagine a better fall morning," says Yacout.
Finish your Sunday wake-up with some self-care: A deep soaking tub, plush robes, fabulous bathroom lighting, and an in-mirror TV will leave you feeling fresh, pampered, and ready for the week ahead.
This is a paid partnership between Four Seasons One Dalton Street and Boston Magazine
---