Before & After: 5 Boston Kitchen Remodels You Must See to Believe
Like many ancient cultures, the Egyptians and Greeks created structures like the pyramids and Parthenon to pay homage to great deities and rulers. But those with a keen sense for construction know, such magnificent edifices weren't just meant to be monuments temporarily erected for show.
Instead, the most awe-inspiring architectural works were – like all wonderfully aesthetic, functional spaces – planned, designed and built by a single, expert team to ensure people would enjoy them through the ages.
We sought a modern-day home remodeling firm that that uses the same design-build approach, and found New England Design & Construction to be a classic example. We caught up with their knowledgeable design team to learn how some of their recent projects will make Boston homes better for several years to come.
Prepare to be floored: These enviable NEDC kitchen renovations prove the sky – not the ceiling – is the limit.
Pull up a chair: A more delightful dining experience in Chestnut Hill
---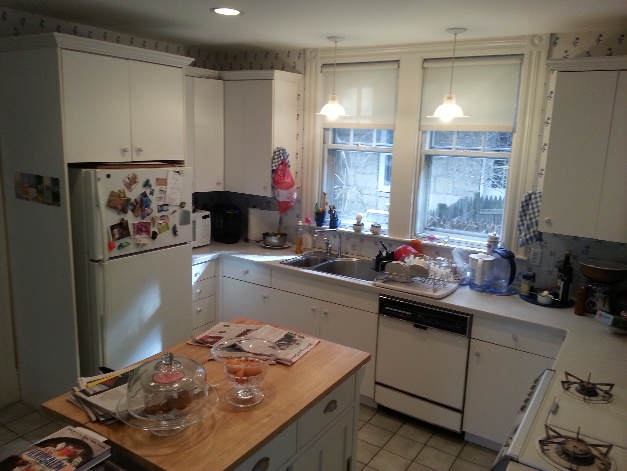 With a beautiful home to begin with, this Newton client wanted to reimagine their entire first floor by creating a remarkable kitchen that shines. So, after a planning process that the client described as giving "an excellent sense of what the final product would look like, where many useful suggestions were made," NEDC fully gutted the kitchen and removed a small mud room in order to create more space and create a better flow between the living and eating areas.
Then, existing closets were replaced by built-in pantries, maximizing the effectiveness of the room with custom, out-of-site storage. To top it off, a large kitchen island and high end appliances (including a top-of-the-line steam oven) were introduced for a higher quality, breathtaking visual upgrade that exudes a warm, inviting oasis. See more pictures here!
Reclaim your space: A beastly Brighton project, beautifully restored
---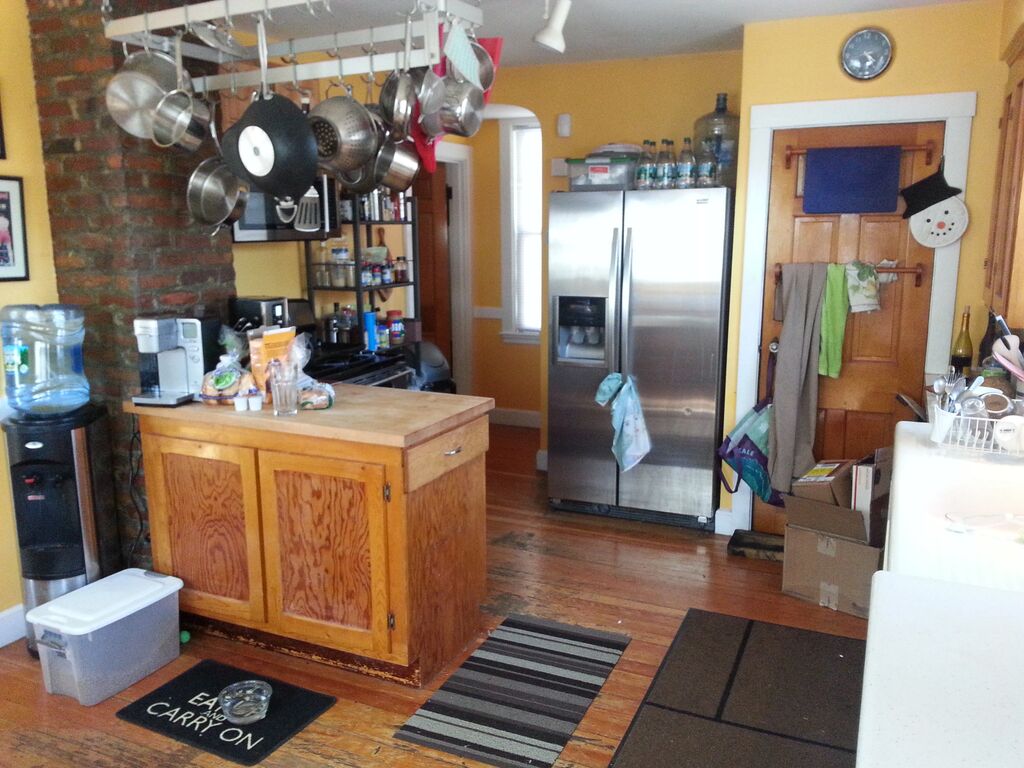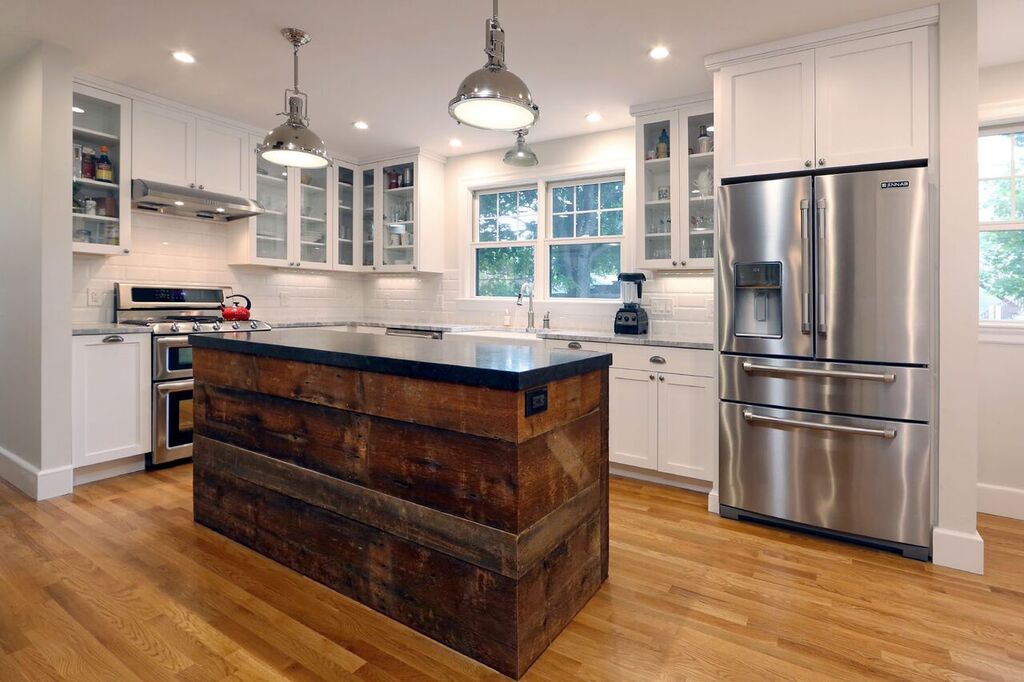 This formerly cramped kitchen in Brighton blossomed into an open, airy space that's way more functional (and fun to look at!). That's because NEDC followed the same process all projects undergo, and drew up multiple solutions to choose from. After the homeowner selected a concept, the crew worked tirelessly to isolate any design challenges posed with the winning direction and intelligently resolved any issues before beginning construction.
For this happy client, they unveiled a show-stopping reclaimed wood kitchen island – clearly the project's star! – which provided a unique contrast to white shaker cabinets. Plus, a pull-out drawer microwave helped keep the counter un-cluttered while windows and effective schoolhouse pendant lighting solutions stylishly created a bright, cheerful environment. See additional photography of this project here.
Enter a new age: A tastefully-revived South End Victorian
---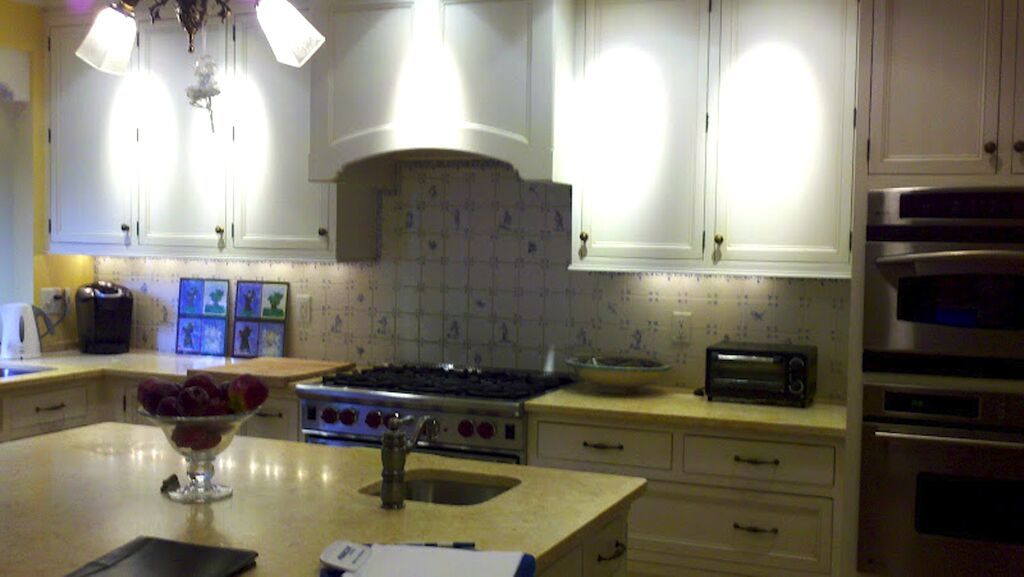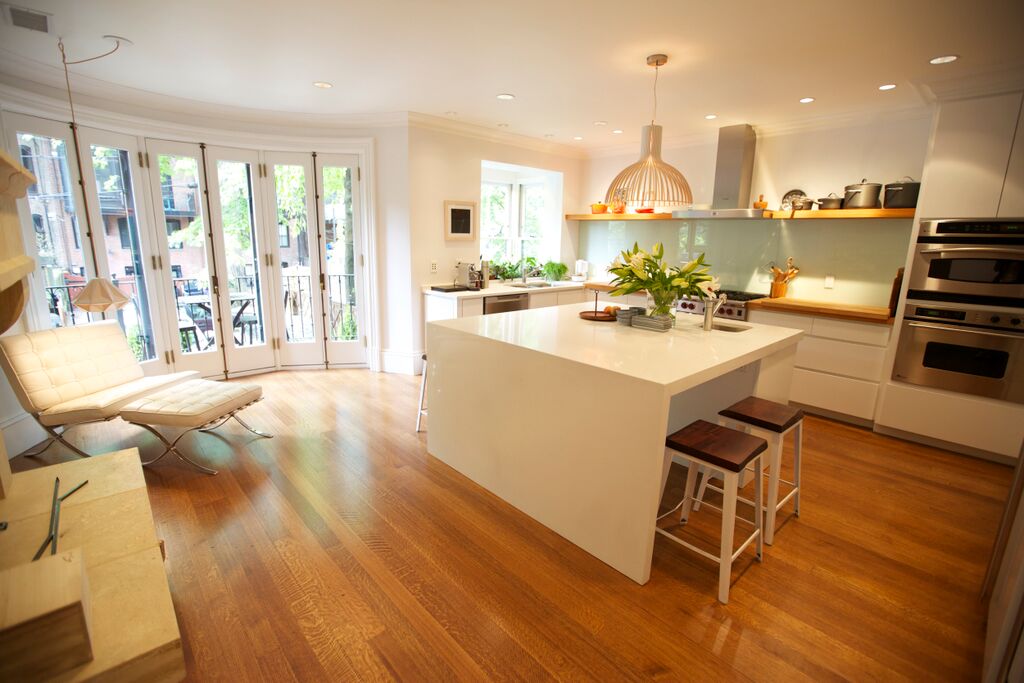 The goal of this luxurious South End project was to maintain the integrity of the already stunning home, while making it more aesthetically pleasing and comfortable for the chic, contemporary client.
Superfluous, Victorian era details in the home were extracted for a less ornamental and more clean, minimalist look. In the kitchen and pantry, cabinet doors were re-faced and new push-open hardware was installed to create a sleek appearance, as upper cabinets were removed in favor of open slot shelving. A stark island for food prep and dining also integrated a waterfall leg that incorporated more open flow of sunshine, shedding light on a new era in this dashing abode. Take a closer look at this kitchen here!
All access: A Jamaica Plain space finds balance with style
---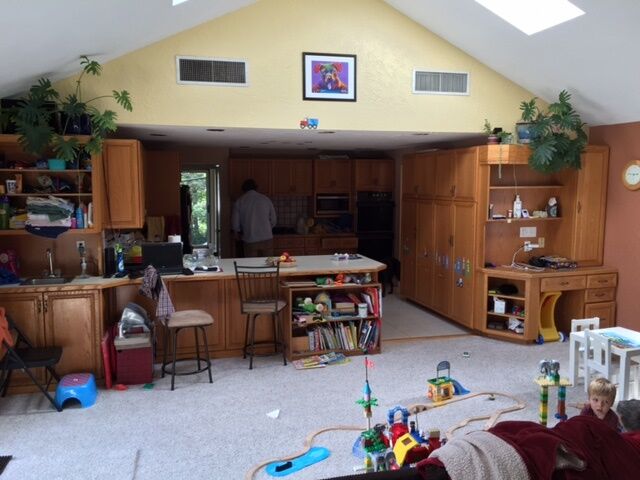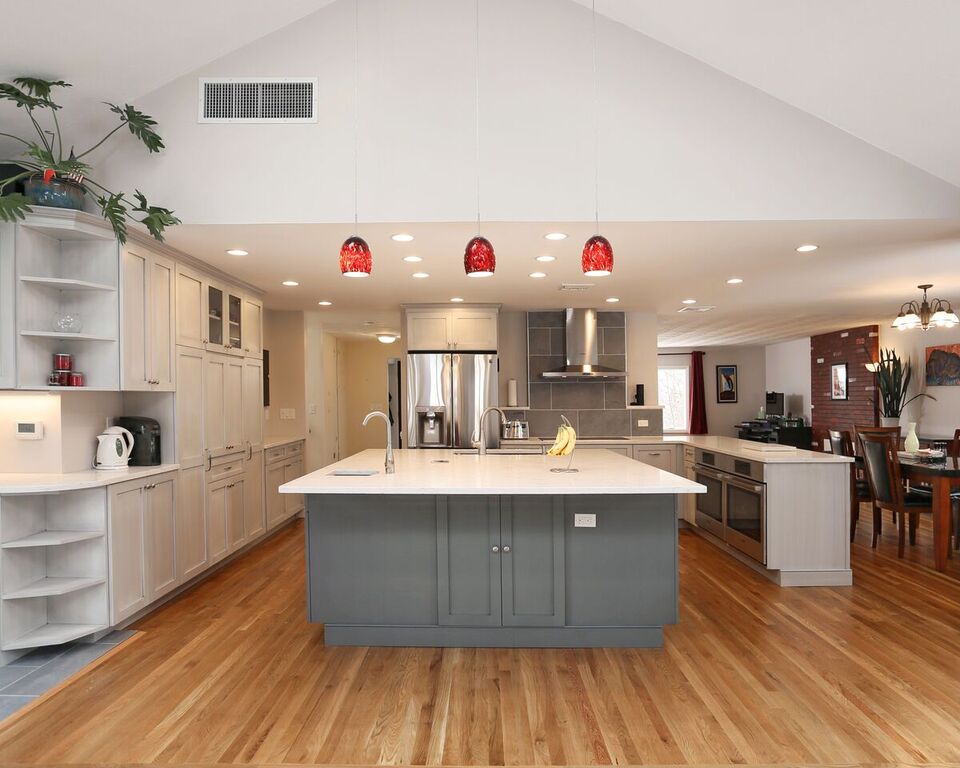 This once outdated, 1920's style kitchen in Jamaica Plain benefited big time from extra square footage, thanks to a construction which extended a portion of the large family room adjacent to the culinary quarters.
Now noticeably brighter, the more welcoming area has sufficient room for a full house to eat in and new appliances. But, this kitchen wasn't just optimized for cooking thanks to stainless steel fixtures, electric kettles and other bells and whistles. A more modern, comfortable vibe helped create a more relaxing, family-oriented space perfect for doing homework, sharing stories from the day and entertaining for any occasion. Check out additional photos here.
Opening Up: A West Roxbury Kitchen exudes WOW! Factor
---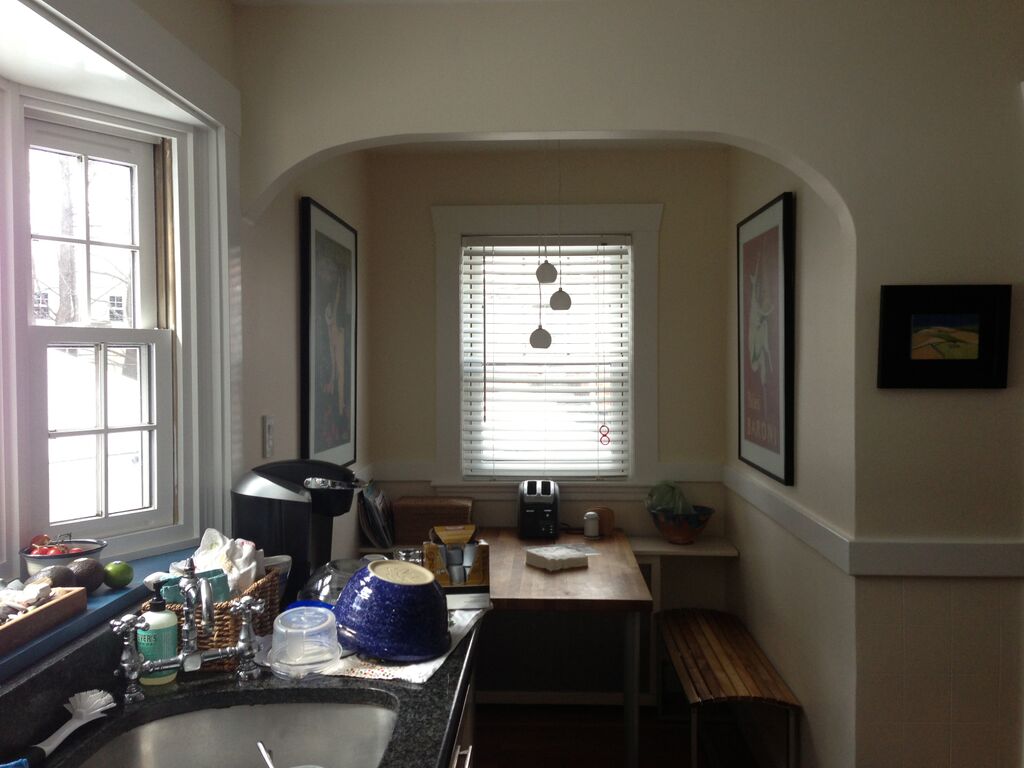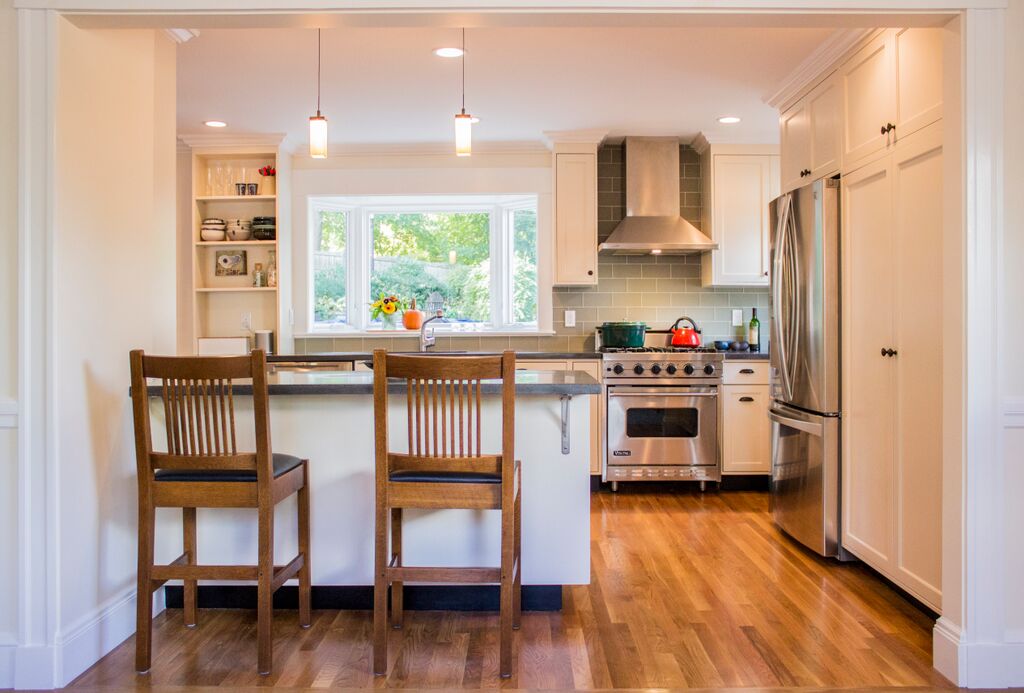 When a major home remodeling project leads to tearing down walls, careful planning and thoughtful design are no doubt essential for a successful outcome. That's why NEDC's complimentary in-home evaluation – as well as services including measurements, architectural floor plans, detailed, 3D design renderings and weekly design meetings – are essential to exceed expectations.
That's the approach they took with this West Roxbury kitchen, whose upgrades allowed for better circulation in the home and made the entire first floor feel more open and inviting. Additionally, dark acid etched concrete counters were installed to offset the traditional white of the cabinets, while organizational items like pull-out cabinets for bread storage, a pull out spice rack and revamped pantry storage helped organize the whole home. Now, the kitchen is a favorite hangout that gives greater meaning to the "Joy of Cooking !" View the rest of the project here!
Want to optimize your space with turnkey kitchen, bath or whole-home remodeling solutions? Contact New England Design & Construction today for a free consultation that'll lead to a happier home your family will love for life.
This is a paid partnership between New England Design & Construction and Boston Magazine's City/Studio
---