Before and After: 4 Incredible Home Makeovers
For the last 10 years, Roberta Sobran, owner of Delicious Designs Home, has provided gorgeous interior designs for local homeowners. Through the creation of inspiration boards, Pinterest searches, and on-site conversations, Sobran has become an expert in pinpointing what a client needs and delivering in full. "Most of my clients have become friends," says Sobran. "I try to make the process as smooth and painless as possible, and we always have a lot of fun."
Here are four local homes that went from drab to fab with the help of Sobran and her team.
---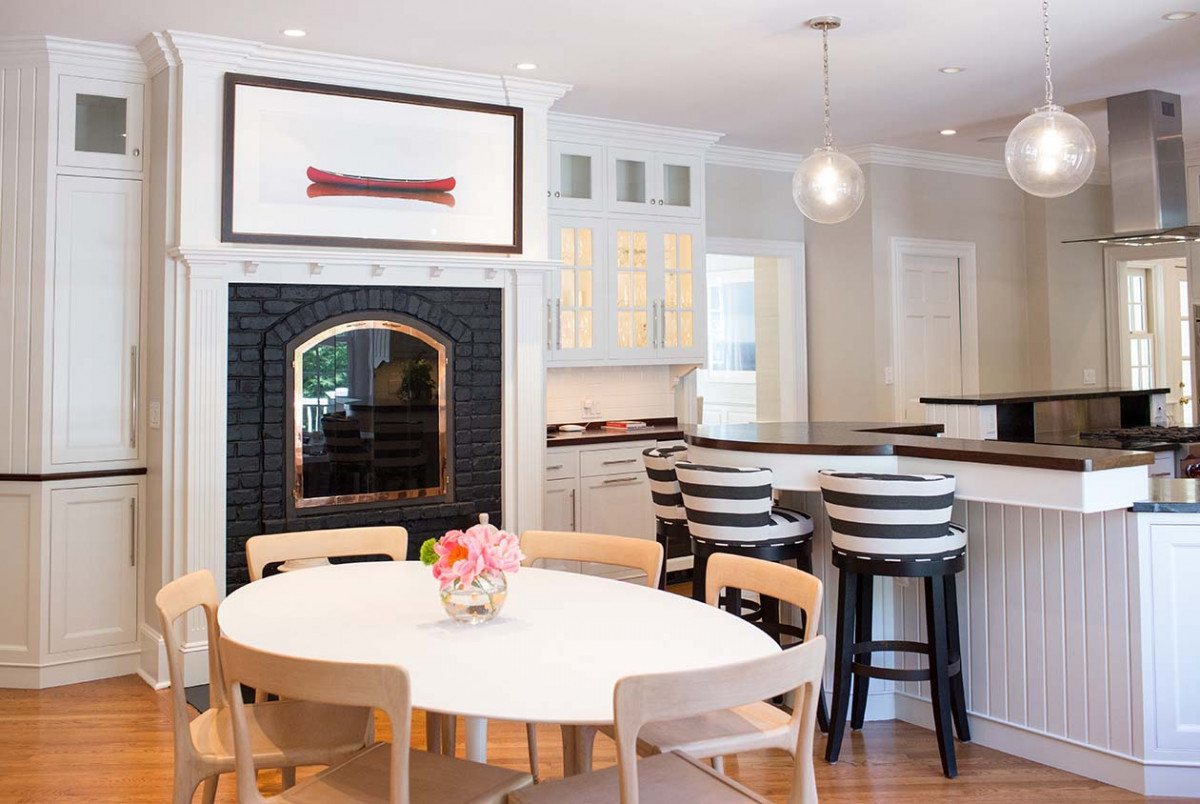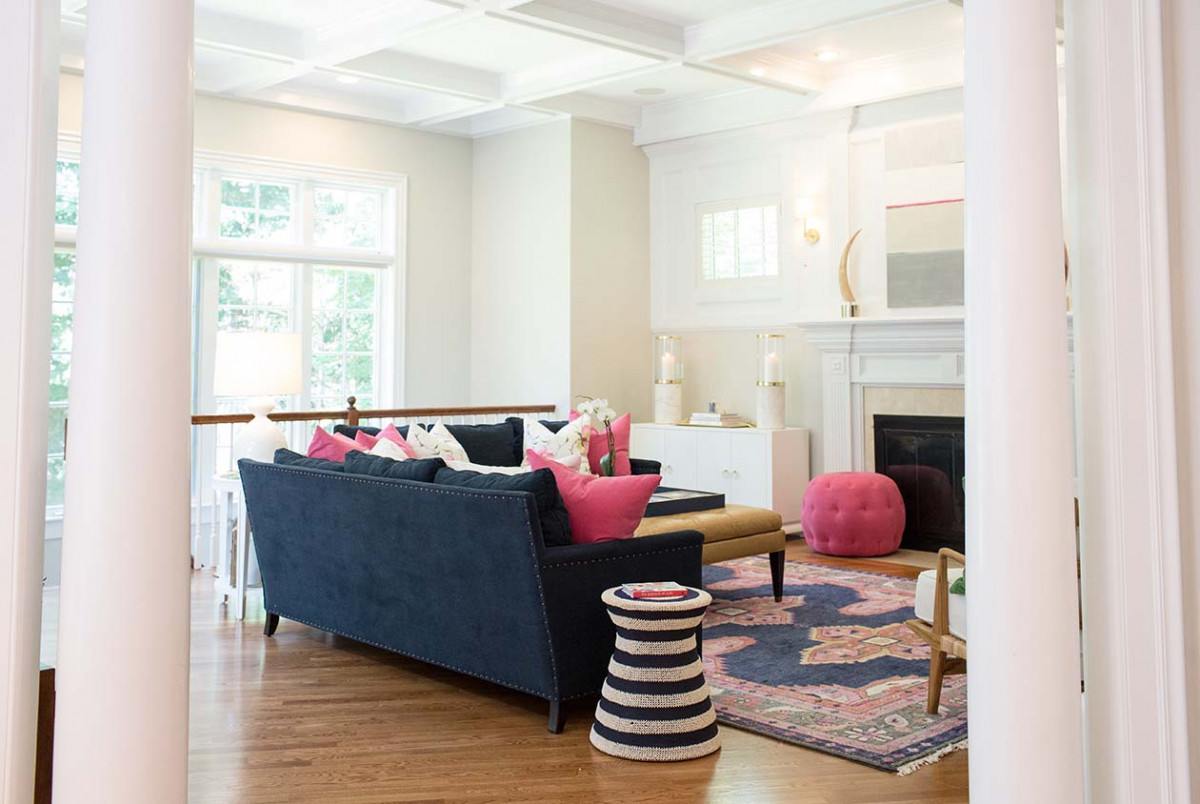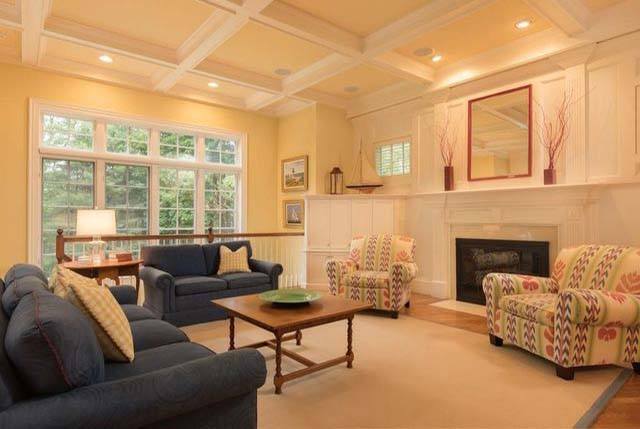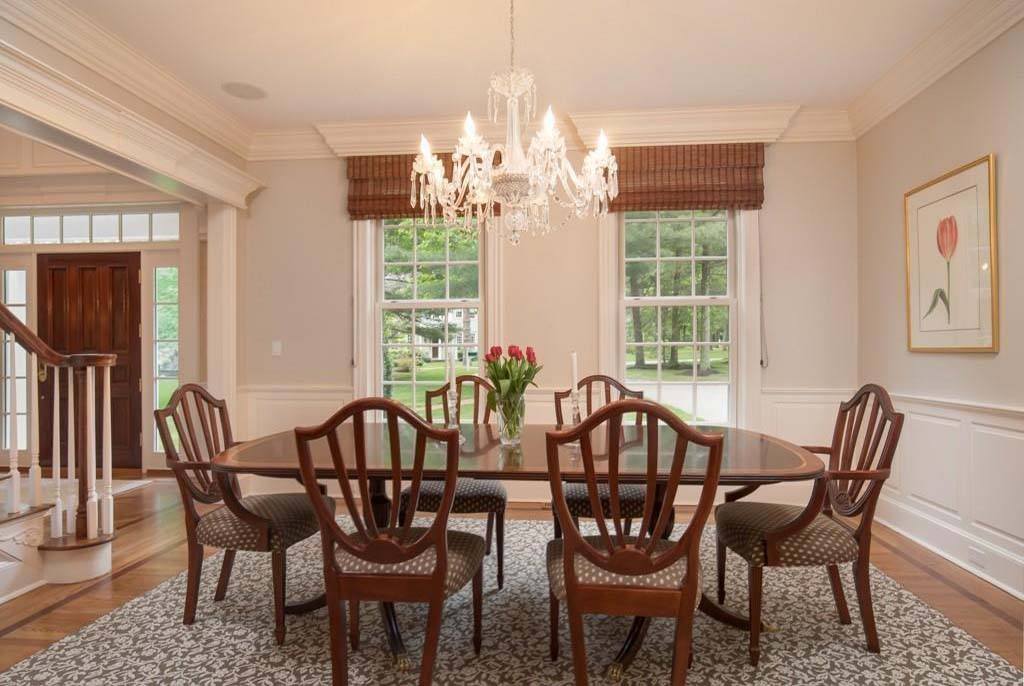 A Hingham home transformation
Katie was a repeat client of Sobran's; they had worked together on her house a few years prior. When Katie moved with her husband and three children to a larger home, she reached out to Sobran to make miracles happen—again. "Because we already had a relationship, it was certainly easy to hit the ground running," says Sobran. "So, we did a walkthrough in December when she bought the house, and by the time they closed the property six weeks later, we were already installing." Drawing inspiration from colorful fabrics and artwork from four local artists, Sobran tried to give each room a unique perspective, using the expansive spaces to redo the kitchen, dining room, and living room from scratch.
Katie and her husband say it would have been impossible for them to carry out their design goals on their own. "Why would I ever want to go shopping again?" says Katie. "We went to Roberta's studio where she presented all these great options for us to choose from, and the process was fun, creative, and super easy. I'm just so happy with the way my new home looks and feels. It's filled with the spaces I've always wanted."
---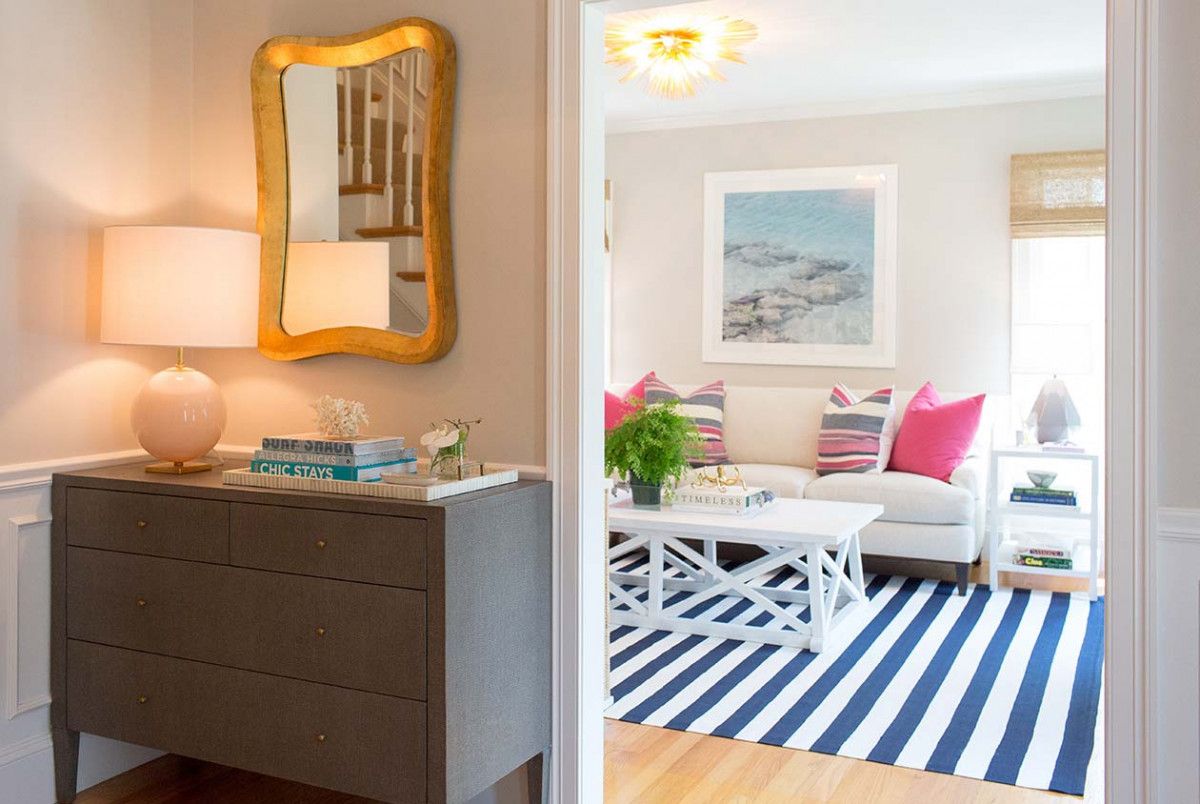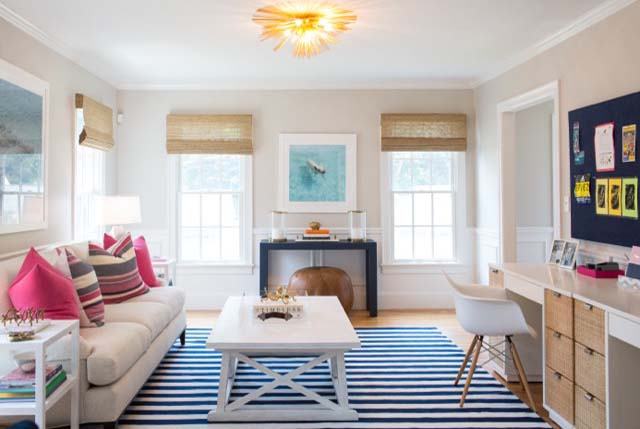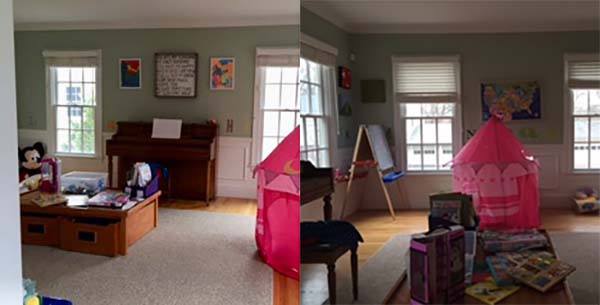 A family-friendly Needham study
Emily is a Needham mom who wanted to transform an old playroom into a sophisticated space for her children to study. "She wanted it to be functional for the kids who are getting older and need to do homework," says Sobran. "But it's the first room people see when they walk in the house, so she wanted it to still look pretty." Sobran devised a design plan that included adjoining desks beneath a mounted board to hang everything from aced quizzes to Red Sox tickets. She represented both sexes with a pink and blue color palette, and added some glamour with a new light fixture. The entryway was also updated with a new chest of drawers and mirror. "When I work with a client, I meet with them and summarize their needs, then give them an inspiration board with images to see what they like and what will provide a solution to their problem. Here, we created a beautiful vignette and a pretty palette that the kids love, but it definitely doesn't scream home office."
"Working with Roberta was a true pleasure," says Emily. "She and the whole staff at Delicious Designs Home were responsive, understanding, imaginative, and professional. She helped us make our home truly reflect our personalities. We couldn't be more thrilled with how our home turned out."
---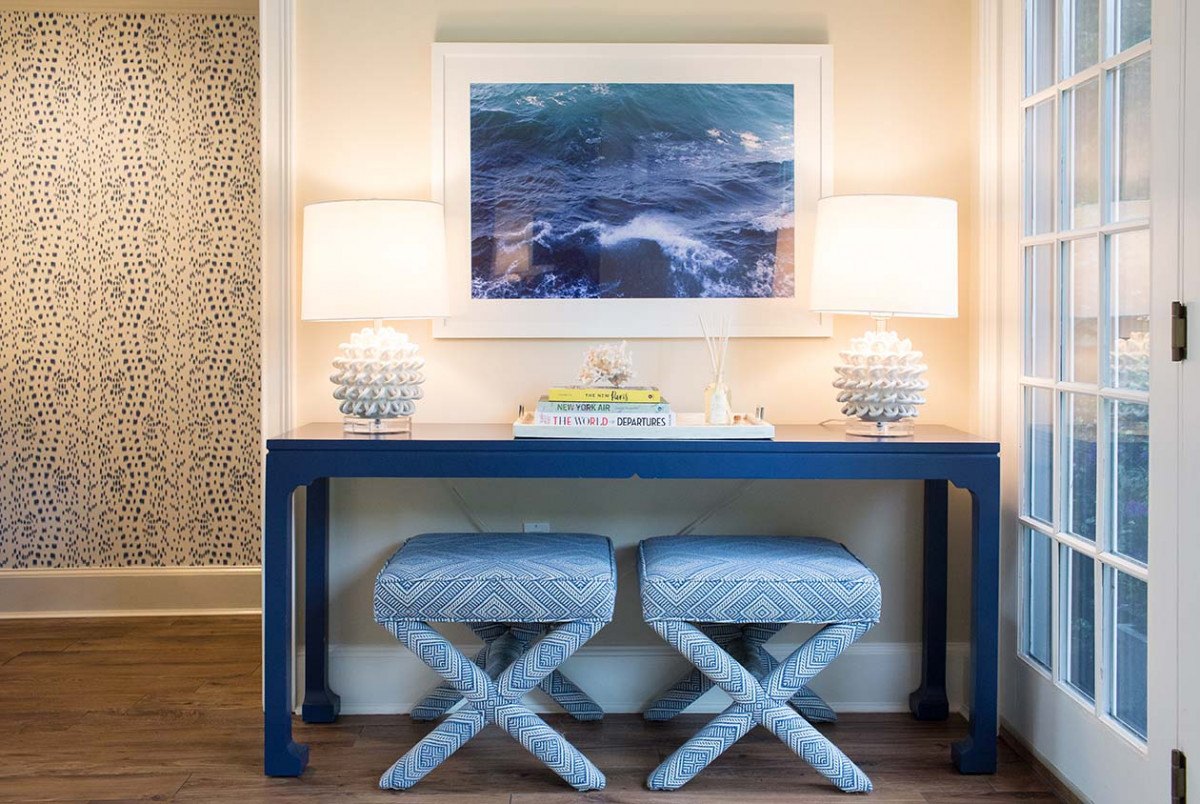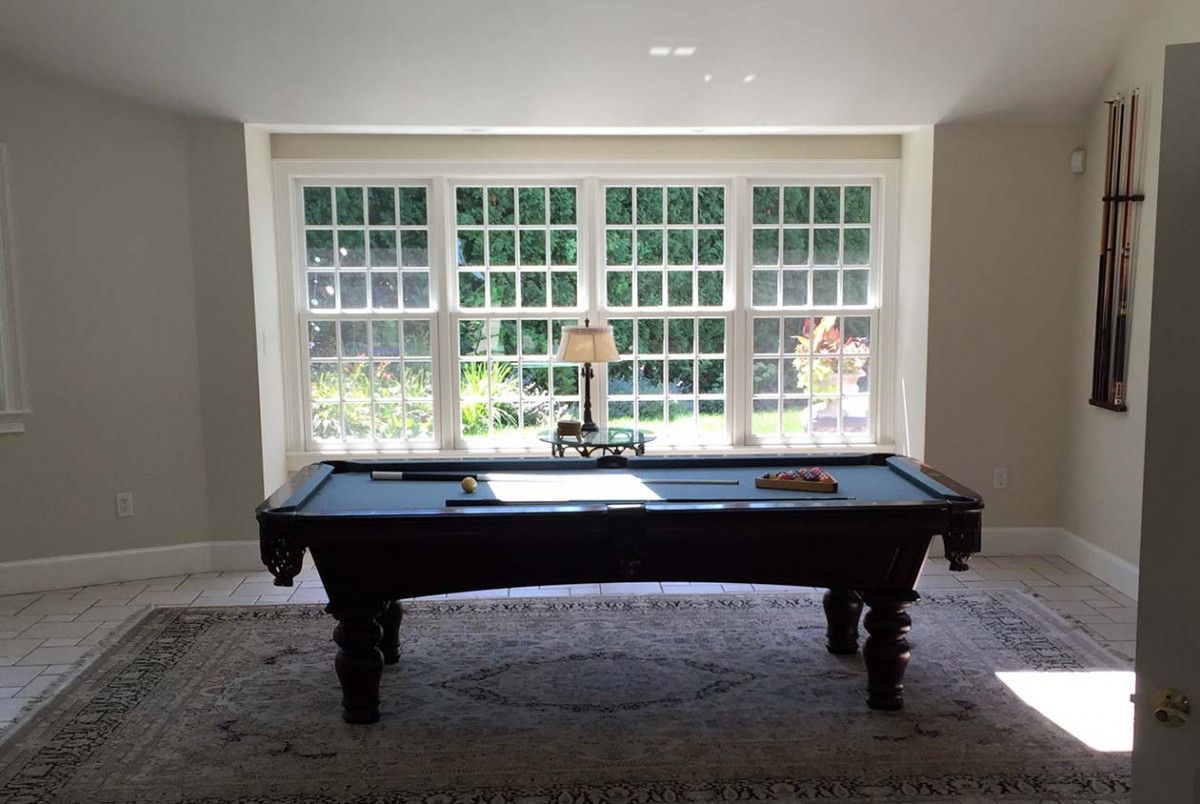 A Duxbury couple's beach retreat
Mary Ellen is a grandmother living with her husband in Duxbury who wanted a happy haven for her visiting family. "The property is just so pretty with surrounding views of the water, so I tried to keep those coastal vibes with a blue and white color palette," says Sobran. With indoor/outdoor upholstered ottomans from Schumacher, the furniture is well-equipped for the grandkids coming in and out from the beach or pool. Wallpaper played a huge role in the design, as well, with Brunschwig & Fils Le Touche wallpaper climbing up the wall of the adjacent powder room. Sobran also found ceramic lamps to add to the new blue console table that had a vague seashore notch design, but were a step up from the traditional clamshell. The biggest transformation was trading the pool table for a round table. "Her husband wasn't sure he wanted to part with the pool table, but he acquiesced to his lovely wife," says Sobran. "Now they send me pictures of their grandchildren building gingerbread houses at Christmas at their new table. The family gets a lot more use out of this setup."
---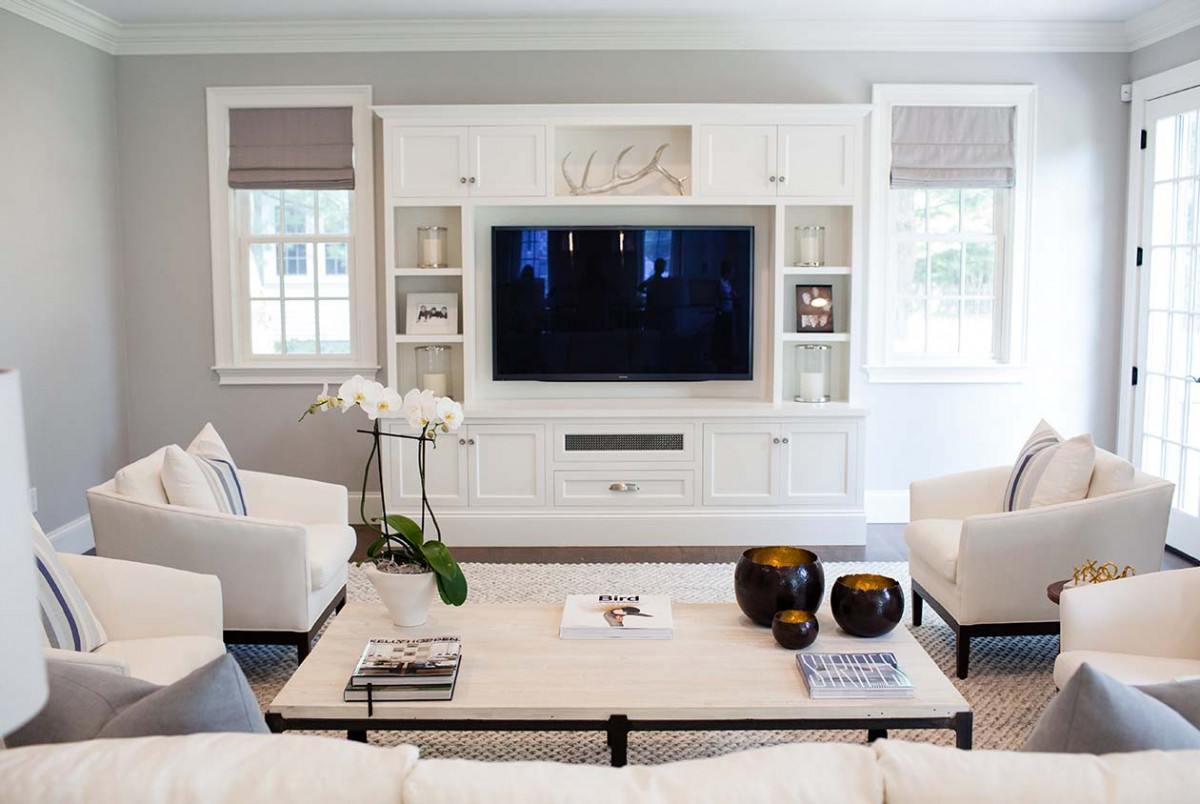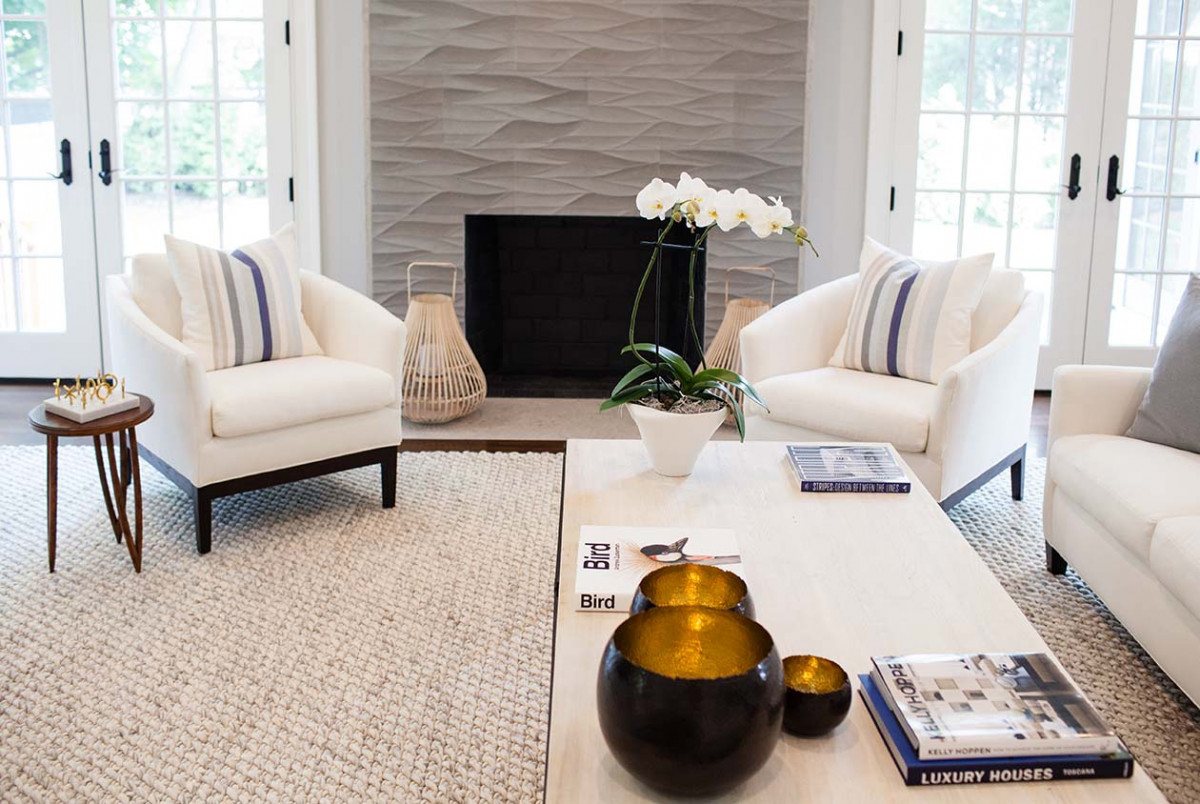 Fireplace feels in Needham
Sobran centered this project's design solely around the Italian fireplace. "Gail and her family had just finished a renovation and it was a completely blank canvas," says Sobran. "When I saw that fireplace, it made me woozy. It just spoke to me, and from there it drove the whole aesthetic." Sobran wanted to keep things quiet and leave the fireplace as the central focus, incorporating soothing tones of grays, blues, and taupes, and a warm, chunky wool rug to keep the space cozy and bright. "We went with a very clean, modern atmosphere," says Sobran. "The Christopher Farr striped fabrics and lanterns from Winston Flowers tie the whole look together."
Sobran advises anyone looking for a change in their home to consider hiring an experienced interior designer. "Two heads are better than one," she says. "Styling your home isn't like learning how to cook; if you buy a few ingredients for a recipe and it burns, you lose a little money and it's not the end of the world. With a home, if you make a purchase you regret like the wrong size sectional, you've already more than paid for what you would have spent hiring a designer."
At Delicious Designs Home, Sobran says she'll always give her honest feedback to clients to help avoid mistakes and achieve the desired look before blowing a budget on a whim. "Sometimes clients think they need to knock down a wall and completely change everything to get a bigger room, but they could really just use a new furniture arrangement," she says. "If you don't love a space, but don't know why you don't love it, we can figure it out together. My process is always collaborative so I can show you all your options, find out what you love or hate, and give you something that you've always wanted with no surprises."
For more information and to schedule a consultation with Roberta Sobran or her team, visit deliciousdesignshome.com.
This is a paid partnership between Delicious Designs Home and Boston Magazine's City/Studio
---