5 Top Cat Foods for Sensitive Stomach: How To Help Your Cat Feel Better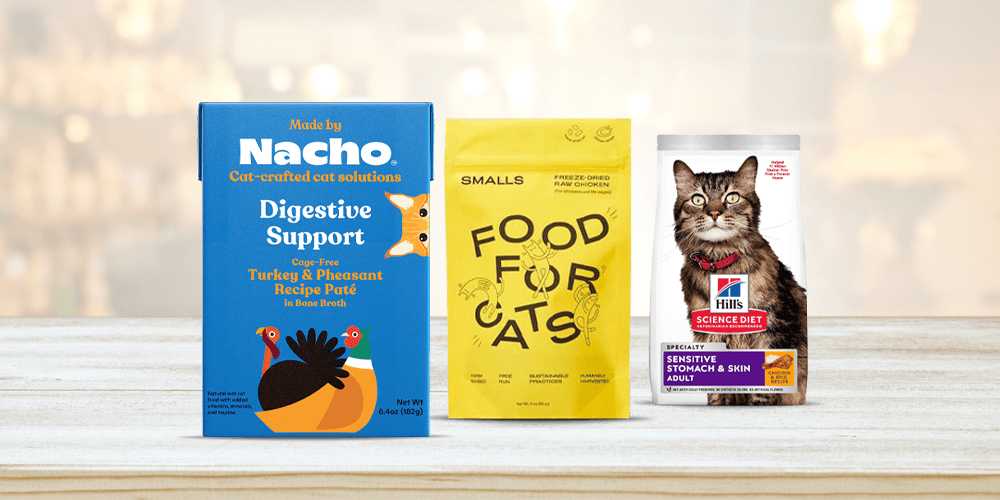 If your cat has a sensitive stomach, she may experience digestive health issues such as diarrhea or vomiting — and you may be hunting for a food that won't hurt her every time she eats.
Whether she suffers from food allergies or chronic conditions, there's food that can help her feel better in no time.
Switching to a high-protein and moisture-rich cat food that is easily digestible will give your cat the nutrients she needs and help manage sensitive stomach symptoms.
Discovering your pet has a health problem requiring additional care can be overwhelming.
Whether you're new at caring for a cat with special health needs or a seasoned expert, this guide can help you find the best cat food for your cat's sensitive stomach.
Top 5 Cat Food for Sensitive Stomachs
What is Sensitive Stomach Cat Food?
Whether it's wet cat food or dry cat food (or even freeze-dried!), sensitive stomach cat food is formulated to be safe for cats with digestive health conditions or concerns. When a cat has digestive issues, they may not be getting the nutrition they need.
These cat foods contain protein, probiotics, vitamins, and minerals that support your cat's digestive system. They also typically contain fiber or other gentle ingredients that are easily digestible.
If your cat is experiencing stomach issues, switching to sensitive stomach cat food can help relieve or eliminate them.
Reviews of the Best Cat Food for Sensitive Stomach
These are some of our favorite sensitive stomach cat foods.
Keep in mind that it's also important to chat with your veterinarian before choosing a cat food to help with special situations like these.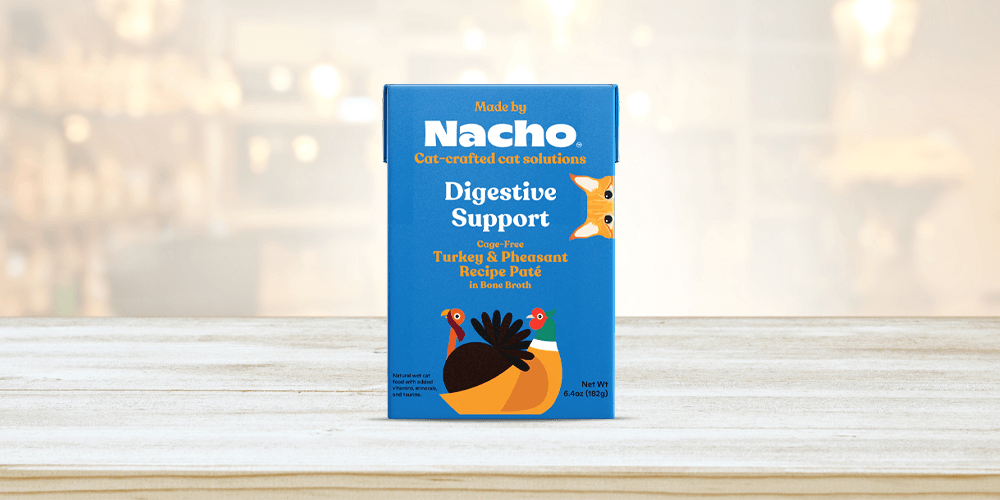 About Made By Nacho
Founded by Chef Bobby Flay and his cat Nacho, Made By Nacho was started to create premium cat food to give cats everything they need to live a full life. With the help of leading nutritionists, their cat food is formulated to contain all the necessary nourishing ingredients.
Made By Nacho values sourcing high-quality ingredients, from grass-fed beef to sustainably caught salmon. They offer different types of wet food, dry food, treats, and meal toppers for cats.
Made By Nacho Digestive Support Pate
This premium wet cat food is the perfect cat food for sensitive tummies because it aids in digestion and works to prevent constipation. High-quality meat and bone broth create a satisfying taste and texture for your feline friend. The abundance of added vitamins and nutrients benefits the overall health and development of your kitten or cat. It can be enjoyed as a complete meal or used as a meal topper for any wet or dry cat food.
Pros:
Formulated with nutritionists
Grain-free
Supports healthy digestion
Made with premium meat and bone broth
Cons:
Container is not resealable
What Customers Say
This product helped the sensitive stomachs of cats of all ages. Switching to Made By Nacho helped cat owners eliminate or reduce their cats' stomach problems. Customers also noted that their pets enjoyed eating this cat food.
Specs
Size: 6.4 oz
Flavor(s): Turkey & Pheasant
Age: Adult
Click here to learn more about Made By Nacho
2. Smalls: Best Subscription Service
About Smalls
Smalls makes it easy to feed your cat an all-natural and nutritious diet by arriving at your door every month or as often as you need. You start by taking a short quiz to find the best plan for you and your cat.
After you receive your trial box to determine which cat foods your kitty likes, you can adjust your next shipment accordingly. When you sign up for a subscription, you can add other goodies to your monthly boxes such as treats, toys, and litter. You can adjust your shipments or cancel anytime.
Smalls Raw and Fresh Cat Food
Smalls put cats first by only using healthy, all-natural ingredients that are sustainably sourced and USDA-certified. Their recipes are also grain-free. Smalls provide balanced meals that are full of vitamins and animal protein.
With digestible nutrients and high protein in their meals, your cat can experience better digestive health, along with a shinier coat. They offer human-grade fresh and freeze-dried raw cat food containing real meat.
Pros:
Customizable subscription plan
High in animal protein
Free from fillers & preservatives
Money-back guarantee for your first trial
Cons:
Only available through a monthly subscription
What Customers Say
Cat owners who have tried Smalls notice positive changes in their cats' fur, weight, and sensitive stomachs. Some customers even noticed their cat had an increase in energy after switching to Smalls.
Customers also said that the website is easy to use. Their customer service is very helpful with adjusting orders according to their cats' likes and needs.
Specs
Size for Human-Grade: 4.1 oz or 5 oz
Size for Freeze-dried Raw Food: 12 oz
Flavor(s): Chicken, Beef, Turkey, Cod, and Salmon
Age: All life stages
Flavors include chicken, beef, turkey, cod, and salmon. The various human-grade food options come in packages of 4.1 oz and 5 oz, and the freeze-dried raw food comes in bags of 12 oz.
Click here to learn more about Smalls
3. Purina: Best Wet Cat Food for Hydration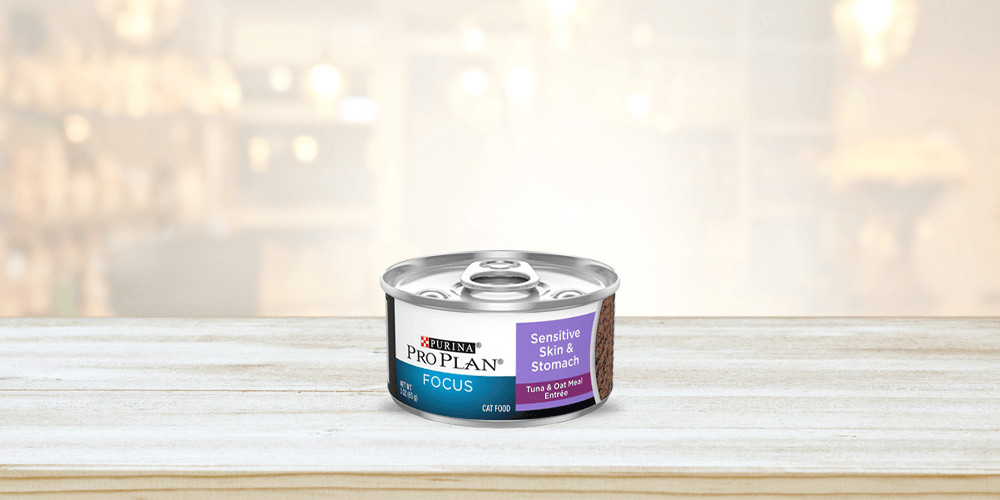 About Purina
Purina strives to drive pet nutrition forward by conducting industry-leading research on the well-being of pets, and always delivers high quality cat food. They invest in the quality of pet food because their team loves pets as much as you do. With 90 years of experience, Purina has been enriching the lives of countless cats and dogs. They offer a wide range of wet and dry foods for cats and dogs of all ages.
Purina Pro Plan Sensitive Skin & Stomach
Purina's wet cat food has real tuna as the first ingredient to add a high amount of animal protein, but their formula was crafted to give your cat balanced nutrition. Oatmeal, one of the main ingredients, is easily digestible and can help your kitty's sensitive skin. Natural prebiotic fiber helps promote digestive health. Essential vitamins and minerals are added to ensure your cat gets enough daily nutrients.
Pros:
Made with real tuna
Easily digestible
High moisture content
Made in the USA
Cons:
Contains meat by-products
What Customers Say
Cat owners experienced less vomiting from their cats after switching to this wet food. They could easily introduce this food into their cats' diets, even picky eaters. Customers were happy to discover this cat food option since it does not contain chicken, which some cats are sensitive to.
Specs
Size: 3 oz can
Flavor(s): Tuna & Oatmeal
Age: Adult
Most cats will love the fishy flavor of this pate. Each can contains 3 oz of wet cat food. With auto-ship, you can save 5% on all future orders.
Click here to learn more about Purina
About Hill's Science Diet
As one of the leaders in innovative food science and research, Hill prioritizes natural and precise nutrition to support all aspects of your pet's health. With over 70 years of experience, they have earned the title of one of the most recommended brands by veterinarians.
Hill's provides nutrition to pets in need by partnering with animal shelters and donating food. They have both wet and dry cat food — as well as dog food — that address various health concerns.
Hill's Science Diet Sensitive Stomach & Skin Dry Cat Food
If dry cat food is a regular part of your adult cat's meals but you're looking for one that is friendly for their sensitive stomach, Hill's has a great nutritious option. FOS, a natural prebiotic fiber, makes this dry cat food highly digestible and the perfect cat food for sensitive stomachs.
Vitamin E and omega fatty acids also help support your cat's skin and coat. The small kibble pieces are suitable for cats who struggle to chew dry cat food. Vitamins and minerals were also added to increase the nutritional value of this dry cat food.
Pros:
Highly digestible
Made in the USA
Available in three sizes
Made with real chicken
Cons:
Low moisture content
Contains rice
What Customers Say
With hundreds of positive reviews, owners enjoy feeding their pets this dry cat food and continue to repurchase. Customers were relieved with the immediate decrease in vomiting and other digestive issues after switching to Hill's dry cat food. They also saw noticeable differences in their cat's fur.
Specs
Size: 3.5-lb, 7-lb, 15.5-lb bags
Flavor(s): Chicken & Rice
Age: Adult
Click here to learn more about Hill's Science Diet
5. Halo Holistic: Best for Complete Digestive Support
About Halo Holistic
Halo Holistic strives to deliver nutritious food that can help improve the length and quality of life for as many pets as possible. With so many misleading labels and harmful ingredients in other pet food, they wanted to develop healthy and nutritious recipes with a holistic approach.
Halo Holistic prides itself on using responsibly-sourced animal protein, simple ingredients and no signs of antibiotics in any of their meats.
Halo Holistic Wild-Caught Whitefish Recipe Sensitive Stomach Support
Halo Holistic's Wild-Caught Whitefish Recipe uses real, whole salmon as the first ingredient. Each serving contains tummy-friendly prebiotics, probiotics, and postbiotics to help your cat's digestive system.
This premium cat food is ideal for cats with sensitive stomachs, and never contains any animal byproducts, or added growth hormones.
Pros:
High-protein
Uses non-GMO ingredients
Ingredients cooked in the USA
Cons:
Some customers don't like the smell
What Customers Say
Customers were relieved that even their picky cats enjoyed this dry food. Switching to this sensitive stomach cat food helped relieve different stomach issues. They also loved feeding their cats natural, high-quality food.
Specs
Size: 3-lb, 6-lb, 10-lb bags
Flavor(s): Wild Caught Whitefish
Age: Adult
Click here to learn more about Halo Holistic
How We Picked Our Favorites
Specially formulated food can help cats with sensitive stomachs. The best cat food for cats with digestive issues will contain premium protein, added nutrients, be easy to digest, and provide real results for cats.
Through extensive research of various cat food brands, we were able to determine the best cat food for sensitive stomachs.
Digestive health benefits
Cat foods for sensitive stomachs need to have ingredients that will be gentle on their digestive system. Whether it has added fiber or an all-natural recipe, the various meals on our list are designed to be easily digestible. They also contain little to no fillers since added fillers in cat food make it harder to digest.
High-quality ingredients
We made sure that real meat is the first ingredient in each food we selected. Meat is easiest to digest for cats since they are natural carnivores and require high protein diets. Added vitamins and nutrients increase the nutritional value of these dry and wet cat foods.
Many of them live up to The Association of American Feed Control Officials (AAFCO) recommended standards.
Customer reviews
Consumer feedback helped us determine which cat food worked best for cats with stomach issues. Pet owners found it easy to implement these options into their cat's diets and saw noticeable changes in their behavior.
From improving stool quality to reducing vomiting, our top choices had positive benefits for countless feline friends with sensitive stomachs.
Symptoms of Sensitive Stomachs in Cats
While there are many possible causes of a sensitive stomach in a cat, the signs are similar.
If your cat has a sensitive stomach and is experiencing digestion issues, they may show the following symptoms:
Vomiting
Diarrhea
Loss of appetite
Lethargy
Poor skin and fur health
Weight loss
Refusing to eat
If you notice your cat is exhibiting any of these symptoms, consulting your veterinarian can help determine the cause of your cat's stomach issues and possible treatments.
They will also check for any other severe underlying issues. Your vet may recommend certain sensitive stomach cat foods to help manage their symptoms.
What to Look for in Cat Food for Sensitive Stomach
There are an endless amount of cat food options available for cats suffering from sensitive stomachs, both in stores and online. It might be hard to know what is best for your feline friend, especially when they have digestive issues.
When shopping for sensitive stomach cat food, consider the following:
Easily digestible ingredients
Try to avoid cat foods that contain a lot of filler ingredients. Cheaper foods will include fillers like rice or corn, which can be harmful and hard to digest. Cat foods that have added fiber or gentle ingredients are safe for their digestive system.
Nutrition value
It is vital for all cats to get sufficient protein and nutrients, especially those with sensitive stomachs. Look for foods that are high in protein and contain essential vitamins and minerals.
Their new sensitive stomach cat food should also have healthy fats like omega fatty acids.
Type of Food
We covered all types of sensitive stomach cat food, from human-grade fresh to dry food kibble. Consider what kind your cat prefers or experiment with new kinds to see what is best for your cat.
Be sure to also consider the moisture content of the food you're buying. While dry cat food is not as effective in hydrating your cat, it is still suitable for sensitive stomachs as long as your cat is getting sufficient hydration through other means.
Age and weight of your cat
Certain foods may be better suited for adult or senior cats rather than kittens. Kittens need food that is specially formulated for them to receive a sufficient amount of protein and nutrients.
The serving you feed your cat will depend on their weight. In order to determine how much cat food you should buy, consider how much you'll be feeding them daily.
Ingredients to Avoid for a Cat with a Sensitive Stomach
Certain ingredients that are common in many cat foods can be harmful or add no nutritional value. Cats with sensitive stomachs may have an especially hard time digesting these ingredients.
There are a lot of ingredients that cheap cat food includes to make them less costly or appear to be healthier. The best cat food for sensitive stomachs will exclude irritating and non-nutritious ingredients.
These are some examples of ingredients you should avoid if you see them on a cat food label:
Fillers
Cats commonly have a sensitivity or allergy to fillers like grain, corn, soy, and rice. Some of these also do not add any nutritional value.
Cheap fillers are considered irritating ingredients for kitties with stomach issues.
Sugar
Sugar can come in many forms in cat food, such as corn syrup, beet pulp, and dextrose. Cats only require a small amount of daily sugar.
Too much sugar can cause hyperactivity, weight gain, and diabetes.
Cellulose
This is a poorly fermentable fiber for cats. The food may pass through their system too quickly, preventing nutrients from being absorbed.
Chemical preservatives
BHA and BHT are examples of potentially harmful preservatives that are present in some pet foods to help them last longer.
FAQ
What causes a cat to have a sensitive stomach?
Many different factors can cause a cat to have a sensitive stomach or experience symptoms like diarrhea. Common causes of upset stomach in kittens and cats include:
Stress: Sudden or chronic stress can lead to an upset stomach in cats. Stressors for cats can include moving into a new home, introducing a new pet or family member, and changing their diet too quickly.
Eating foreign objects: If a cat consumes something that can't make it through the digestive tract or gets stuck, it can cause stomach issues, like vomiting.
Food allergies: The most common allergies for cats are chicken, fish, beef, dairy, and eggs. Food allergies can affect the stomach and the skin. Symptoms of a food allergy in cats include itchy skin, loss of appetite, diarrhea, and vomiting.
Food intolerance: When a pet has a food intolerance, their digestive system has trouble breaking down an ingredient or food. It can also happen when a cat lacks an enzyme needed to fully digest a certain food. If your cat's food is too high in fat or has a fiber imbalance, it might cause them to have a strong reaction.
Inflammatory bowel disease (IBD): Cats with IBD have a hard time absorbing nutrients and moving food through the GI tract. They may require a special diet or medication.
More serious causes can include:
Intestinal parasites: Cats can contract parasites from several sources such as infected animals or fleas. Types of parasites that appear in cats and kittens include roundworms, toxoplasma, and tapeworms.
Bacterial infections: Contaminated water, food, or undercooked meat are some factors that can cause bacterial infections, like salmonella.
Gastrointestinal cancers
Hyperthyroidism
Kidney disease
Is wet or dry food better for a cat with a sensitive stomach?
Cat food for sensitive stomachs can come in many different forms. Wet food has a higher moisture content to help cats get more hydration. It is also a great addition to your cat's diet because it helps them absorb more nutrients.
While wet food is generally recommended more for cats with sensitive stomachs, dry food can still be a good option, as long as your cat gets a sufficient amount of hydration.
Some cats may also prefer one food over the other. If you add moisture to your cat's dry food, like water or bone broth, it increases the moisture content. Be sure to also have clean water available to your cats at all times.
What are the benefits of sensitive stomach cat food?
Switching to a cat food for sensitive stomachs can help your feline friend in many ways.
Most notably, it can eliminate or reduce their digestive issues and symptoms. Food that contains prebiotics or probiotics can also help maintain the pH balance in your cat's gut.
Many of the sensitive stomach cat food options are also suitable for sensitive skin. The gentle and nutritious ingredients in these foods also help to maintain healthy skin and coat. Sensitive stomach cat food can also help prevent hairballs and protect your cat's teeth.
What is human-grade cat food?
Cat foods that are labeled as human-grade are considered safe for humans to eat because the food was handled in accordance with FDA and USDA regulations that apply to human foods.
Human-grade ingredients may not automatically mean the cat food is better, but it can be of higher quality. It often contains higher-quality protein, more nutrients, and is easily digestible. Some cat foods for a sensitive stomach are considered human-grade.
Human-grade does not always mean better quality, so further research of the food brand and product is always recommended.
What is raw cat food?
Some raw food can provide cats with excellent nutrition, but they pose real risks. Studies show that commercially prepared raw food can be contaminated with foodborne pathogens, like salmonella, listeria, or E.coli.
Freeze-dried raw cat food, like the one offered by Smalls on our list, is considered safer than typical raw food. Freeze-dried food is dehydrated and has a longer shelf life than other raw food. By removing water, harmful bacteria are less likely to grow in a low-moisture environment. It is high in protein and other nutrients.
Do cats need to eat grain-free food?
Cats need high-protein, low-carb diets. Foods with grain may cause them to be higher in carbs. A grain-free diet can help to keep carbs under control. The best cat food for your cat may or may not be grain-free. Grain-free diets are not always necessarily better, but they can offer some benefits, especially for cats with a grain or food allergy, IBD, or sensitive stomach.
How do you introduce a new food into your cat's diet?
A sudden change in food may cause issues for your cat, like vomiting and diarrhea. If you're introducing a new cat food for sensitive stomachs, it's important to slowly introduce it to your cat to allow their system to adjust to it.
For the first two days, you should feed your cat 75% of their old food and 25% of the new food. For days 3 and 4, change to a 50%-50% mix. On days 6 and 7, feed 75% new food and 25% old food.
After that, you can completely switch over to the new food. If your cat is not tolerating the new food well, go back to the amount that was tolerated and transition slower.
What is a meat by-product?
Meat by-products are the non-rendered parts, other than meat, derived from slaughtered animals. This includes the lungs, kidneys, brains, blood, bone, and fatty tissue. It does not contain feces, hooves, or hair as some pet owners may believe.
While you may not know what exactly is in the cat food, meat by-products are generally considered safe. They are still a good protein source and full of healthy fat. It all depends on what you feel comfortable feeding your pet.
What is an elimination diet?
An elimination diet is an effective way to identify if your cat has a food intolerance or allergy. You'll stop feeding all foods except one protein and one carbohydrate that your cat has not eaten before.
Then, you'll gradually re-introduce foods one at a time and see if your cat experiences any allergic reactions. It can take 10 to 16 weeks to complete. This way, you can identify what ingredient your pet reacts to and start to buy the proper food for them. There are also different types of elimination diets.
How can I help my cat with a sensitive stomach?
Besides switching to a new, healthier food suited for a cat with a sensitive stomach, there are some other changes that might help them.
Avoid feeding your cat leftovers or food scraps since human food is generally not suited for cats. It's possible your cat has a habit of eating inedible objects, like strings or leaves.
Try to avoid having things in the house that your cat could try to eat. In addition, it is a good idea to keep track of your cat's toys since they eventually start falling apart and your cat may try to eat them. If your cat's digestive issues persist or worsen, they may need medical attention.
Getting your cat diagnosed and treated by a vet is the best way to help them.
Cats with Food Allergies
If your cat has food allergies, you're no stranger to buying them special food. While sensitive stomach cat food can be a great option for cats with allergies, it has to also exclude the ingredient they are allergic to.
Hypoallergenic cat food may be a safer option to include in their diet. This type of food does not contain ingredients that are known to be cat allergens. They may also help to improve immunity.
Choosing the Best Cat Food for Sensitive Stomach
Finding the best cat food for your feline friend can take some time, especially if your cat has unique health needs. It can be easy to get overwhelmed by the number of choices.
Through research and recommendations from your vet, you'll be able to choose from a variety of high-quality options.
Switching to a New Food Can Help Your Cat's Sensitive Stomach
Some cats may experience temporary digestive symptoms from stress or eating a foreign object. If your cat has a food intolerance, allergy, or other condition that causes them to have a sensitive stomach, consider switching to a different cat food.
Cats with sensitive stomachs require a diet that is high in protein and moisture-rich but excludes irritating ingredients, like artificial additives. It is also helpful for the food to have added fiber to promote healthy digestion.
Wet food offers a higher moisture content, which is important for your cat to absorb all the nutrients in the food. Whether you prefer wet or dry cat food, grain or no grain, you can find the right option to help relieve your cat's digestive issues from our list of the best sensitive stomach cat food.
Summary of the Top Cat Food for Sensitive Stomach
This post was produced and paid for by Originated Media
---