A Behind-The-Scenes Look at How Boston Ballet is Creating The City's Most Spectacular Celebration, the 'Siren Ball'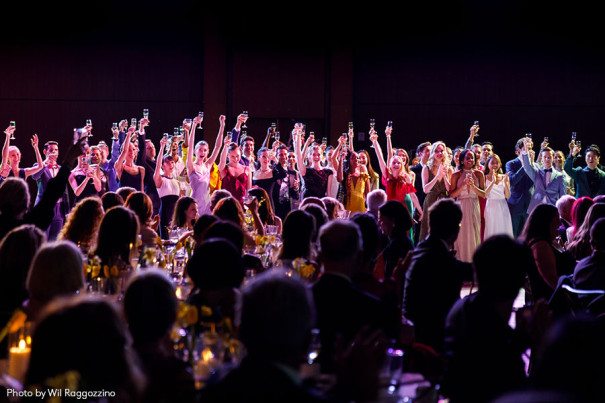 In just a couple short weeks, SoWa Power Station in Boston's South End will be transformed into an ocean world for the night, opening its doors for Boston's most glamorous gala of the year. Guests will dress to impress, stepping into an evening of pure magic.
That event, this year's Boston Ballet Ball on February 25, will transport guests to an ethereal world of earthly elements and marine life that is the Siren Ball. The evening will evoke the beauty and fragility of the ocean, inspired by Nanine Linning's new commission set to Debussy's La Mer and Les Sirènes that will make its world premiere at the Citizens Bank Opera House as part of Our Journey in April.
Here's a look behind the scenes at how the Siren Ball, with its delicious food, dazzling performances, and blissful music and dancing, is being planned and executed.
Behind the Ball
This year, the Boston Ballet Ball is being co-chaired by mother-daughter duo D. Ellen Wilson and Caroline Wilson Weber. Wilson is a long-time supporter of Boston Ballet and a member of the Board of Trustees, and Wilson Weber is a member of the Ballet's Young Partners program, a network of emerging dance supporters who participate in events and connect with the Company throughout each season.
Wilson Weber, a dancer herself, brings a different set of skills to the table, complimenting her mother's corporate event experience. Wilson Weber comes from a nonprofit fundraising background, so she says she's been able to inform conversations surrounding the planning of the Siren Ball.
For example, this year's ball focuses on ocean preservation and sustainability, as inspired by Nanine Linning's April world premiere that will raise awareness around those issues through music and dance. The co-chairs have thus been thinking about ways to make the event itself sustainable in order to carry the theme of the dance through the whole event, even in seemingly invisible ways.
One of those ways is to serve sustainably sourced food. "We want to be very conscious when making these decisions, and very thoughtful about them," says Wilson. Another way is to aim to avoid single-use items. "We're thinking through what already exists? What can we reuse? What could have a second life if we build it just for this?"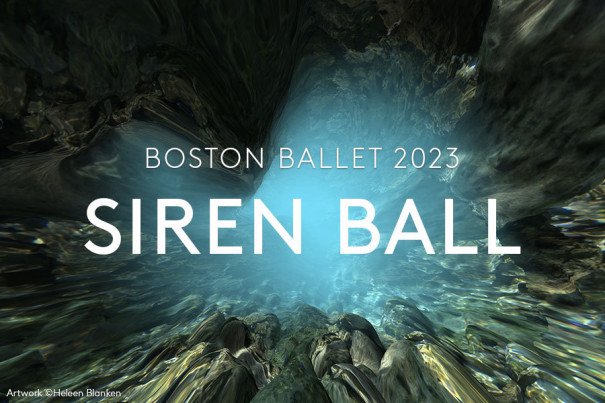 What to Expect
Boston Ballet's Artistic Director Mikko Nissinen hopes to mimic an underwater environment at the Ball, and to give people a singular night that they won't forget. "I hope it will be something that people haven't imagined at all, and haven't experienced," he says. In order to achieve this, Wilson Weber says the theme of the ocean is going to be very visible and evident throughout the event.
They've worked with visual and new media artist Heleen Blanken to include stunning backdrops during the dance performances as well as other visual elements to complement the performance, like costumes inspired by haute couture designer Yuima Nakazato and lighting from award-winning designer Brandon Stirling Baker.
"We're thinking a lot about different textures—physical textures, but also sounds," says Wilson Weber. "Like what do you hear when you walk into the event? We do want it to be a really immersive experience that has the themes of the dance amplified through the space," she says.
The Siren Ball will begin with a cocktail hour, move into dinner catered by Max Ultimate, followed by performances by Boston Ballet Company members. After that, there will be a live and silent auction with a number of big-ticket items, and finally, the famous after-party. "At the after-party, the dancers get to come out and join because they're done performing for the night," says Wilson Weber.
"We go to a lot of these fundraisers and events, and this one is really special," says Wilson.
An Invaluable Art Form
"I think without art, whether it's performing or visual, the world is pretty gray," says Wilson. "It provides hope, and a path forward." Wilson Weber agrees, saying "It's something that's not divisive, but something that we can all come together to support, which I think is really important."
Each year, the Company turns to its supporters through ticket sales and events like the Siren Ball so that the rehearsals, shows, and enrichment of Boston life can continue.
That larger significance of art in the city is something that's reflected in the transportive nature of the Ball this year. "At the end of it all," Nissinen says, "I think it's important that [ballet] transports you to a different place. It's a journey into your own soul, and it's a really vital part of human existence."
To learn more about the Siren Ball and secure a ticket today, visit bostonballet.org/ball.
This is a paid partnership between Boston Ballet and Boston Magazine
---