Lantern Brings Boston's Largest Cannabis Selection to Your Door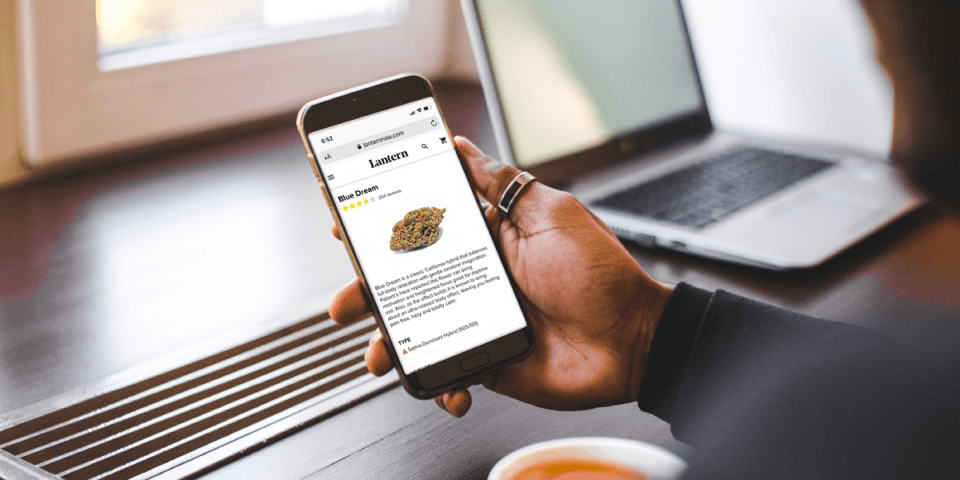 As Boston catches on to the countless benefits of legal cannabis, a new cannabis marketplace called Lantern has promptly stepped in to offer a quick, easy, and free way to get the best cannabis products from dispensaries in and around Boston. That way is, of course, on-demand delivery.
Adult-use cannabis delivery is now legal in Massachusetts, and Lantern gives you access to the largest selection of cannabis in Boston. With a few taps on your phone, you're able to find your desired products at a great price—delivered whenever you want.
And yes, when you order on Lantern, delivery is free. Not sure where to start? Here are a few of the top trending cannabis products in Boston right now, plus how it all works.
What to buy: Boston's best-selling cannabis products
It's a question the Lantern team hears the most: what cannabis products are right for me? And while cannabis can be a highly personal choice, there's something for everyone—there are hundreds of products to choose from.
Here's where you can start:

Best in Boston: Juice Box Flower
These are challenging times, so it makes sense that the best-selling flower in Boston is one known for its mood-boosting benefits. Juice Box is a sativa-leaning hybrid with a bold berry-diesel flavor that tastes as good as it looks, with an uplifting effect that helps you get through the day.

Best for beginners: Hi5 Peach Mango Seltzers
Cannabis beverages are THC-infused drinks including tonics, sodas, and seltzers. For beginners, infused beverages offer a familiar, low-dose, and fast-acting (like five minutes fast) introduction to cannabis, making it easy to control and fine-tune your buzz.

Best for sharing: Sunrise Surfer Blend Pre-Rolls
The pandemic has changed many things, including the puff-puff-pass etiquette of smoke circles passed. As you return to normal again, the new etiquette is BYOJ, or if you're hosting, restocking your stash with sharing in mind. Rolled up and ready to go, the Sunrise Surfer Blend Pre-roll pack includes 10 joints perfectly sized for solo smoke sessions.

Best for de-stressing discreetly: Serenity Cartridge
For when you want to de-stress under the radar. The Serenity Cartridge offers some serious relaxation in a compact, potent punch without the smoke and lingering smells from flower. Added feel-good bonus? It's developed from the only physician-and women-led cannabis company in Massachusetts.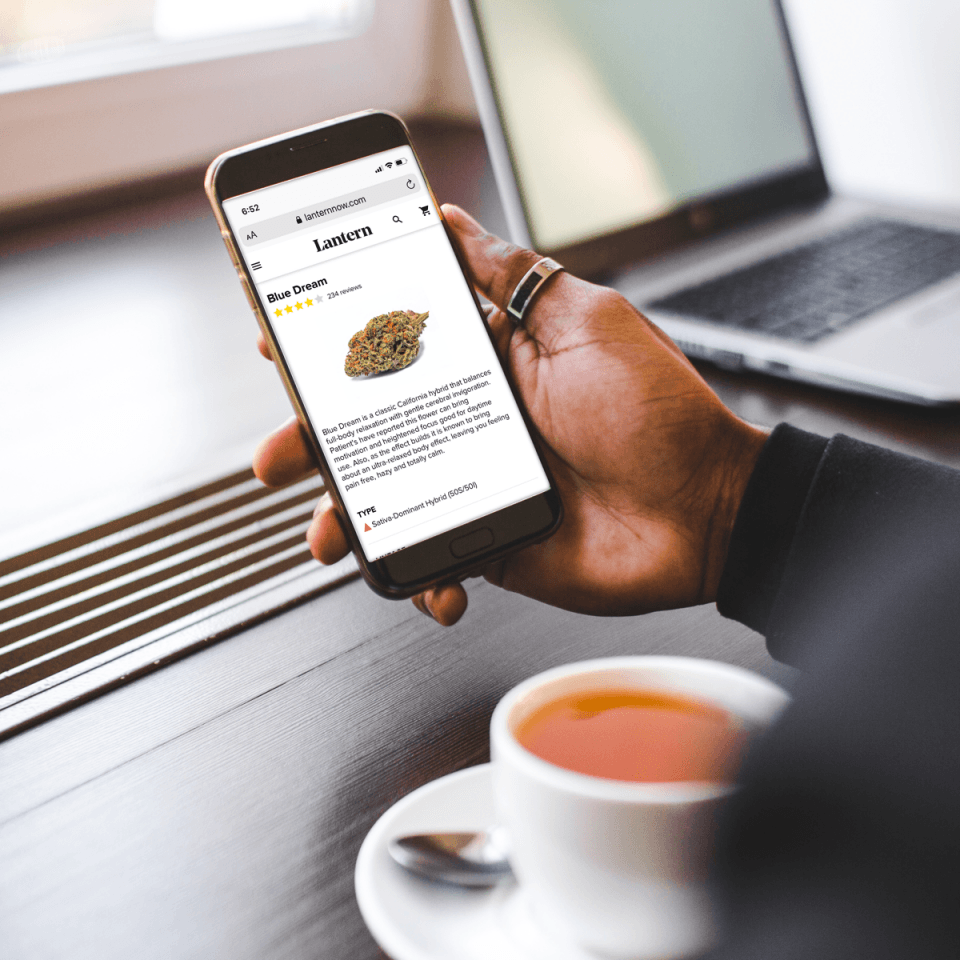 See what's available and get a cannabis crash course
First, get started on lanternnow.com by entering your home address to browse through the hundreds of cannabis products delivered in your area. Lantern delivers to Boston and Greater Boston, within the I-95 belt from Quincy to Malden, Newton to the North End. You can check your address here for availability.
If you feel overwhelmed or don't know what you want, fear not: you can take your time and research all the different strains in their comprehensive guide, browse products by effects, expand your knowledge with how-to articles, read reviews, look at cannabis-infused recipes, and much more.
When it comes to ordering, it's simple and straightforward. The site makes it easy to find products you want based on your preferences, like feelings, strain, potency, price, and brand. Once you've selected your products, the delivery process will not disappoint.
The necessary housekeeping
Friendly reminder: You must be 21 or older to purchase cannabis products. So, once your items are in your cart, you'll be asked to verify your ID the first time you order (since it's the law). You'll upload a photo of your valid passport or driver's license, and you'll need to keep it on hand for final verification upon delivery.
Then you'll choose a delivery time that works for you, choose your payment method (which you'll ultimately use later), and finish placing your order. Your order deliver will be delivered during your scheduled window, or in one to two hours if you live in an on-demand delivery area.
Let the dispensary come to you
With your confirmation email comes a tracking link, which you can use to check your delivery status. Again, you'll have to be at home when your delivery arrives—the driver can't just leave your products at the door (and remember, you still need to pay).
Upon delivery, you'll meet up with your driver to complete your payment and get your goods. They'll be wearing body cams. It sounds intense, but it's just the Massachusetts law, so don't fret. You'll present your ID again and make your payment. And by the way, you won't be paying any more than if you had gone to the dispensary in person. There's no catch; it's simply more convenient. Don't forget to tip for great service!
The best part: Sit back, relax and enjoy
Whether you decided on edibles, flower, concentrates, topicals, or vapes, and whether you are looking for sleep, relaxation, focus, fun, or pain management, Lantern has what you need. Plus, you can be sure that it's safe, discreet, and oh-so-easy. And don't be afraid to get particular; if your product wasn't exactly what you wanted, the customer service is next level and there are hundreds of other options for you. And when you do find what you like, it might even change your life.
To learn more about Lantern's home delivery service and to purchase your cannabis today, visit lanternnow.com.
This is a paid partnership between Lantern and Boston Magazine's City/Studio
---